The Mediterranean seems an especially long way away from the glass and concrete jungle of Kuala Lumpur. At Marini's on 57, however, the lush countryside and breezy coasts of Italy are summoned in a menu that sings of spring, but not quite in the way you'd expect.
Modesto Marini and his wife Elizabeth are jovial hosts who ensure that the wine flows steadily and no guest is left unattended. "The menu changes seasonally, and each takes about six weeks to plan," says Modesto, who conceptualised this unusual celebration of spring.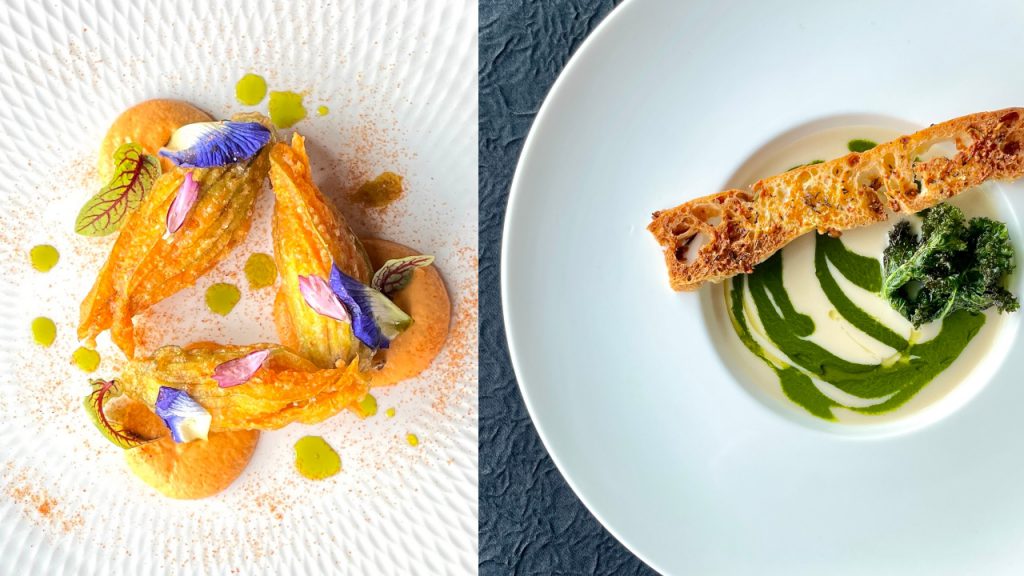 We start with a melt-in-your-mouth olive "lollipop", flavoured with sundried tomatoes, dusted with herb crumbs, and served with parsley mayonnaise. The charming Uova follows, a fluffy truffle frittata uplifted with parmigiana foam and topped with shavings of black truffle as the epitome of luxury and the season of renewal. This is the stuff Sunday mornings should be made of, and in abundance.
Zucchini and tomatoes are excellent companions, from garden to stove. Here, the warm-season vegetables are interpreted as a delicate zucchini flower with ricotta, lemon zest and anchovies dipped in romesco sauce. But spring is not always sunny or temperate. A remedy for sudden showers is thick and comforting cauliflower soup, its creaminess contrasted by crisp kale and a crunchy focaccia and parmigiana crostino.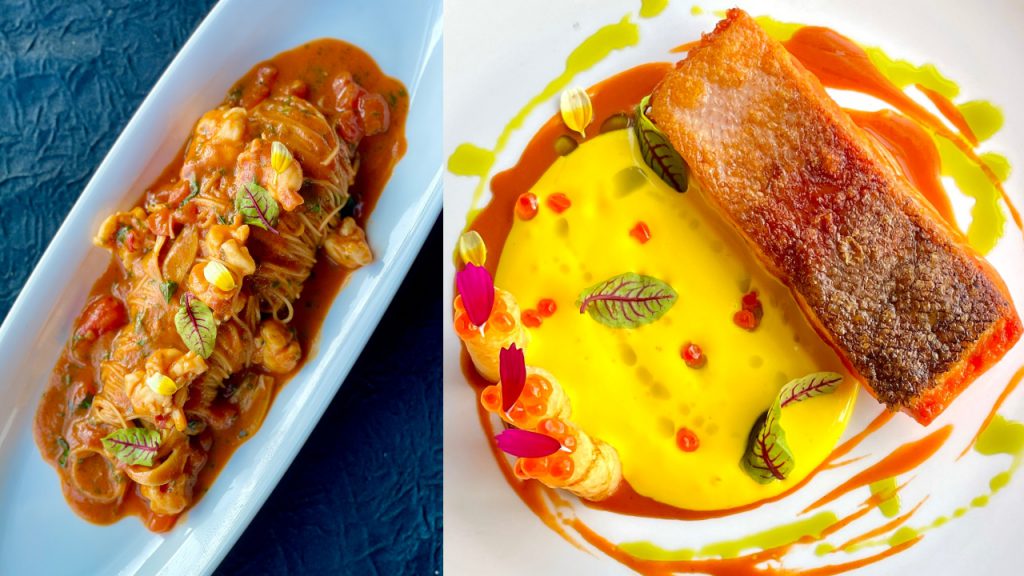 Finished right there in the room at a makeshift pasta station is the Cappellini All'Astice, in which a light tomato broth, spiked with notes of basil, is ladled over a twirl of angel hair pasta. Studding the dish like soft, sweet jewels are tender chunks of lobster. The marine theme continues. Ocean Trout is a beautiful show stopper. A cut of trout is plated with the colours of a traffic light: a rust-red pool of brawn bisque, potatoes prepared two ways and sprigs of garnish, carefully set on a scattering of salmon roe. Here is a course you linger over, wishing it would last a little longer.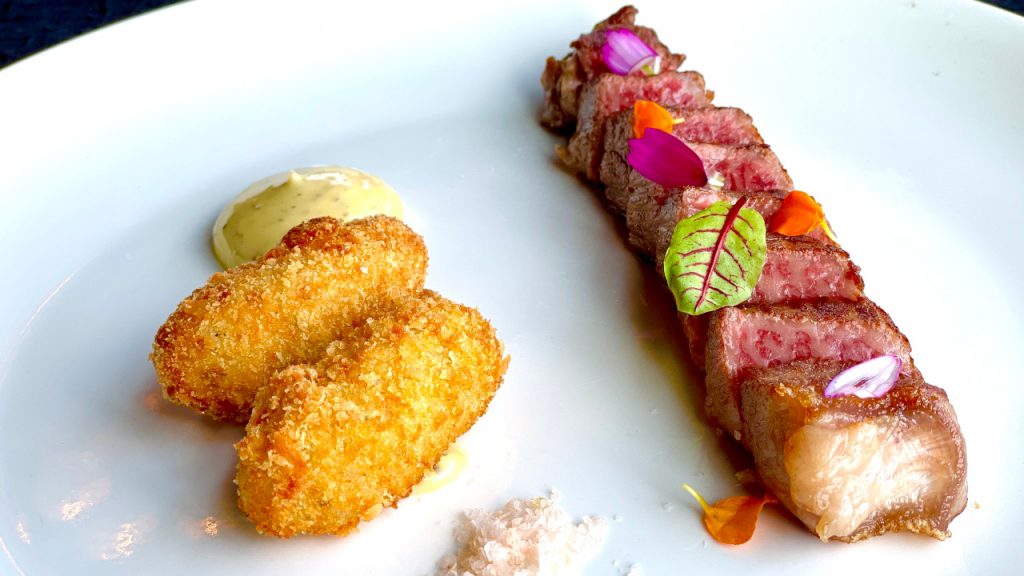 But then the Japanese wagyu arrives and you remember good things must come to an end to make way for other pleasures. In this case, it's succulent Nara wagyu sirloin, best pressed into salt to bring out the purity of its flavour, with a side of potato croquette and truffle hollandaise sauce. In contrast to the vibrant colours of the preceding course, the muted tones here simply emphasise the symphony of textures and tastes.
Dessert is a dramatic ta-da: Caviale di Tiramisu. Long-time fans of Marini's on 57 might recognise the gold caviar tins that the homemade tiramisu was once layered in, but there's a twist now. The glistening caviar pearls are now coffee flavoured, heaped over mascarpone espuma and a Valrhona chocolate base. Is there an elusive flavour flitting through? The sensitive palate might catch a hint of truffle shot through — a fitting finish to an extravagant springtime feast.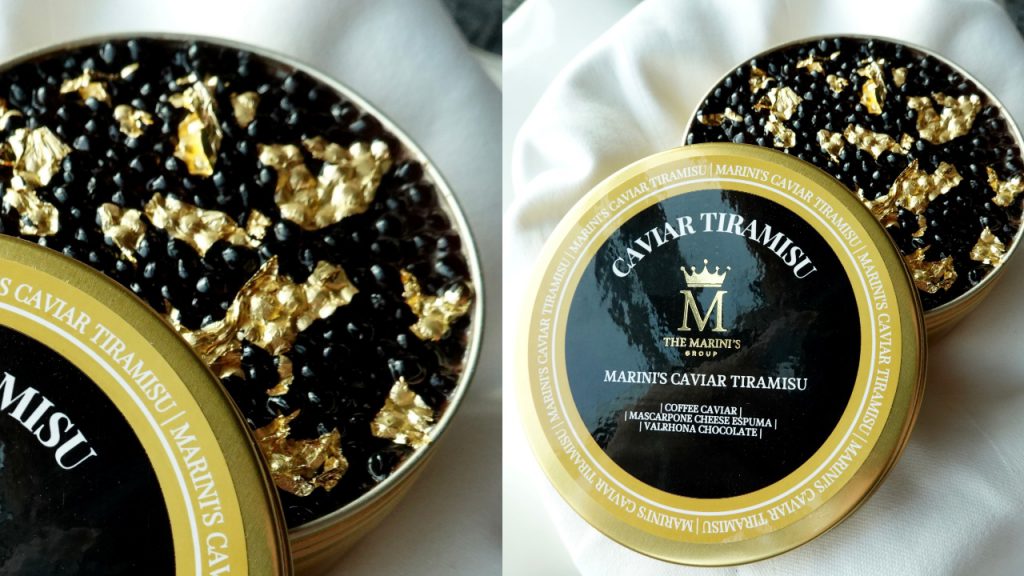 These are among the highlights of the a la carte menu, with prices starting at RM78 for soups and mains at RM148. Reservations are recommended, especially if you want a view to go with this meal to remember.
---