Refrigerators, long a mainstay of the kitchen, now become an expression of individuality through the recent arrival of the Samsung Bespoke refrigerator on Malaysian shores. This key element of Samsung Electronics' Bespoke home appliance range – from vacuums to air purifies – offers homeowners the chance to personalise their living space through a phenomenal variety of styles and colours.
A KALEIDESCOPIC WORLD
With a palette of various colours and finishes to choose from – specifications vary by countries – the current configuration introduced in Malaysia include fixed-panel-models of the Bottom Mount Freezer (RM5,099 with a 339-litre capacity) in Glam White matched to either Glam Navy or Glam Pink, as well as the 1-Door Flex (RM4,999 with a 323-litre capacity) in Glam White and Glam Pink. Its Reversible Doors lets you swap the doors around by changing the hinges over, enabling you to edit and update your kitchen aesthetic from time to time.
---
CUSTOMISE EVERYTHING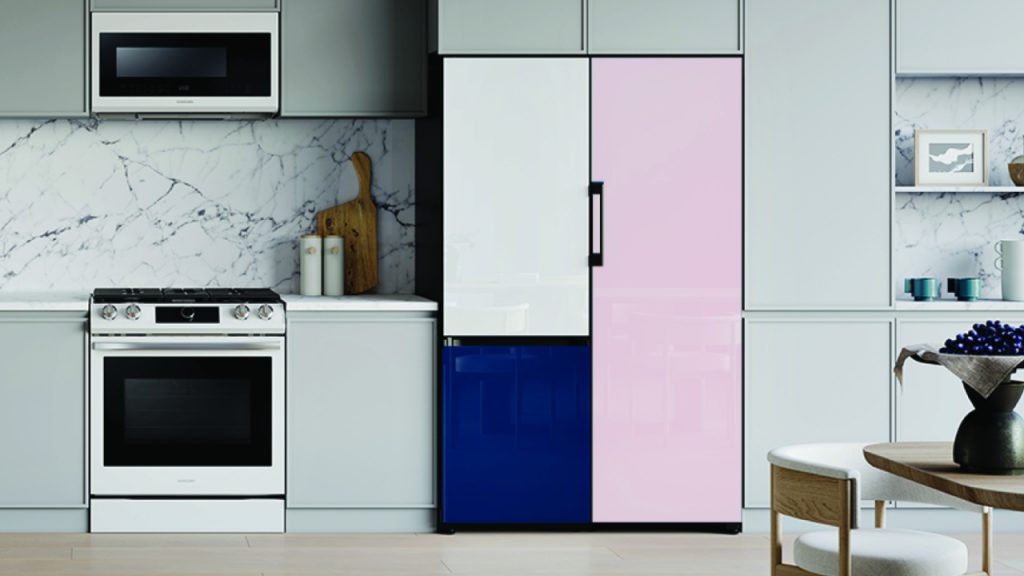 Multiple modules of the Samsung Bespoke refrigerator allow you to expand storage space without the need to overhaul your refrigerator and freezer – even as your family and storage requirements grow. These refrigerators may be installed either as a counter-depth style or kitchen-fit style, to fit existing cabinetry in the kitchen, bathroom or any other living space depending on your needs. The easily adaptive designs ensure that the refrigerators fit seamlessly into your interior aesthetic, adding style and panache without any fuss. Another big plus in the 1-Door Flex is the ease of converting freezer to refrigerator space or vice versa, to suit the demands of occasions.
---
PERFORMANCE OPTIMISED
Samsung Electronics' leading technology in the field offers convenience, capacity and powerful cooling all at once. Its combination of Power Cool, Power Freeze and All-Around Cooling intelligently monitors the temperature to keep food cool and fresh for longer. It even retains cool air when the door is ajar, thus reducing the use of power in the Samsung Bespoke Refrigerator throughout its life cycle. The No Frost feature prevents the build-up of ice and frost while the integration of LED lighting increases illumination and saves energy. A Digital Inverter Compressor also enhances energy efficiency – with up to 50 per cent less power used and a 10-year warranty attached to the compressor.
---