Andrew Leci spreads his wings for the first time in a while, and gets fed up nicely at The Ritz-Carlton, Koh Samui.
---
I must admit to having mixed feelings about The Ritz-Carlton's proposed hospitality ethos. 'Ladies and gentlemen serving ladies and gentlemen' is just a tad twee for me, and while it's important to recognise the need for a USP in a competitive market, I rather feel that it puts undue pressure on everyone involved.
Firstly, not every guest is either a lady or a gentleman – whatever that even means in today's world. Is the supposition here that if you have the wherewithal to shell out on expensive accommodation you automatically have – I really hate the word – class? And does having class immediately and implicitly induct you into the ladies' and gentlemen's club?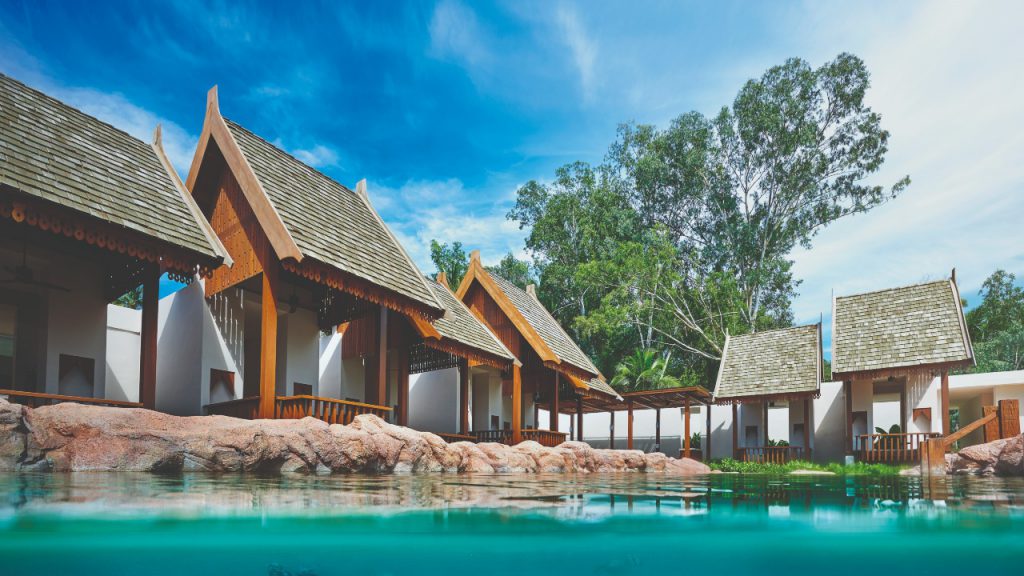 I don't want to go into the often-evident inverse relationship between money and taste, but I do want (or at least did want) to question the putative egalitarianism on both sides of the service equation. Guests pay good money to be treated like royalty and expect nothing less – read a few TripAdvisor reviews if you need convincing – and yet the concept of being served and waited on hand and foot by a supposed 'equal' is somewhat uncomfortable.
This is not, of course, what The Ritz-Carlton is getting at, although the implied mutual respect angle is gratifying and commendable. Only people with no 'class' and too much money treat staff badly (because they can) while everyone else should embrace the arrangement that characterises The Ritz-Carlton experience.
I also have to admit that after four nights at The Ritz-Carlton, Koh Samui, I'm no longer as cynical and dismissive as I was in the opening paragraph. It just so happens that the ethos works, as long as all parties buy into it. And I do. It's a form of social contract, and it works when duly signed.
The sprawling resort encompasses 58 acres on what was a coconut plantation. It also presents something of a dilemma. The villas are so comfortable, stylish and well-appointed that they're actually quite hard to leave.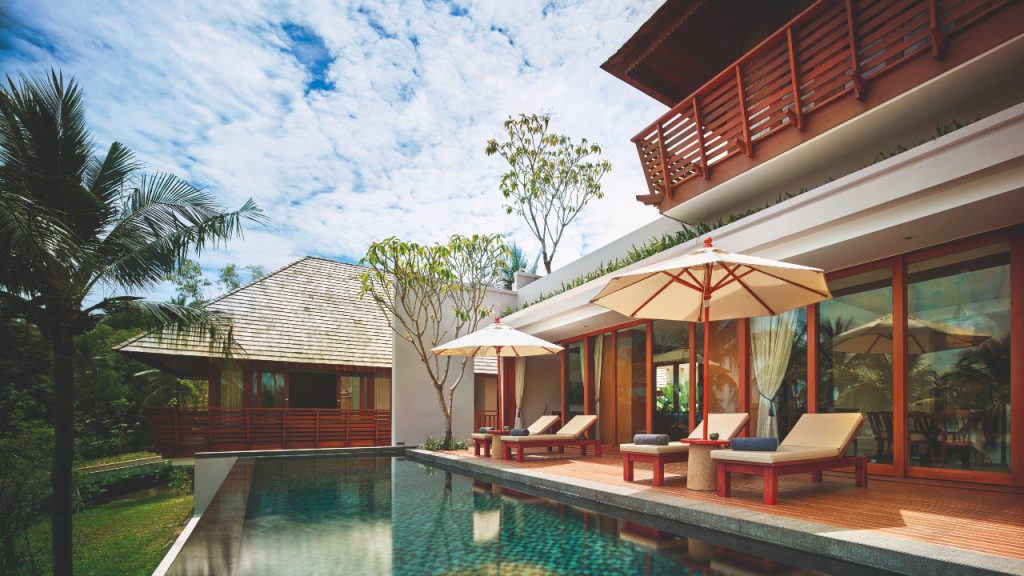 You have to, however, in order to experience the plethora of activities and experiences on offer. With a spa complex laid out over 40,000 sq ft – the landscaping, I gather, is a work in progress – guests can get pampered to their heart's delight with a bewildering array of treatments. Some of them can be quite messy; but if you're into fruit-based scrubs and such, you can fill your boots (and crevices).
If getting slathered in fragrant oils and manipulated isn't your bag, then how about some kickboxing – in a proper ring – with an expert gentleman instructor/punchbag to guide your moves. It really is enormous fun and a terrific workout (with attendant perspiration – I would have written 'sweat' were I not a gentleman) that gives the guest license to indulge in some excellent food and beverage thereafter. The Ritz-Carlton, Koh Samui has at least four restaurants to feast in, and it's fair to say that some work better than others.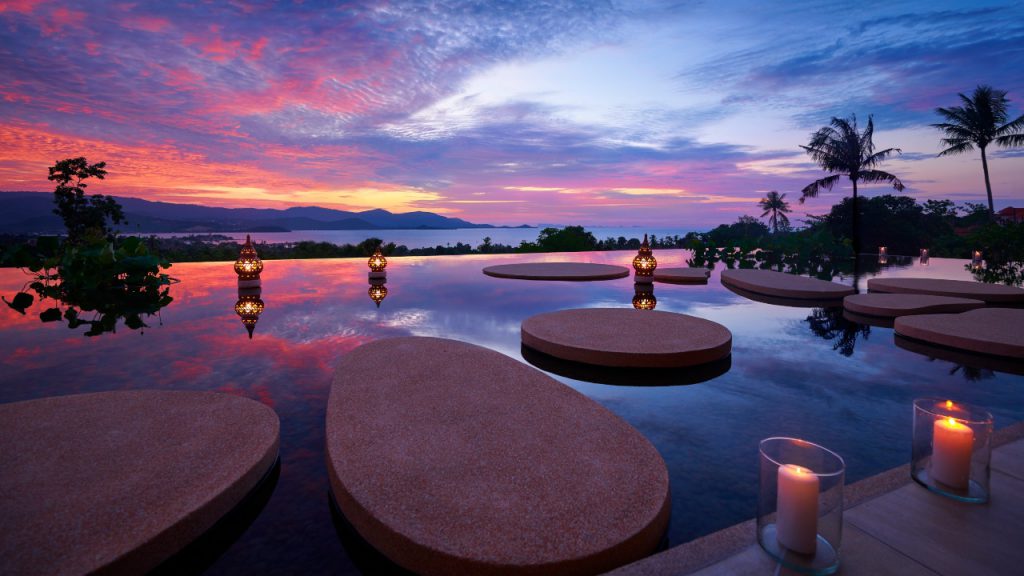 While claiming to be the 'best steakhouse' on Koh Samui, The Ranch at Shook! does not disappoint, trotting out expertly prepared and cooked cuts of aged beef that are seasoned to perfection. Reading through a menu that contains so many desirable items is a bittersweet experience. There'd be a smiley face emoji when you realise that there's so much that sounds good; followed by a scratchy head or mild disappointment emoji when you realise that at some point you have to make a choice.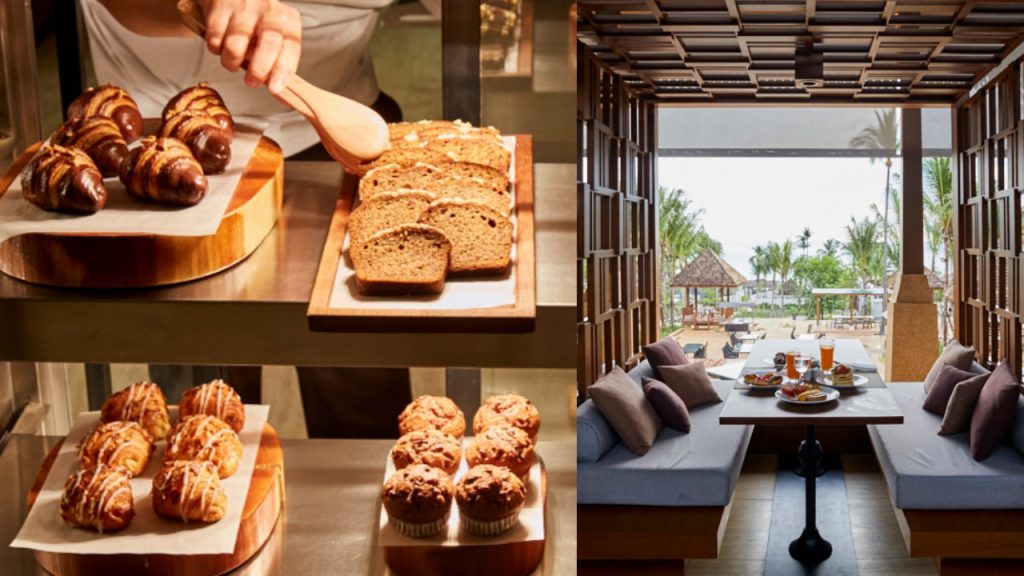 Sea Salt, a convivial little outdoor eatery right by the pool and close to the resort's private beach is great for a light lunch or mid-afternoon snack and just happens to have on the menu just about one of the best gazpachos I have ever tasted. The soup ingredients are exceptionally well combined, and the cucumber-wrapped tuna tatami (what a bonus) provides complements in both taste and texture. It's only natural that in this day and age one would experience a fine example of a dish more than 10,000 kilometres away from its origin. Viva globalisation, I say.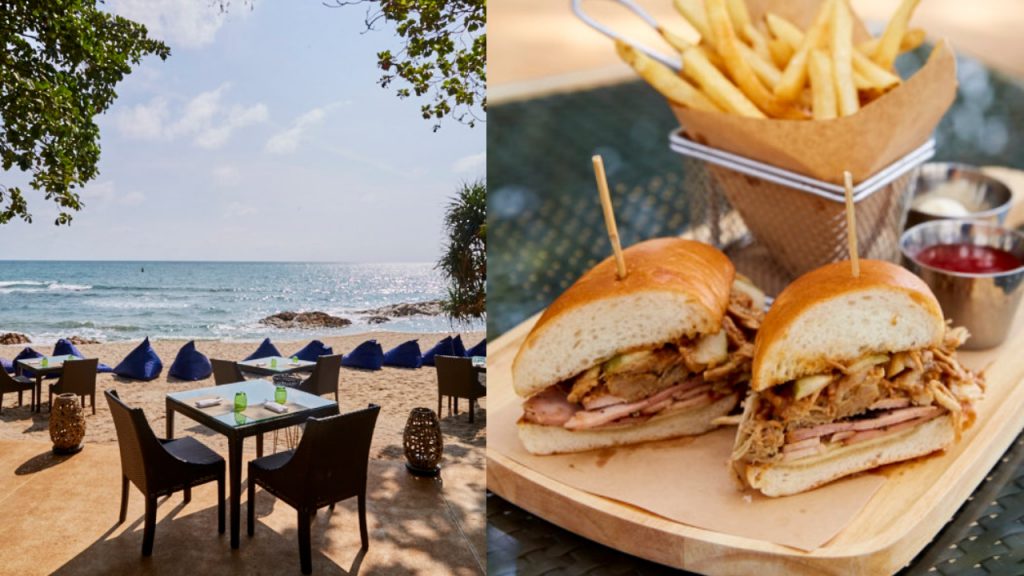 Pak Tai is the signature 'local' cuisine establishment and is as good an example of Thai fine dining as you're likely to get. Dishes are nicely put together (although occasionally over-seasoned), and the ingredients are top notch. Diners are comfortably enclosed in their own niches overlooking the Swim Reef – a large saltwater pond teeming with tropical fish – and the service is impeccable. As you would expect.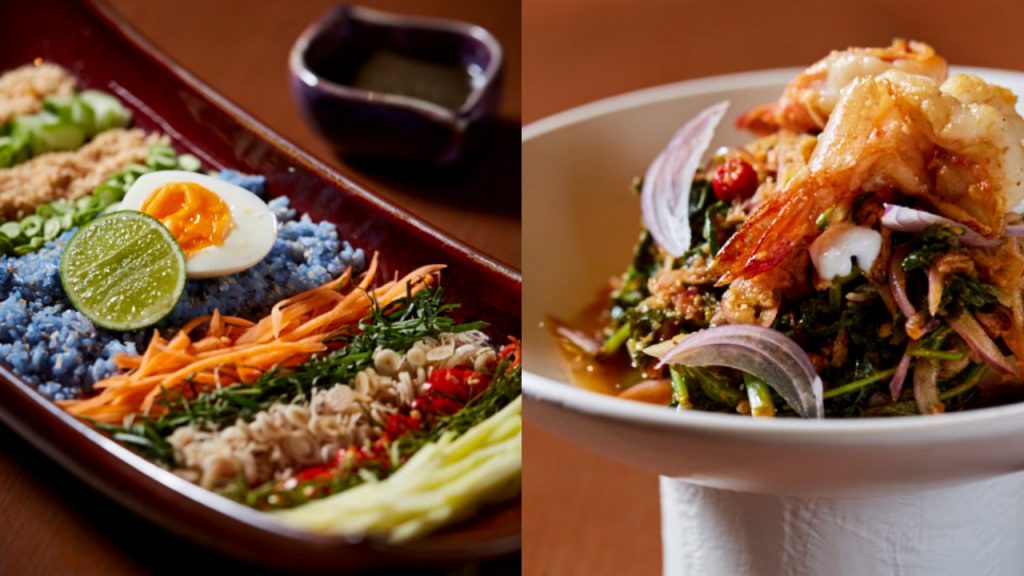 It is too at The View, which, not surprisingly, has a view (overlooking much of the resort and the Gulf of Thailand). It's a beautiful spot. The cuisine, however, at this juncture – while claiming an 'international fine dining' style – doesn't have it quite right. It's an identity issue, I feel, and the culinary ethos is trying to be all things to all people and not ticking all the boxes. But I know it will, in time.
And we come full circle, in a sense. Service at The Ritz-Carlton, Koh Samui is quite exceptional, but it's also a little bit different. I managed to have actual conversations with the ladies and gentlemen who were 'serving' me, and there were times in which I genuinely wished that I could be serving them in return. They were that nice. Never cloying; never obsequious; every member of staff seemed to buy into the whole social contract ethos; giving slightly more than they got because that's part of the deal. And they remembered you, which is an essential aspect in the self-importance assumption that top dollar payers take for granted but rarely assess the implications thereof.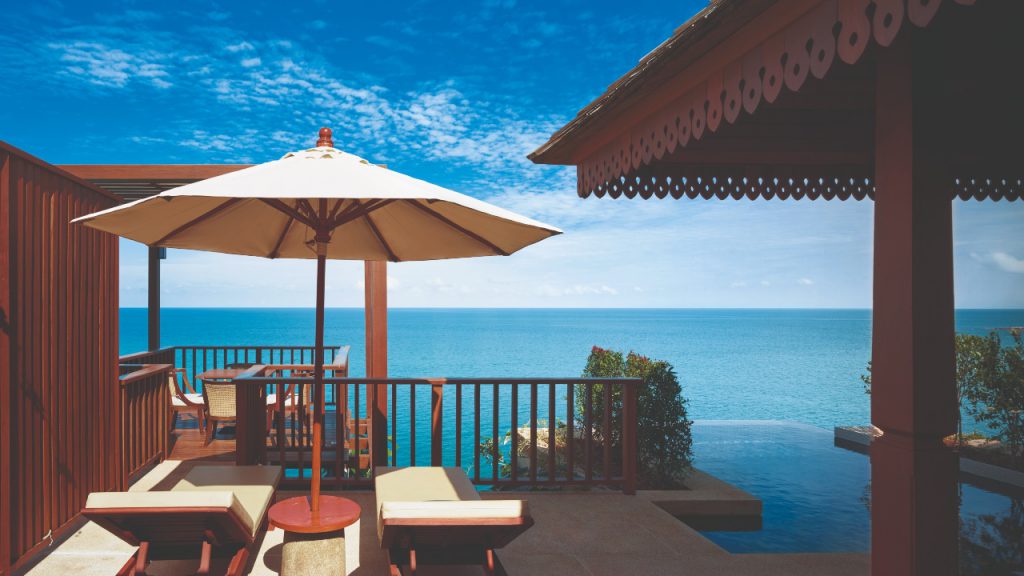 The pandemic has not been kind to the resort – it opened just a couple of months before restrictions on travel were put in place – and has kind of been twiddling its thumbs ever since. It seems, however, that every lady and gentleman has been chomping at the bit to get back to business and do what they do best. That is; make everyone feel welcome; give guests a ton of options for how they can spend their days; feed them well and enable them to enjoy luxurious surroundings without getting too hung up about it. But, most importantly perhaps (and probably my most cherished takeaway), give and take the respect that makes everyone involved in The Ritz-Carlton, Koh Samui exceptional.
---