Since the mid-1990s, when Aliya and Farouk Khan moved from Singapore to Kuala Lumpur, their interest in art and patronage of artists has coalesced into what is now formally known as The AFK Collection. Comprising over 1,000 unique artworks, many of these pieces represent the first generation of Malaysia's contemporary artists. "Malaysian artists are one of the best in Southeast Asia," Farouk says. "It says something about the period of the 1970s and 1980s in which this generation of artists lived, that they had deeper ideologies and sincerity than the current day when commercialisation and materialism is rampant." To him, the art collection is important because it is a snapshot of the present time. "History is the past and art is the present. Artists are expressing how the world is going and keeping in mind that they tend to use the right brain, the many ways in which they express themselves visually rather than literally makes it so interesting."
For his wife Aliya, who grew up in Pakistan, and Farouk, a Singaporean, coming to Malaysia and looking at it with fresh eyes, unsullied by the baggage of the Malaysian experience, made them realise how far ahead Malaysian artists were in their time. "I'm not saying slightly ahead but way ahead – and the proof is in the pudding as art prices in Malaysia have gone up 1,000 per cent in the last two decades."
A recent hanging of artworks at the family home was undertaken by daughter Zena Khan, who is a curator at The AFK Collection as well as one part of the duo in Dua Konsultasi – an art consultancy founded by herself and her sister Leila. This weekend endeavour also saw some notable pieces being displayed including the six-metre by three-metre Az-zholimin (Tribute to Shagufta Akbar) by Hamir Soib Mohamed. The following is a narrative by Zena on how art becomes the central theme in the family house, with key observations on the sometimes prophetic and always thought-provoking pieces that have come to define The AFK Collection's seminal works.
Hamir Soib Mohamed 
Az-zholimin (Tribute to Shagufta Akbar), 2022 (above)
We were lucky to have this large wall because mum took three bedrooms and turned them into an extremely large master suite – so this wall is actually the other side of a walk-in wardrobe. This piece took Hamir, a leading painter from Matahati, nearly three years to complete. It depicts the story of Yunus in the belly of the whale, so the Arabic calligraphy used is stylised to form the whale's ribcage. This painting is a throwback to the canonical style of Goya where old masters met with the beginning of the modernist period. It originated from Hamir's despair at the spate of wildfires, wars and Covid, and the words are a prayer that Muslims say to find respite when all hope is lost. It's done with bitumen that is watered down, with a final layer in acrylic which is how it attains its lustre and flow. The effect of smoke was difficult technically to paint – I was with him when he did a part of it. Essentially, he painted the negative area around the white with bitumen to create the smoke.
---
Masnoor Ramli Mahmud
Making the History, 2014
This piece by Masnoor is a collection of 10 panels combined as one. My dad has an interest in politics and this one feels topical now. It was created at the time of the MH17 being shot down over Ukraine and the art is produced with photographic prints on raw aluminium. In a way like four-colour printing; the aluminium – rather than the white – becomes the control and it suffuses the works with a patina like a remembered dream. The work is complex, like storyboarding and, while he doesn't take a political position, he is looking at moments that equate to spaces for critical reflection, bringing in Van Gogh's Sunflowers for a bit of art history and showing the hinterland of Ukraine with its sunflowers and fields of wheat. Something topical now given the situation there – art has a way of staying relevant in time.
---
Nor Tijan Firdaus
The AFK Code, 2022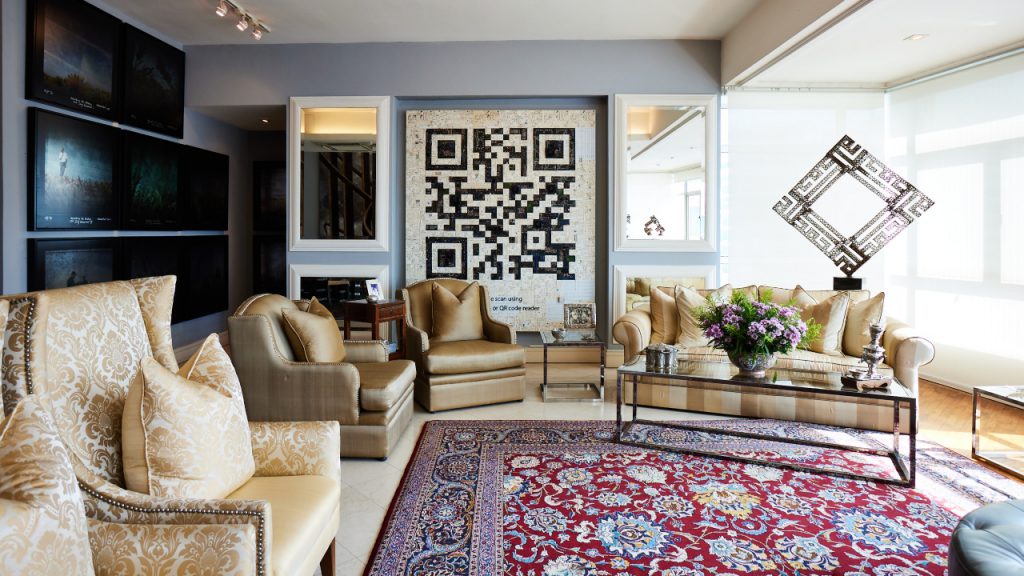 One thing that has been greatly encouraging is how amazing art is developing in Malaysia and that's important because art is the mainstay of many successful societies. This piece was created by combining bits of salvaged electronic waste and chips into a QR code and the artist has done this as a way for Malaysians to know where to look for art knowledge – if you scan her work, it will link you to The AFK Collection home page. The AFK Collection is about two voices – mum and dad – coming together to form a strong point of view; they bring their strong geopolitical interest and knowledge of collecting methodology, love of art and strong eye, which manifest in different ways in each of them. This becomes the scaffolding for The AFK Collection, forming a narrative of the history of contemporary Malaysia through the decades. In the foreground you see Pakistani silver like a samovar and a paan set.
---
Masnoor Ramli Mahmud
Moulding The History, 2014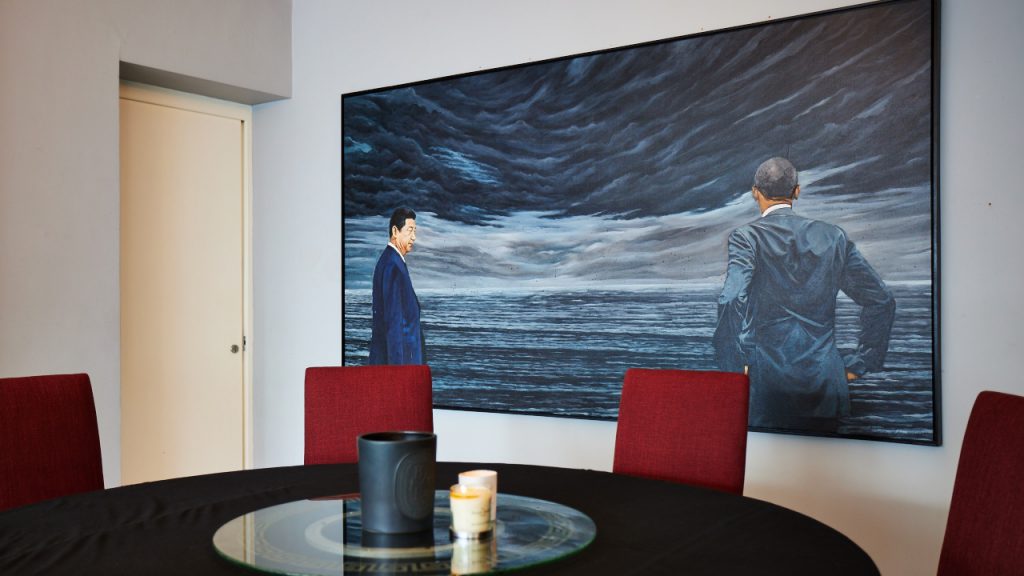 At my dining room, we have this piece which depicts Xi Jinping and Barack Obama contemplating the South China Sea from the shores of Malaysia's east coast by senior contemporary artist Masnoor, who's from the Matahati art movement. He shares the experience of his fellow artists from the art group, growing up in a period of great flux which has developed a lot of deep thought. His work here is a simple landscape where the two world figures were painted in 2014 when MH370 disappeared – and it marks the moment of the US's pivot to Asia.
---
Mohd Fadli Yusoff
Stand and Choose Yourself, 2010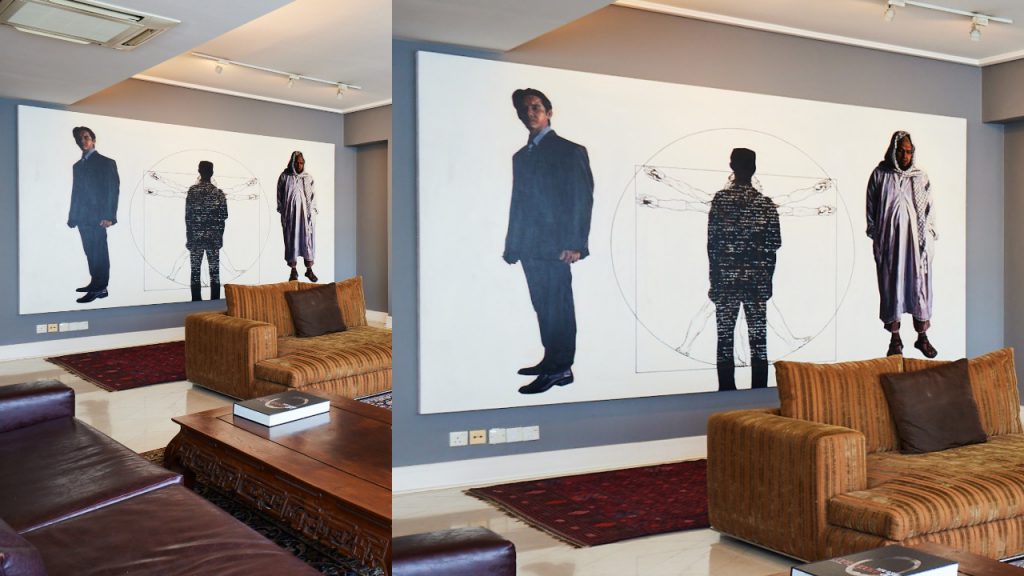 Our apartment is actually two units combined as one and the other living space has become our family room. Here we hung Fadli's piece produced after his '11 years of wilderness'. He is very religious and he had read a fatwa that forbade the depiction of figurative work. It was only 11 years later, after devoting himself to landscape and abstract art, and going deeper into the religion, when he found fulfilment and understood that realism in Islam is a form of dakwah – a conversational process through which he could spread knowledge of Islam. This museum piece comes from his Md Fadli Yusoff 2007-2012 show. It is a commentary with Fadli as a self-portrait in modern clothing and traditional garb, and asking the viewer to find their morality, philosophy and spirituality in the present.
---
Eng Hwee Chu
Lost In Mind, 2008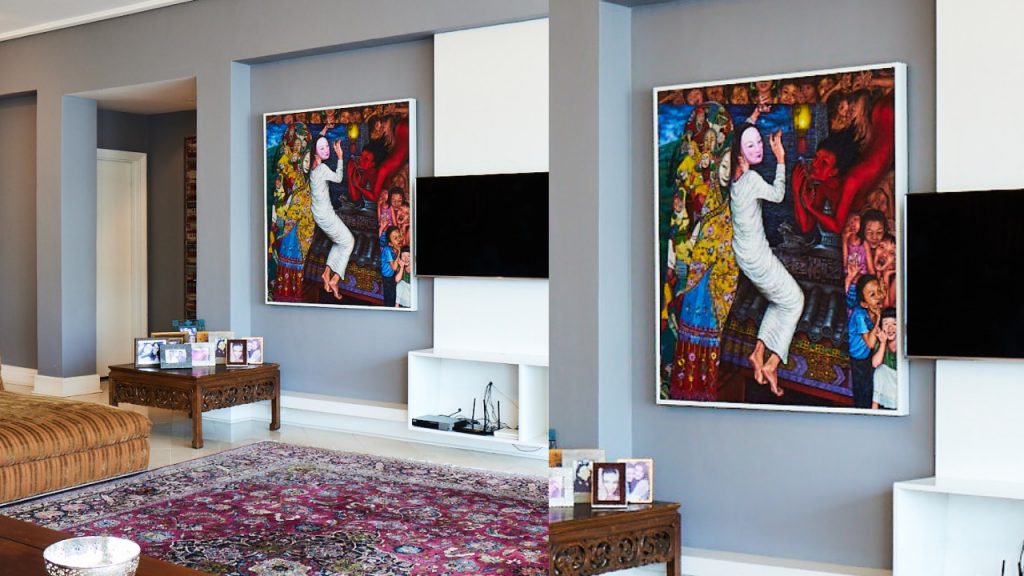 Lost In Mind is one of Eng's strongest periods as a painter of 'magical realism' as she presents both her inner self (the red figure) and also the person she is seen as (white figure). Around them are her children. The entire work is about her culture, done in a way that's almost like an impasto.
---
Tan Chin Kuan
American Dream, 2001 (right)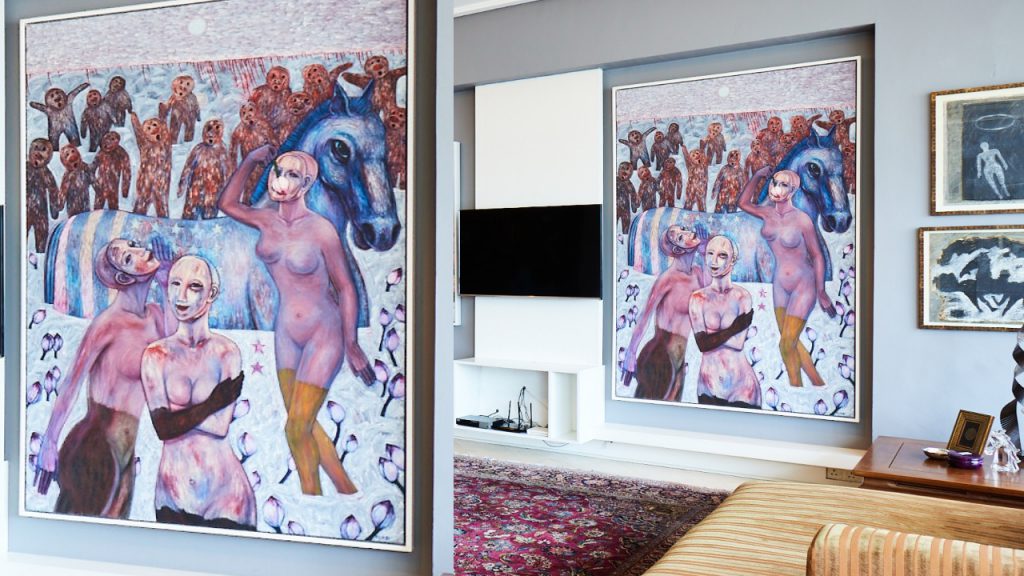 Tan is an intellectual and skilful painter. American Dream is about the fallacy of the US and because he is born in the year of the horse, he sees that as a metaphor for himself, positioning his thoughts, presence and opinion in a situation which doesn't make him happy.
---
Hamir Soib Mohamed
The Great Malaysia City Scape, 2005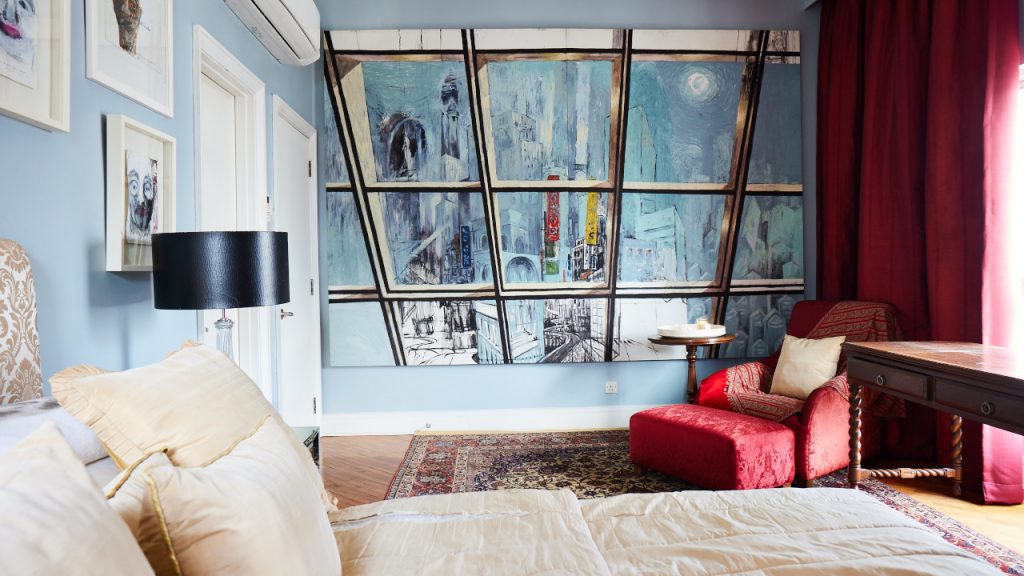 When asked about this painting Hamir states: "It's a question of perspective." He has used the technical – the art of painting and perspectives – to talk about the conceptual. This work was debuted at Hamir's groundbreaking exhibition Pameran Tunggal, which has gone down in Malaysian exhibition history as it was one of the first time monumental canvases were shown during a period when galleries often displayed works in a four-foot by four-foot canvas dimension. Through this exhibition and works such as The Great Malaysia City Scape, Hamir altered the way in which we look at art locally, establishing himself as one of Malaysia's leading contemporary painters.
---
Fawwaz Sukri
The War Veteran I, 2021
The War Veteran II, 2021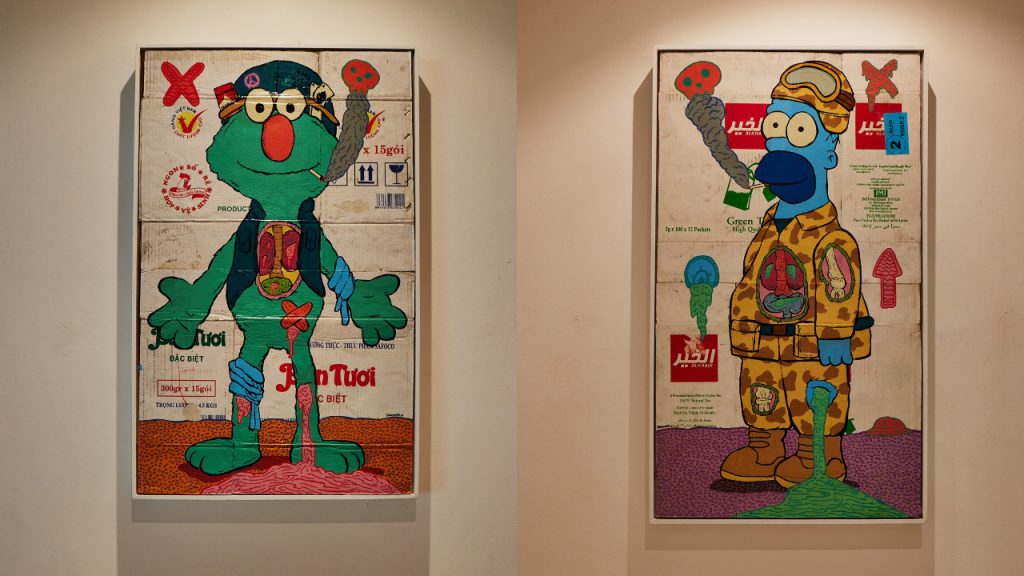 We are really struck by the practice of Fawwaz, who is part of the Ara Damansara Artist Collective. A strong painter, he makes works that are delightfully accessible through pop art imagery, infused with strong social and political messaging that feels relevant in Malaysian and global contexts. This pair, which debuted at Dua Konsultasi's 2021 exhibition, Psychedelic, during Artober, exemplifies his socio-political consciousness as they draw parallels between the fall of Saigon and Kabul. Elmo is dressed as a Vietcong, painted on a cardboard box of Vietnamese goods, while Homer is an American GI on a box that contained Arabic goods. As Fawwaz draws this parallel, he speaks to the cyclic nature of wars, questioning if they are about resources rather than ideologies.
---
Photos: Michael Yeoh