Keen to pique his diners' sense of inquisitiveness, it was almost no surprise that Masashi Horiuchi – the Executive Chef of Entier in Kuala Lumpur – chose to begin his guest appearance for The Chef Series – 2022 at The Datai Langkawi with a kombu dashi cooking demonstration. Prior to stepping into the kitchen of The Dining Room on 18 and 19 August, he used an afternoon to unveil the intricacies behind one of Japanese cuisine's fundamental elements, as well as show resort guests how to shave and steep bonito flakes.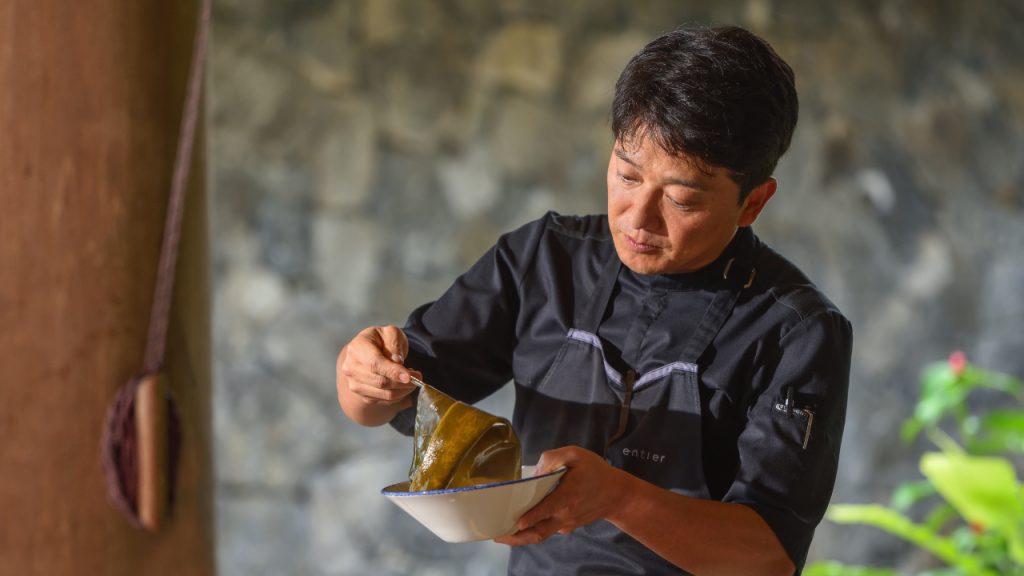 Horiuchi's enthusiasm for both technique and terroir – he spoke at length about his home prefecture of Kagoshima in the southern region of Japan, and the quality of its bonito – carried through to dinner, where he wrung the best out of his fine ingredients. (The tasting menu was priced at RM650, RM800 with non-alcoholic beverage pairing, and RM950 with wine pairing.) "I hope the dinner experience will provoke their thoughts – that we invite their curiosity on terroir cuisine and what each land has to offer – and maybe ponder our struggles with carbon footprint and sustainability," the chef mused beforehand.
The five amuse-bouche dishes accompanying a refreshing glass of Jacquart Mosaïque Brut Champagne were an impressive illustration of Horiuchi's precision and discipline in the kitchen. An Iwagaki rock oyster arrived artfully topped with pomelo sacs and caviar; a paper-thin tart managed to retain the savoury juice of the Spanish mussels within it; and pastry columns came carefully stacked with duck rillettes, foie gras and pickled beetroot. The inclusion of Malaysian produce was another priority for Chef Masashi Horiuchi, in the form of a charming custard cornet with white sweetcorn from Cameron Highlands, as well as Tanjung Malim caviar in a rotund horseradish cream beignet.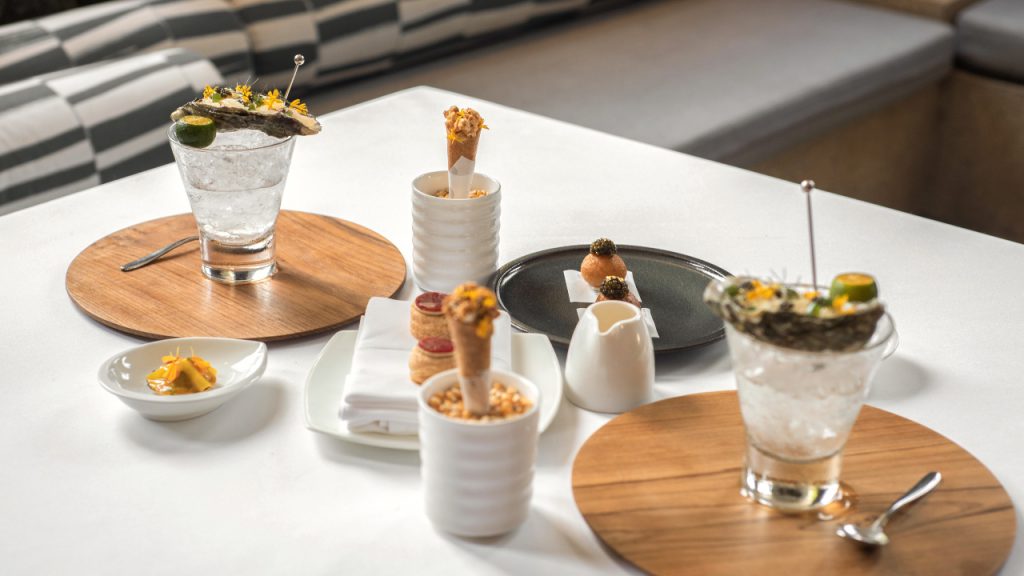 "With this lineup of local ingredients in the menu, first-time visitors will be able to experience and marvel at what Malaysia has to offer on so many fronts – to go a bit deeper," Horiuchi explained. After a swift palate cleanser of mildly bitter Japanese gobo ice cream crafted from burdock root, enhanced with the saltiness of caviar pearls, Masashi Horiuchi presented a dish of green asparagus grown in the Highlands with roasted sweetbreads made from calves' throat glands. An example of his nose-to-tail cooking philosophy, the creamy sweetbreads were complemented by earthy morel mushrooms, black truffle slices and the intense minerality of a 2018 Domaine Séguinot-Bordet Chablis.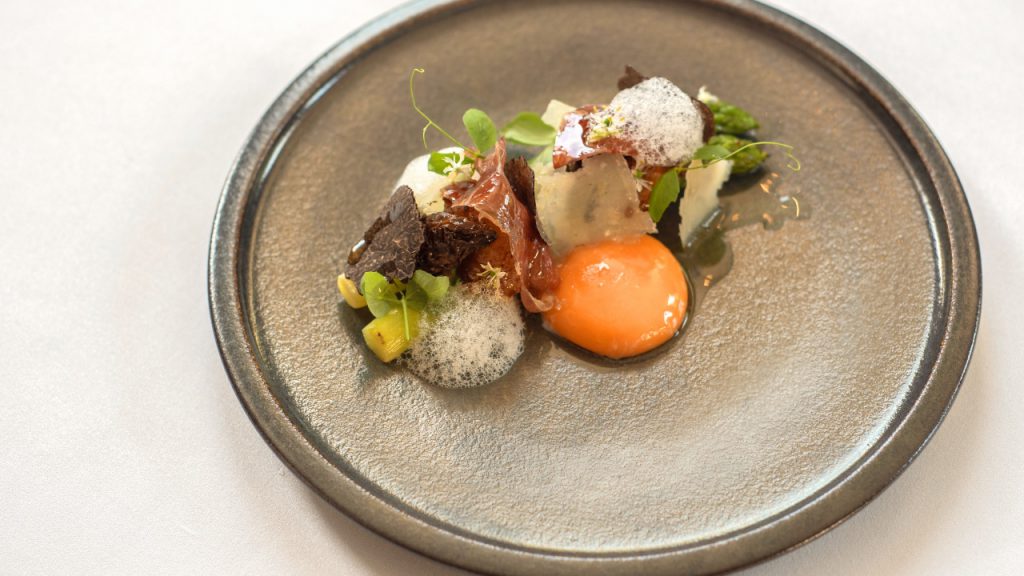 From Salomon-Undhof – one of the oldest privately owned wineries of Austria – came an energetic, citrusy 2015 Steinterrassen Riesling that gave buoyancy to the heady herbs and spices of lobster laced with vadouvan oil and mango chutney. Horiuchi's tribute to the French culinary genius Pierre Troisgros and his signature dish of salmon and sorrel was altogether gentler, layering the sharpness of sorrel sauce and the saltiness of cured Scottish salmon with a candy-scented 2020 Miraval Rosé.
The showstopper of the evening – a roasted French suckling lamb leg – was presented whole at the table, Entier-style, bedecked with crushed green herbs and garlic confit, and then sliced and served with its own juice, black truffles and artichokes. An incisive 2016 Santenay Premier Cru Clos Faubard from Domaine Lucien Muzard helped cut the richness of the lamb, reserving a little extra eating space for diners once dessert arrived: a strawberry lime tartare with a mint mousse and strawberry ice cream. Composed of Chitose strawberries, grown and tended to Japanese-quality standards under carefully controlled conditions in Pahang, the sunshine sweetness of fresh berries made for a joyful combination with a fruity Kir Royale – transforming a classic French apéritif into a most welcome digestif.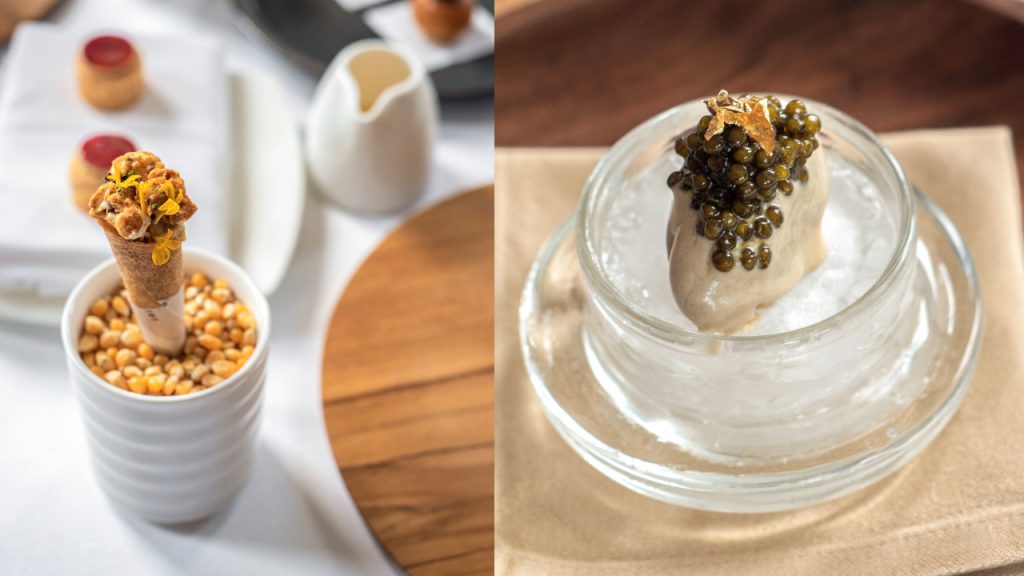 The Chef Series – 2022 continues at The Datai Langkawi on 6 and 7 October with guest appearances by chefs Lee Zhe Xi and Soh Yong Zhi of Eat and Cook.
---