There are many things that make a trip to Joali's two island resorts in the Maldives – Joali Maldives and Joali Being – particularly special, but one of the most noticeable elements is that the magic seems to happen even before you've stepped foot there. Granted, Malaysia has the advantage of being a relatively painless four-hour flight away from Malé's Velana International Airport, but even the most travel-rumpled vacationer won't fail to be impressed by the efficiency of Joali's welcome team.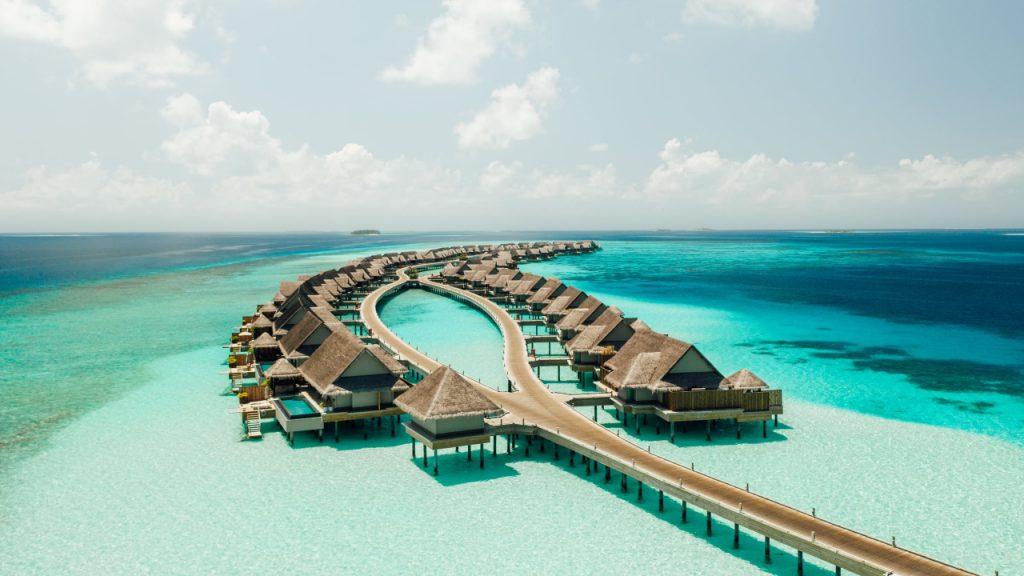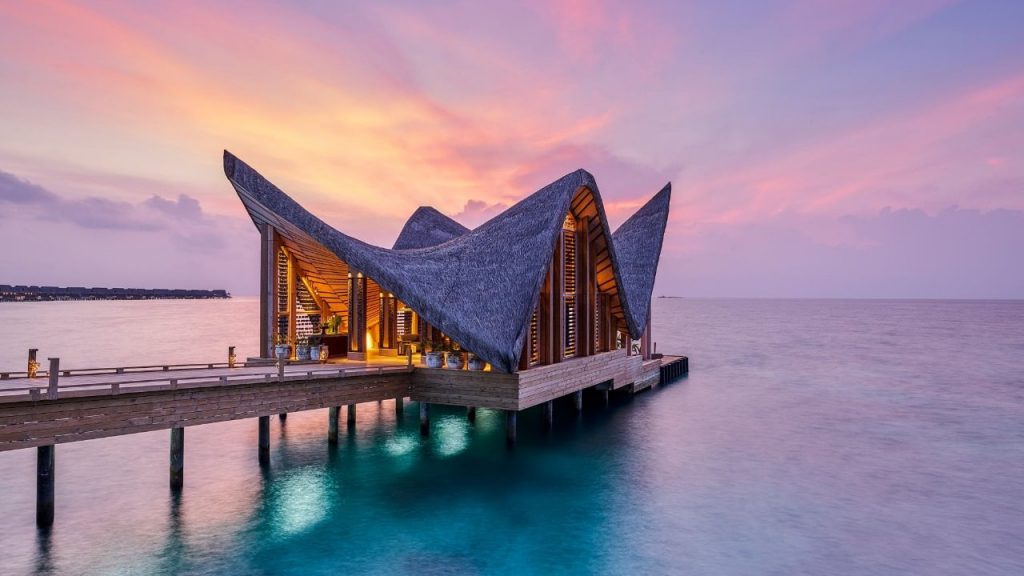 As I emerge in Malé, the team handles the arrangements for my onward journey north of the Maldivian capital, spiriting us away to a waiting luxury SUV headed for the new, gleaming seaplane terminal. In the resort's private airport lounge, I get my first taste of life at Joali – impeccably designed spaces with rose gold fixtures, attentive yet discreet service, and the most charming children's playroom with sea creature-shaped lanterns – and I'm almost sad to leave it.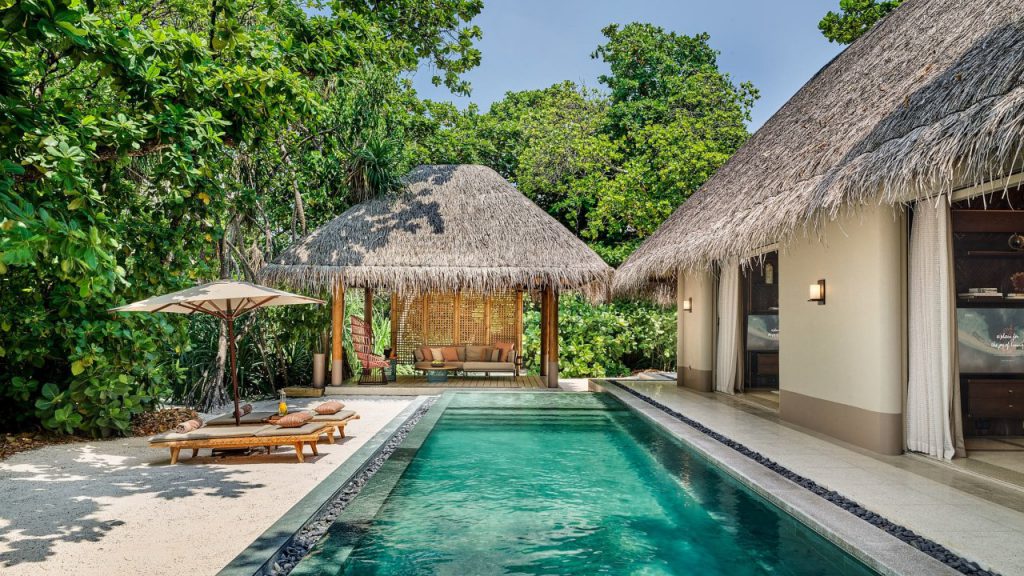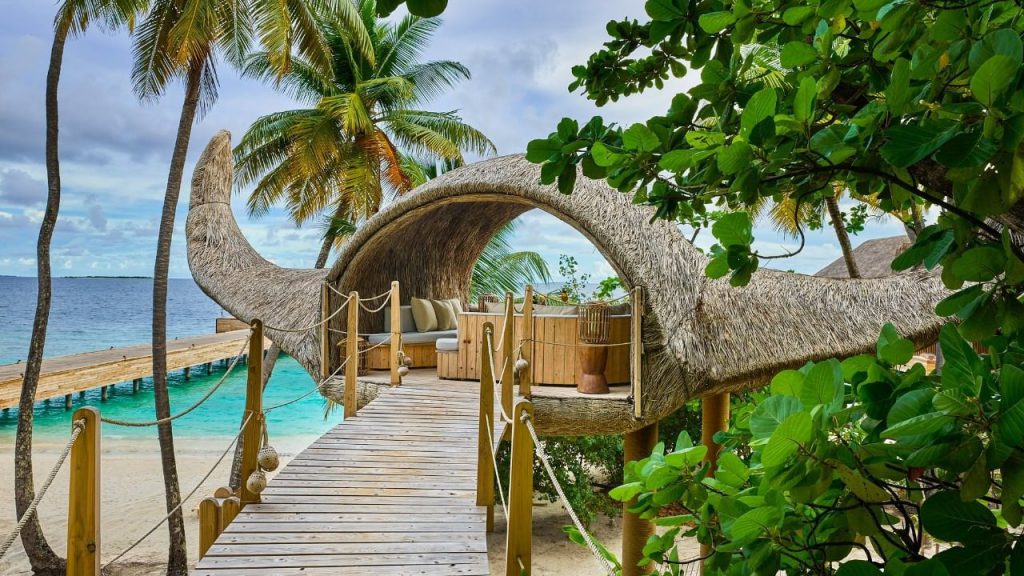 But leave I must, for the seaplane awaits: Joali's very own eight-passenger DHC-6 Twin Otter, custom-painted in the resort's signature colours and outfitted with plush leather seats, which are certainly far more comfortable than the average seaplane. (Options for private seaplane charters and shared seaplane flights on scheduled Trans Maldivian Airways services are both available.) The 40-minute flight up to the Raa Atoll takes us over increasingly beautiful ring-shaped reefs with shores the colour of a paraiba tourmaline, until Muravandhoo Island glides into view.
Beneath the undulating thatched roof of Joali Maldives' manta ray-shaped welcome jetty, which has greeted guests since the resort opened in 2018, I alight the seaplane to the beats of a traditional boduberu drum. There are no tedious check-in processes here: my jadugar – the Maldivian word for 'magician' and Joali's version of a dedicated butler service – whisks me off to my villa at light speed on a buggy, with a fresh coconut in hand.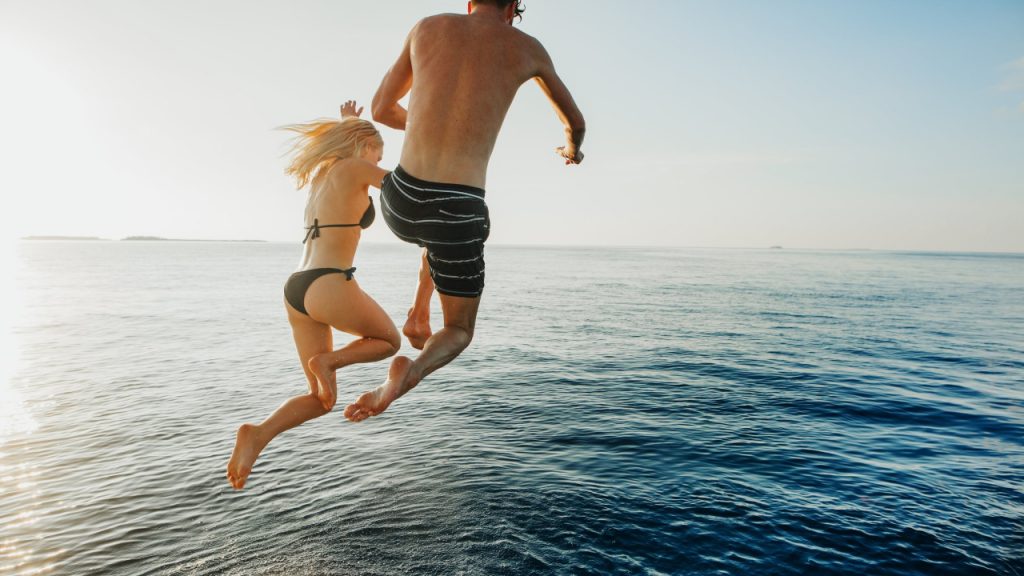 Guests have their pick of 73 beach villas, over-water villas, and residences, stretching from a 240-square metre Water Villa with a private pool to a mammoth 1,200 sqm duplex Beach Residence with four bedrooms. (A Water Villa starts from US$2,097 per night during low season, for two people on a bed-and-breakfast basis, excluding taxes.) My own 680 sqm Beach Villa has a beach garden and infinity pool, plus a bathroom so expansive that I get lost trying to find the indoor shower, which is the size of half a tennis court and lined with glamorous jade-green marble.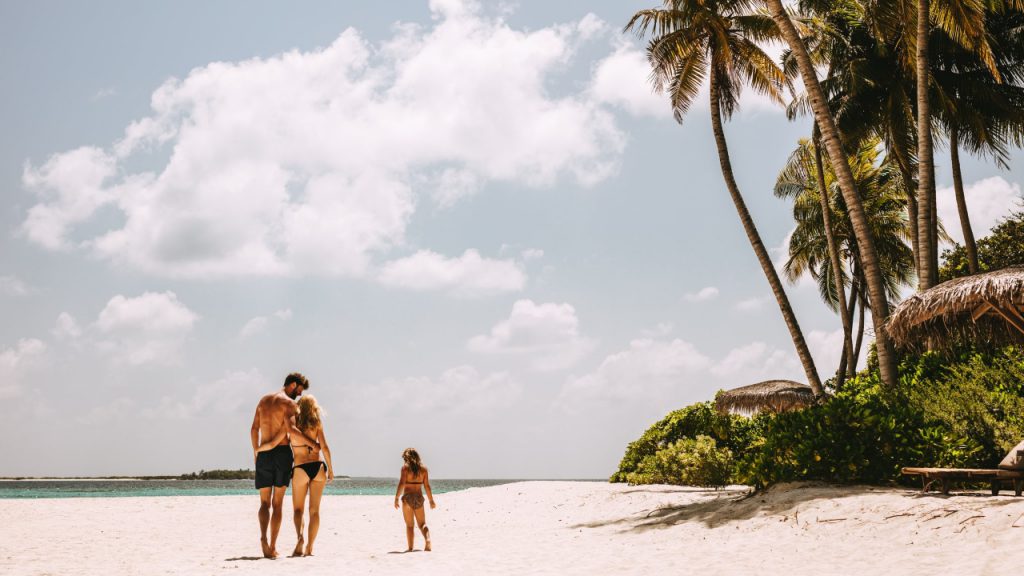 Each jadugar is well-versed in Joali's art of keeping guests ensconced in phenomenal levels of luxury, and can organise everything from a stargazing session to a snorkelling tour of the surrounding coral reef with one of the resort's marine biologists. I marvel at my jadugar's talent for keeping things running like clockwork as he secures a coveted over-water treatment room for a massage at Joali Spa by ESPA, and sets up a ceramic painting session with Nataliya Kuleshova, the island's Resident Artist. This being the age of Instagram, jadugars also excel at taking photographs of their guests – a skill I take advantage of at Joali Maldives' many art installations, including South African designer Porky Hefer's iconic Manta Ray Tree House.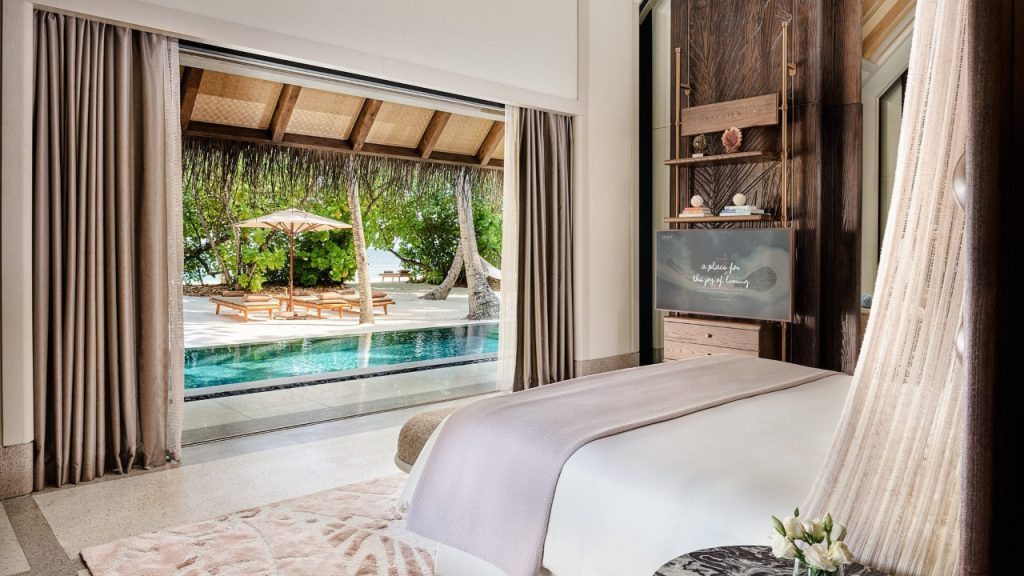 It is the resort's impressive selection of dining options, however, that really explores the meaning of indulgence: the presence of five restaurants means that you could spend weeks, if not months, at Joali Maldives without tiring of their menus. There is Mura Bar, the prime spot for soaking up the rays (and multiple cocktails) during lunchtime and sunset, and Bellini's – an Italian restaurant overseen by Michelin-starred chef Theodor Falser, who brings soul and Mediterranean authenticity to its tables.
Saoke – arguably Joali's most well-known restaurant – floats above the ocean (clusters of docile baby sharks are frequently spotted just beneath), serving sake and Japanese specialties under the direction of chef Hidemasa Yamamoto, such as charcoal-grilled robata Maldivian tuna. Barefoot dining at TUH'U with Levant cuisine beneath the starry sky and my toes in the sand is a revelation, with cups of blossom-scented sharbat, juicy kebabs and a heavenly house-made, butter-drenched pistachio baklava.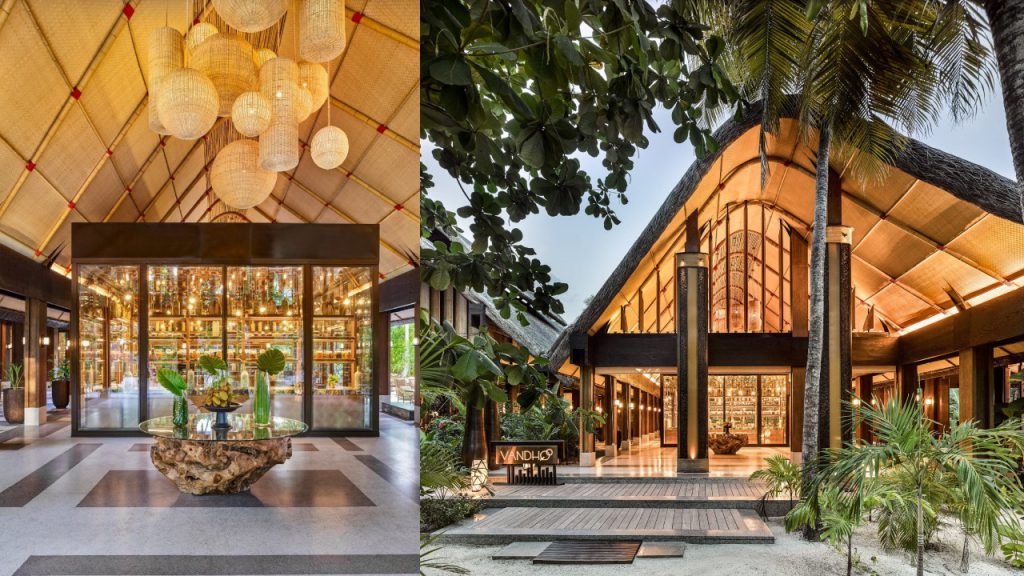 It's a testament to the resort's Turkish ownership under entrepreneur Esin Güral Argat, Vice President of Gürok Group, that the serpme breakfast at Vandhoo – an array of olives, honey, cheese and pastries – is also so fantastic. And after attempting the two-person Turkish breakfast by myself (not to mention multiple scoops of ice cream at Le Joie, Joali Maldives' artisanal desserts store), I begin to worry about the increasing strain on the seams of my swimsuit.
By good fortune, the next resort is a 10-minute speedboat ride away to the neighbouring Bodufushi Island, where the sister property of Joali Maldives stands ready to receive guests – this time to the dulcet chimes of a metallophone. Having recently celebrated its first anniversary since its initial launch in November 2021, Joali Being presents a different kind of luxury hospitality experience: one that focuses on wellbeing, transcendence, and renewal.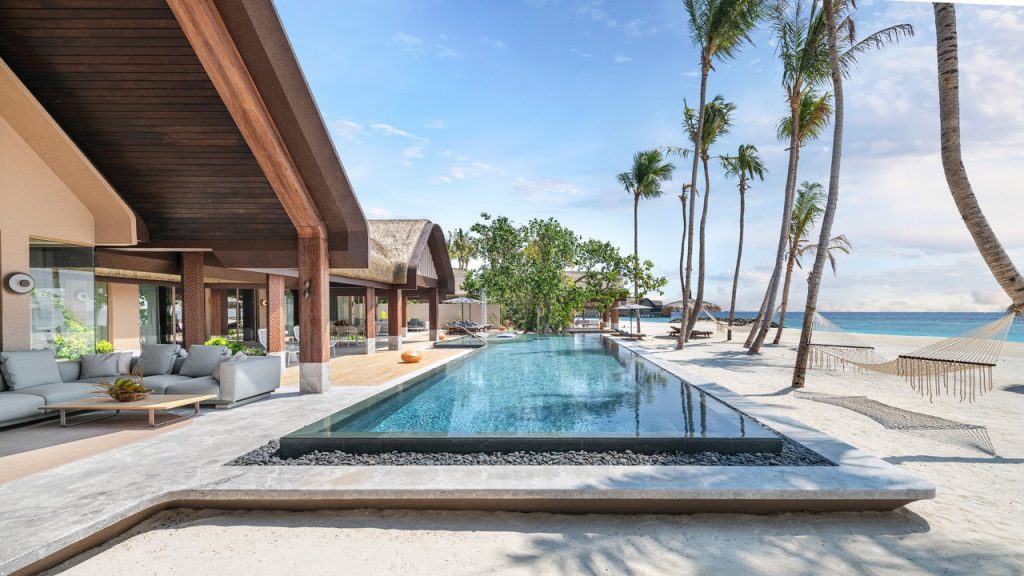 As the first and only wellbeing retreat in the Maldives, Joali Being stands as a beacon to travellers seeking 'the joy in weightlessness', as the resort calls it, whether it be the lifting of burdens physical, mental or emotional. Healing approaches are tailored around a philosophy of Four Pillars, addressing the concerns of each individual's mind, skin, microbiome and energy through their dietary and lifestyle choices. Just as importantly, though, Joali Being creates sympathetic support structures, rather than brutal boot camp conditions.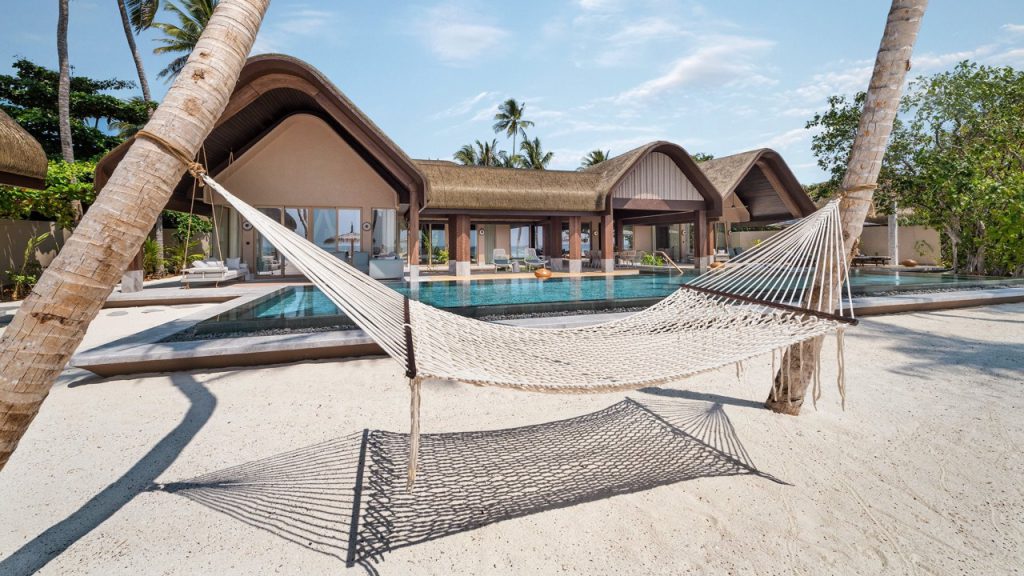 Even its 68 villas are thoughtfully constructed as 'well living spaces', built according to biophilic design principles that encourage calmness and connectivity with the natural environment, transitioning seamlessly between chic, pastel-infused interiors and overwater vistas of the aquamarine seas outside. (Prices for an Ocean Pool Villa start from US$2,146 per night, for two people on a bed-and-breakfast basis, excluding taxes.) Wooden brainteaser games and a metallophone replace televisions; a bottle of Danish sparkling tea serves as bubbly; and the minibar is stocked with loose leaf tea and kombucha – but this is all pleasantly relaxing, rather than prohibitive.
Joali Being certainly can't be accused of being low-tech at Core: an open-plan movement and fitness centre filled with cutting-edge Technogym equipment, Pilates reformers and a D-Wall (a digital mirror that assists with sports training and posture analysis). Eschewing the Skillmill, I opt for gentle classes beneath the towering pyramid-shaped roof of the yoga hall, along with a three-minute session in the resort's cryotherapy chamber. Exposing the body to a temperature of -85 degrees Centigrade is supposed to burn up to 800 calories and kickstart the immune system – and it gives me such an energy boost that I clamour for a second round.
Physical activity is just one element in Joali Being's wellness strategies, which is why every guest should step into the Areka spa for an integrative lifestyle assessment with one of their in-house wellbeing consultants. Naturopath, nutritionist and Bach Flower therapist Deidre Groenewald offers an empathetic ear as she runs through everything from on-the-spot bio-resonance test results to my dreadful sleep patterns, and surprises me with her deduction that my Mind Pillar requires the most attention.
Stitching together a bespoke Immersion Programme for my time at the resort, she recommends talk therapy, a course of vitamins and nutritional supplements, hydrotherapy and an Ayuverdic shirodhara treatment to soothe my stressed hypothalamus. Guests who sign up for a specific Immersion Programme (which starts from US$1,665 per person for five nights on a Joali Being Discovery Programme) can expect a similar level of targeted care that restores balance to energy levels, emotions and fatigued minds.
Eating well plays a vital role in healing here, and the menus at Flow and Mojo – the retreat's primary dining spaces – have been curated by nutritionists at Joali Being, managing the tricky task of remaining healthy and genuinely appealing. Flow boasts three separate kitchens that specialise in pescatarian cuisine, vegan and vegetarian fare, and a protein-forward B'Well signature menu – a bonus for couples with different dietary requirements. Dessert and carbohydrates, to my delight, have not been banned from the island. Such responsibly sourced 'earth-to-table' cuisine is a welcome reminder that healthy eating is about nourishment, not sacrifice and deprivation.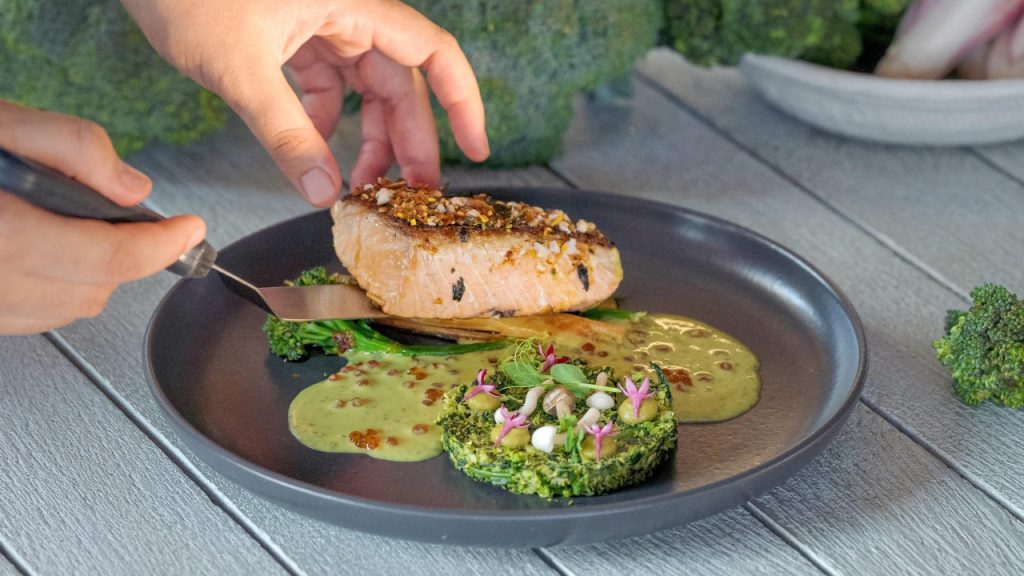 Likewise, Joali Being has a wine list, but the breadth of its non-alcoholic beverage list – there are juices galore, probiotic drinks, zero-proof Seedlip cocktails and a post-prandial spiced chai brewed at the tea bar Sai – keeps my thirst quenched. Idyllic hours are spent being pampered with synergistic essential oil blends during the resort's signature Four Pillars Massage, sipping potent herbal tisanes at the herbology centre Aktar, and enlivening my senses at the open-air sonic healing Discovery Sound Path. Rarely have I felt so well looked-after than here.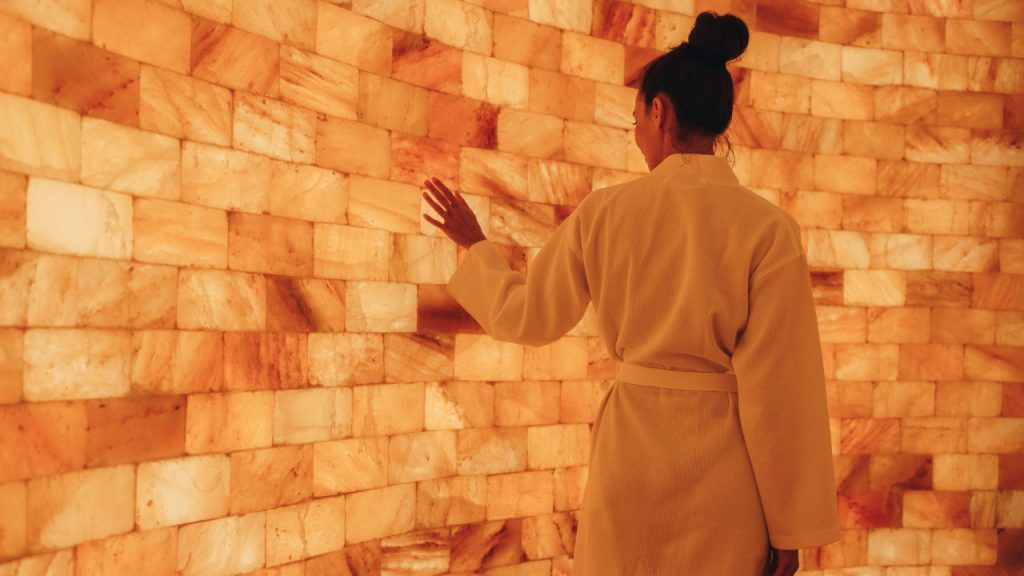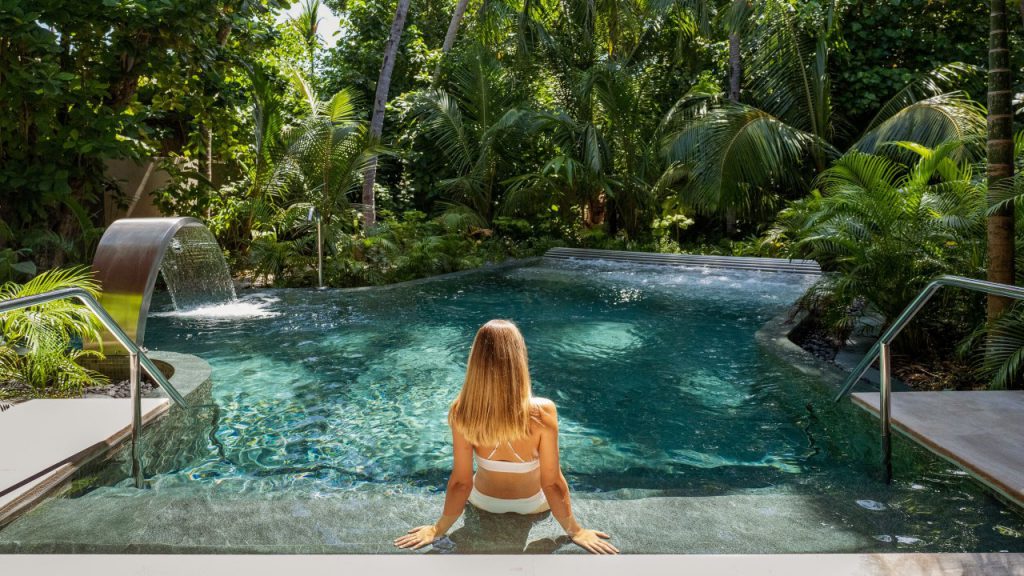 It's at Kaashi – a vast, magnificent hydrotherapy hall with a marble hammam, Finnish sauna, Russian banya, and Himalayan salt inhalation room – that I try watsu, a form of aquatic bodywork that unites Japanese shiatsu and the therapeutic effects of water. In a heated pool encircled with palm tree mosaics, I lean back and put my trust entirely in my therapist, letting him cradle me as he makes the gentlest of adjustments and stretches. Beneath the starlight-patterned ceiling, I get a taste of what it means to become weightless at Joali Being – carefree and at peace. As I'm whirled through the water, I decide there's no better way to emerge into 2023 than this.
---