At the recent Château Lafite Rothschild wine-paired dinner which took place in the modish Okaju restaurant, there was an undeniable sense of anticipation – heightened by the realisation that one of Bordeaux' most famous Premier Cru was in town. This private dinner event, organised by premier wine distributor Bordeaux Liquid Gold, represented the very first official Domaines Barons de Rothschild wine dinner in Malaysia and was the culmination of a years-long promise. "Three years ago, we made a promise that if we were going to do a Chateau Lafite-Rothschild dinner event in Malaysia, we would do it with Bordeaux Liquid Gold," says Alexandre Garandel, the area sales manager of Domaines Barons de Rothschild (Lafite).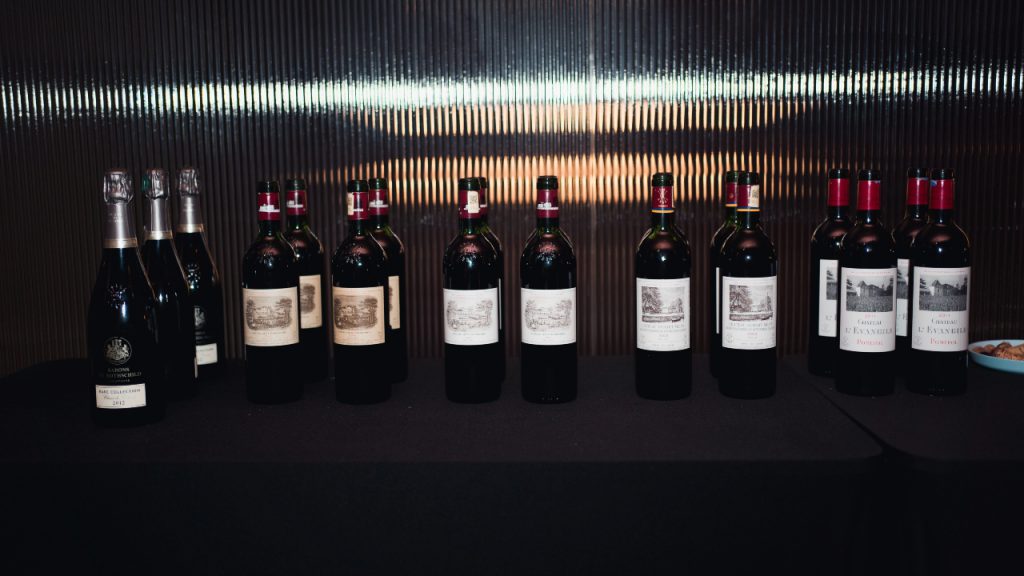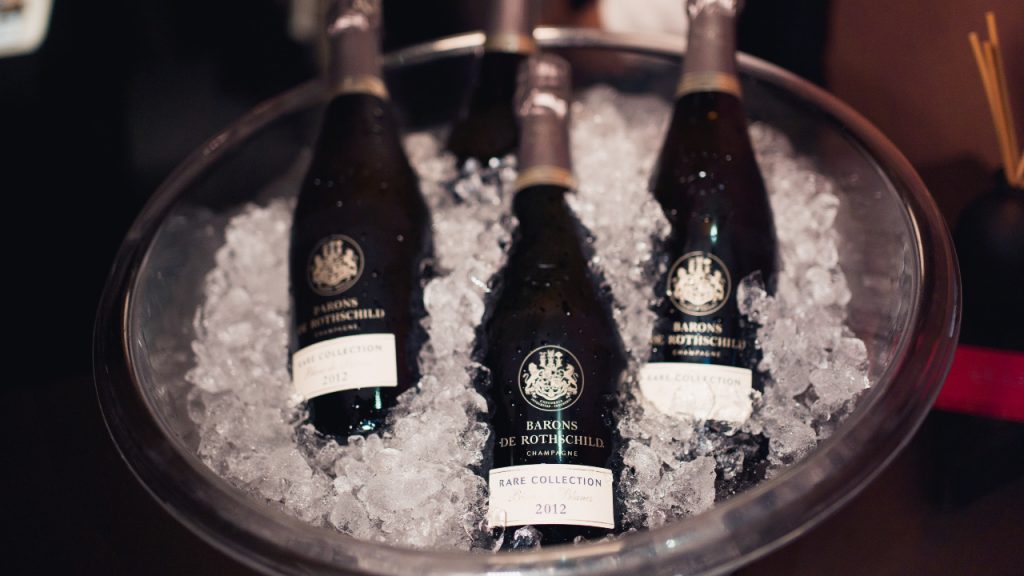 Here among an assemblage of wine connoisseurs, Bordeaux Liquid Gold's principal Julian Poh welcomed guests to the swish dining room of Okaju, helmed by culinary wunderkind Eddie Ng who provided the menu for the evening. To kick off, the Champagne Baron de Rothschild Rare 2012 Blanc de Blancs offered an insight into what Garandel describes as one of the 'rare instances'; when all branches of the Rothschild family (represented by the five interlocking arrows on the bottle) come together in the creation of a wine. The three branches with remaining heirs, namely Château Lafite Rothschild, Château Mouton Rothschild and Château Edmond de Rothschild participated in the creation of the champagne. "It's a family project, using Chardonnay sourced from the best locations in Champagne," he says. "We give these grapes the nickname 'Grande Blanc', because they are both rare and offer the best acidity to make champagne that will age long in a cellar." The Chardonnay are sourced from four beautiful Grand Crus from Côte des Blancs: Avize, Cramant, Oger and Le Mesnil-sur-Oger. And in the resulting champagne, one experiences a sunny richness on the nose with fresh notes of citrus and lemon zest, with the palate spreading its long finish of toasty mocha and vanilla. To nibble, an amuse bouche trio of mackerel tartare, smoked caviar with sweet miso, foie gras torchon with figs and Japanese Hairy Crab tartlet with uni naturally whetted the appetite for more.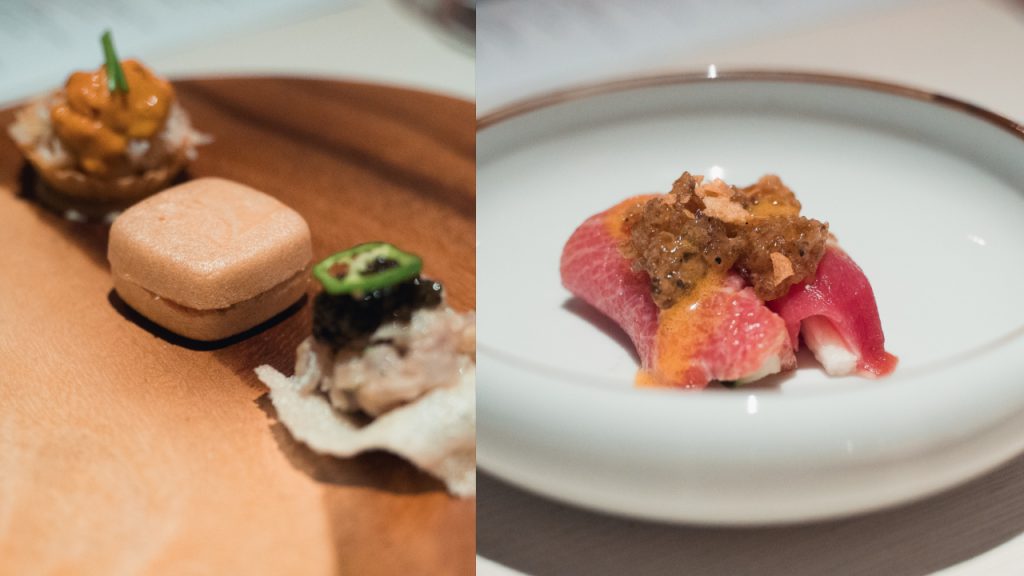 With the sashimi course of soy-marinated medium fatty tuna with cured yolk, came the Chateau L'Evangile 2011. "This is one of our latest exhibition models," Garandel begins. Acquired by Domaines Barons de Rothschild in 1990, this estate from Bordeaux' Right Bank in Pomerol is rich in history and boasts a unique clay composition similar to its direct neighbour and bona fide Bordeaux superstar: Château Pétrus. In the intervening years, to understand how L'Evangile made its wines, Saskia de Rothschild had joined the company incognito using her mother's maiden name. She now currently sits on the board as chairperson of Château Lafite Rothschild and is among the proponents leading its conversion to organic. "This 2011 vintage endured a lot of hot waves which made it tricky, but August and September gave us perfect conditions – and if I were to use a few words to describe it, it wold the simplicity of wine-making which is what Pomerol is known for," says Garandel. Accordingly, the palate of red and dark fruits of the L'Evangile 2011 would be paired firstly with the medium fatty tuna, and then a Shirako (cod's milt) in chicken stock, blue cheese and black pepper.
The ensuing Château Duhart-Milon 2003 is described by Garandel as a wine that has been 'under the radar.' "It originates from the same appellation – and back in the 18thcentury, was used as the second label of Château Lafite," he says. Following the purchase 1962 purchase of Château Duhart-Milon by the Rothschild family, nearly four decades of replanting and patiently waiting on the vines to mature would finally yield the reserve wine that they were looking for. "It's an exuberant style of Pauillac – and for a 20-year-old wine, you can understand what makes it great." Backgrounded by a dry-aged Cherry Valley duck seasoned with dashi, the full-bodied vintage showcased its blackberry and violet notes, with chewy tannins and a long finish.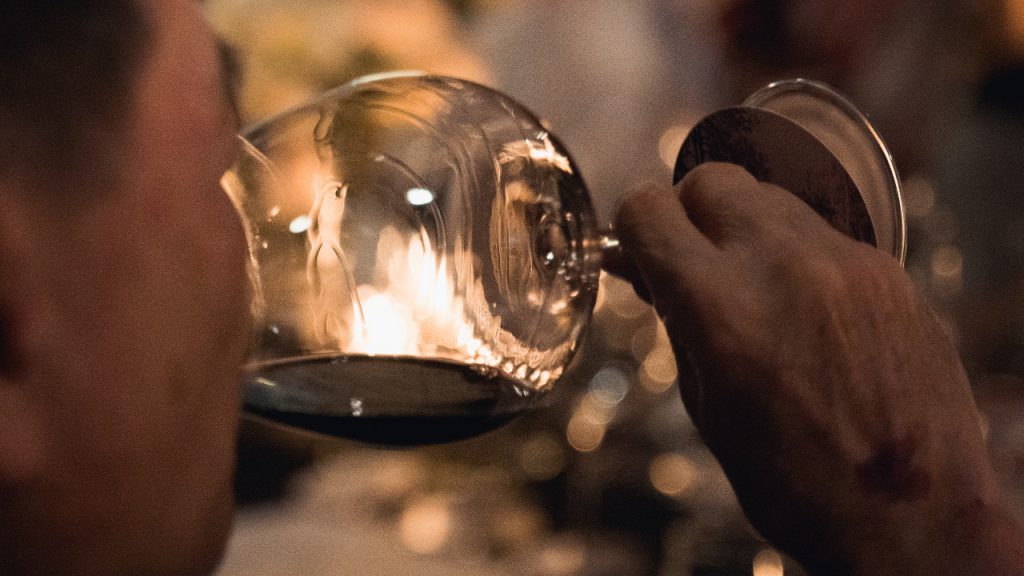 Soon the room would be hushed into a reverential silence as the Château Lafite Rothschild 2003 made its rounds. "Upon acquiring the estate in 1868, the legacy of wine with the Rothschild family began," Garandel says. Two vintages were selected for the evening, the atypical 2003 to pair with a miso lamb rack and 1998 with dry aged T-bone steak and autumnal truffles. In the first vintage of 2003, Garandel sought to demonstrate that through the alchemy of sand, gravel and limestone, on one of the choicest terroir in the whole of Bordeaux, the grapes – even under challenging climate conditions – still produce fantastic wines. "This is the real recognition of great wineries – that they are still able to produce amazing quality even under these adverse conditions."
While 2003 presented great challenges for the winery, even in its composition which included Cabernet Franc and Petit Verdot (which nevertheless went on to achieve 100 points by Robert Parker), the 1998 vintage reverts to the classical Lafite style with 84 per cent Cabernet Sauvignon and 16 per cent Merlot. "This 1998 is what we consider an exceptional vintage, as we hired 50 more people to pick at the perfect conditions – and at the moment we picked the fruit and pressed it, we knew from the juice that it would be fantastic." Indeed, this vintage would go on to be achieve 98 points by Robert Parker, and praised for its redolent finish of 50+ seconds.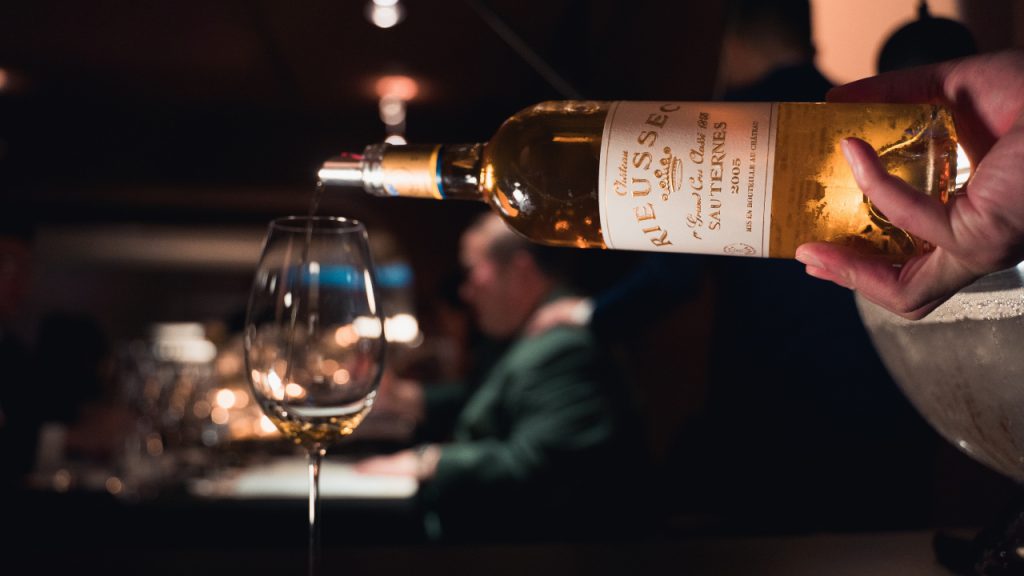 There was still one more wine from the Domaines Barons de Rothschild holdings to end the night. A 2005 Château Rieussec Sauternes provided the bouquet of toffee, caramel and apple pie, as well as a delicious sweetness of honey and marmalade, to go with the overripe Japanese persimmon and almond Chantilly crème.
---