The air is crisp, refreshing and fragrant. There's barely a cloud in the sky. I stroll towards the pond up ahead, and see a multicolour spectacle of koi, all clamouring for small bites of bread. All throughout the year, this pond garden is an ukiyo-e painting brought to life vividly – crape myrtle in summer, maple leaves in autumn, plum blossoms in winter, and, of course, cherry blossoms in spring. I cross the carefully preserved bridge, and see the century-old pagoda on the pond's large island to my left. I'll be arriving at the tea house soon, where a maiko is waiting for me.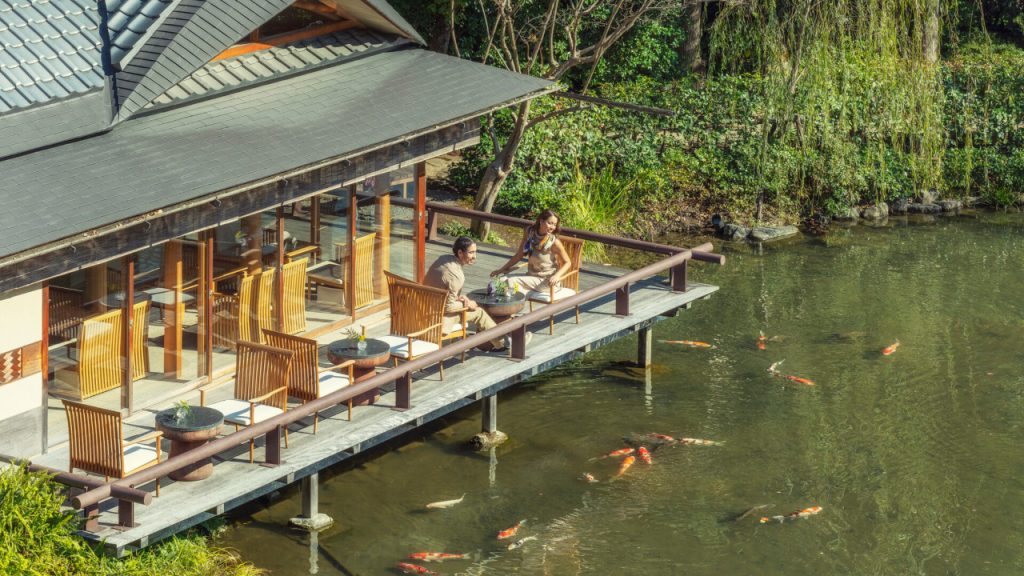 No, this is not a firsthand account of Taira no Shigemori, the Minister of State who owned the villa where this Shakusui-en pond garden resides, from more than 800 years ago. It's my first day back in Japan after what felt like an eternity, and I'm immersing myself in Four Seasons Hotel Kyoto's highlight feature – its 10,000sqm resplendent ikeniwa, or pond garden. Of the luxury hotel's 180 keys, the rooms, suites and residences that have a garden view are the most popular (and booked) all year round. A limited amount of Hotel Residences are also available for sale, for those who can't bear to leave such gorgeous environments and exquisite hotel amenities, such as a 20-metre indoor swimming pool, ofuro baths, and a spa, among many.
However, one of the hotel's standout services is something money literally cannot buy – arranging an opportunity to interact with a maiko. Geisha may be more commonly known, but they're known as geiko in Kyoto, explains Kokinu (小絹), who herself is a maiko training to become a geiko. I meet her at the Fuju Lounge, which is located in the pond garden's Tea House and serves the hotel's own original sake. The 18-year-old – who was given her 'Kokinu' name by her seniors – began her training right after middle school, and has seven cohorts. There have been fewer and fewer maiko in Kyoto as the years have gone by, she says, but she nonetheless enjoys her career path – though she only has two days off a month and can't use a smartphone. Hair worn in a beautiful Japanese-style braid, and in a bright red furisode (long-sleeved kimono), Kokinu pours me some of that sake and offers to teach me a rhythm-based drinking game. Beguiled by her charm, I agree – and lose a few beats into the very first game. She giggles politely and pours me another glass.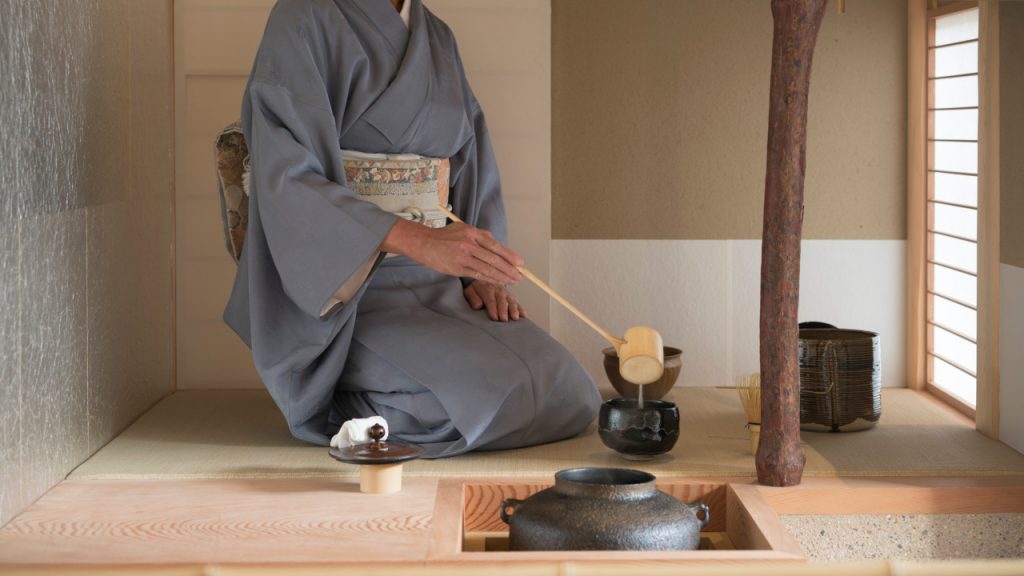 案内, annai; to guide, lead the way, or show around.
The Four Seasons Hotel Kyoto is located in Higashiyama ward, and has neighbours such as the Kyoto National Museum, Myoho-in Temple, Chishaku-in Temple, and Kyoto Women's University. It is also not very far from untouched forests full of Japanese cedar trees. On Sunday mornings, the hotel organises wellness activities for guests, including morning yoga by the pool, Zazen Meditation by the pond, and shinrin yoku (森林浴), which is loosely translated as 'forest bathing'. The fitness coach from the hotel explains that, unlike regular hikes, forest bathing is meant to be a form of nature therapy and a way to rejuvenate one's mind, body and soul through the five senses. I've been on a few hikes myself, all around the world, but never in Japan and especially never in a concept that encourages slowing-down, unplugging and mindfulness. I take him up on his offer, and understand it almost right away. He never speaks to me once, only keeping me just within view to ensure I don't get lost. The combination of the cedar trees, the pristine morning air, uninterrupted tranquillity, and the glorious sunshine revitalise me, though I'm huffing and puffing up a mountain. At the summit, he points out Kiyomizu-dera Temple, the world-famous tourist destination, just in the distance. He says it's possible to continue the hike all the way there, through the forest – but I decline diplomatically.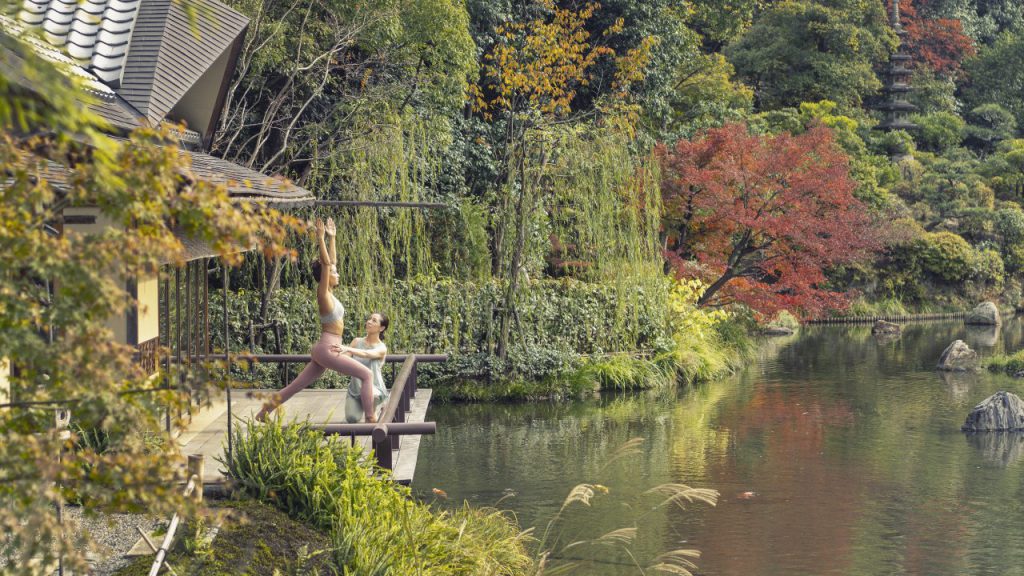 Instead, I follow Yukari Okuda, Chef Concierge from the Four Seasons Hotel Kyoto – after a shower, of course – as she brings me to the best spots in Higashiyama ward. We start with lunch at Yudofu Okutan Kiyomizu, which was founded in 1635 and serves vegetarian cuisine centred on tofu. For 15 generations and counting, the restaurant has been carefully preserving its dishes and decor to offer guests a truly unique Kyoto experience. Craftsmen prepare the tofu on site, which is served both in a hotpot or grilled, together with rice and other side dishes. It's surprisingly delicious and satisfying.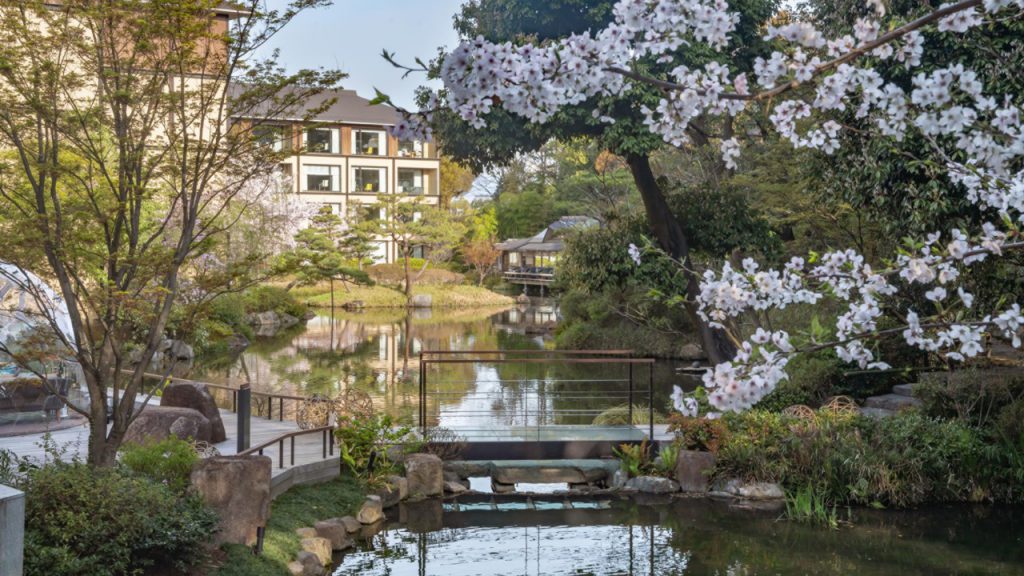 We take a short detour to Hokan-ji temple, picturesque as always, and then on to Kiyomizu-dera. After the customary selfies with the temple and its pagoda, Okuda guides me to Zuigu Hall – specifically, its basement that is regarded as the Womb of Zuigu-Bosatsu, or Motherly Buddha. I walk through the basement in complete darkness, with only Buddhist beads as a handrail to guide me on the path. It's disorientating at first, but it's super effective as a form of detachment from the material world. Then, I see the Zuigu Stone, which I was earlier told to turn gently as I say my prayer. There are many things I feel as I emerge from the basement, but if nothing else, I feel grateful for Okuda-san, without whom I never would've known about this unique experience.
For dinner, I hop on a taxi to Gion, where I have a reservation at Washoku Horai, a Michelin Bib Gourmand restaurant. It serves kappou cuisine, where almost all of the cooking is shown at the counter where guests sit, and where the emphasis is on eating instead of drinking. I sit right in front of the chef-owner and attempt to converse with him in Japanese. He humours me, but only in between courses of crab, sashimi, deep-fried oyster, shirako (which he ingeniously prepares with a spicy yuzu sauce to hide its 'unique' texture), sushi, and rice with matsutake mushrooms, among others. Towards the end, I break protocol and pour him glasses of sake, both in appreciation and in an attempt to build rapport. I think it works, because he ends the night by thanking me in English.
一期一会, ichigo ichie; once-in-a-lifetime encounter.
Before I take the shinkansen to Tokyo, the Four Seasons Hotel Kyoto team prepares a day's worth of extraordinary experiences. I start with a Green Tea Therapy session at The Spa, held in one of its seven treatment rooms. It's a perfect pick-me-up, especially after the excitement of the previous day. Then, I visit two local stores that were founded in the 1800s – Murakamiju Honten (1832) produces senmaizuke, or thinly sliced pickled shogoin turnips; while Ryokujuan Shimizu (1847) produces kompeito candy. Both products could easily be mass-produced by factories, but these two stores have been hand-crafting their wares the same way for generations. I taste the difference – centuries worth of it, literally.
My guide shares a bit of good news and tells me we're ahead of schedule, so we zip out to Matsui Sake Brewery, which makes the previous two stores seem young. Established in 1726, the brewery is widely regarded as Kyoto's oldest and can also be considered a craft brewery, as it only produces 30,000 litres per year. They specialise in unpasteurised sake, with their Kagura collection being their most popular. After a quick brewery tour and after enjoying a glass of Kagura Junmai Daiginjo, the current president and 15th-generation owner, Matsui Jiemon, steps out to meet me and say hello. We exchange pleasantries in a bit of English, and he wishes me farewell with a heartfelt "terima kasih".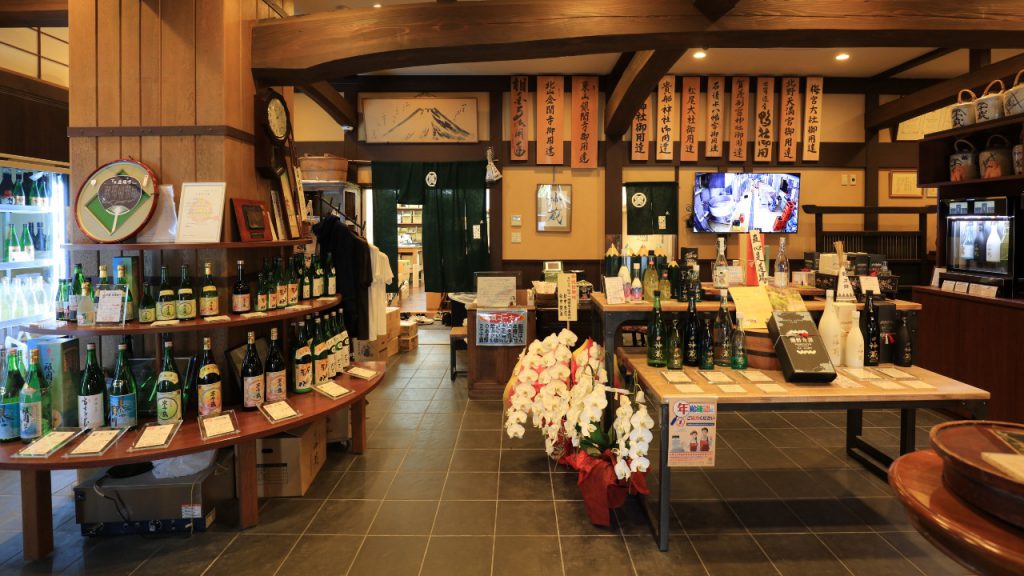 Back at the Shakusui-en pond garden in the hotel, I make my way towards the back of the aforementioned Tea House to find a very special, intimate space. The Shakusui-tei room hosts traditional tea ceremonies in accordance with the tenets of Zen buddhism and other Japanese customs. Ordinarily, the Tea Master would guide guests through a tea ceremony that could take up to four hours and involves dinner and other rituals. But the Four Seasons Hotel Kyoto is well aware that most of its guests may not always have that kind of availability (like me), so they've prepared an abbreviated version of the ceremony that is still just as meaningful and unforgettable. From the moment I bend down and crawl to enter – historically, this symbolised that all who enter the tea room are equal regardless of social standing – to eating the first wagashi (traditional Japanese confectionery treat), and from observing the Tea Master reverently prepare the matcha green tea to drinking it, every moment in a Tea Ceremony is a memory to savour and treasure.
幸せ, shiawase; happiness, good fortune or blessing​.
Here's a Robb Report top travel tip: book your Tokaido Shinkansen seats on the left side of the carriage when heading east from Kyoto to Tokyo, so that you'll be able to bask in the majesty of Mount Fuji during your bullet train ride. The 3,776m-high active volcano is sacred to Japan, with an abundance of shrines or temples either on or around it, as well as countless art and poetry dedicated to it. And with the capricious climate these days, catching sight of Mount Fuji can come down to a game of chance. Today, though, Fujisan grants me an audience – though I had to scramble to find an empty window seat.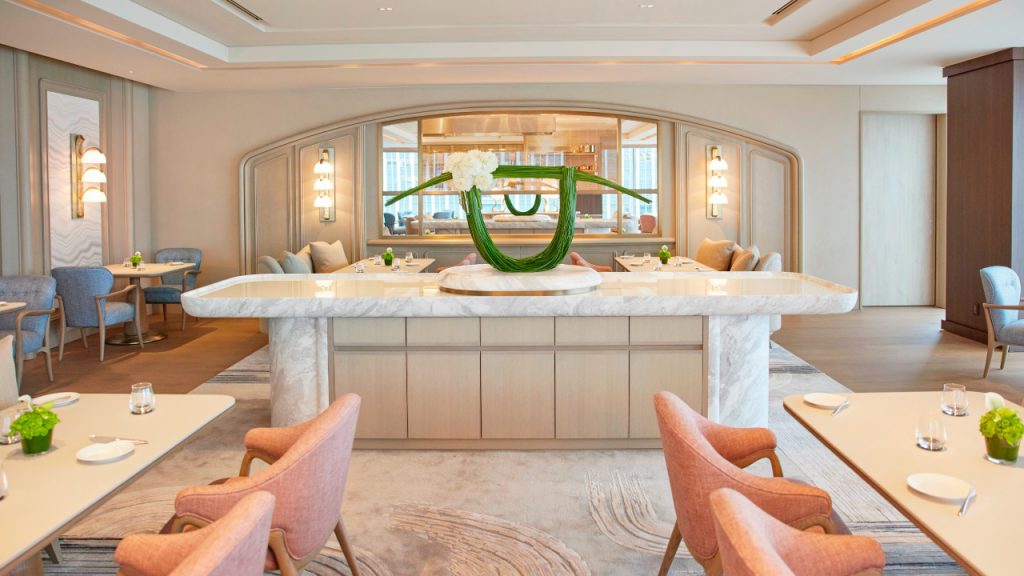 My bullet train arrives in Tokyo Station punctually, down to the minute, and I'm greeted at the platform by a staff member from the Four Seasons Hotel Tokyo at Marunouchi. She guides me through the frenetic hustle and bustle of the station, and on to the Four Seasons located pretty much right next door. (There is another Four Seasons close to Tokyo Station, but we'll get to that later.) Located in the Pacific Century Place building, the luxury boutique hotel has 57 rooms, including nine suites, all of which feature comfortably spacious floor areas. In fact, all rooms and suites have the state-of-the-art Four Seasons Bed, a king-sized sanctuary of sleep. Considering that most guests here are either jet-setting business travellers or shoppers who'll want to see every inch of nearby Ginza, the beds are heaven-sent.
Other hotel features that guests will love include a 24-hour gym, spa, ofuro, and the Parisian-style Maison Marunouchi bistro. Tokyo residents clamour all year round for seats at the bistro to enjoy its signature Afternoon Tea, or to savour a meal while watching trains zoom in and out of Tokyo Station. But the crown jewel of the Four Seasons Hotel Tokyo At Otemachi is without doubt Sézanne, which was recently awarded its second Michelin star. Chef Daniel Culvert and his team – who also oversee the menu at Maison Marunouchi – prepare modern French cuisine for its seasonally updated degustation menus, featuring ingredients from all over Japan. The interiors of the 17th best restaurant in Asia (as per the most recent Asia's 50 Best Restaurants List) are designed by André Fu, and feel as welcoming and as comfortable as home. No gimmicks, no distractions – just understated, luxurious comfort, so that you can focus on what's on the plates.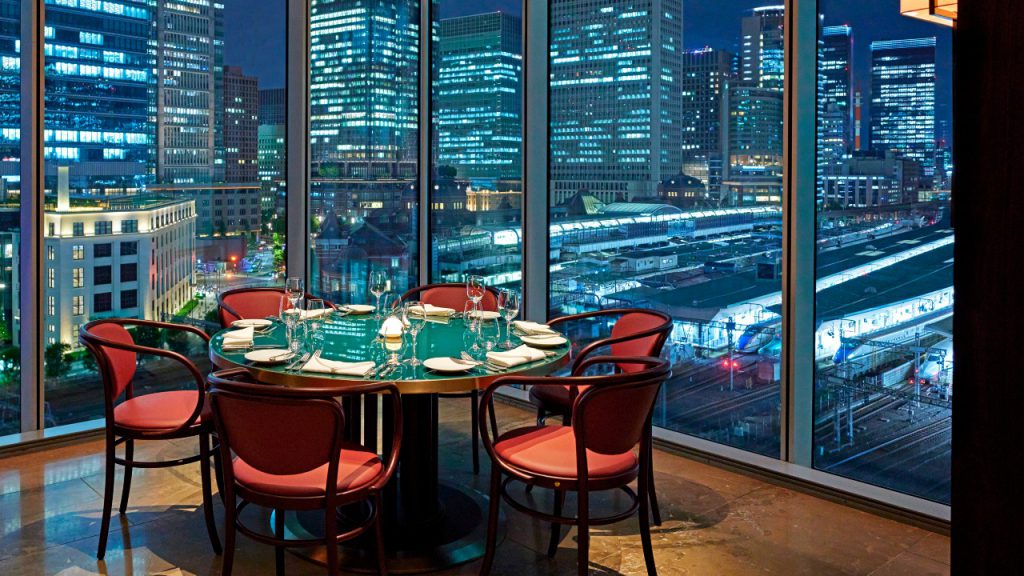 In a word, the courses are all sublime. Whether it's the pacific saury with caramelised onions and green olive – a French-inspired, contemporary ode to nigiri sushi – or the hairy crab marinated in yellow wine with koshihikari rice; from the hors d'oeuvre to the entree and ending with the petit fours, and everything in between, they are all divine. Complemented with Krug champagne, wine and sake, as curated by sommelier Nobuhide Otsuka, my dinner becomes a transcendental voyage of the senses. I'm glad I'm back in Tokyo.
高級, koukyuu; high-grade, high-quality, or luxurious.
It's oftentimes more difficult to decide when presented with a laundry list of options, as opposed to having limited choices. So in a megalopolis like Tokyo, with infinite things to see, do and eat, you could be overwhelmed before you've even cleared immigration. But that's where the concierge team at the Four Seasons Hotel Tokyo at Marunouchi comes in. The next day, after that phenomenal meal, I tell them I'm in the mood for something more experiential, something that I can immerse myself in, that will also knock my socks off. Thanks to their local knowhow and nous of reading travellers like me, they recommend a couple of options, thinking I would pick one or the other. But with careful planning together with the concierge, as well as a couple of phone calls, I select both and I'm soon on my way to teamLab Planets Tokyo for the afternoon, and then on to Shibuya Sky for the evening.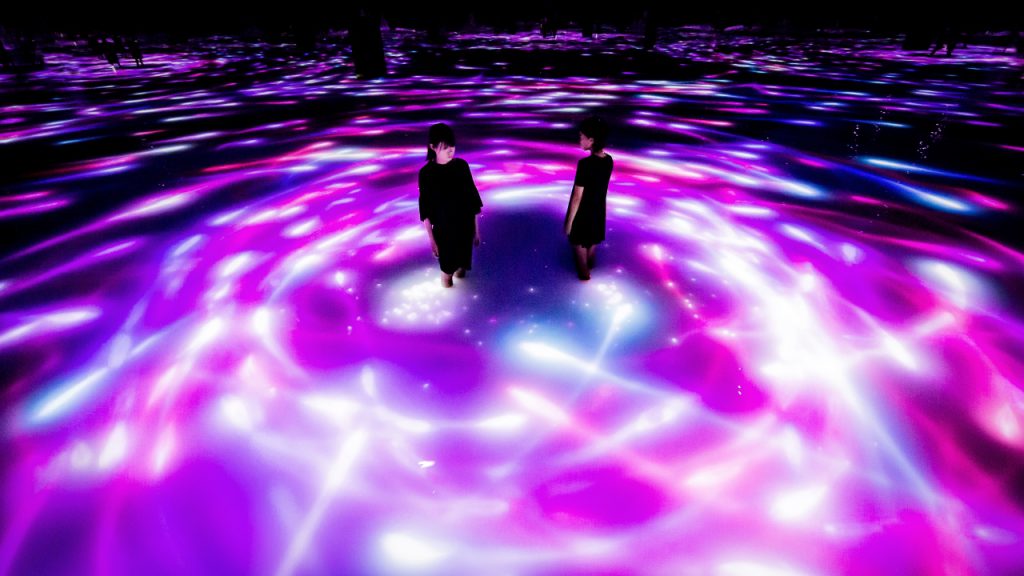 The teamLab art collective is famous all over the world, and especially on social media, for their captivatingly immersive art installations. With locations from Shanghai to Singapore, and all across Japan, teamLab exhibitions are both permanent and temporary – hence the concierge's recommendation to visit Planets while I'm in town. Unlike most museums, teamLab Planets Tokyo requires its guests to remove their shoes and socks to view its four artwork spaces and two gardens. Not entirely because of Japanese customs, but because your feet will be submerged in knee-high water as part of the immersion in the art. I wade in the warm waters of Drawing on the Water Surface Created by the Dance of Koi and People – Infinity, as the digital koi swim around me and leave iridescent trails. I walk through The Infinite Crystal Universe, and have a brief existential crisis. I marvel at the Floating Flower Garden: Flowers and I are of the Same Root, the Garden and I are One, wondering how the orchids are kept alive. Maybe if they can survive in such unorthodox conditions, perhaps I can overcome my own as well?
But enough about that. I'm waiting to cross the street at the busiest, most hashtag-ed street crossing in the world, Shibuya Crossing. I'm heading to Shibuya Sky, located on the roof of Shibuya's shiniest new skyscraper, Shibuya Scramble. Forty-six floors and 229 metres up, Shibuya Sky offers 360-degree panoramas of Tokyo, right from its beating heart. Initially, I wondered why the concierge booked me a seat at The Roof Shibuya Sky after the sun sets – but I shouldn't have doubted. For just 5,550 yen, I get a sofa, blankets, a mini bottle of champagne, snacks, and breathtaking nighttime views of Tokyo as far as I can see. Frame your shot just right, and you can get a full moon up above, Tokyo Skytree just over yonder, and Tokyo Tower as the focus – all in one photo. The lights, both manmade or moonlit, really bring out the soul of the city.
お疲れ様でした, otsukaresamadeshita; thank you for your hard work, good job, or goodbye.
One last stop, one final treat, before I pack my bags and board the Narita Express. Located in Tokyo's financial district and on the opposite side of Tokyo Station is the Four Seasons Hotel Tokyo at Otemachi. Its 190 rooms and suites occupy floors 34 through 38 of Otemachi One Tower, and all rooms face The East Gardens of the Imperial Palace. If you pray hard enough, you may even catch a glimpse of Mount Fuji over the horizon too. Rooms are tastefully modern and comfortably spacious; my bathroom is like my own private spa. Meanwhile, the luxury hotel's dining spaces are on level 39 – The Lounge, which is almost always packed on afternoons, thanks to its sumptuous afternoon tea; Pigneto, which serves Italian cuisine all-day and has a rooftop terrace; Virtù, an art-deco inspired bar that specialises in Parisian cocktails as well as French and Japanese spirits; and the hotel's signature restaurant, the one-Michelin-starred est restaurant, serving contemporary French cuisine using 95 per cent Japanese ingredients.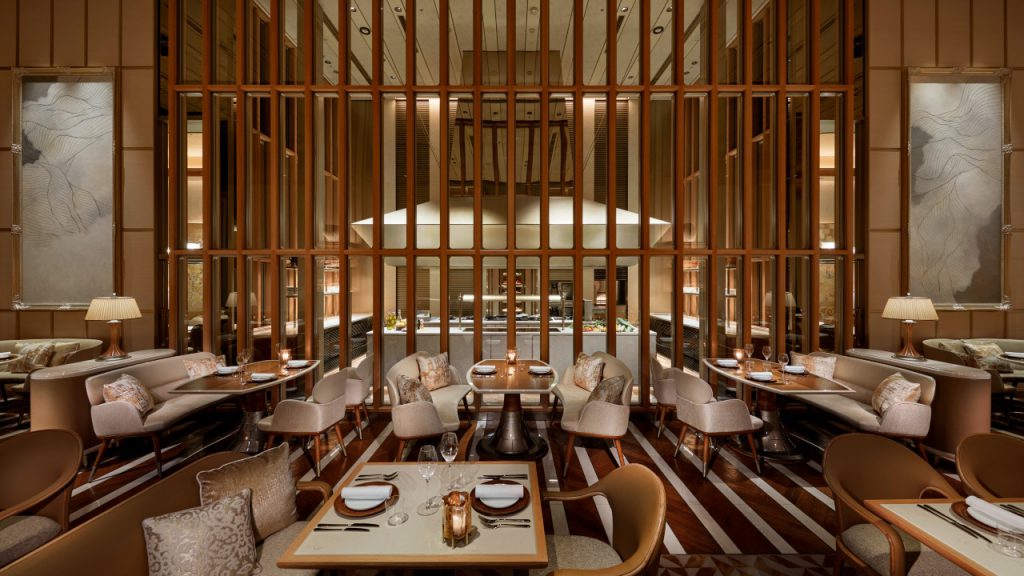 The icing on the cake of this long-awaited return to Japan is in one-half because of est; the other half is because of Caprice, the three-Michelin-starred restaurant in the Four Seasons Hotel Hong Kong. I've been invited to an exclusive four-hands dinner featuring chef Guillame Bracaval of est and chef Guillaume Galliot of Caprice. Each chef and his team serves four dishes each; my favourites are est's 'Wagyu Beef arlequin' with turnips and yuzu kosho, and Caprice's 'Laksa de crab'. Yes, you read correctly. Sure, I could say that chef Galliot's caviar with potato and champagne sauce is fantastic (it is); and yeah, I could also say that chef Bracaval's 'J'en suis baba' dessert with fuji apples is a joy for the palate (see above). But four-star nights don't come very often, and that laksa was spectacularly すごい (sugoi; amazing, wonderful or terrific).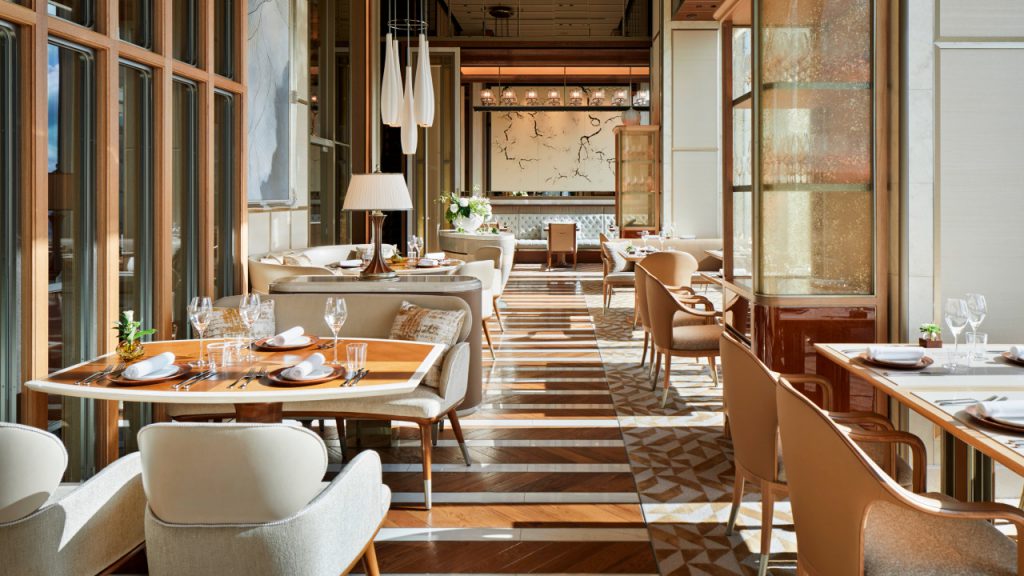 "Life in a modern city like Tokyo is exhilarating, but it can also chip away at your focus and energy," says Faraaz Tanveer, Director of Spa and Wellness at the Four Seasons Hotel Tokyo at Otemachi. "It's important to take the time to slow down, relax deeply and rejuvenate through stillness." He's guiding me through a 'Moving Into Stillness' session, which utilises yoga, Qi Gong and Vipassana techniques. I perform the gentle, flowing movements, distracted a bit by the flurry of activity in the skyscrapers around, but eventually regain my centre. Soon after, I head to my appointment at The Spa for a relaxing soak in the ofuro, followed by a revitalisation treatment session. In the hot waters, I gaze at Tokyo Skytree and the city skyline on a cloudless canvas of azure; on the treatment bed, my skin is rehydrated and restored back to health. The full-body massage rounds off the head-to-toe wellbeing nourishment, and I feel born again.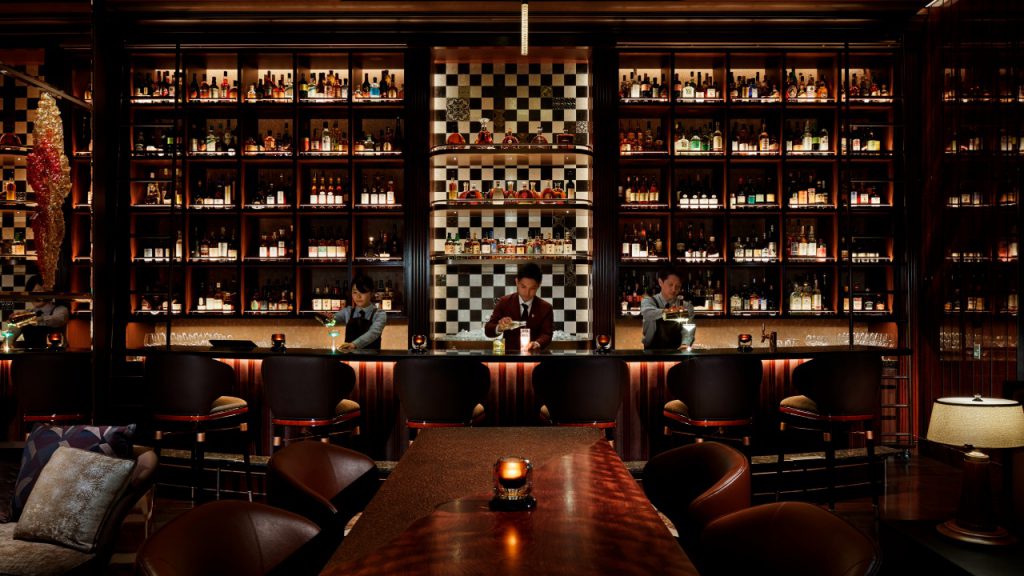 Everybody who meets me during this trip never says "sayonara" when we part ways. In a Japanese context, it's only said to someone whom you're absolutely sure you'll never see again (say, after a bad breakup). From the Four Seasons Hotel Kyoto to the Four Seasons Hotel Tokyo at Marunouchi and now at the Four Seasons Hotel Tokyo at Otemachi, as well as during all of the other amazing encounters in Kyoto and Tokyo, every single person smiles at me with quiet confidence, knowing that we'll meet again. And they're right.
またね! (matane! See you later!)
Guests of any Four Seasons location in Japan can enjoy discounts, daily breakfast and other perks, when booking their stay for March and April 2023. Deals include:
At the Four Seasons Hotel Kyoto, the Family Time deal offers 10 per cent savings on room rates, daily breakfast for two adults and two kids, and special amenities for kids. From ¥232,200, exclusive of tax and service fees.
At the Four Seasons Hotel Tokyo at Marunouchi, the Family Getaway package offers 10 per cent savings on room rates, daily breakfast for two adults and two kids, and 20 per cent savings on spa treatments. From ¥188,100, exclusive of tax and service fees.
At the Four Seasons Hotel Tokyo at Otemachi, the Otemachi Escape special offers 10 per cent savings on room rates, daily breakfast for two adults and two kids, and 15 percent savings on dining and spa treatments. From ¥182,700, exclusive of tax and service fees.
---
For more information about this and other deals, visit Four Seasons Japan.