In a continuation of the trend toward cool collaborations in the watch industry, Wempe, the German-based retailer and watchmaker with a store on Fifth Avenue in New York, has teamed up with acclaimed yacht designer Tim Heywood. Wempe has designed a duo of high-tech marine chronometers set in cases designed by Heywood, whose yachts are known for their flowing lines and timeless designs. They are designed as desk clocks but would not look out of place on the bridge of a mega yacht.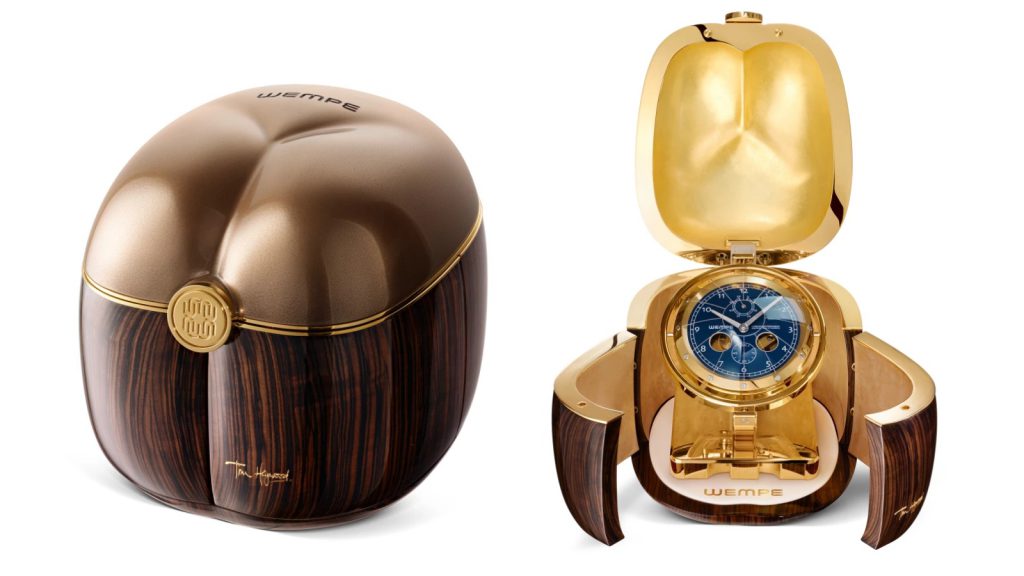 Marine chronometers were used in the 18th century to aid navigation. Sailors used them to determine longitude by comparing Greenwich Mean Time and the time at the current location by reading the night sky. Typically, they were mounted on gimbals, where they would be unaffected by rough seas and changing temperatures. Wempe, known as a luxury jeweller and luxury watch dealer is also a watchmaker, with a factory near Glashütte, Germany, which began making marine chronometers in 1905.
Today, the word chronometer is used to describe a highly precise timepiece that must prove its accuracy at a test center specifically designed for chronometer testing. Wempe maintains one of these test centres in a former observatory in Glashütte, where the company has been making modern marine chronometers since 2010.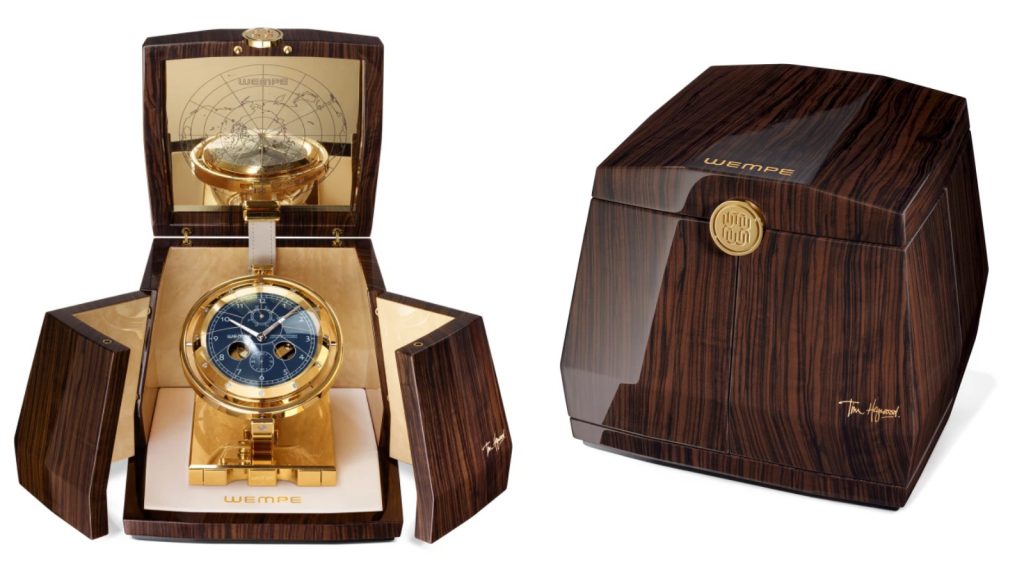 The Cube and Coco de Mer chronometers "are aimed at a discerning public, aware of the importance of chronometry," says Wempe CEO Kim-Eva Wempe. "They also underscore our expertise and legitimacy in making state-of-the-art marine chronometers."
The movement, Type 07, is based on Wempe's Type 06 chronometer caliber, designed and refined between 2017 and 2021. It has a maximum rate variation of only 0.3 seconds per day while maintaining a 56-hour power reserve. The precision is the result of an elaborate chain-and-fusée assembly that ensures that the energy supplied to the gear train by the mainspring as it unwinds always remains constant. The Type 07 calibre, which is elaborately decorated, is a three-bridge movement representing a new generation of technology.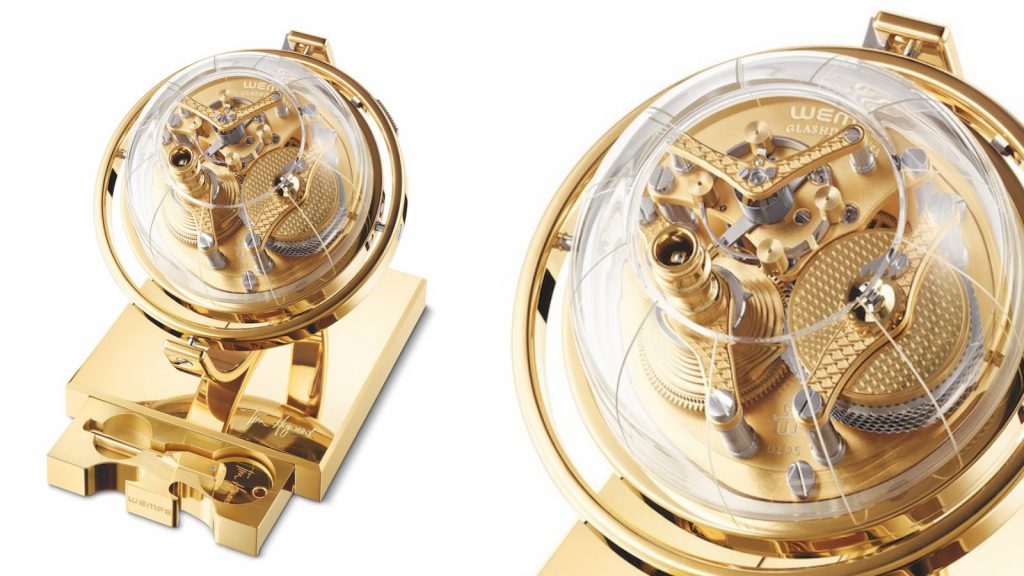 The Wempe Marine Chronometer Cube by Tim Heywood has a dark brown case, which can be opened using three folding doors. The core is created by laser sintering at Metrica, a specialist in custom yacht fittings. The case was given 16 coats of varnish and was then hand polished to give it a deep glow and make it seaworthy. It includes a gold-plated time zone map under the lid.
The Wempe Marine Chronometer Coco de Mer by Tim Heywood is inspired by the soft organic lines of Heywood's designs. The case is inlaid with exotic Coco de Mer nut, known for its ability to travel long distances at sea unscathed, making it a perfect symbol for marine chronometry. The triple-doored case of the Coco de Mer was varnished and polished, with a lid coated with bronze. The inside is finished in gold leaf.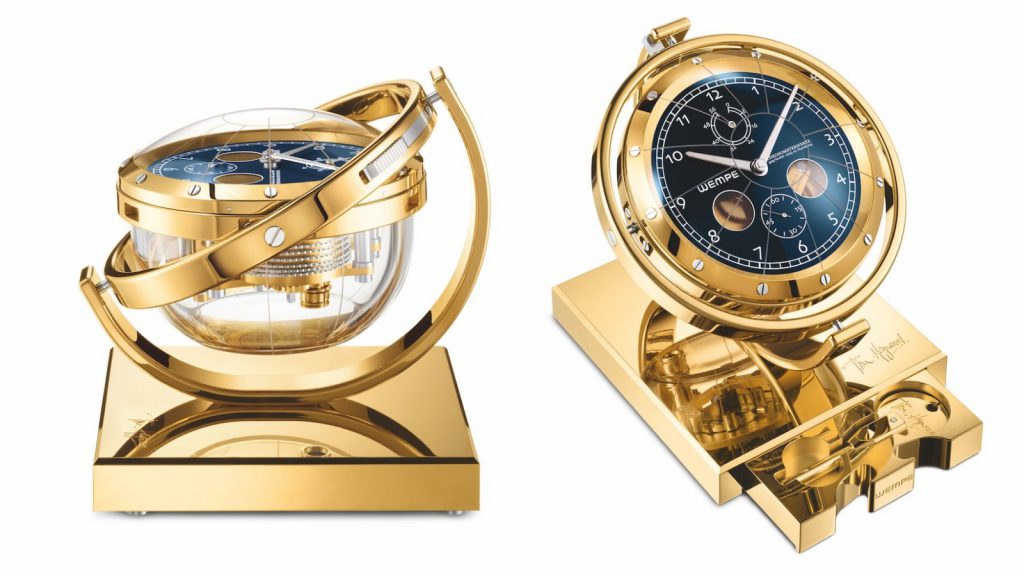 Both chronometers have blue dials, with openings at 4 and 8 o'clock to provide glimpses of the movement. The borosilicate glass on the dial side is cut from a solid block. Radiating out from the center are twelve meridians—the first chronometers were created in order to determine these imaginary time boundaries—which continue on the wide, curved glass found on the caseback. The gimbal on the gold-plated brass cases resembles an abstract sculpture when the timepiece is wound, with the movement facing upward.
The Cube version retails for US$57,460 (just over RM2521,000), while the Coco de Mer is US$91,825 (just above RM411,000). Each is limited to just 50 pieces. The chronometers are said to have arrived in stores this week, so act fast if you're looking to kit out your luxury cruiser.
---
Previously published on Robb Report.