Of the generational change we are witnessing, the coming of the Mercedes-Benz EQS is especially significant. It is an all-electric successor to one of the most venerated automotive lines: the Mercedes-Benz S-Class, which has for decades been a benchmark of the full-sized sedan and of limousine luxury, and as a platform for the cutting-edge in automotive consumer technology.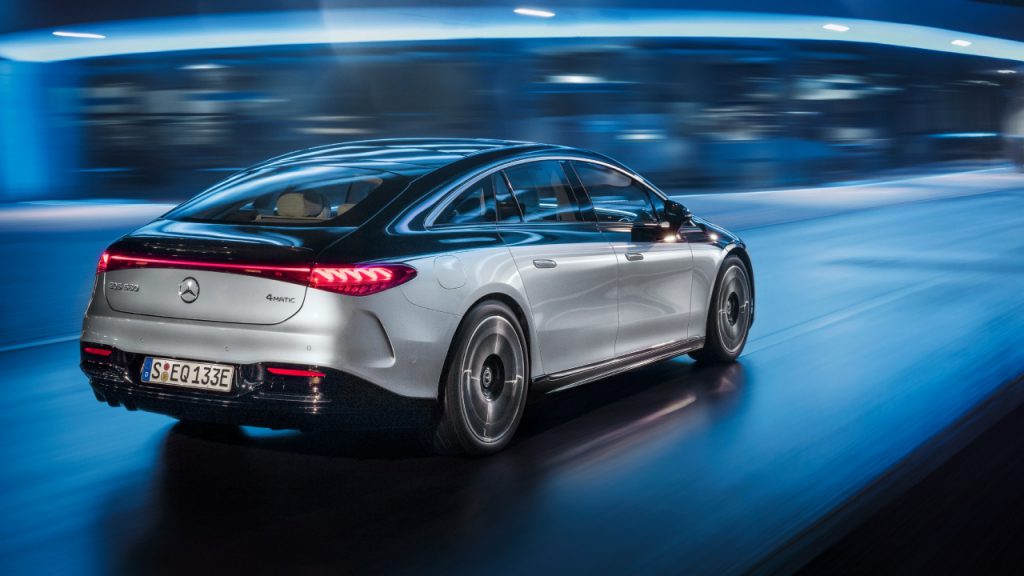 One thing should be no surprise is that the EQS 450+ (RM708,888) is supremely, preternaturally comfortable, capable of gliding over highways with disdain. Today's landscape has a preponderance of SUVs as luxurious, passenger-centric vehicles, but spend any amount of time in the EQS and it quickly becomes clear that lower, long wheelbase four-doors are still the kings of on-the-road cushiness. Beneath the trappings of futuristic design, autonomous systems, batteries and screens are its well-established fundamentals: four-link axle at the front and multi-link axle at the rear, with air suspension and adaptive dampers, as well as rear-axle steering. The passenger cabins are just as you would expect from a no-corners-cut luxury limousine—decadent leather, expansive legroom, electrically adjustable seats, and plenty of wired and wireless charging options.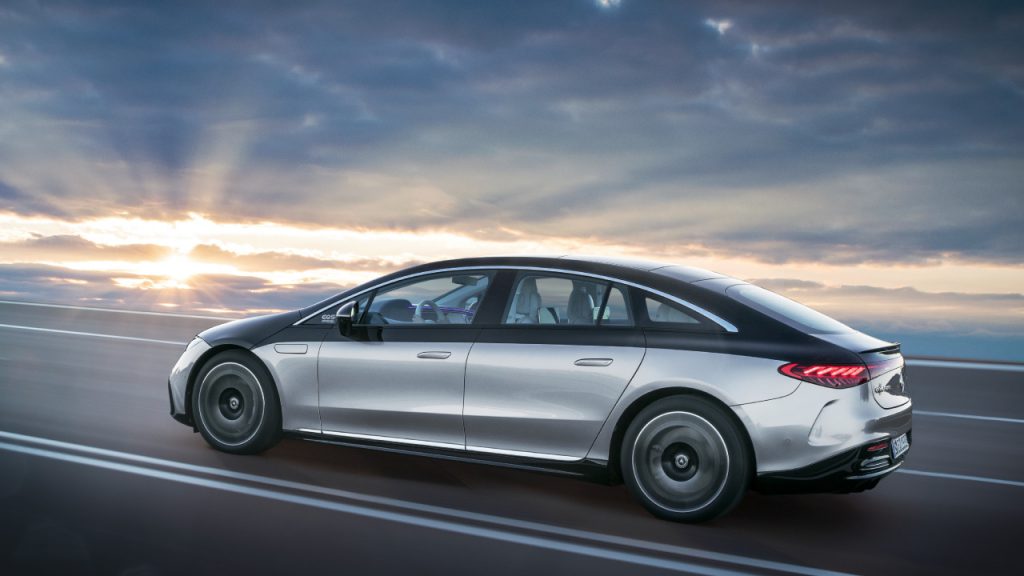 And it is quiet, very quiet, thanks in part to generous sound damping but also because it is a core consideration of electric vehicles—one indisputable advantage over combustion engines. Electrics also have a reputation for vicious, immediate torque, but this is not quite the case with the Mercedes-Benz EQS. It is not particularly slow, not with 333bhp behind it and a 0-100km/h time of 6.2 seconds; but flooring the accelerator never really sends the car down the path of uncouth propulsion. Whether this is by design or because of physical limitations—the EQS weights about 2.5 tonnes, and is at least a few hundred kilograms heavier than the S-Class—the effect is to coddle its passengers from heavy-footed drivers.
And, of course, when it comes to electrics, range is currently a foremost concern. It is also where the EQS shines. Its 107.8kWh batteries are rated for 782km; in practice, local test drives have it faring admirably, with 650-700km on a single full charge. That easily gets you from Kuala Lumpur to Penang, and it may even be able to pull off a Kuala Lumpur-Johor round trip if one lives life on the edge.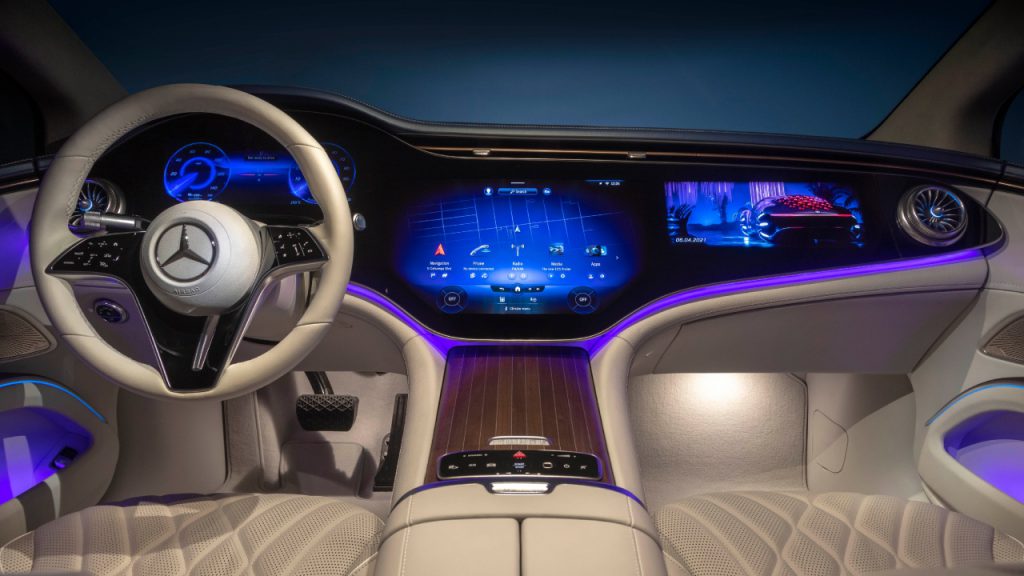 The exterior of the Mercedes-Benz EQS embraces its new architecture, with an uncluttered, minimalist silhouette and short overhangs that emphasise the passenger cabins. Its designers were unable to resist debuting flush-fit door handles; these sit recessed when locked, and pop out invitingly when one wanders close with the key in a pocket. The front has that somewhat aggressive, squinting-headlights appearance that is the modern Mercedes-Benz hallmark; no grille, of course, but the three-pointed star is as prominent as ever.
The most compelling interior feature is the MBUX Hyperscreen. It is actually three screens side-by-side, but under a seamless glass fascia that gives the impression of a massive panorama that stretches from pillar to pillar. The passenger-side screen is similar to the ones in the rear seats (yes, that's five screens total), providing access to infotainment and comfort functions, while the driver's screen is the instrument cluster—one with a variety of options to suit different personalities and information preferences.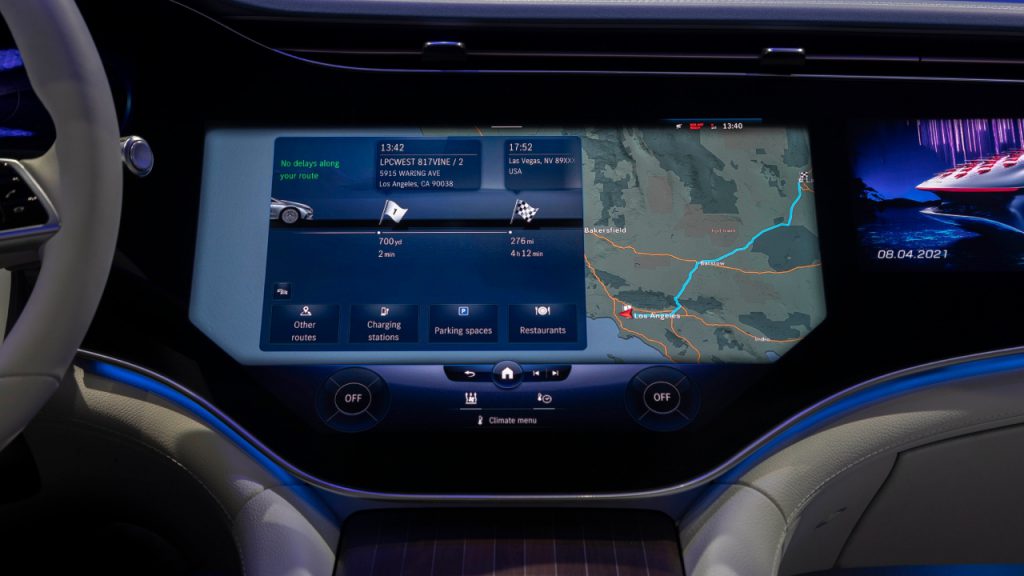 Then, you have the massive central screen. With vibrant colours and deep blacks thanks to an OLED panel, at 17.7 inches, it is approaching a size where picture quality is becoming more of a consideration. Navigation maps feel especially expansive, and the guidance system really shows itself off by occasionally using a live front-camera feed with the addition of augmented reality arrow indicators to tell you exactly where to turn.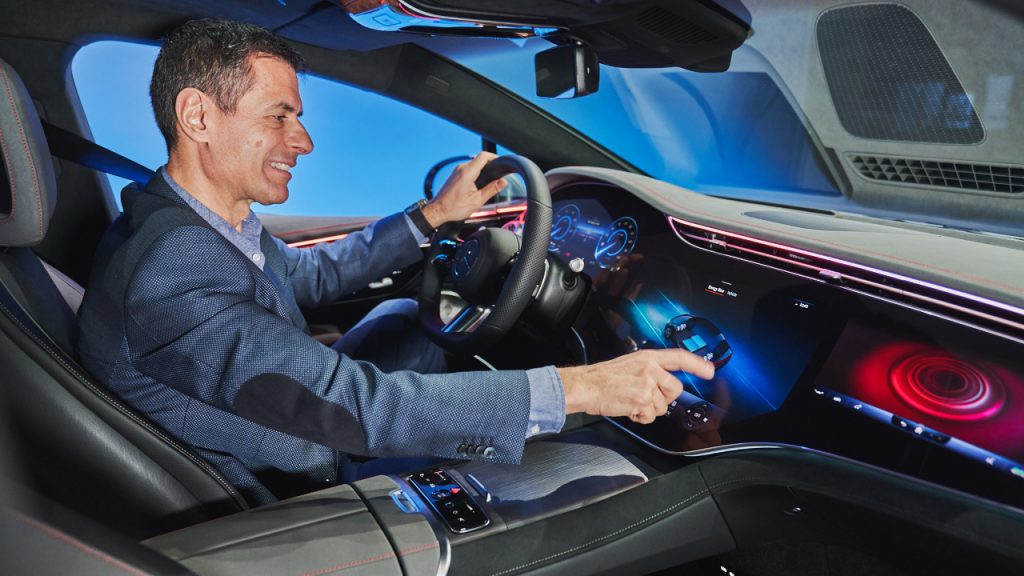 It is impossible to ignore, not just because it dominates the fascia, but because it is the command centre for this tech-forward vehicle. Its user interface is a unique experience, and is a somewhat daring approach. Where other car manufactures seem to have leveraged smartphone ubiquity by providing a similar feeling operating system—apps, menus and settings—Mercedes-Benz has opted for a single-layer design. This means that almost everything, from phone connectivity (Apple CarPlay and Android Auto are included) to radio and vehicle options, are one or two touches away and will appear as an overlay over the main screen rather than whisking the user away into layers of nested menus. It makes for faster, possibly less distracting access, and leaves the rest of the screen available for navigation, media control, and the like.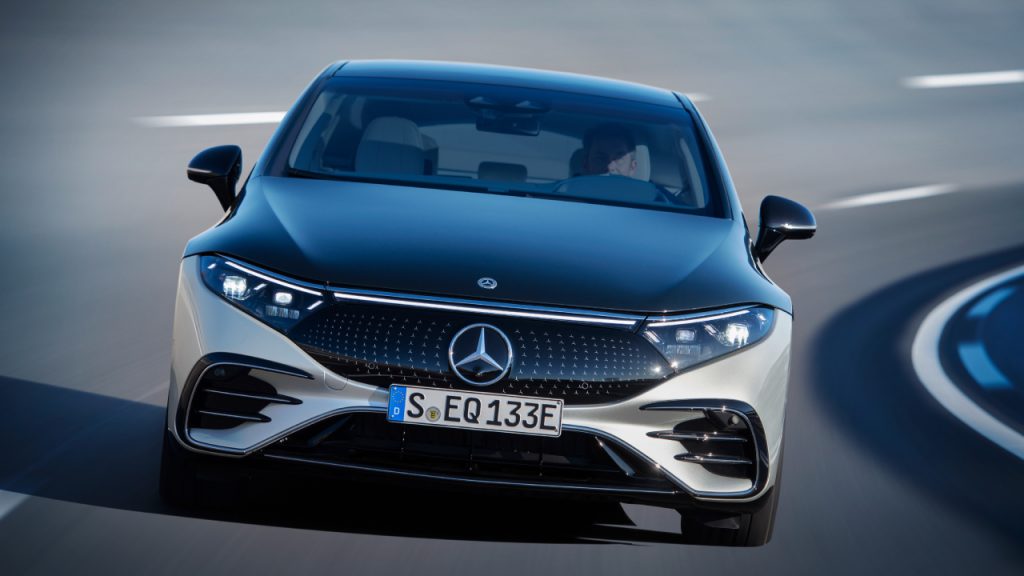 The rest of the centre console is minimalist by comparison. The central air conditioner vents, long a prominent feature of the Mercedes dashboard, are now unobtrusive slits above the main screen. Even the air conditioner controls have moved to the screen, a contentious issue for some, but alleviated somewhat by its size and clarity, as well as haptic feedback. As the car evolves evermore into all-in-one lifestyle vehicles, the MBUX Hyperscreen more than anything else defines the Mercedes-Benz EQS as the next generation.
---