In recent years, sneakers have gone from being streetwear for ruffians to intricately crafted objets d'art. Where once sneakerheads and sneaker designers were frowned upon, both groups are now invited to the best seats on the front row and to partner with the finest luxury maisons. Yes, sneakers reign supreme now, and only the most stubborn of traditionalists haven't yet hopped on the hype train. But is the streetwear revolution still thundering on? Is there more for sneakers to accomplish in the worlds of high fashion and/or luxury goods? Well, if this particular collaboration is any indication, the answer is a resounding 'yes'.
In a first for the house, Hennessy X.O is collaborating with Kim Jones for a collection of luxurious must-haves. The collection includes a Masterpiece decanter (with a fusil), a Hennessy X.O bottle and, the other first of this partnership, a pair of unisex HNY Low sneakers. Every item in the Hennessy X.O x Kim Jones Collection is limited edition, and has been designed by Jones to pay tribute to the arts of couture and cognac-making, as well as craftsmanship and savoir faire. In Malaysia, the limited edition Hennessy X.O bottle retails for RM976 and is available at selected specialised retailers. Meanwhile, only four of the Masterpiece decanter are available locally, and are for sale at €25,000 each. Each pair of HNY Low sneakers goes for €650, and is available exclusively through the HBX website. However, local sneakerheads and Hennessy aficionados can view the sneakers in person at Atmos' outlets in Sunway Pyramid and Mid Valley Megamall from 8 to 23 April, 2023.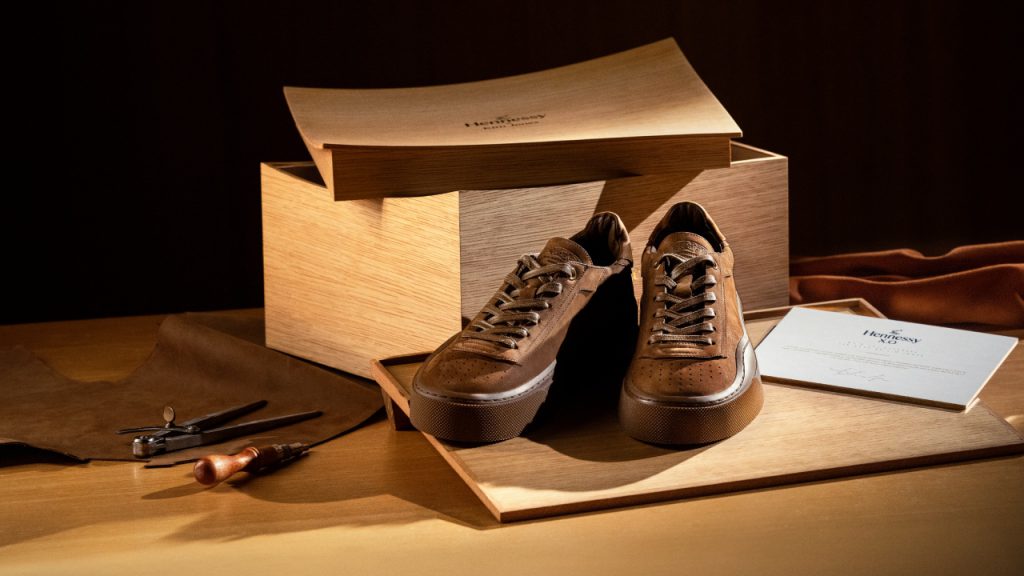 The HNY Low sneakers are inspired by basketball shoes from the early days, and are crafted in nubuck leather in a light cognac colour. This is an homage to eaux-de-vie because the nubuck leather will take on a patina over time, just like how the eaux-de-vie gradually becomes cognac. The Hennessy bras armé emblem and KJ initials are on the heel – perfect for those all-important Instagram posts. The sneakers' uppers have a timeless look and feel, and will look equally at home at a gala event or brunch with your in-laws. The soles of the sneakers feature tonal grooved rubber and an imprint of cognac vines, as well as the Hennessy X.O x Kim Jones logo. "I wanted it to feel like you're almost looking into the bottle," Jones says. "It's a glass of cognac in sneaker form." Completing the 'wearable cognac' experience is the sneakers' box – literally an oak box, a reference to the barrels in which the eaux-de-vie age. In addition, the sneakers will be sheathed in cotton dust bags, bound by high-end drawstring. This is a bit of a history lesson, as this is how cognac bottles used to be wrapped in thick paper when in transit.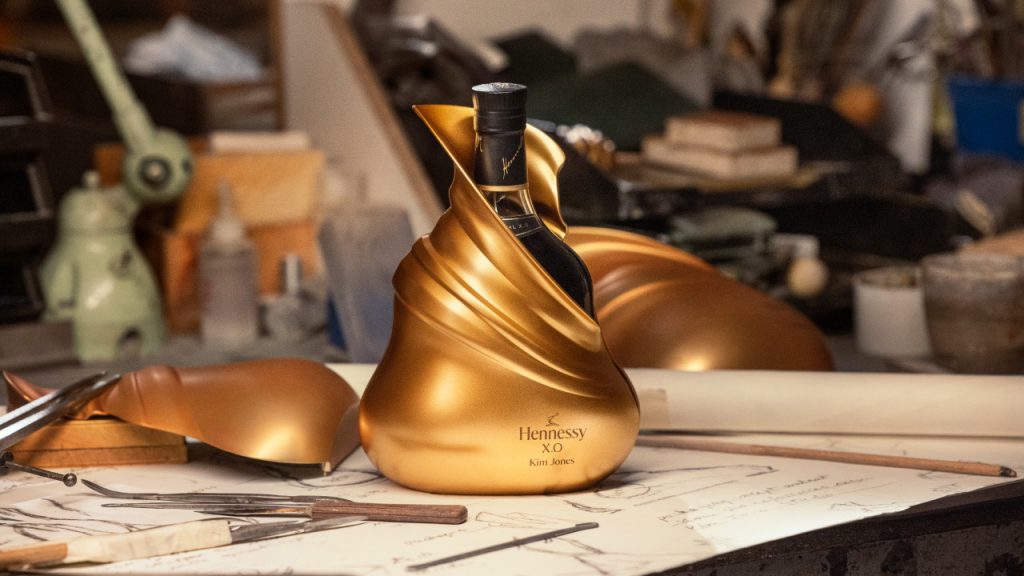 That wrapping also inspired the other two items in this Hennessy X.O x Kim Jones collection: the Hennessy X.O Masterpiece decanter and the Hennessy X.O. Limited Edition bottle. Jones remarked that the wrapping was almost "like a piece of bespoke couture for a bottle". The Masterpiece decanter's gorgeous folds and striking lines also are reminiscent of the couture technique of draping, as well as the way Hennessy X.O bottles were carefully enveloped with tissue paper by hand to protect the parchment paper labels. The decanter boasts a specially developed titanium casing as well as an undulating oak plateau for its base. It's also dipped in gradient colours, inspired by the different eaux-de-vie selected by Hennessy's Master Blender when composing Hennessy X.O. And when it's time to savour the richness of the cognac, one can extract it using an elegant fusil, also designed by Jones.
Rounding off the collaboration is the Hennessy X.O Limited Edition bottle, which can be likened to a 'ready to wear' version of the decanter. The structure of the bottle, encased in an aluminium second skin, resembles a couture silhouette seen on runways and red carpets, while still showcasing the iconic Hennessy X.O bottle shape.
Kim Jones spoke with Robb Report Malaysia ahead of the collection's launch, and shares more about the inspirations for this collection, the challenges he faced during its design process, and his love of history.
What inspired you as you designed the Hennessy X.O x Kim Jones Collection?
There were three things I considered: the archive, the products that are available now, and where the consumer is now. Then I worked through these three things, broke it down, and thought about what will look good and what the product could be. I do this with every single brand I work with. It makes it clear in my head about what the product is. Even though I might not have a specific idea of what that person might look like, I may know what their lifestyle will be. So that's why, to me, sneakers were the most relevant thing to do and the most interesting thing to focus on. The sneakers are something someone might wear to go out for dinner, or wear to work. And for me, the cognac colour goes well with tailored fabric, denim, and lots of different things.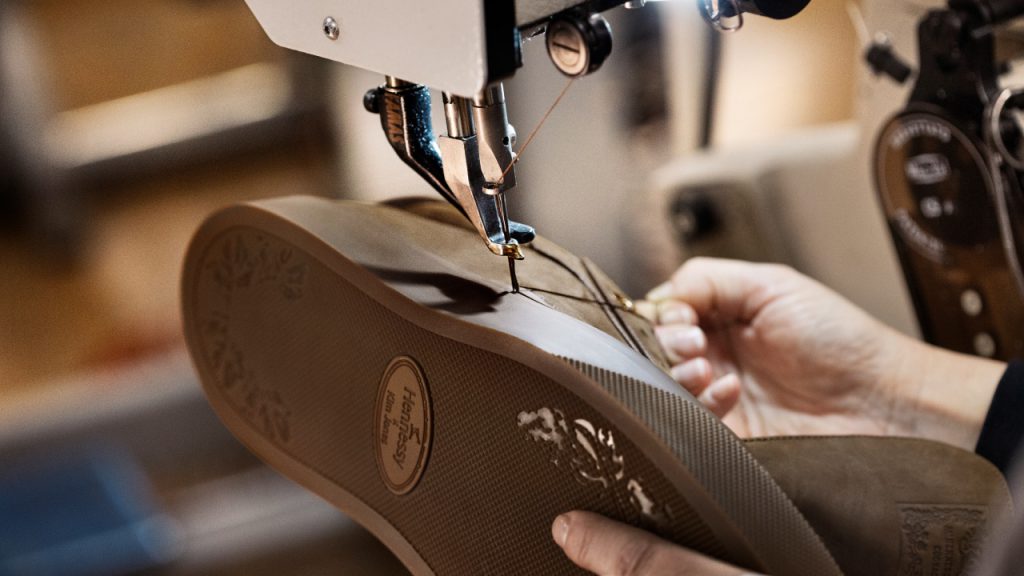 Also, I really love the history of Hennessy. I love the idea of how cognac is timeless, how it stays the same and has the same age-old traditions – but the packaging changes with the times. That was really interesting to see, especially in the archives. It's funny, when you go into a brand's archives, you'll see times when a brand is very chic, and then there may be times when it's a bit horrible, and then you see other beautiful parts of the archives, and how tastes change over time.
I was also looking at product design, which was quite new for me. I always like to do things that make you think in a different way. I've done quite a lot in fashion, so new things are quite interesting for me to really think about. I like to challenge myself, and this was a challenge.
What was your favourite part of this collaborative process?
I really enjoyed going to Cognac, going to the Hennessy house and looking at their archives, as well as seeing the process and how it's actually made. I thought I had an idea of how the cognac was made, but actually, the craftsmanship hasn't really changed all that much the whole time it's been there. I find that really interesting. And that's why it's such a special brand to me. You feel like you're going back in history but then suddenly you're going forward in history with the way things are being created now. I just love seeing the archives of any brand. It all really makes me think about things in a different way.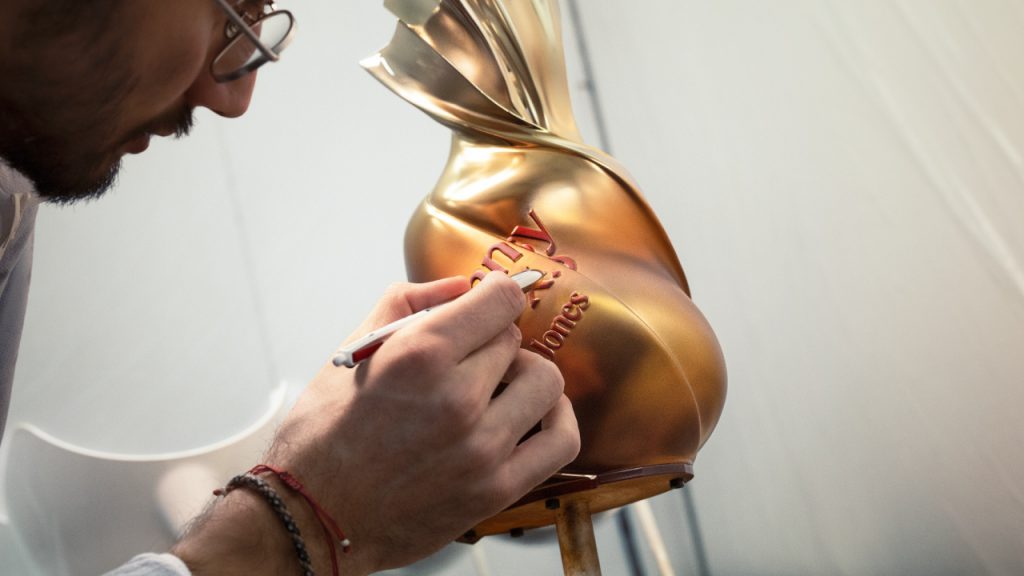 Why did you enjoy the archives so much? Are you a history buff?
Whenever I work on these kinds of projects, I want to respect the houses and the brands. I want to learn about the house, and I want to be able to bring something new to the house – which then goes into their archives. I always think of anything I work on as 'past, present, future'. So it comes from the archives, it sits in the present, and then what could it be like in the future, in the archives. It's about adding to the house's legacy.
The HNY Low sneakers are a first for Hennessy. How did this come about?
We thought, because I come from a fashion background and because we treated the bottle in a fashion sense – wrapping it almost like it's in a dress or a piece of clothing – it seemed logical to make a sneaker. It's something lots of people associate me with, but then we wanted to do it in a very Hennessy way. The authenticity of the cognac colour, and all of the little technical details that go into it made it feel like an authentic Hennessy product. We studied a lot of bottles from different times, as well as all the technical details of them, and then put them onto the sneakers. I think it's so unexpected, especially because everything is so expected nowadays. So to surprise people is quite fun.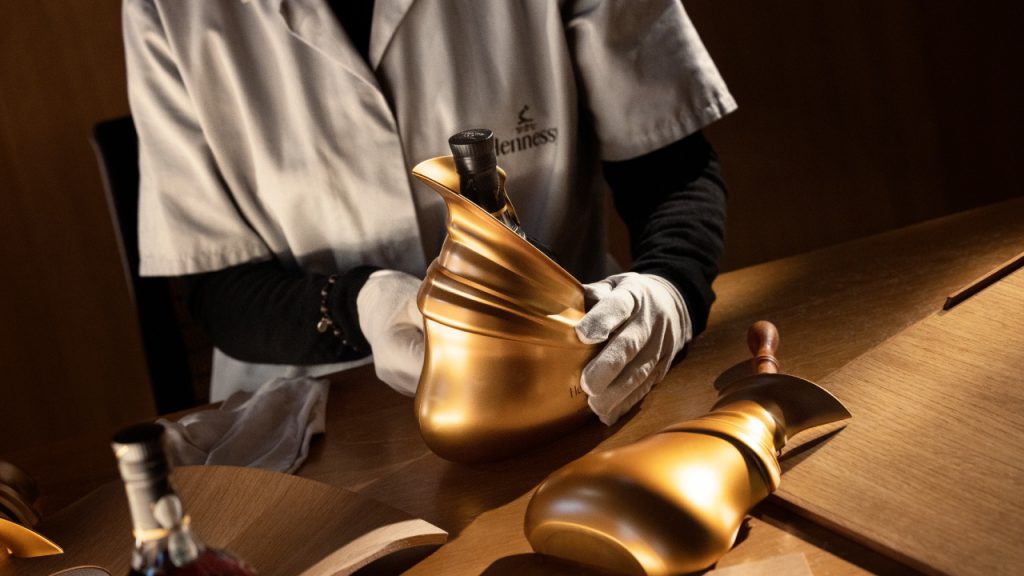 Earlier you mentioned that you liked to challenge yourself. What was the most challenging thing for you when designing the sneakers?
I think it was trying to think of a concept of sneakers that felt authentic. I looked at the colour of the cognac, and thought that's such a beautiful colour, so let's embody that within the sneaker. Let's make it something that can be dressed up or dressed down. And it should also be something for all the different clients that Hennessy has. So I think maybe the most complicated thing to do for this collection was making it an authentic Hennessy product. But that's always the challenge when you work at these houses – what's a Fendi product? What's a Dior product? What's a Hennessy product? So for me, it's just putting your mind into those types of processes, which is something I've trained myself to do over the past 12 years working within LVMH.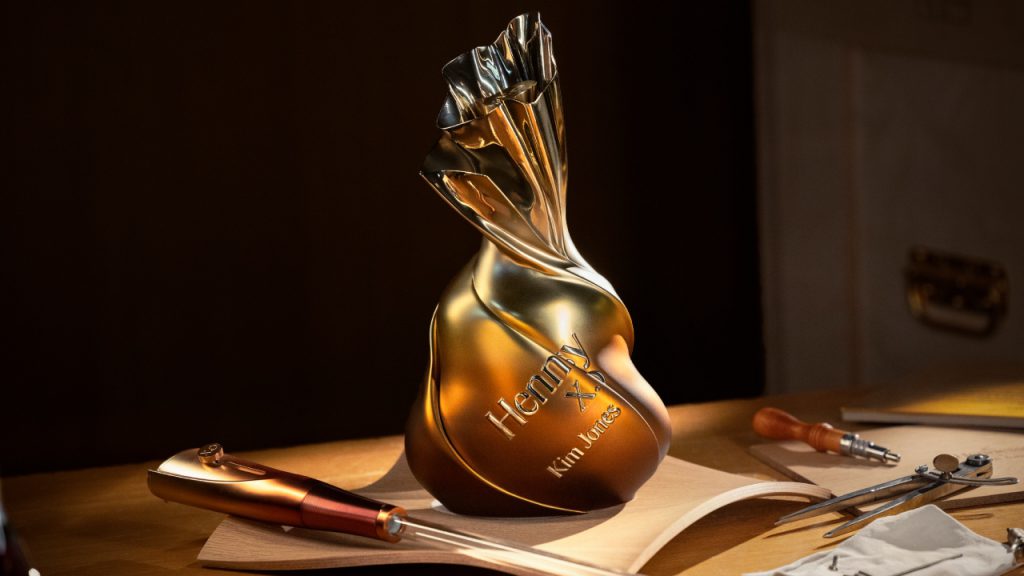 Was it also a challenge balancing more than a century of heritage with bringing your vision to the Hennessy X.O x Kim Jones Collection?
I always start with the brand first, and then I put my own spin on it. People love the brand, and Hennessy is a really big brand. I actually didn't realise how big it was until I started working on this project. So I take this idea and listen to what people talk about, and then I take things from the archives, and then I work with how I envisage people would display the objects in their homes or how people would want to enjoy it. With the sneaker, I think and work out how people would want to wear it, as well as the reasons to have the sneaker work for them. A lot of different things go through my mind when I work on these projects, and then I funnel it down and process it in a way so that it becomes a Hennessy product – with my take on it.
Interested in checking out the Hennessy X.O & Kim Jones Collection? The Hennessy X.O x Kim Jones Gallery will be held at Pavilion Bukit Jalil (Level 3, Entrance 3, Orange zone) from 27 April to 7 May 2023. Guests will be able to discover the concept behind the collaboration as they explore how cognac meets couture and how tradition meets modernity. For more info, click here. 
---