As the days grow longer and the sun shines brighter, the world transforms into a tapestry of colour and life. The gloom of winter gently gives way to blue skies and verdant foliage, but nothing sings spring in Japan quite like the sakura. With the unfurling of each pink petal, the season of revival makes its joyful presence felt a little more deeply.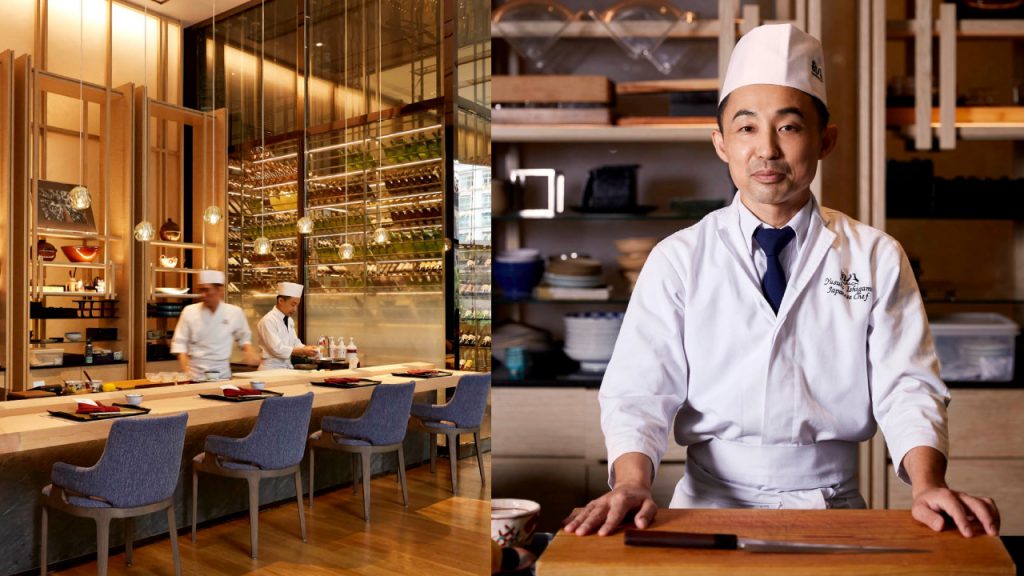 If you have a leisurely few hours before you, consider doing more than just taking a moment to stop and smell the cherry blossoms. Instead, immerse yourself in a gustatory celebration of spring. Think all things fresh, vibrant and vivacious: succulent sashimi, sliced thin and as light as air on the tongue; tender vegetables that recall the lushness of rolling hills; and from cherries to strawberries, ripe and luscious fruit that burst with flavour and trickle juice down the chin.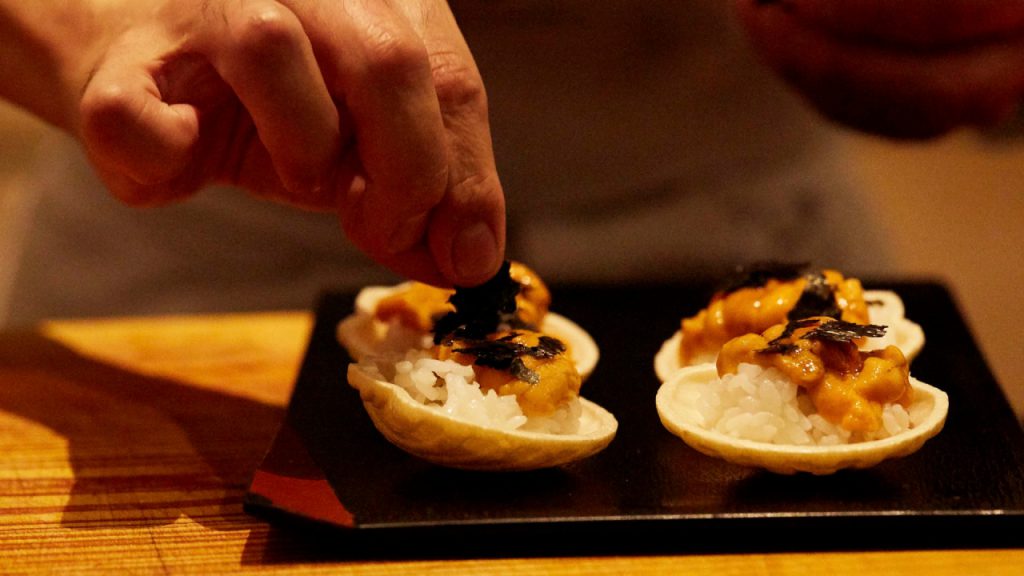 "Nothing comes close to spring in Japan," says Chef Yusuke Ishigami of Kampachi EQ. "You'll find clean and incredible flavours everywhere, like the wild mountain vegetables and bamboo shoots that can be served sashimi-style if freshly picked."
Although these might be out of reach in Kuala Lumpur, the seasoned chef knows how to open Kampachi EQ's omakase spring menu nonetheless. Toro Yuba Nabana Dashi Jelly, or the Yuba and Spring Canola Flower, stars the innocuous yuba (or tofu skin), far more intensely flavoured than it appears, buoyed by a dashi jelly with uni (sea urchin) and the leafy green canola. This light zensai (appertiser) is followed by the mushimono, or steamed course of Zuwai Kani Chawanmushi. Atop the creamy egg custard and pink-and-white heaping of succulent snow crab, a large kinome (sansho pepper leaf) injects a prickle of citrus.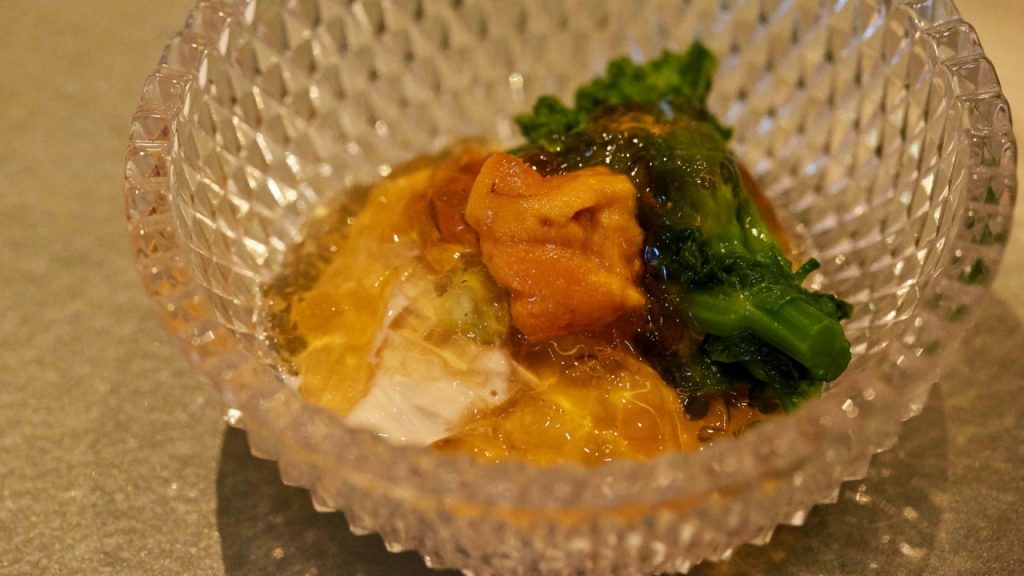 This clears the palate for the sashimi, fine strips of Maguro and the restaurant's namesake Kampachi. Both the tuna and amberjack are almost ethereally fresh, their levity setting the tone for the agemono (fried course) to come. The Sakura Ebi Kakiage is named after the vivid pink of wild-caught sakura shrimp, a deep-fried fritter that dissolves with a crunch into mouthfuls of airy flour and crispy shrimp.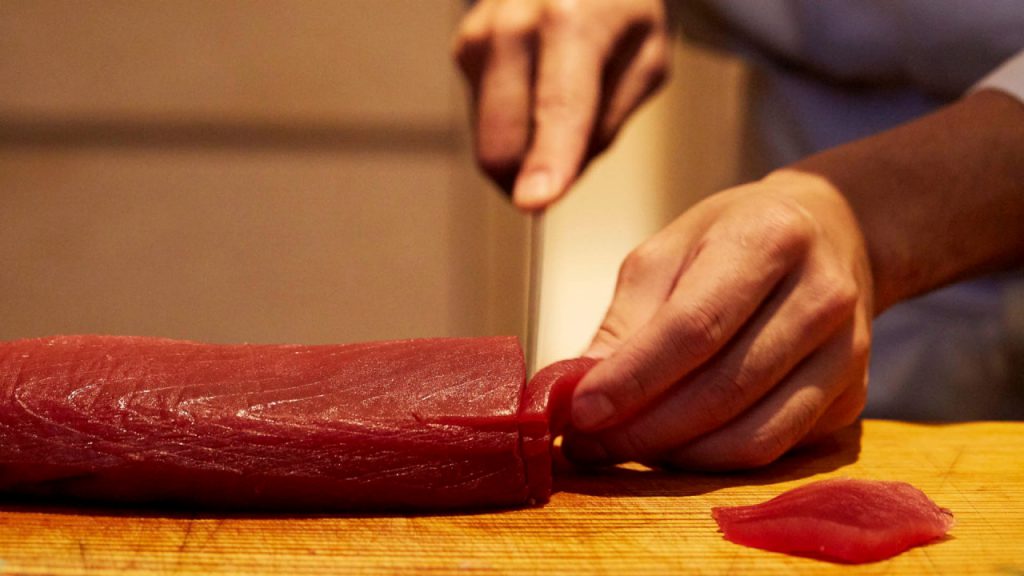 Having flexed a range of culinary techniques, Chef Ishigami swiftly moves on to the Nigiri, 7 Kan (Nigiri, 7 Ways) course. Steeped in tradition and difficult to master despite—or perhaps, because of—its simplicity, well done nigiri can be the height of luxury. And so it is at Kampachi EQ. The nigiri parade kicks off with sakuradai, or cherry bream, a red sea bream best known for ushering in spring. Here, its light and tender flesh is dressed with a dash of salt, rather than soy sauce, and a tingle of wasabi, then pressed onto warm vinegared rice. Pliant ika (squid) nigiri follows, with a lick of wasabi and a dollop of umeboshi (pickled plum) perched atop like a dainty ruby crown. You can't go wrong with a classic ebi (shrimp) nigiri, but Chef Ishigami elevates the generously-cut shrimp with shoyu and sudachi (Japanese citrus) to tickle all the tastebuds with a melange of sweet, salty, sour and fiery flavours.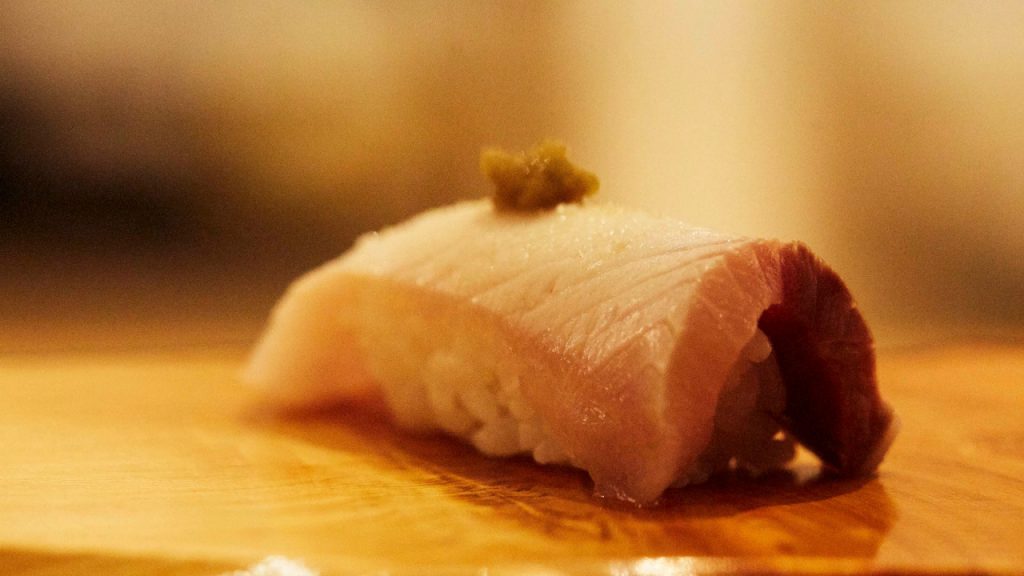 Torched hamachi (yellowtail), caught at its fattest as winter was fading, is treated with yuzu kosho (a citrusy chili paste) and lemon, while the toro (tuna belly) nigiri has the classic accompaniments of shoyu and wasabi. Then again, this melt-in-your-mouth cut requires little adornment to impress. Where the toro was treated with restraint, the anago (saltwater eel) is torched, brushed with a sweet, heady stock made of eel, and enlivened with lemon zest. In true nigiri fashion, the richest seafood is saved for last. Sushi rice, shoyu, uni and shreds of nori are layered on a monaka wafer shell for a textural mouthful that defies description.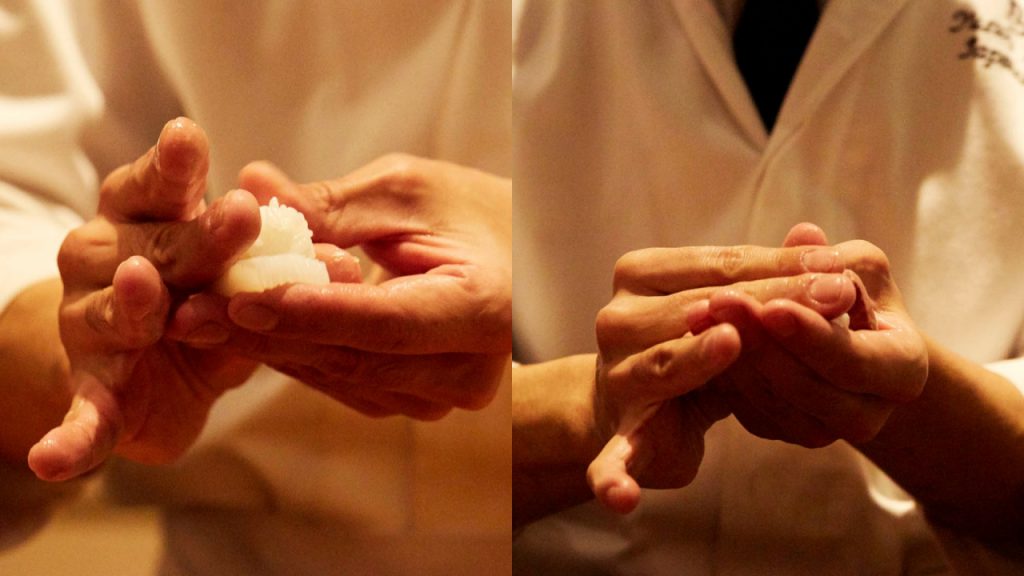 Should you wish to be wooed by more than just the best of the ocean's bounty, reserve a place around the century-old hinoki wood counter. These are hands-down the most coveted seats in the house, especially if you fancy a bit of dinner theatre with your meal. Observe up close Chef Ishigami's sharp knife skills and fluid grace, epitomising a man in his element. He moves with such practice that he could well do this blindfolded, reaching automatically for ice boxes, deftly scoring flesh with gleaming knives, and scooping and pressing rice into firm beds for glistening fish, timed so expertly that the next nigiri is set down just as the last morsel is swallowed.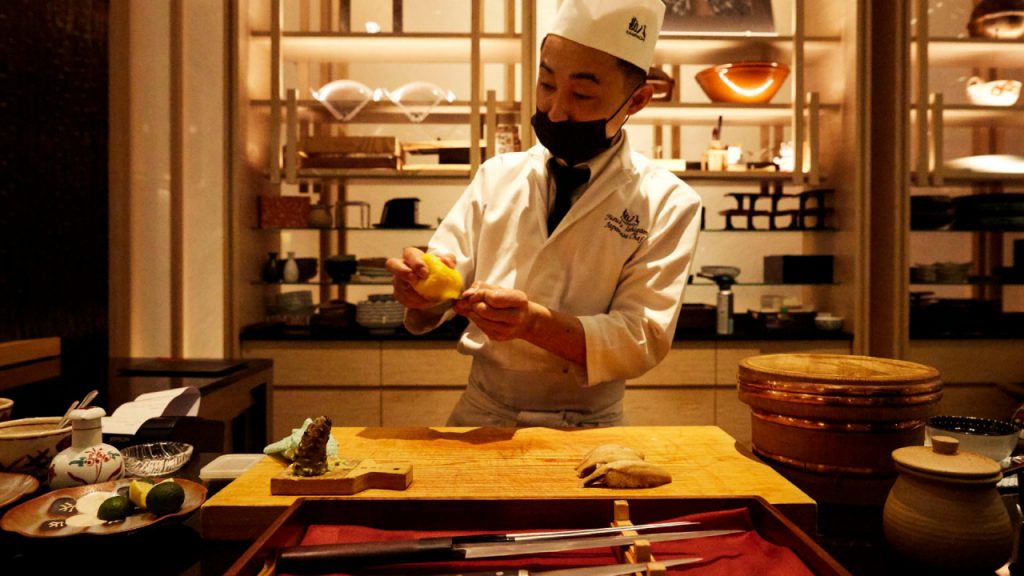 After that trove of marine treasures, the menu draws you away from the salt-soaked sea breeze and towards the floral fragrance of spring. Sakura ice cream with a salted sakura blossom is a fitting finish for the kanmi (sweets) course, and commemorates this breathless whirl through the flavours of the season.
Kampachi EQ's omakase spring menu requires a reservation three days in advance.
---
Photos: Law Soo Phye