There is no question that technology has helped to broaden the horizons of an artist's creativity, with art supplies going beyond traditional methods. For instance, holography has seen a rise as an artistic medium, with iconic museums such as The Guggenheim featuring contemporary artist Deana Lawson, whose works incorporated holograms. Art generated by artificial intelligence (AI) has also exploded in popularity lately, courting controversy that these images involve the theft of creative ideas and techniques in the process of its generation. Internationally, museums such as the Metropolitan Museum of Art have also used Augmented Reality (AR) technology in their exhibitions in the past, allowing ancient Greek and Roman sculptures to be seen in colour.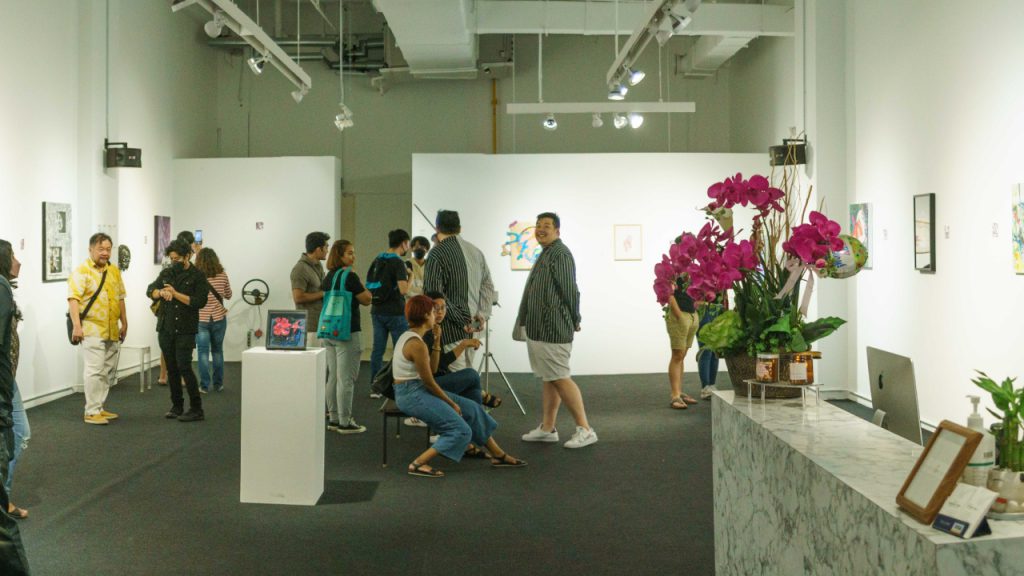 Now, for the first time ever in Malaysia, a one-of-a-kind art exhibition is being showcased at the same time at two different locations. Of Spaces in Between is a collection of works from 24 artists that showcases two different but complementary artworks based on the theme 'duality', each to be exhibited at the respective location and using AR. Hosted at ZHAN Art | Space, Petaling Jaya and Hin Bus Depot, Penang and supported by the Penang Art District, viewers will get to explore and discover the artworks in an immersive way without having to travel to both locations.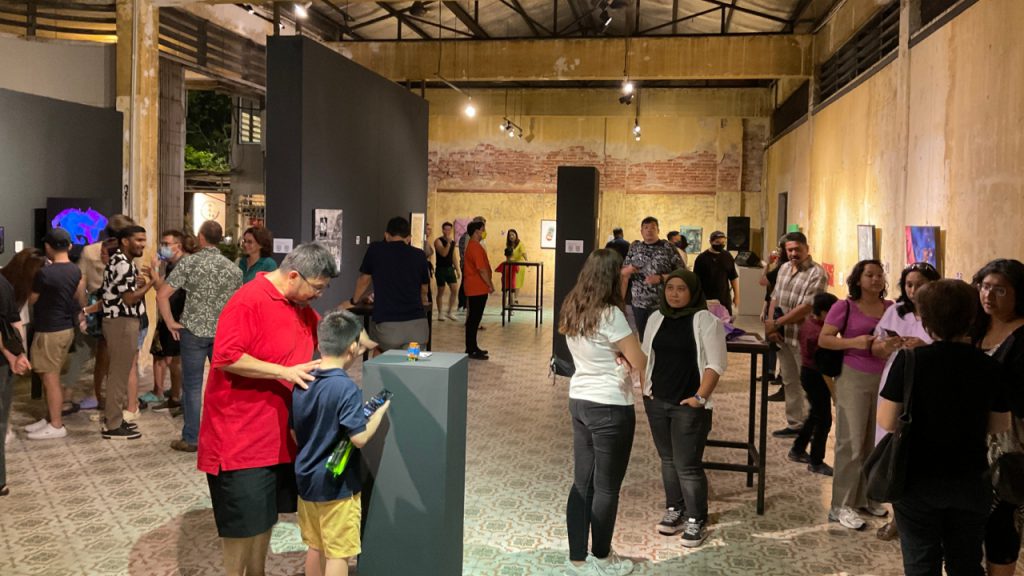 The exhibition aims to illustrate how duality is an ever-present theme in our daily lives. It also draws on the principles of two perspectives that humanity navigates life on, often posed as opposing forces such as light and dark as well as life and death. The exhibition further invites viewers to delve deeper into the paradoxical nature of our existence, and to engage with the ideas, emotions and tensions that arise from confronting such seemingly or apparent divided realities. The concept of duality is further reflected by the fact that, inadvertently, there are two couples and two pairs of siblings in the exhibition. 
The exhibition curator Ivan Gabriel, who wears many hats including being an artist himself, said that he had first conceptualised the idea of having two works that were not to be seen simultaneously during the pandemic, but faced multiple hurdles in finding two spaces to host the exhibition in a single state. Almost two years later, he expanded on the idea and was able to host it in two separate states using an AR art app, PERK reality, which allows it to promote and showcase the diversity and quality of contemporary art produced across the nation.
"I have always wanted to explore duality, which is very present in my work. Conceptualising a group exhibition would help me further that," Gabriel said. "I tasked the artists to create two works. These were the artists that I have felt that duality were themes that they had already explored individually in their artistic practice or those whom I saw duality in their lives. I also wanted to do a show where the audience gets to be a part of it, because I like creating immersive surroundings. On top of that, we used technology in a way that doesn't take over the physical space, but it coexists with it, and allows us to use it as a tool instead to communicate the idea even further."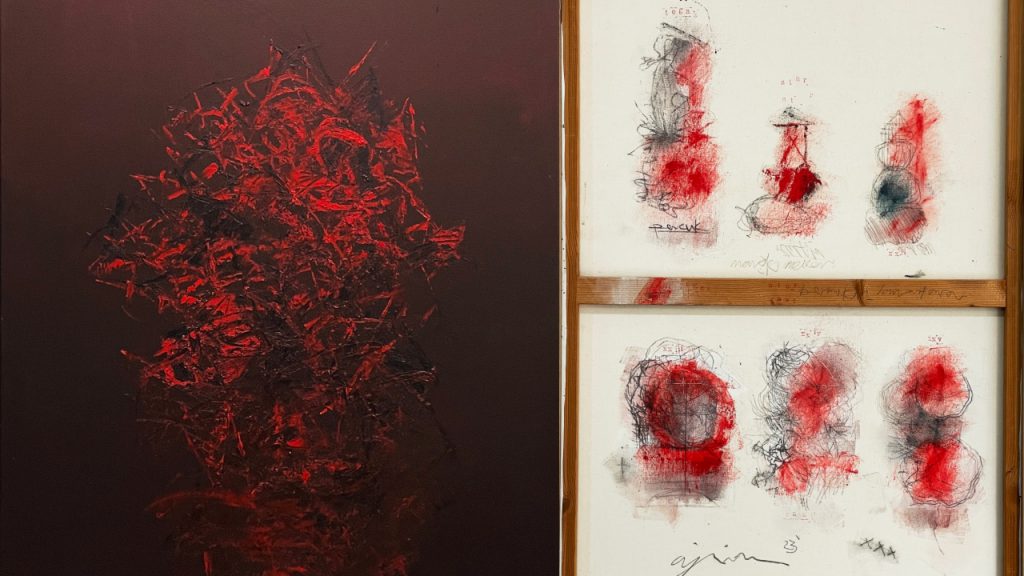 Aboud Fares, a Syrian artist whose sculpture pieces Untitled 28 and Untitled 63 are also featured as part of Of Spaces in Between, created the app that visitors can use to view the artwork. "I saw the potential of creating shows in different countries and eliminating the need of sending over physical work," Fares says. The app has also been used in other countries such as Taiwan and as part of the ARmenian Park project, an AR interactive outdoor art installation in Penang. Visitors of all ages can easily access the show from their smartphones by downloading the app and scanning the QR code that is displayed alongside each artwork.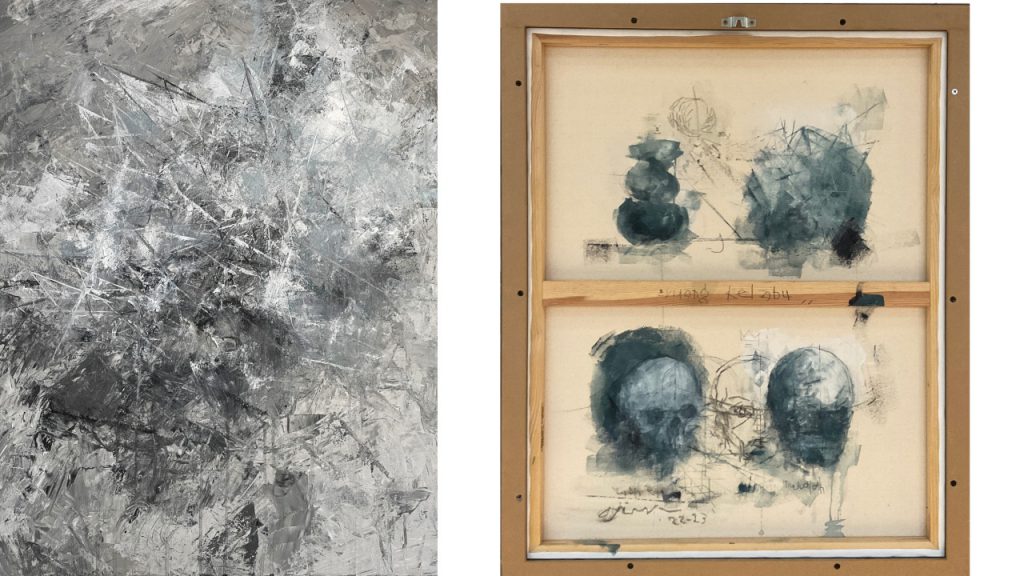 The art pieces may be also purchased individually, and viewing the pieces through AR has actually helped art collectors to purchase the art without the need of being present at the space. Fares shared how a buyer acquired Kuntum Merah/Tegak Lamantara, which uniquely features its main work on the back side of the canvas by Ajim Juxta, after viewing it through AR alongside its accompanying piece Tugu Rangka/Ruang Kelabu.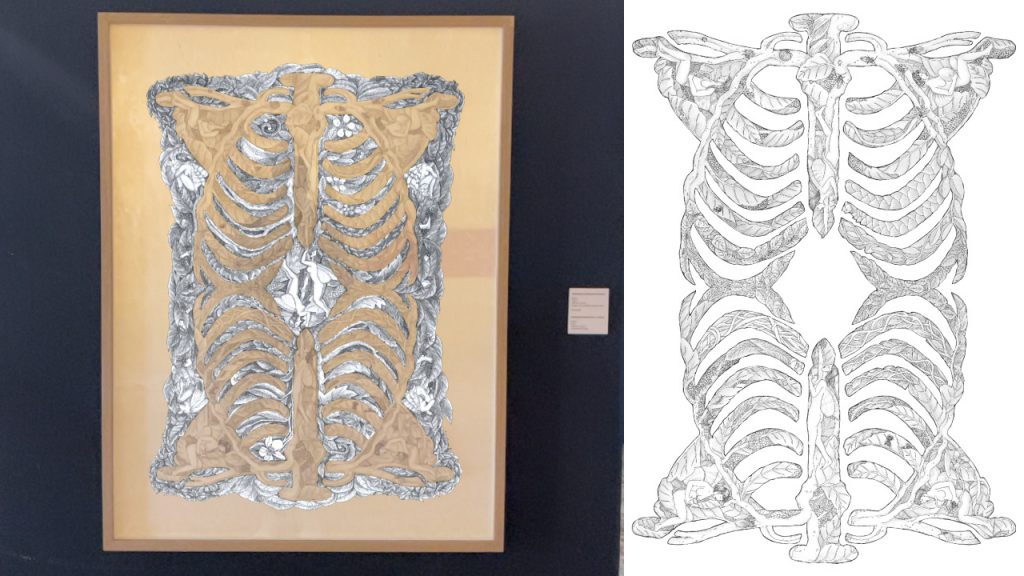 One of the standout pieces of the exhibition is Separating Regrets from Longing by ERYN, which perfectly embodies the concept of Of Spaces in Between. Both artworks are cut from a single piece of paper in a continuous line, with the absence of each piece shaping the other. A mulberry shrub populated by fragile fairies forms the characteristic shape of a human ribcage, where both pieces come together through AR to form the complete picture.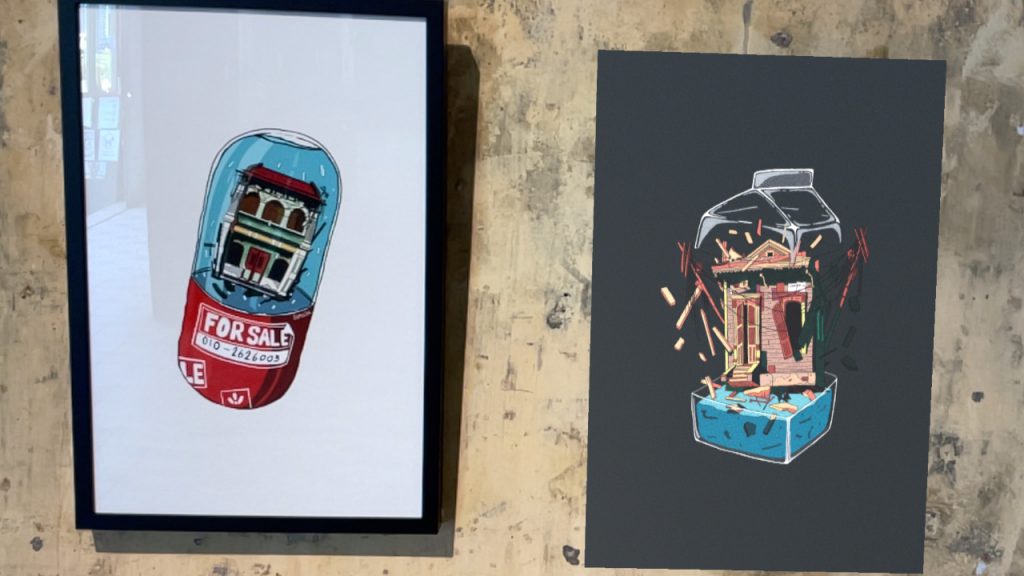 Another striking set of works are The Heritage Pill and The Garbage Patch by pseudonymous artist sumidik, which features a series of images of heritage buildings presented in a satirical way. The piece aims to contribute to the debate of the value and relevance of the buildings in contemporary society. 
---
Of Spaces in Between runs at Hin Bus Depot, Penang from 8 to 30 April 2023, and at ZHAN | Art Space from 15 April to 15 May 2023.