For the past two decades, Louis Vuitton has been building its legitimacy as a watchmaker. Its signature line, the Tambour, was released in 2001 and has since built a considerable portfolio of everything from everyday practicality to fun complications. In 2011, the brand acquired La Fabrique du Temps, a boutique movement maker specialising in complications, opening the door to some truly ambitious watchmaking. This became especially evident in 2021, when the maison won two GPHG (Grand Prix d'Horlogerie de Geneve) awards, one for the Tambour Street Diver and another for Tambour Carpe Diem.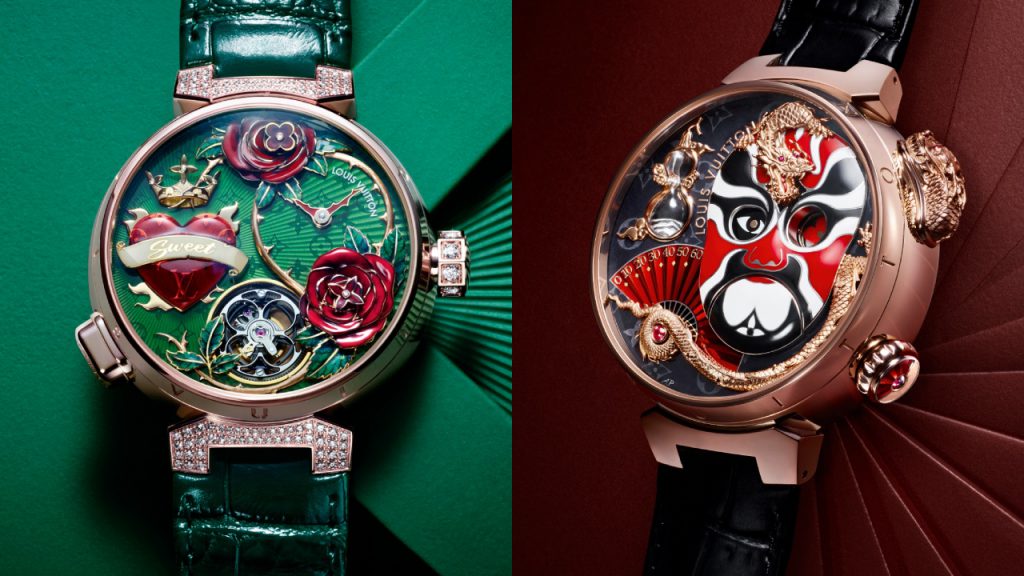 Tambour Carpe Diem is an ultra-exclusive ode to high watchmaking and metiers d'art. Its unique movement was developed at La Fabrique du Temps; calibre LV 525 has 426 components and was a take on the jacquemart—a traditional type of animation that would strike the hour on church bells or similar. It had a morbid, memento mori theme dominated by a skull and a snake, and when activated by a pusher a series of animations would trigger to tell the time.
Capitalising on its momentum, Louis Vuitton announced its next horological salvo earlier this year at Couchevel. The manually wound calibre LV 525 is returning with a new, Chinese inspiration in the Tambour Opera Automata. The subject this time is a particular subdiscipline of Sichuan opera, bian lian (face changing), which sees performers rapidly changing masks to denote a change of character or mood. The skull is now a painted mask and the snake is a dragon. As before, when activated, a number of animations will activate to tell the time: the dragon's head moves to expose a jumping hours window on the mask's forehead, while its tail acts as a retrograde minutes indicator; the right eye winks to reveal a Louis Vuitton monogram flower, while the eyebrows and eyelid of the left eye move to give the mask a new expression.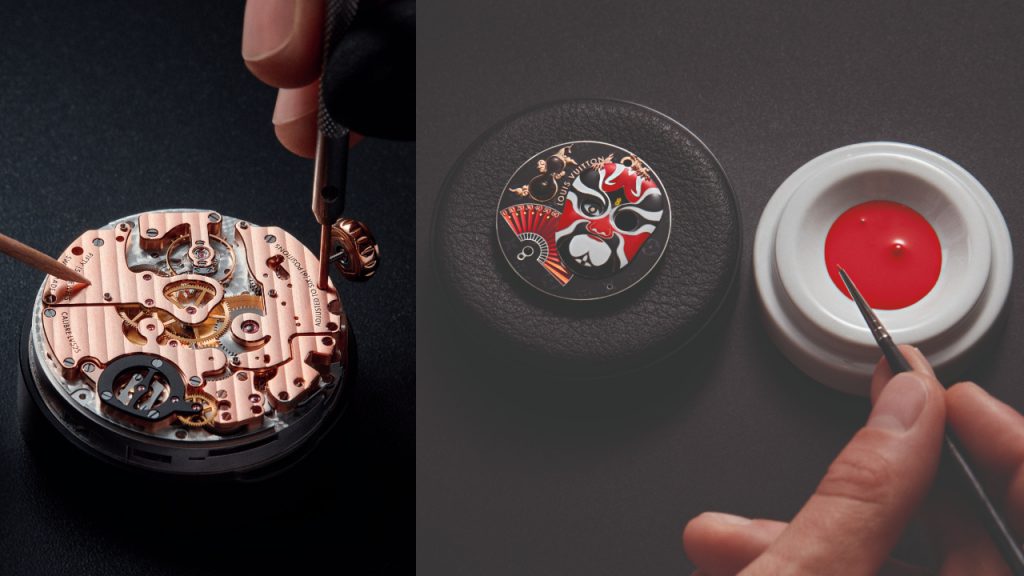 Returning also from the Carpe Diem are its much-heralded metiers d'art experts. Anita Porchet, master enameller, and Dick Steenman, master engraver, attended to this piece. The mask is in white, red and black cloisonné enamel with coloured sections separated by white gold thread, while the fan of the minutes indicator is achieved with champlevé enamel. The enamel alone took seven days; the engraving of the dragon and other aspects of the 42mm case, in pink gold, was completed over a two-week period.
In the meantime, Louis Vuitton has debuted another feat of animated timekeeping in the decidedly feminine Tambour Fiery Heart Automata. At rest, it appears as a lavishly enamelled timepiece—grand feu, champlevé and cloisonné techniques are all variously leveraged, and this is the first completely in-house enamel dial from the maison—with a rose-and-thorns motif, completed by a flying tourbillon at 6 o'clock. The hour and minute hands, themselves in a jagged, thorny style, are offset to the upper right, flanked by two roses. At 9 o'clock is a flaming heart topped by a crown.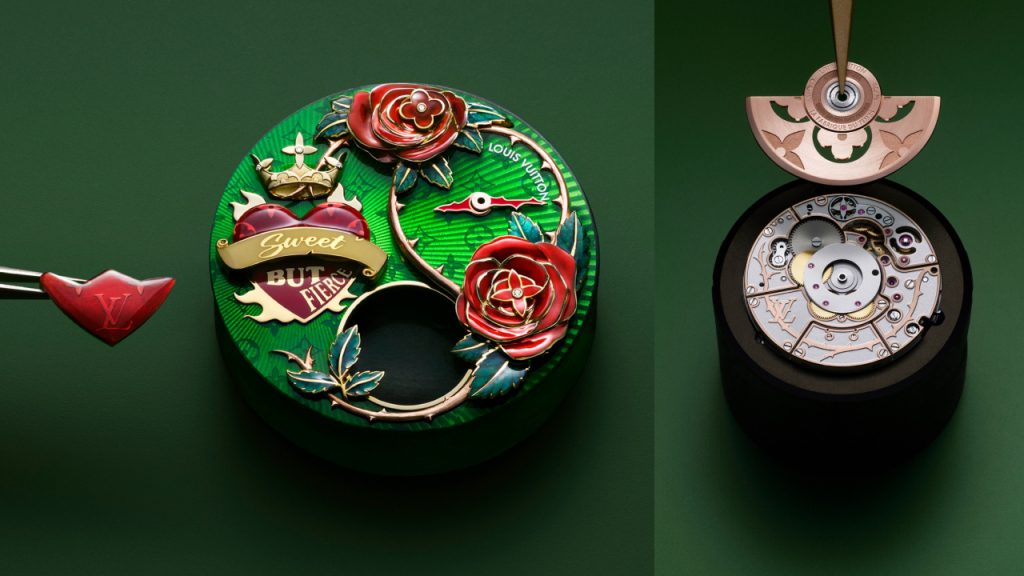 At 8 o'clock is a pusher, which unlocks the full glory of the self-winding calibre LFT 325. It consists of seven animations: the centres of the two roses hold Louis Vuitton monograms, which are set spinning; the heart splits open to reveal its full inscription ('sweet but fierce') while its flames dance; and thorns slide out from the brambles of the dial. It took three years for La Fabrique du Temps to develop this precisely synchronised automaton dance.
These two novelties celebrate traditional arts; complementing them are two new expressions of the Tambour Moon Flying Tourbillon Poinçon de Genève, both of which represent modern innovation. The first sapphire-cased watch collection to bear the vaunted Poinçon de Genève—a certification that demands the highest levels of movement finishing and performance—returns this year with two new shades: a yellow and a green so vivid as to be almost fluorescent. Synthetic sapphire, used also in watch crystals, is renowned for its hardness, which also makes it very difficult to shape. Each of these watches was cut from a single block, taking 420 hours each: precise machining from diamond-tipped tools, before being machine- and then hand-polished. The result is 42.5mm in diameter and less than 10mm thick, surprisingly lightweight and transparent to showcase the flying tourbillon-equipped LV 90 calibre within them. The complexity of the production process ensures that a limited number can be produced each year.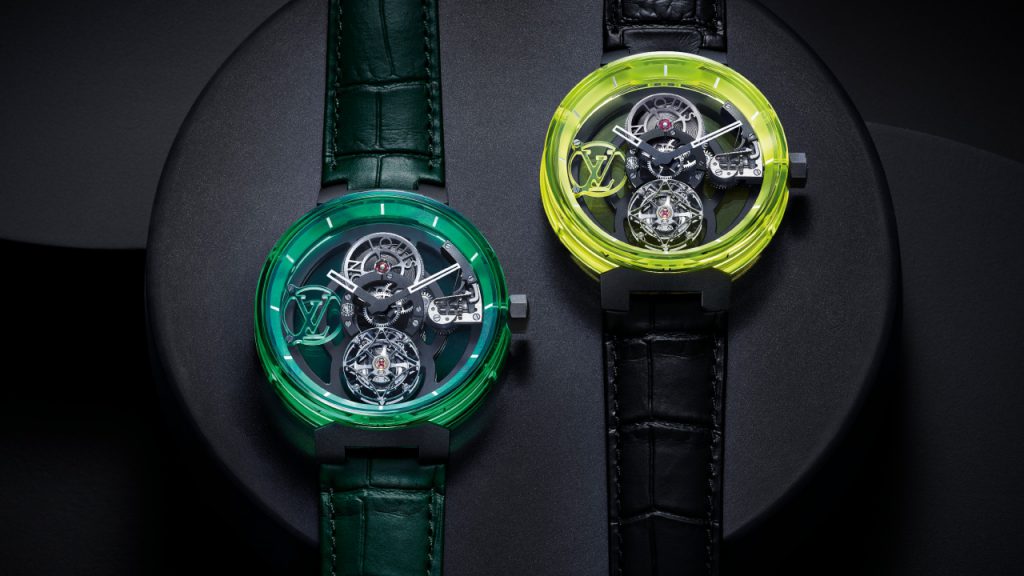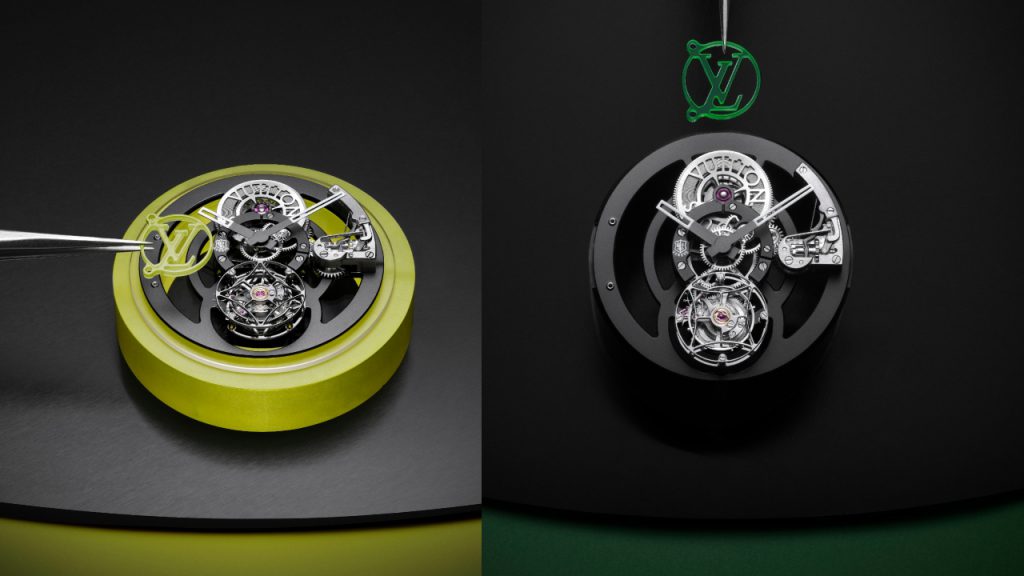 Taken together, Louis Vuitton's 2023 releases should quell any doubt as to the maison's commitment to the highest levels of watchmaking, and certainly shows that its past GPHG wins were no fluke. Between the complexity of its movements (especially the animated ones), the fine executions of traditional metiers d'art, and the showcases of high-tech engineering as in the sapphire watch cases, Louis Vuitton's timepieces can stand shoulder-to-shoulder with any in the industry.
---