At Samsung's recent Unbox & Discover 2023 virtual event, the brand's Vice Chairman and CEO for Device experience, Samsung Electronics JH Han reiterated the brand promise to make the product experience is intuitive, easy and stress-free. There was also an extensive segment dedicated to its sustainability efforts, with the six new models in its 2023 Neo QLED line-up achieving the 'Reducing CO2' certification from the Carbon Trust (This label is awarded to a product when its carbon footprint is proven to have been reduced year on year). The achievement also signals Samsung's continuous intent to enhance sustainability throughout the entire product lifecycle.
"It's rewarding to see Samsung's sustainability mission recognised by a trusted organisation, as we remain committed to creating products with the future of our planet top of mind," says Seokwoo Yong, Executive Vice President and Deputy Head of Visual Display Business at Samsung Electronics. "As the world's largest TV manufacturer, we recognise our responsibility to lead by example and will continue to leverage technology to drive positive change."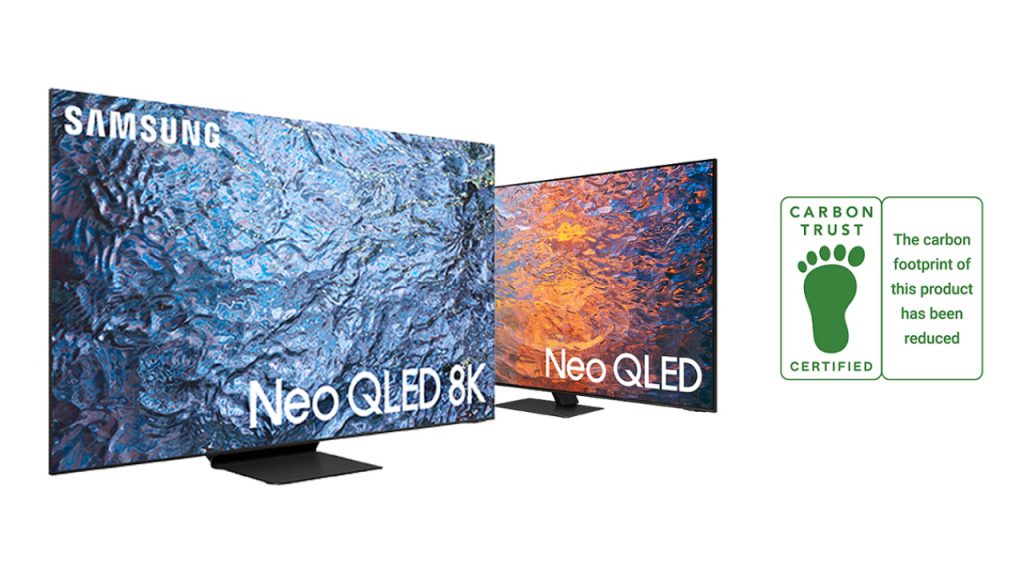 Positive change also comes with its now ubiquitous QLED technology, where Samsung is also leading the field in ensuring that its televisions offer lasting value; since the QLED set is not plagued by the same burn-in and quality degradation that can occur over time in OLEDs. A primer: QLED is the name Samsung has given its "quantum-dot" technology, which provides outstanding vividness even at the highest brightness levels. The quantum dot technology uses an array of minuscule molecules that emit colours when exposed to light (as opposed to OLEDs, which generate their own light). The company says that the technology produces a broader range of colours than standard LEDs, and most importantly, its colours do not get washed out at higher brightness levels.
View this post on Instagram
To ensure you're well set up for your streaming binges and cinematic quality in the comfort of your home, Samsung's TVs have also evolved to provide greater detail, colour and motion to make content even more brilliant in larger formats. This May, Samsung offers an irresistible deal of a free upgrade with savings of up to RM4,500 depending on the model of TV chosen. The exclusive early-order promotion runs from now till May 24, and also includes 35 per cent off on one unit of the Q-series Soundbar.
Neo QLED 8K, Neo QLED, QLED Early Order Promotion
Check out the 2023 Neo QLED 8K, Neo QLED 4K and QLED TVs Retail Recommended Price with upgraded model details below: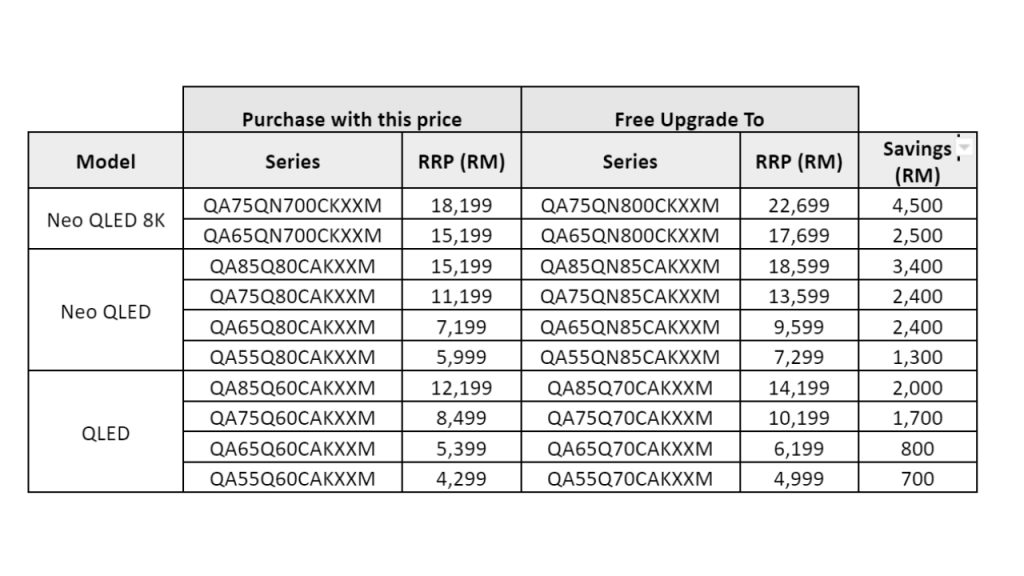 To enjoy these exclusive deals, pre-order at the Samsung Malaysia Online Store.
---