For only three days at the end of April, the Mandarin Grill at Mandarin Oriental, Kuala Lumpur hosted an exclusive culinary event. Chef Kim Hock Su from Au Jardin Restaurant, the one-Michelin-starred sensation based in Penang, collaborated with Chef Marco Caverni, the Chef de Cuisine at the Mandarin Grill, for a Four Hands menu. This continues the Mandarin Grill's much beloved run of hosting award-winning chefs from other Michelin-starred restaurants, such as Chef Denis Lucchi from Buona Terra in Singapore, and Chef Stefano Baiocco from the Grand Hotel Villa Feltrinelli in Italy.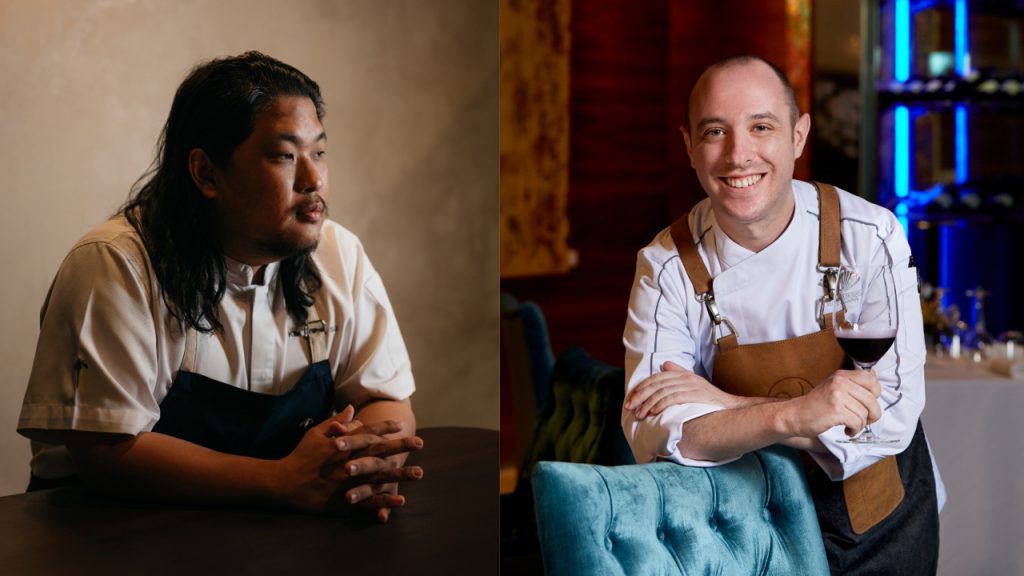 "I met Chef Marco a few times at different events, and we were able to discuss food and flavours. So when I thought about doing a collaboration in KL, Chef Marco and the Mandarin Grill were the first that came to mind," Chef Kim Hock said. "I was very excited to 'set up shop' at the Mandarin Grill, as it really gave me the opportunity to showcase the essence of Au Jardin." Chef Marco was equally excited about working with Chef Kim Hock. "Working with him on this menu has been an amazing experience," Chef Marco said. "His dedication to his craft along with the creativity and understanding of ingredients is nothing short of exceptional. He considers all the potential customers, designing dishes that would fit the palette—from our standard menu to a vegetarian menu."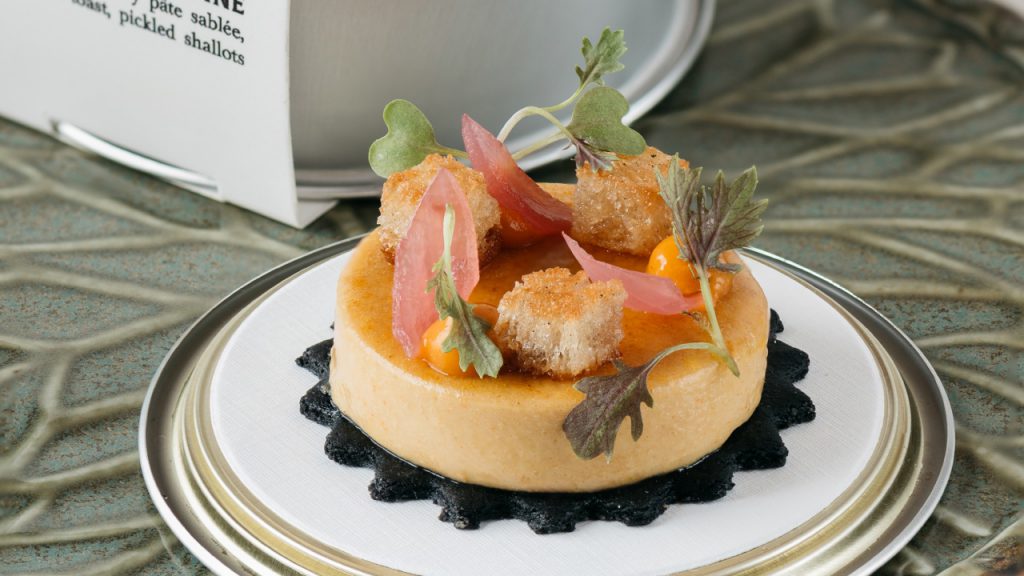 During Au Jardin's Four Hands collaboration with Mandarin Grill, a three-course lunch menu and a seven-course dinner menu were on offer. I attended the dinner, because the coming together of two masterful chefs like Chef Kim Hock and Chef Marco don't come around very often. I knew I had to savour the entire spectrum of delights from both masterminds, and not just an abbreviated version.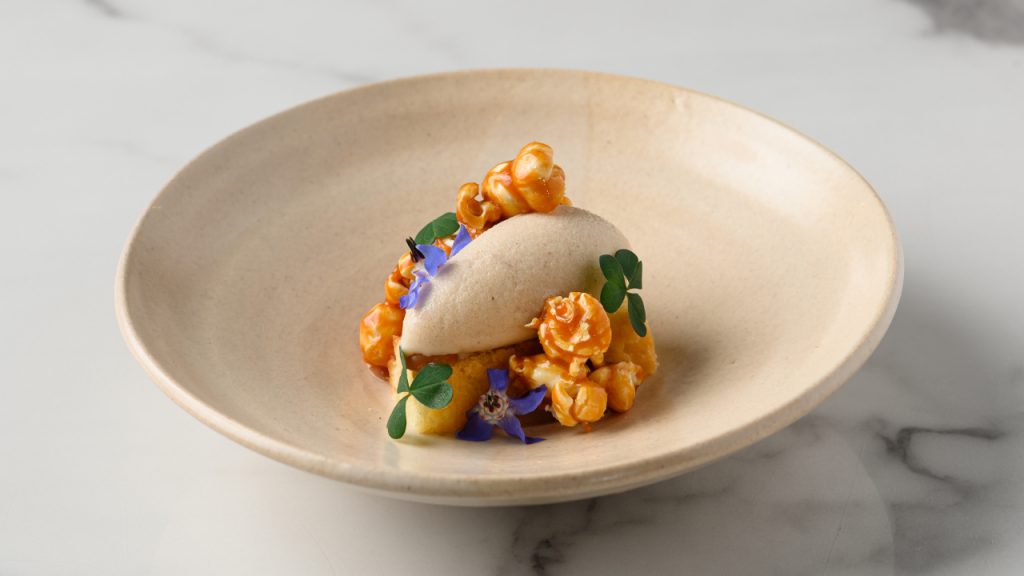 Right from the amuse bouche, I knew I was in for a spectacular night. The Tartlet of Petit Pois, with Smoked Mascarpone, Shallot Oil, Leek Crisps, Yuzu Gastrique Gel and Brik Pastry, may have been a wee lil' bite, but it was an explosion of flavour. Next was the Potato Cannolo, with Duck Mousse, Hazelnuts, and Truffle; followed by the Cured Snapper, with Sze-Chuan Peppercorn, Salted Longan Jelly in a Sze-Chuan Emulsion—the former was satisfyingly comforting while the latter was like what King Neptune has for dessert. Finally in the amuse bouche portion was a Mushroom Duo of Mushroom Consommé and Morel Infused Cream. If taking shots of mushrooms was as marvellous as this, I'd do it every day.
Dinner then progressed to a 50/50 Roasted Tomato Cappucino, a zesty serving of lycopene and a delightful opening gambit for the courses to come. Its Anchovies, Espuma of Parmigiano, Sweet Basil Oil, Cured Scallop Tartare, and Pickled Celeriac were all harmoniously balanced, which belied the expert precision needed to craft this 'appetiser' (it feels unjust to describe the Tomato Cappucino as an 'appetiser', but let's move on). Next was the hearty Homemade Ravioli of Lobster, Black Garlic and Almond, with a Mozzarella Emulsion. My only criticisms of this course are that it ended way too soon and that neither Chef Kim Hock nor Chef Marco were willing to sell me bags of the ravioli. "They're perfect as snacks or meals, for any time of day," I pleaded.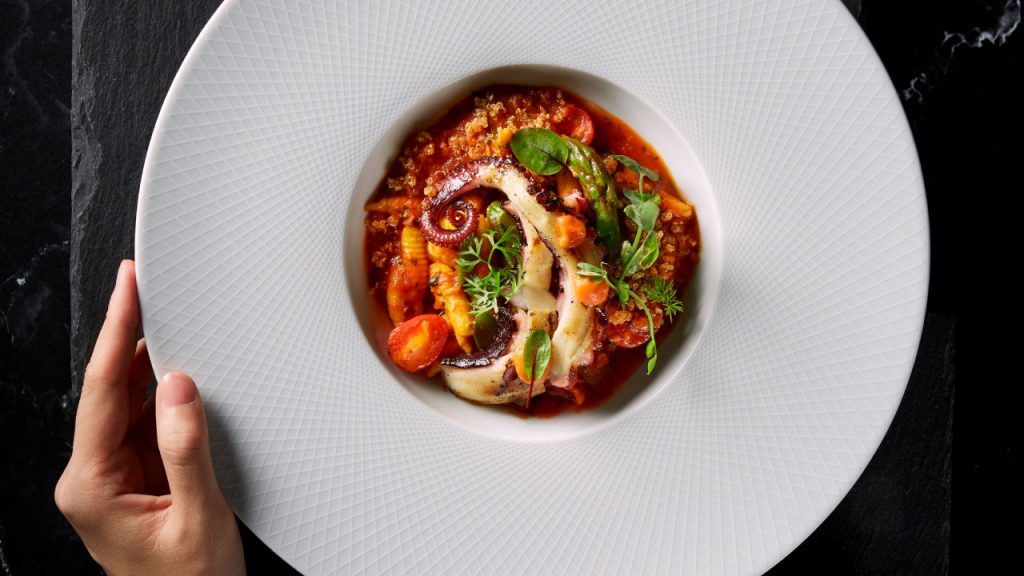 The crescendo of this Four Hands menu at Mandarin Grill beckoned. The Poached Grouper, with Pumpkin and Cilantro Roots Velouté, Compressed Cucumber, Pandan Oil and Cilantro Roots Crisps, was very likely imported from another dimension—as far as I know, it's so difficult to eat fish that fresh, that succulent and that juicy, yet have skin that delightfully crispy. I've been enjoying fish and seafood my whole life, and I've never had fish quite like that. And then we arrived at the Wagyu Beef Cheek, which was Slow Cooked with Red Wine, and served with Cardamom Carrot Puree, Salted Baked Onions, Pickled Mustard Seeds, and Sweet Potato Chips. 'Twas a glorious climax to the dinner, as the wagyu didn't require a knife to cut and barely warranted chewing. It was tender, flavourful and even had notes of dark chocolate. La dolce vita doesn't get any better.
Oh wait, it can, because the menu ends with a Pre-dessert and Dessert. The former was Local Amai Melon, with Natural Sorbet, Mascarpone Chantilly, Yuzu, Milk Sponge and Sugarless Meringue; while the latter was Mango and Coconut Mousse, with Vanilla Ganache and Tonka Crust. They were both sights to behold and dishes to enjoy down to the very last drop of sorbet or mousse—and worthy denouements to what was truly a partnership of two gourmet geniuses, and two restaurants at the very highest levels in dining today.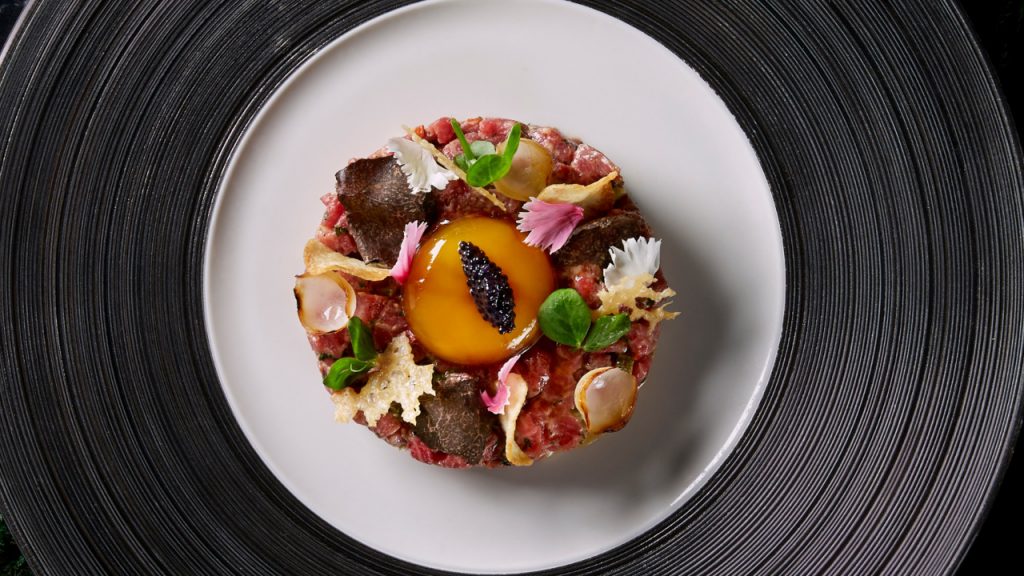 The next exclusive collaboration at the Mandarin Grill will be taking place this September. Featuring Cuca restaurant from Bali, the menu will be a unique blend of casual flair and fine-dining forte from the restaurant's renowned house-made tapas, cocktails, and desserts, all locally sourced from across Indonesia. Stay tuned to the Mandarin Grill's social media channels for the exact dates and further details.
---