Whether it's in the very literal sense or in our day-to-day lives and work, venturing into uncharted waters is terrifying. The fear very often wins, paralysing us, and thus we never take that leap of faith or try new things. But as someone who has been working in digital for 10 years and counting, Sheyantha Abeykoon not only knows all about attempting new and unproven challenges, he also thrives on it.
"We made a decision very early on that we wanted to solve the problem of financial inclusion for under-served customers. That may be en vogue now, but when we started not too many people were convinced there was a business to be made. So we were one of the first to take the plunge," says Abeykoon, the Group Chief Executive Officer of Boost, which is the regional full-spectrum fintech arm of Axiata. "But we were very focused on the customers. We really wanted to try to understand the customer, their pain points, and try to build solutions to meet those pain points. E-wallets solved the problem of cash; cashless options helped small merchants; offering loans to people who had no hope in hell of getting a loan from a bank. The knowledge and understanding of who our customers are was also something that helped us and was part of our success."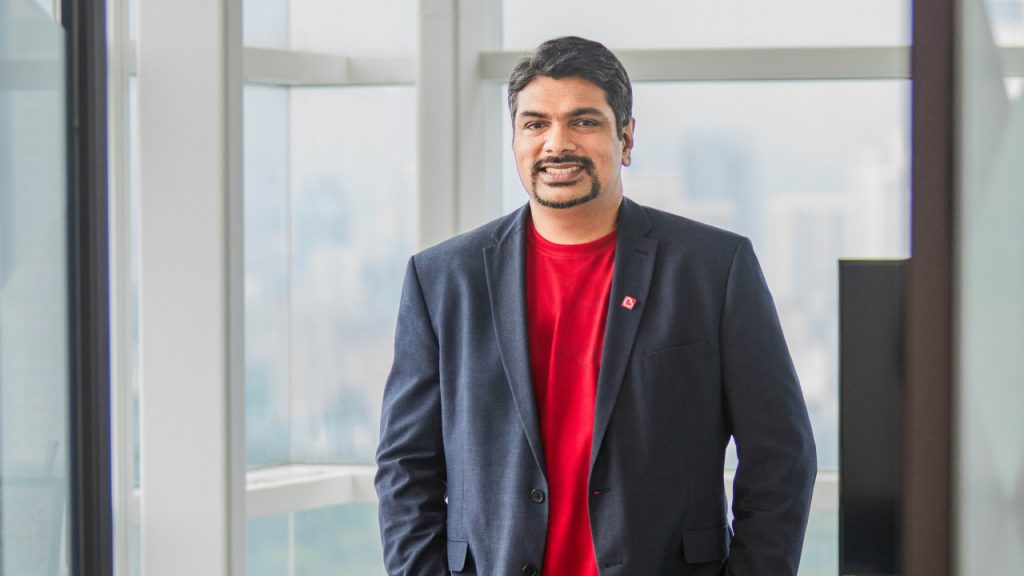 The 43-year-old from Sri Lanka first joined Axiata in 2013 to oversee its Finance & Strategy team for Dialog Digital Services. He came with more than a decade of experience in investment banking, financial advisory and portfolio management, as well as an MBA from Wharton. (He's also a Chartered Management Accountant and a CFA Charter Holder, just in case you're wondering.) And he acknowledges today that, as he reflects on his journey making his way up the ranks in Axiata, the many successes he and his colleagues enjoyed also came with mistakes and failures.
"The journey was not a linear one, full of successes," Abeykoon says. "But what we did right was that we were able to learn from our failures and we were able to make the pivots accordingly. There were many things that we didn't do. But we were able to take stock quickly , realise where things went wrong and make those adjustments.
"We often measure success with yardsticks set by others," he continues, expounding on what it means to be successful. "Generally, it's something that somebody else wants from you or it's driven by someone else's perception of you. But for me, we need to change that narrative. Something that I do every year and that I always tell all my staff is—you need to define your own goals, your own yardsticks. It's actually a good practice I learnt from my previous boss. So, set your goals for the year, whether for work or life, and the measure of success should be based on that—what success means to you as opposed to what others think."
What's your fondest memory at work since joining Boost in 2013?
The early days, or the start-up phases, when we were ambitious with our goals but we had nothing but a whiteboard to script out that ambition. We came up with our crazy ideas and then we had to go in front of a board meeting and not sound so crazy. The energy was very high then. Not that the energy isn't high now, but we're a lot larger now with 600 people. Back then, we were just a bunch of people trying to take a product to market. Those times were always quite fun.
What has been the most valuable lesson you've learnt running a multinational corporation?
I've been in digital for 10 years, and when I reflect, one of the things that's very unique is that you learn a lot from people below you. Sometimes you learn a lot more from the people below you than above you. I've learnt a lot from a couple of 27-year-olds about entrepreneurship, disruption, and challenging conventional thinking. A real leader in a digital company is somebody who can harness those learnings and that energy, and channel it into the outcomes that you want. That's something very unique about being in a digital company—you need to be open-minded, and you need to view the people below you as real assets, as opposed to just people who work for you and to achieve KPIs. 
What would make the biggest difference in your life right now?
Having more time in a day to do everything you want to do. You always run out of time. 
What do you crave most at the end of the day?
A good night's sleep. Getting some decent hours and then to be refreshed for the next day.
View this post on Instagram

What's the last time you were completely unplugged?
It wasn't by choice. I was in the US in December 2022 and, unfortunately, I got an eye infection. I was advised not to look at my phone or watch TV, because it would aggravate the condition. So it was torture for about a week! It felt like I was back in the ice age. But if it was voluntary, I honestly can't remember a time when I was without my phone. I do almost everything on my phone.
What is always in your hand luggage?
My medicine. I tend to be quite paranoid if I go somewhere and I don't have my meds, and then I'd need to run to a doctor or a pharmacy. Aside from that, it's my notebook. I'm a little old-fashioned that way. I write things that I want to reflect on at the end of the day.
The greatest athlete ever according to Sheyantha Abeykoon
For me, it'd be a toss-up between Michael Jordan and Usain Bolt. I grew up partly in the US when MJ was at his peak, so I'm a little biassed. But Usain Bolt has done some amazing stuff. He's the best track and field athlete we've ever seen.
What is the best advice you received that changed your life?
There are a few, but one of them came from my father. He was very qualified but he worked in government service. So I always used to ask him, 'Why are you working in a job that doesn't pay well?' He told me, 'You're spending the majority of your life and the most productive years of your life at work—not with your family. So you need to have a job that you enjoy, and you need to let money and success take care of itself. If you don't have that perspective, you'll turn out to be a very miserable person.' Back then, I was in my 20s, so I thought that's not quite right. At that time, I wanted to achieve a lot in life. But when I reflect, I think that's something I've really stuck to, especially in recent years. It's one of the reasons I've stayed in digital for so many years. Yes, it's stressful and there are a lot of things happening, but actually this is my therapy. I enjoy the ride. This is what keeps me engaged. This is my passion.
View this post on Instagram

How do you deal with failure?
At Boost, we have a core value—fail to learn. It's okay to fail provided you learn from it. There will be a lot of failures along the way, because we're doing a lot of things for the first time. You will fail more often than you succeed in our business. That's a fact. So you need to look at failures as part of the journey, or even tuition fees as part of the learning experience. And then generally in life, it's the same. Your emotions get into it, so it's not as easy to deal with failure. But it's the same thing—you need to have the perspective that tomorrow is another day. You need to know how to fail and come back from failure in order to succeed.
How should Sheyantha Abeykoon be remembered? 
As somebody who lived with integrity, who was honest, who was there for his friends. Someone who tried his best. As long as I gave it my best shot, the results are for others to judge.
---