How better to flex the strength of a regional network than by coordinating lavish dinners in three countries simultaneously? UOB Malaysia pulled off this hattrick feast with finesse recently, as it invited clients in Malaysia, Singapore and Thailand for a gala dinner in each country at the same time. At the local iteration, UOB Malaysia's top credit card customers and key business partners gathered at The St. Regis Hotel Kuala Lumpur to be wined and dined in style beneath the delicate crystal chandeliers that brighten the stone-paneled Grand Ballroom.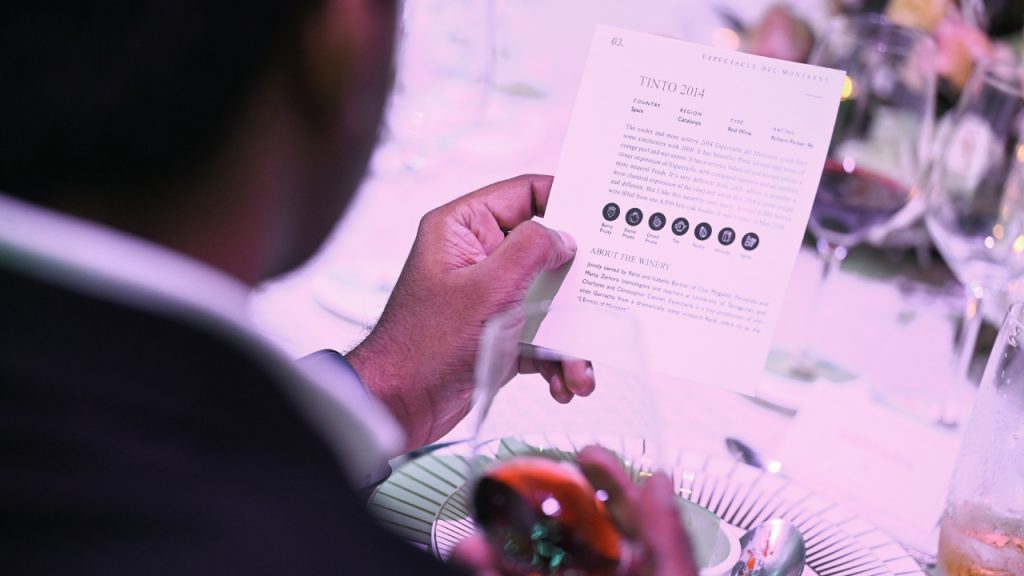 As guests sipped on flutes of Bollinger Extra Brut 2007, a massive LED screen behind the stage livestreamed scenes from the Singapore and Thailand dinners for a few minutes of shared camaraderie. The collective size of the audience was testament to UOB's popularity in the region, with each venue displaying filled seats and festive atmospheres.
Then, the lights dimmed at the St. Regis Kuala Lumpur for the start of a one-of-a-kind culinary experience in partnership with The Michelin Guide Kuala Lumpur and Robert Parker Wine Advocate. The latter is a major coup for UOB, establishing its status as the first brand in the world to partner with the renowned wine critic.
Guests were fêted with a six-course meal by chefs from the Michelin-starred restaurants Mezzaluna and Chef's Table in Bangkok, and Penang's own Restaurant Au Jardin. Tairagi, or Japanese pen shell, with hotaru ika (firefly squid), green pea and wasabi leaf by Mezzaluna was a popular piquant appetizer, before fat and tender grilled Vaucluse green asparagus were served with a meli-melo salad and braised beef vinaigrette, courtesy of Chef's Table. These were paired with the intense, full-bodied, and fruity M. Chapoutier Ermitage de L'Orée 2013, which earned a full score from Robert Parker.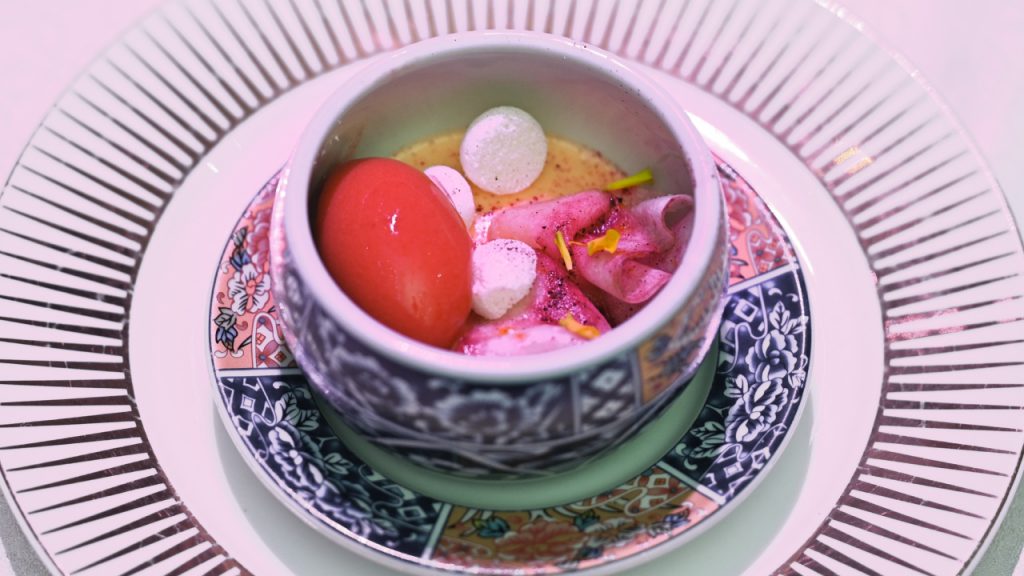 The lushly floral Espectacle del Montsant 2014 and dark fruit-heavy Vega Sicilia Único 2012, for instance, beautifully celebrated the complexity of Restaurant Au Jardin's milk-fed lamb tartare with burnt oil, lemon pith, and capers, adorned with an anchovy emulsion and a puffed anchovy crisp.
Mezzaluna returned with a harmonious composition of kinmedai (golden eye snapper), foie gras, bamboo shoot, and morel dashi. Such an elegant dish deserved one of the greatest vintages ever made in Montrose: The Château Montrose Saint-Estèphe 2010. Chef's Table took the helm again, with a wagyu beef shoulder alongside a celeriac puree, herb salad and virgin green oil, as guests were served the twin pairing of Tenuta San Guido Sassicaia 2006 and Fuligni Brunello di Montalcino Riserva 2015 to pick their favourite accompaniment.
It was up to Restaurant Au Jardin to deliver the finishing touch, and it did so with aplomb in the form of freshly shaven guava, torch ginger, and strawberries sorbet, served with plum and beets power and a sugarless meringue to assuage any guilt. The tipples that closed the show were a choice of Telmo Rodríguez 'Molino Real' Moscatel 2017 or Baron Gaston Legrand Bas-Armagnac 1965 for those who prefer brandy as a finale.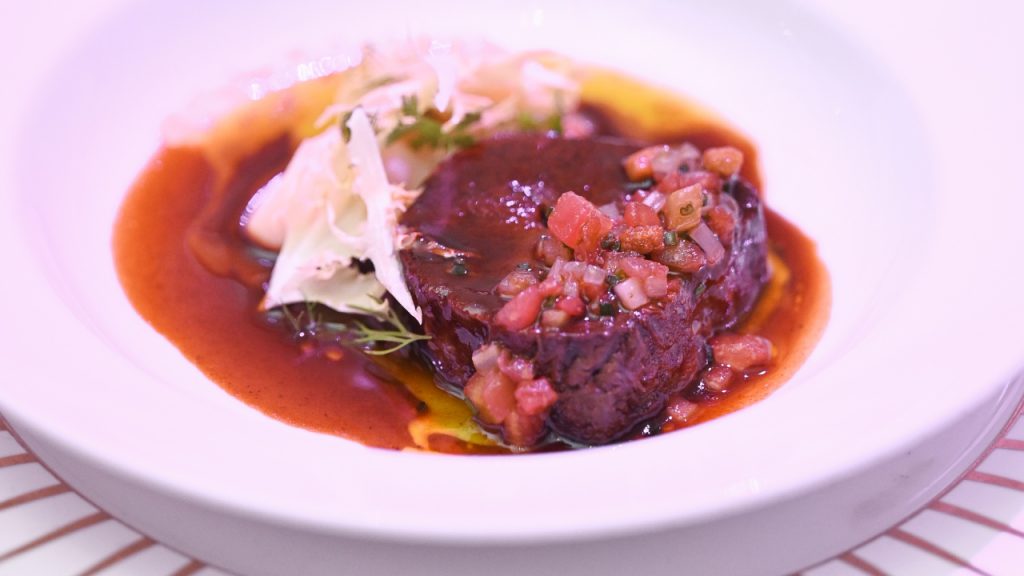 Heady food and wine were not the only items on the menu. UOB also took the opportunity to launch its new short film, immersing viewers in the magic and romance of a lifestyle enabled by UOB cards. The film follows a striking couple as they celebrate their anniversary in Barcelona, empowered to embrace moments of travel, shopping, dining, and pure joy, thanks to their favourite cards. Directed by acclaimed filmmaker David Tsui, this cinematic masterpiece is set against the backdrop of the iconic Casa Batlló, a UNESCO World Heritage Site designed by renowned architect Antoni Gaudi. The film will be broadcasted across multiple markets, including Malaysia, Singapore, and Thailand.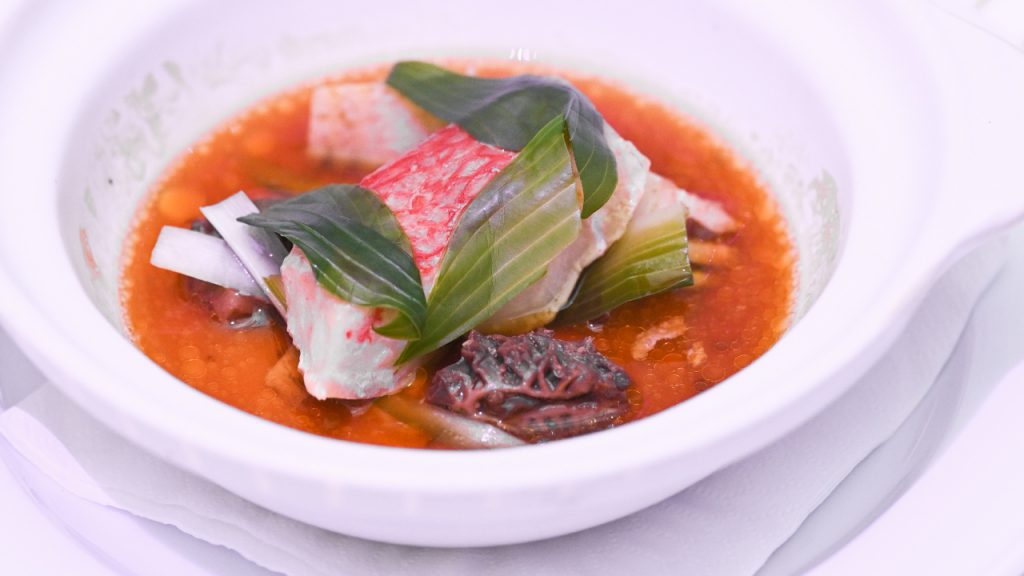 UOB Malaysia also announced the expansion of its lifestyle offerings, including a collaboration with British designer Paul Smith, as well as other incredible travel, shopping, and dining partnerships. This includes the flag carriers of Singapore, Malaysia, Thailand and Indonesia, in addition to selected duty-free outlets in the region and online marketplaces like Shoppee and Lazada. Malls such as Marina Bay Sands and Sunway Group; brands like Club 21 and The Bicester Collections; and F&B giants such as the Crystal Jade Group, Jumbo Group, Hai Di Lao, and COMO Group, are all also included.
With this flood of exciting news and experiences, it's safe to say this was an enchanting evening for guests who luxuriated in this glimpse of privileges at their fingertips with UOB.
---