Once known for its hefty V-12 engines, Mercedes-Maybach has swapped internal-combustion power for electric propulsion with its new EQS 680 SUV. Based on the Mercedes-Benz EQS SUV, this version takes the base model to a level reserved for the Maybach moniker and all the sumptuous appointments it defines.
When the car was first revealed in April, chief design officer Gorden Wagener told Robb Report, "For Maybach, we developed a distinctive design philosophy we call 'Sophisticated Luxury.' We strive to add the shine of the extraordinary to the beautiful."
Design cues that set the model apart include a two-tone paint scheme and frequent appearances of the Maybach emblem, which is splashed across the front end, etched on the headlamp assembly, and affixed to the D-pillar. Vertical stripes, another signature Maybach cue, appear in chrome-plated trim strips across the front face, as well as in filigree pinstripes down the body side. The car also gets 21- and 22-inch wheels featuring a Maybach-specific design.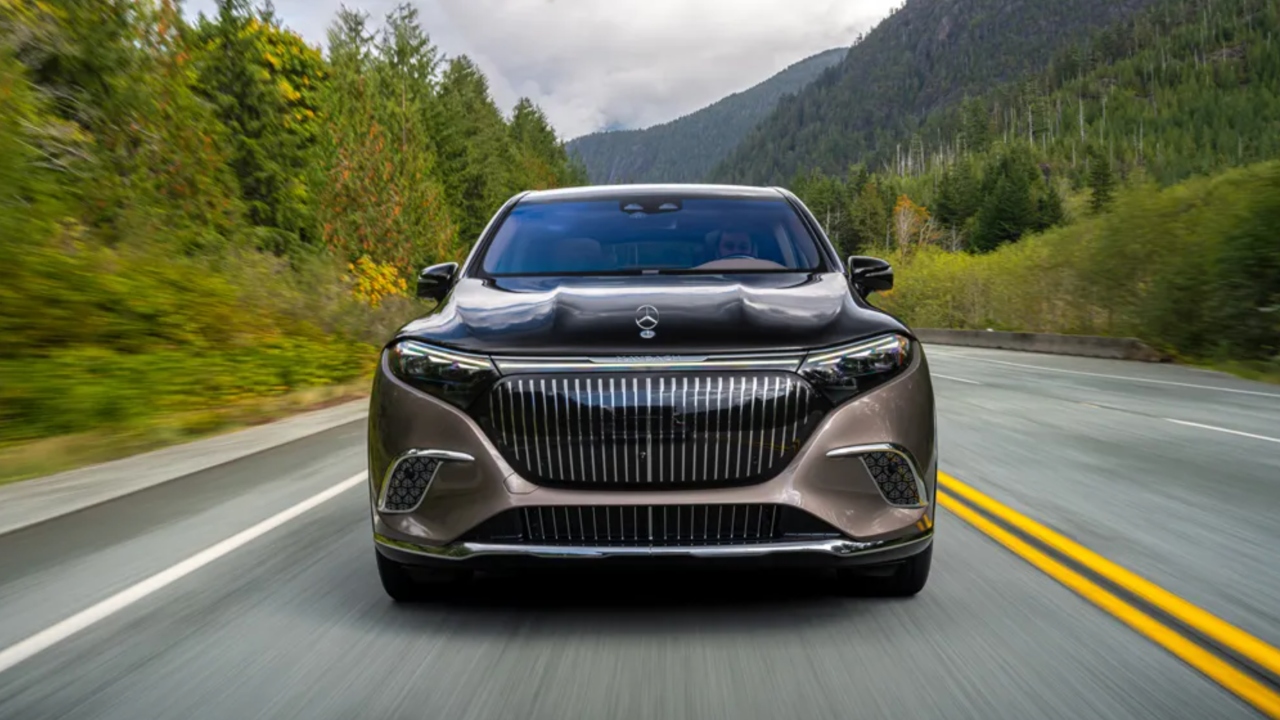 On the roads of Vancouver Island, British Columbia, we traversed through forests and along craggy coastlines in the zero-emissions SUV. Our example wore the alluring Night Series package, which features dark chrome trim and rose-gold accents. Smooth, instant power comes from two electric motors, with a combined output of about 649 hp and 700 ft-lbs of torque. That muscle allows the SUV to launch from zero to 60 mph in 4.1 seconds. The range for the model variant is estimated at about 373 miles, with a 200 kW fast-charging capability that can replenish the vehicle to about 80 per cent in 31 minutes.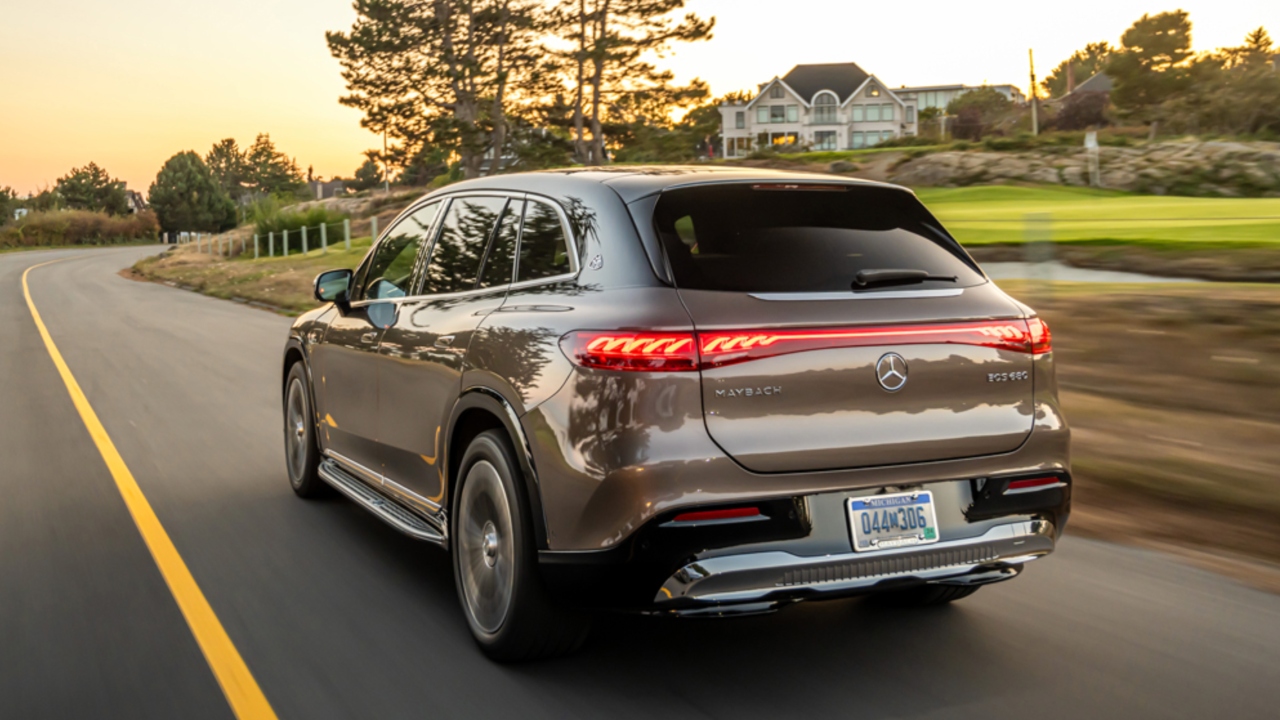 The Maybach badge also means extra-comfortable air suspension, tuned especially for this model. Along with a variety of driving modes, there's also an exclusive Maybach setting, which prioritizes comfort for rear passengers. Extra insulation makes for an exceptionally quiet cabin—so much so that you can hear the air bladders working on the massaging seats, which are some of the best in the industry. Paddle shifters offer quick changes of brake recuperation for different driving situations—a feature much appreciated, especially considering that some brands bury these settings deep in on-screen menus.
Still, the EQS 680 SUV is a weighty proposition, and although the standard rear-axle steering helps manoeuvrability, we didn't find it the most agile on demanding twisty roads. But it is the perfect cruiser for a long road trip on extended stretches of highway.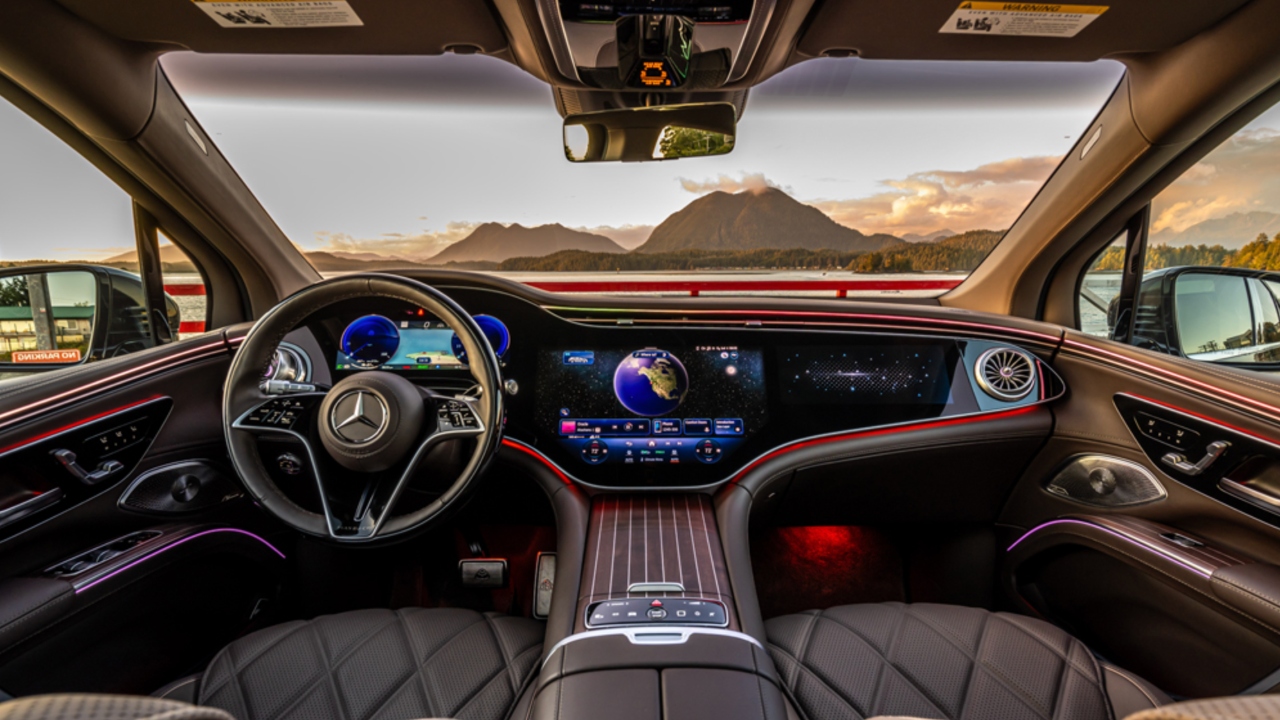 Interior accents include rich, pinstriped wood and quilted-leather upholstery—the first in a Mercedes vehicle to use a vegetable-based tanning method—along with Maybach's signature pillows and a unique designer lamp mounted on the C-pillars. "We wanted to create a cocooning effect in the interior," said Wagener. There's also the option for a wine chiller, along with twin silver champagne flutes, tucked into their own compartment between the rear seats. However, the convenience of in-car libations comes at the expense of rear luggage space; we were barely able to fit two small cabin bags and one large Rimowa check-in case (standing on its side) around the refrigerator unit.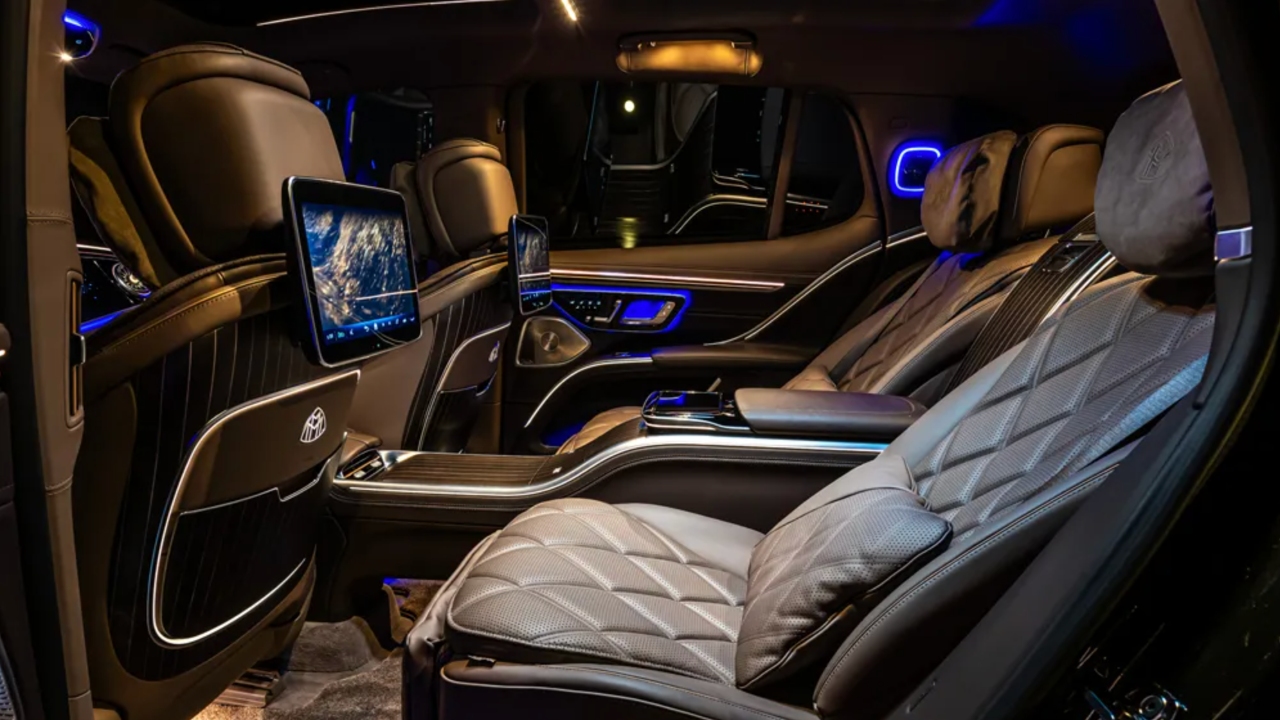 Maybach customers drive their cars as well as enjoy being driven, and to that end, Mercedes' massive Hyperscreen provides a broad canvas for information and entertainment, along with Mercedes' MBUX voice control and Maybach-specific graphics. The marque's current version of Drive Pilot also comes standard, with adaptive cruise control and lane centring that kept us fresh after a long drive. Our test car was also fitted with a stellar 15-speaker Burmester audio system with Dolby Atmos capability, which sounded especially crisp in the nearly silent electric cabin.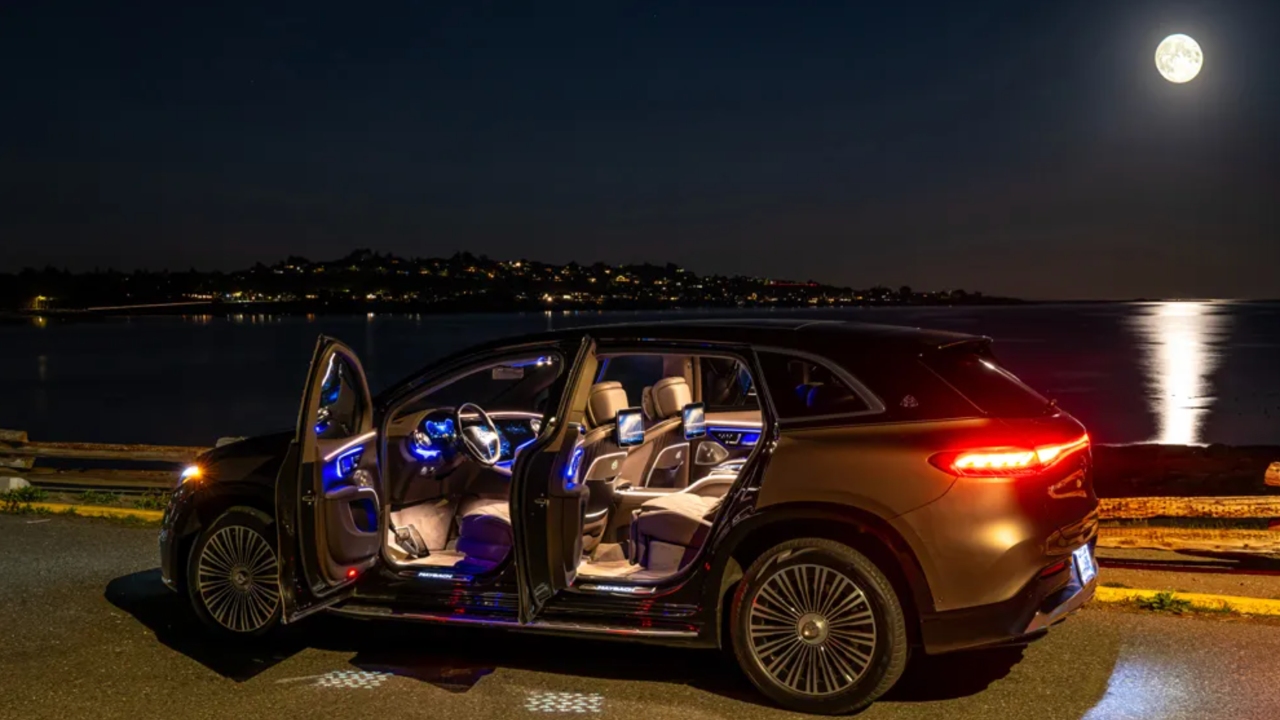 Fragrance is also an important component of the Maybach brand. For the scent, designers created a custom, powdery aroma with notes of sandalwood, freesia, and clove. Dubbed Mood No. 12, it joins a handful of other fragrances Mercedes-Maybach has developed, which gently diffuse through the cabin in three different strength levels. Customers can swap out Maybach scents, or even fill the included reservoir with their own. During our drive, the scent was detectable and pleasant, but never overpowering.
In all, this EQS 680 SUV is an elevated choice for those seeking the plush, opulent experience of a Maybach with the familiar interface and cutting-edge technology of a Mercedes-Benz. And for those who miss the brand's behemoth internal-combustion engines of yesteryear, Wagener offers, "Maybach has stood for innovation and technical progress for over 100 years. It was only natural to go electric now."
---