Travelers are increasingly looking to incorporate wellness routines into their lives, even those who spend much of it in airports. Thankfully, as soon as one passes through TSA security, there are increasingly more opportunities to indulge, sweat, or simply recover—all before boarding the flight.
While there are more massage tables, meditation rooms, and healthy food choices inside terminals, a handful of airport lounges are stepping up their efforts to promote health for their business- and first-class passengers. "People want to incorporate well-being into all aspects of their lives, particularly parts that can cause strain, like travel," Monty Sharma, president and CEO of Therabody told Robb Report.
Sharma's company recently partnered with United to offer a range of wellness amenities for business-class passengers, including dedicated "Reset Suites" within the airline's Polaris Lounges across the U.S. "Travel takes a toll on the body and the mind. Offering wellness spaces for recovery, relaxation, and rejuvenation as part of the travel journey is an excellent idea," he says.
From pre-flight pampering to blood-pumping workouts, here's how these eight airport lounges worldwide are offering the ultimate wellness options.
Air France Lounge New York (JFK)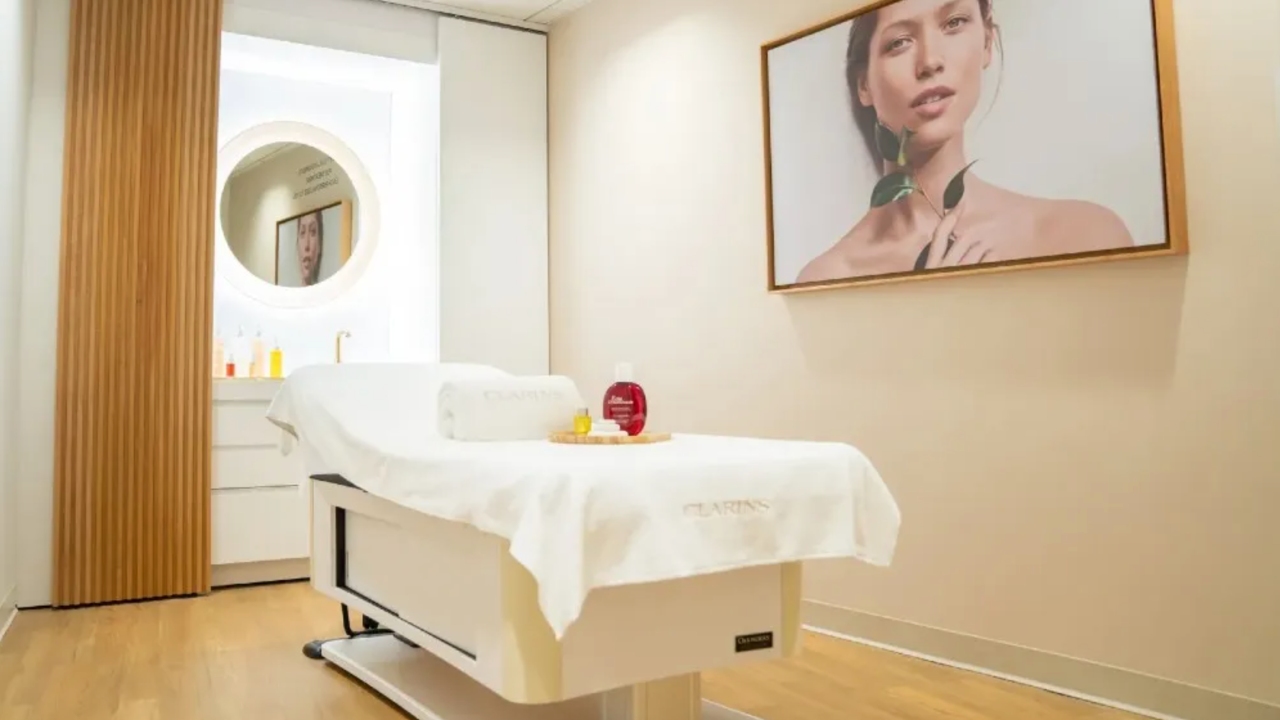 Air France's light-filled lounge at JFK is a certifiable sanctuary, especially compared to the ageing confines of Terminal 1 outside its doors. Within the lounge is a 323-square-foot zen-like spa, in partnership with French-based skin-care brand Clarins. Business-class travellers receive complimentary pre-flight facials on a first-come, first-served basis while first-class La Premiere guests can book in advance. On the menu are three 20-minute treatments (30 minutes for first class) that feature products from Clarins's signature plant-extract formulas.
Virgin Atlantic Clubhouse London (LHR)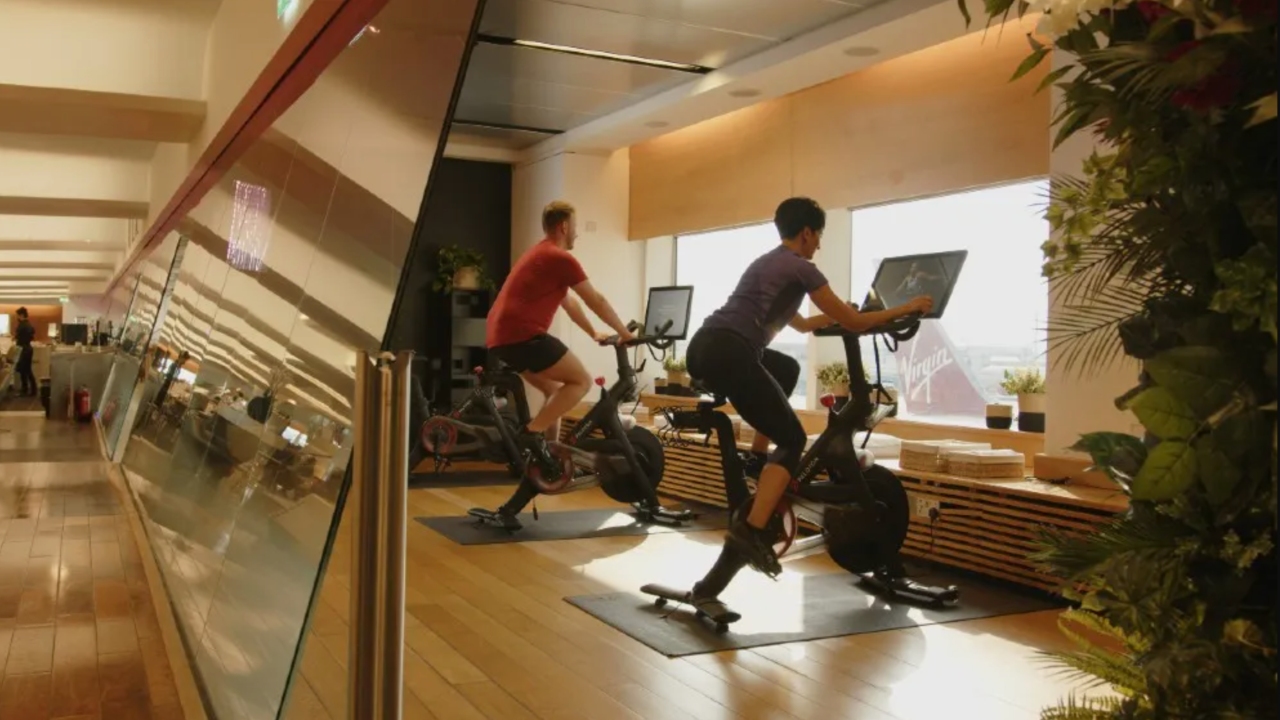 True to the Virgin brand, the airline's flagship Clubhouse at London Heathrow is a chic space with a healthy dose of midcentury modern panache and multicoloured accents. On the wellness front, travellers can access three Peloton bikes, easily accessible via QR code. Near the Peloton area, the Clubhouse Retreat is a beautifully designed, garden-like relaxation corner where guests can enjoy some meditation or quiet time pre-flight.
Cathay Pacific 'The Pier' Hong Kong (HKG)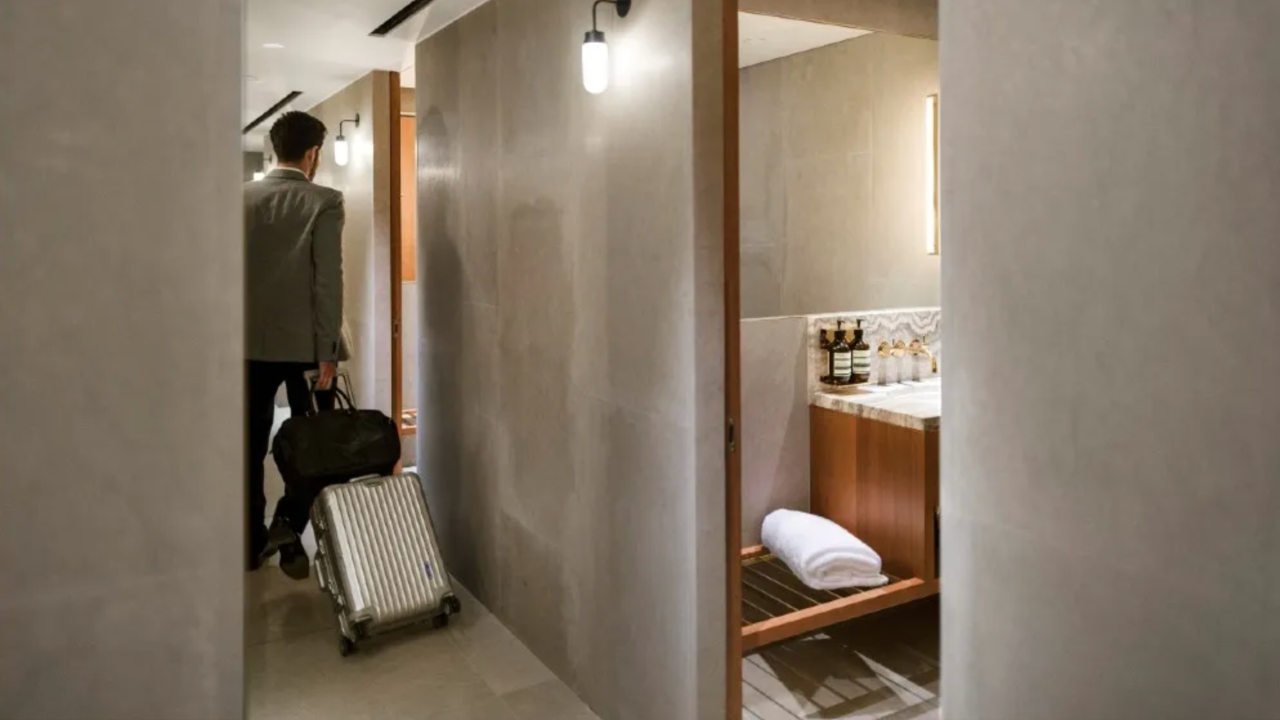 The first thing passengers may notice as they walk into the living-room-like lounge, the Pier, is Cathay Pacific's signature scent, a soothing blend of lavender, bamboo, green tea, and jasmine. The underground enclave—split across first-class and business-class sections—features plush carpeting and plenty of wood, recreating a homey experience. On the first-class side, travellers can indulge in a complimentary 15-minute foot or neck, shoulder, and scalp massage. Afterwards, take refuge in one of the eight semi-private day suites, ideal for a quick snooze prior to boarding. Business-class passengers aren't left out of wellness options, either. There is a calming tea house with Jing's signature blends, along with a separate relaxation room.
United Airlines Polaris Lounge San Francisco (SFO)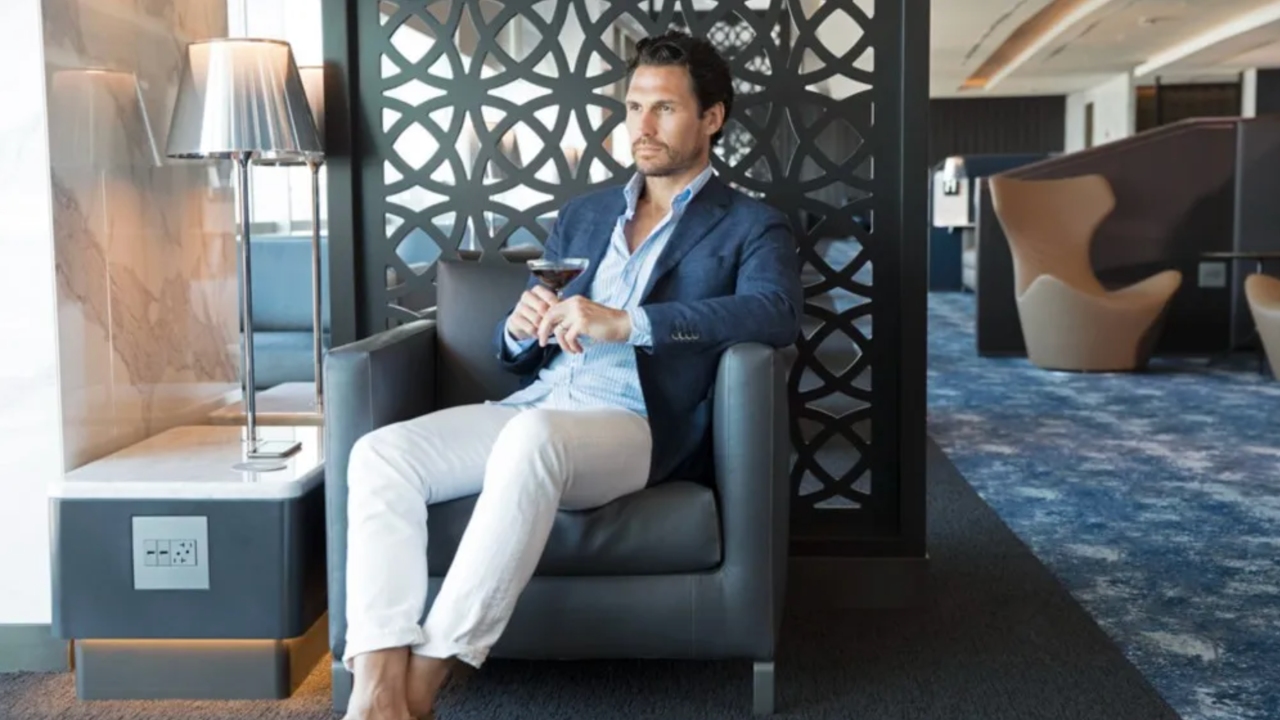 United's business-class-only airport lounges are getting a major wellness boost this fall, in partnership with Therabody. "Reset Suites" will open this fall at all United Polaris lounges, starting with Newark (EWR) and San Francisco (SFO). Each semi-private room will have a Therabody Lounger, combining sound and vibration therapy for full-body relaxation. Additional amenities include Theraguns, SmartGoogles, and RecoveryAir boots to support circulation, lymphatic drainage, and muscle recovery. To cap it all off, restrooms and shower suites will be stocked with Therabody skin and body-care products.
Amex Centurion Lounge New York (JFK)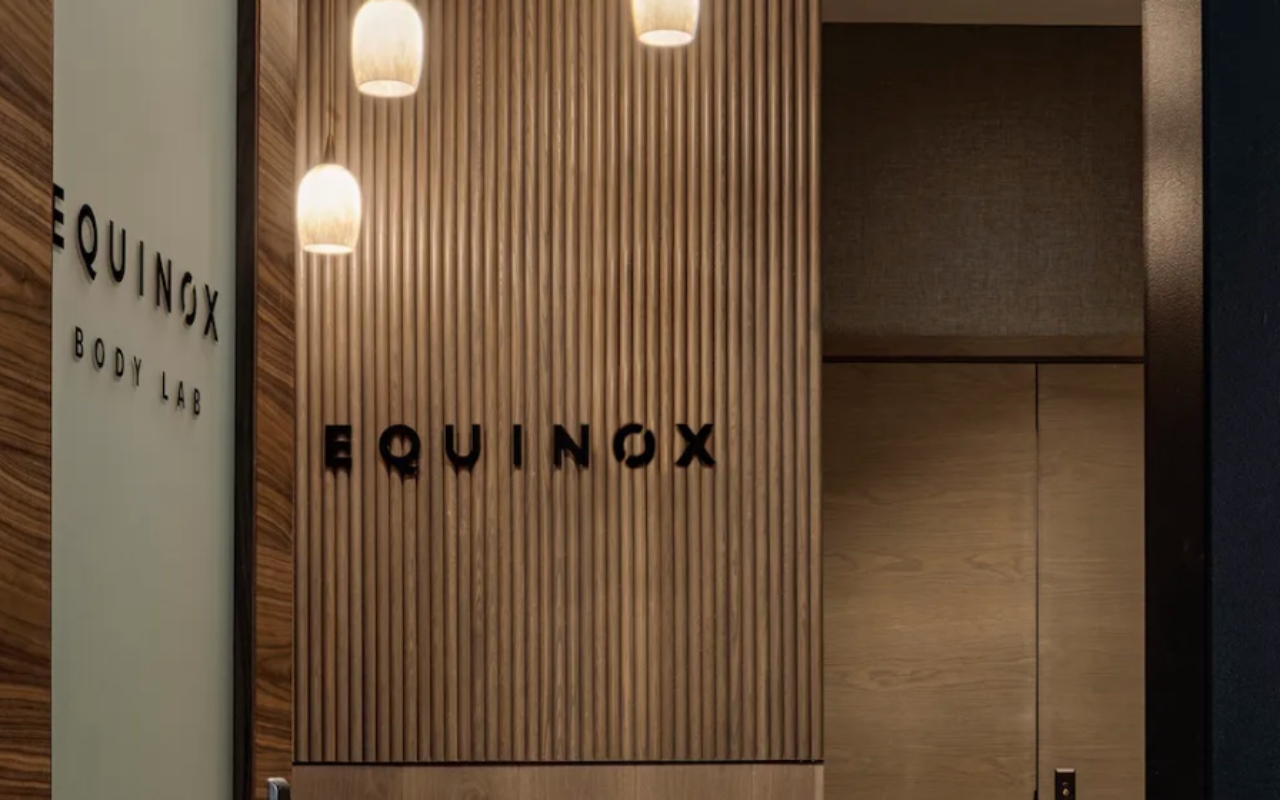 While American Express has over a dozen Centurion Lounges with gourmet food and drinks across its network, only a select few include wellness amenities. Specifically, Amex's Centurion outpost at JFK has the Equinox Body Lab, a chilled-out space offering 15- to 20-minute complimentary restorative therapy sessions. Treatments include self-guided meditation, vibroacoustic chairs, LED face masks, and Normatec recovery boots. The body lab also offers therapist-led assisted stretching and targeted bodywork for more hands-on relief. Meanwhile, if a mini-massage is more your thing, Amex offers an Exhale Spa with complimentary 15-minute treatments at lounges in Miami (MIA), Dallas (DFW), and Los Angeles (LAX).
Chase Sapphire Lounge Boston (BOS)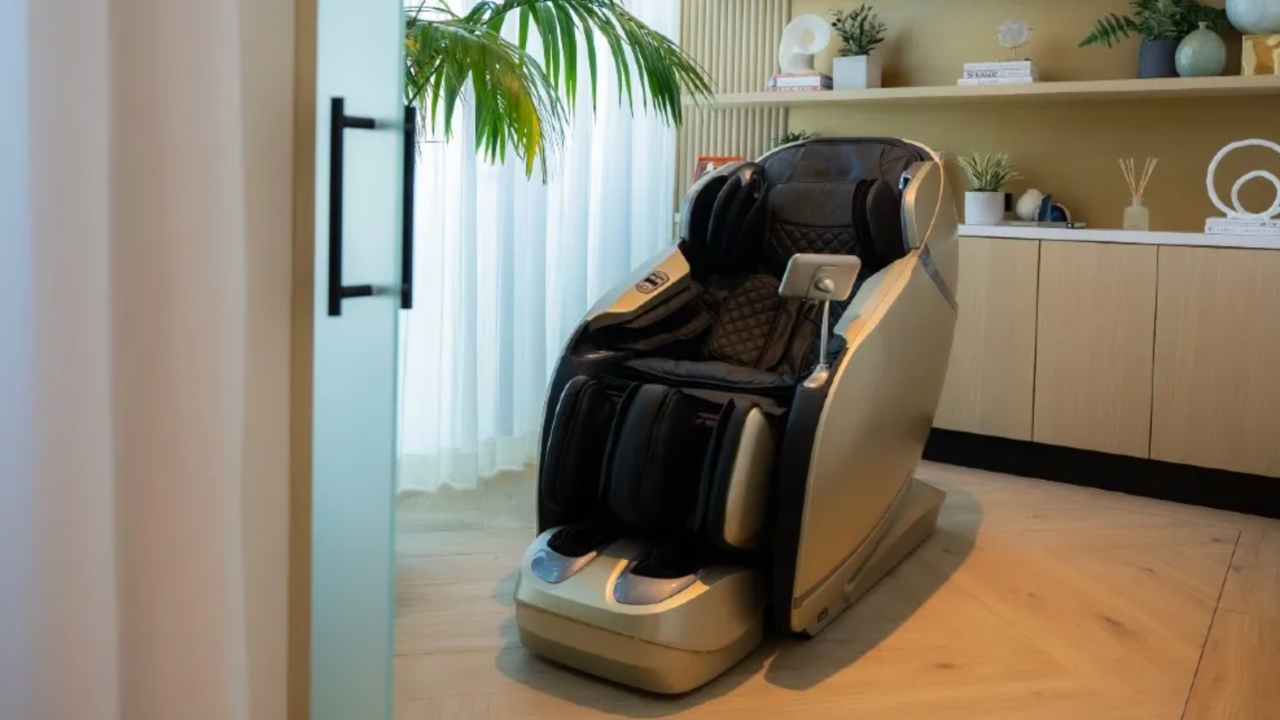 The Sapphire Lounge in Boston—Chase's first foray into U.S. airport lounges—is an 11,000-square-foot sun-drenched space with a robust focus on wellness. Travelers can unwind in one of two semi-private rooms featuring high-tech, zero-gravity massage chairs. Once settled in, don an LED face mask to instantly energize the skin. Also on offer are guided meditations by health expert Devi Brown, custom-made for Chase. Besides the two wellness rooms, there is a private nursing area with a changing counter and sleek Apotheke-stocked shower suites.
Qatar Airways Al Mourjan "The Garden" Lounge Doha (DOH)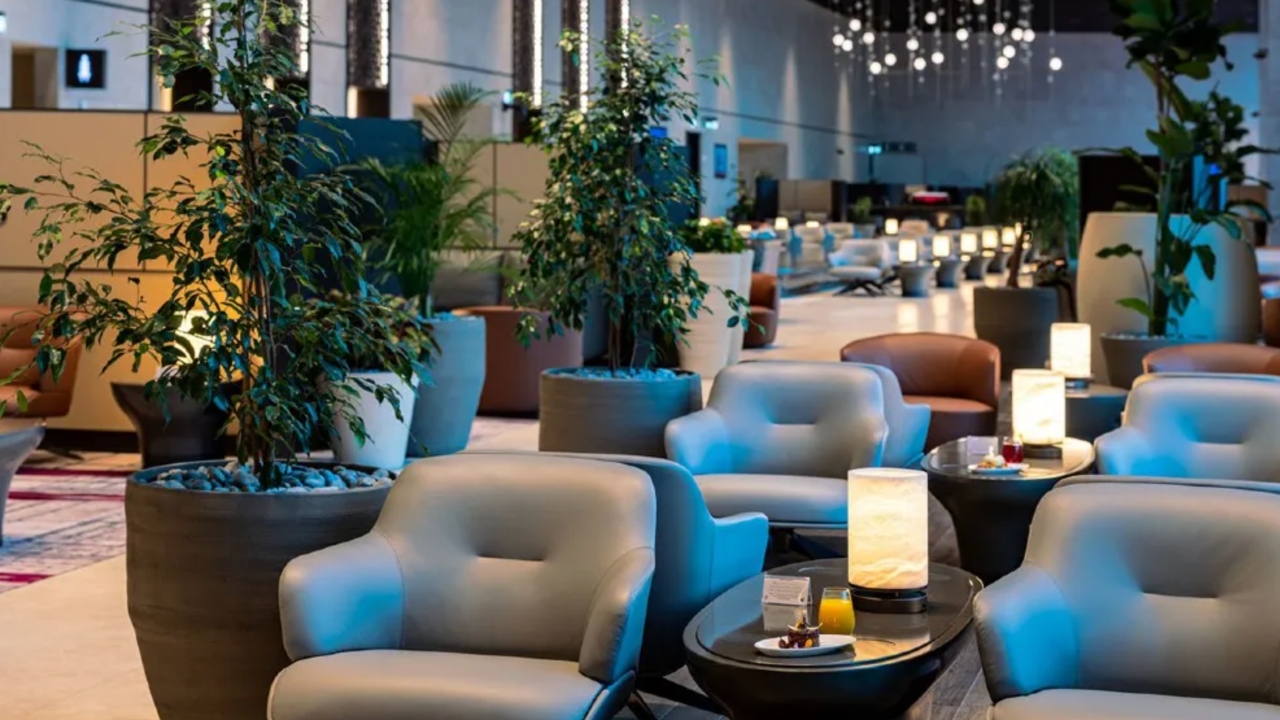 Qatar's newest airport lounge in Doha, the 75,000-square-foot Al Mourjan Garden Lounge, is a wellness destination in itself. Located above the airport's tropical gardens and water features, this open-air sanctuary features a serene atmosphere and gourmet a la carte dining. If travellers need extra peace and quiet, there are 24 nap rooms and shower suites equipped with high-end Diptyque products. In the coming months, the lounge will level up its amenities even more with a full fitness studio and spa, including a manicure and pedicure station, massage chairs, and treatment rooms.
Capital One Lounge Dallas (DFW)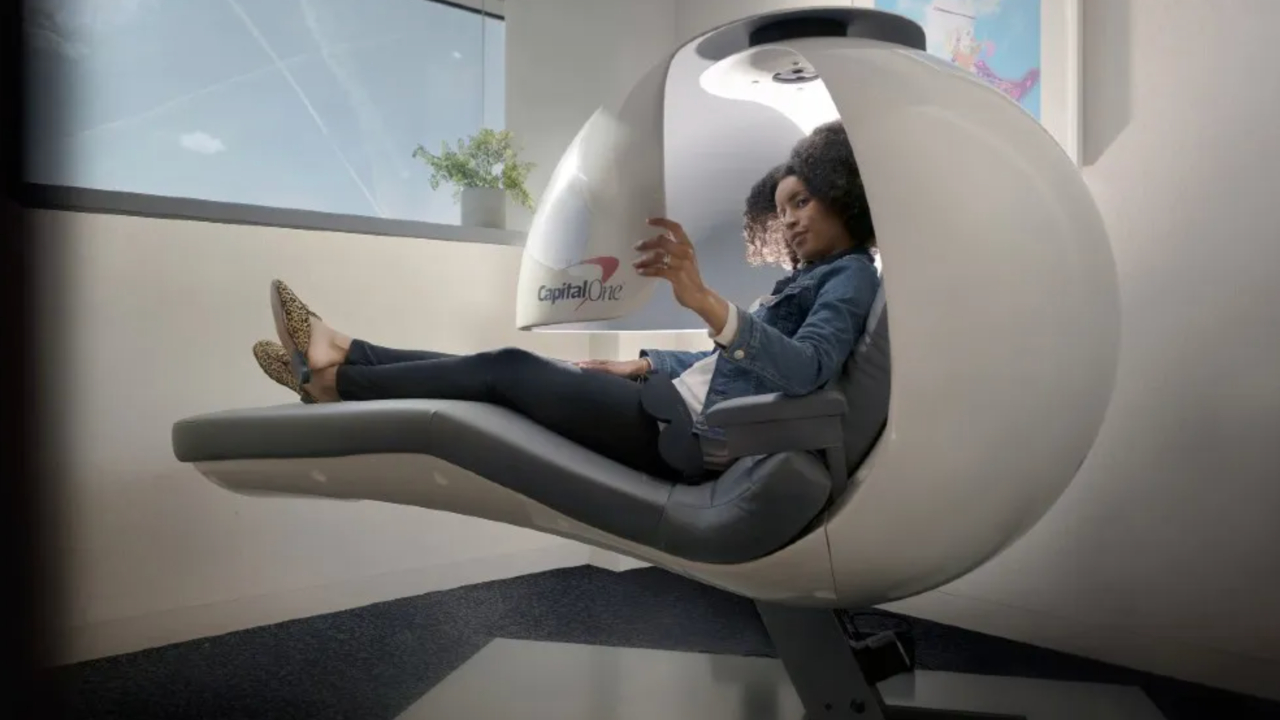 It's not just the impressive variety of food and drink that makes Capital One's first-ever airport lounge in Dallas worth a stop. The lounge also includes a dedicated "wellness corridor," housing some rather unique elements, including a workout space, nap pods, prayer rooms, a nursing chamber, and a shower suite. For travellers looking to break a sweat before (or in between) flights, grab a yoga mat or hop on one of the two Peloton bikes. If rest is more the mood, a dedicated nap area is customized with a ceiling mimicking stars in the sky. Also on the wellness menu are sumptuously padded eye covers and blankets, helping travellers recharge away from the crowds.
---