Toyota is ready to have some fun after bringing the Land Cruiser back to the U.S. The Japanese auto giant has brought a ridiculous concept called the FJ Bruiser to this year's SEMA show. The over-the-top build more than lives up to its bombastic name and is based on one of the earliest Land Cruisers, the FJ45.
The FJ Bruiser is based on a 1966 FJ45 pickup truck that's been future-proofed with an all-new full-tube chassis and roll cage. The vintage body is finished in sparkling turquoise and rides on a set of 20-inch Method Breadlock wheels wrapped in outrageous 42-inch 42-inch BF Goodrich Krawler T/A KX tires that look perfect for rock climbing. The interior, meanwhile, features a Jackie Stewart championship steering wheel and Daytona Evo seats covered in exterior colour-matching plaid.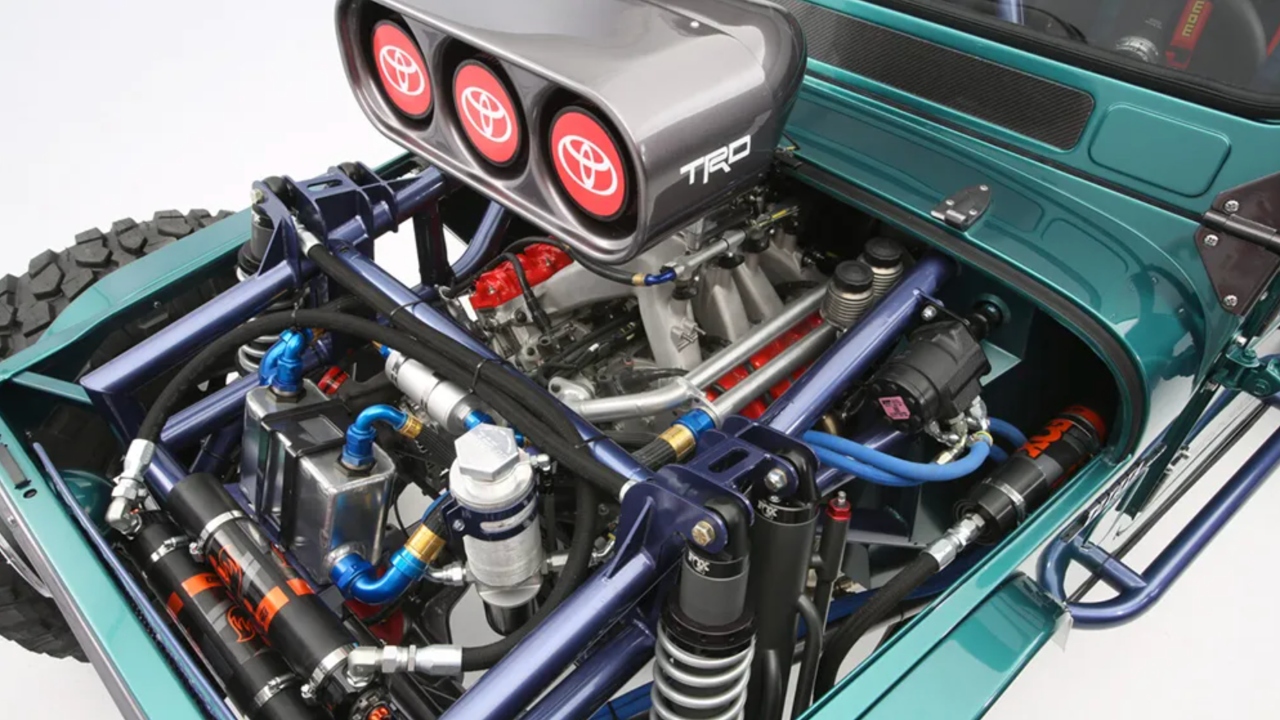 Toyota's latest concept doesn't just look tough, though. It's powered by a modified version of the 5.8-liter V-8 found in its NASCAR Cup race cars. The brawny mill produces a ferocious 725 horses which is sent to all four wheels via a 3-speed automatic race-built Rancho Drivetrain Engineering transmission. There's also a MangaFlow exhaust guaranteed that'll ensure everyone can hear the truck coming.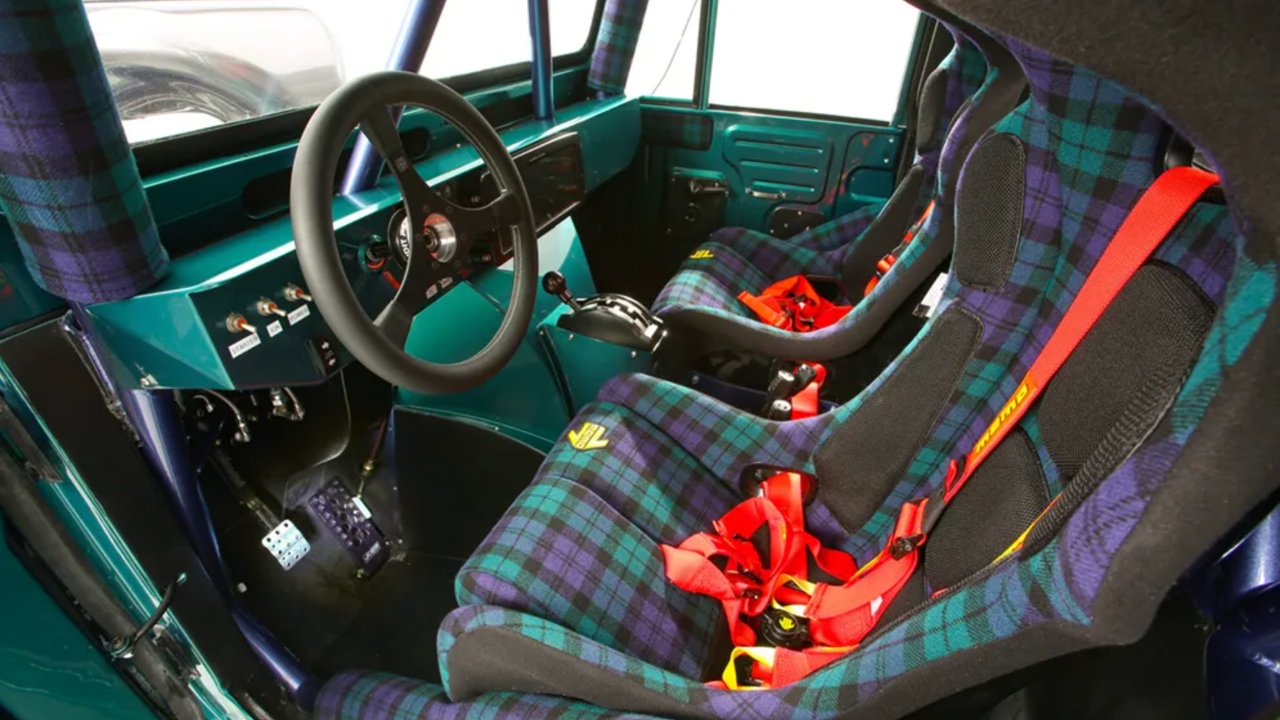 It also promises to be as comfortable off-road as it is on it. The truck remains a solid axle, just like the original FJ45, but has been equipped with new front and rear differentials and an Advance Adaptor Atlas transfer case with multiple two-wheel and four-wheel-drive speeds. This setup allows the mill to rev at 7,000 rpm while crawling at speeds as low as 12 mph. There's also a custom suspension with Fox shocks and Eibach springs, while the centre skid plate has also been swapped out for a tank tread system should ground clearance ever prove to be an issue.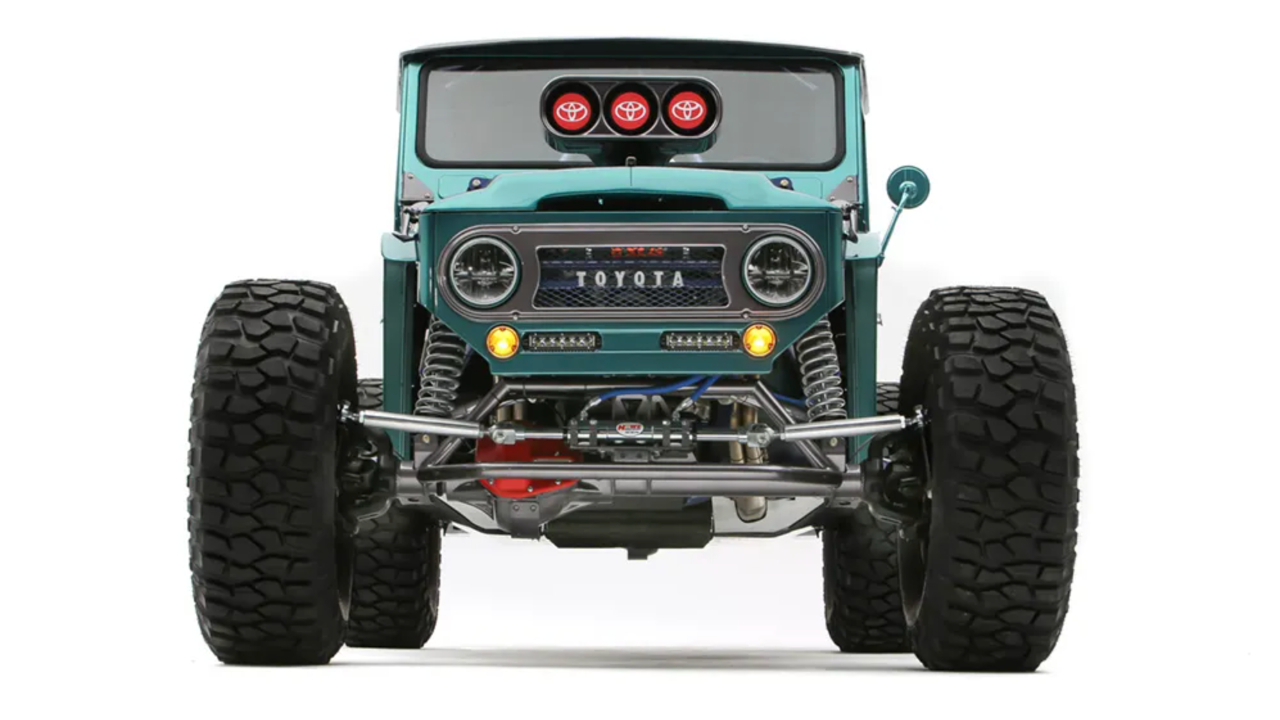 As you may have guessed by now, the FJ Bruiser isn't headed for the production line anytime soon if ever. That's okay, though. American SUV lovers have a completely new Land Cruiser to obsess over instead. Toyota unveiled the latest version of the 4×4, which features a pleasing sharp-edge shape, this past August, and plans to begin selling it again in the U.S. early next year.
---