Niseko is a surprising combination of a quirk of geography and the Holy Grail search for powder snow by adventurous skiers. Once a sleepy rural town in Hokkaido, the northernmost island of Japan, Niseko has become a destination resort for skiing, fine food and excellent hiking in springtime and summer. What is still a bit of an insider's secret in Niseko are the hot spring baths called onsen, which are peppered around the wooded slopes and charming neighbourhoods at the foot of Mount Yotei.
The idea of communal bathing in the West may raise eyebrows but it is a deeply important part of Japanese culture. An onsen  (which means 'hot water spring', or 温泉) is a natural hot spring bath. As Japan rests above the Pacific Ring of Fire, the volcanic activity has gifted the island about 25,000 hot springs in 3,000 onsen towns. In fact, Hokkaido is so volcanically active that geologically it has the most hot spring areas in all of Japan.
Onsen water is geothermally heated beneath the ground and rises to the surface bubbling hot. The prerequisites of an official onsen are that the water must contain at least one of the 19 designated chemical elements that naturally occur in hot spring water. To qualify, it should also be at least 25 degrees Celsius when it comes out of the ground.
The onsens in Niseko are unique and take 100 to 200 years to be converted from snow water. A rotenburo refers to an outdoor onsen, while a sento is an indoor public bathhouse supplied with ordinary heated water. While an onsen visit is generally looked on as a treat, sento are the everyday bathhouses of ordinary Japanese people.
Having explored hot springs on both faces of the magnificent Mount Yotei, here is our guide to help you take the plunge in Niseko.
Niseko Konbu onsen Tsuroga Besso at Moku No Sho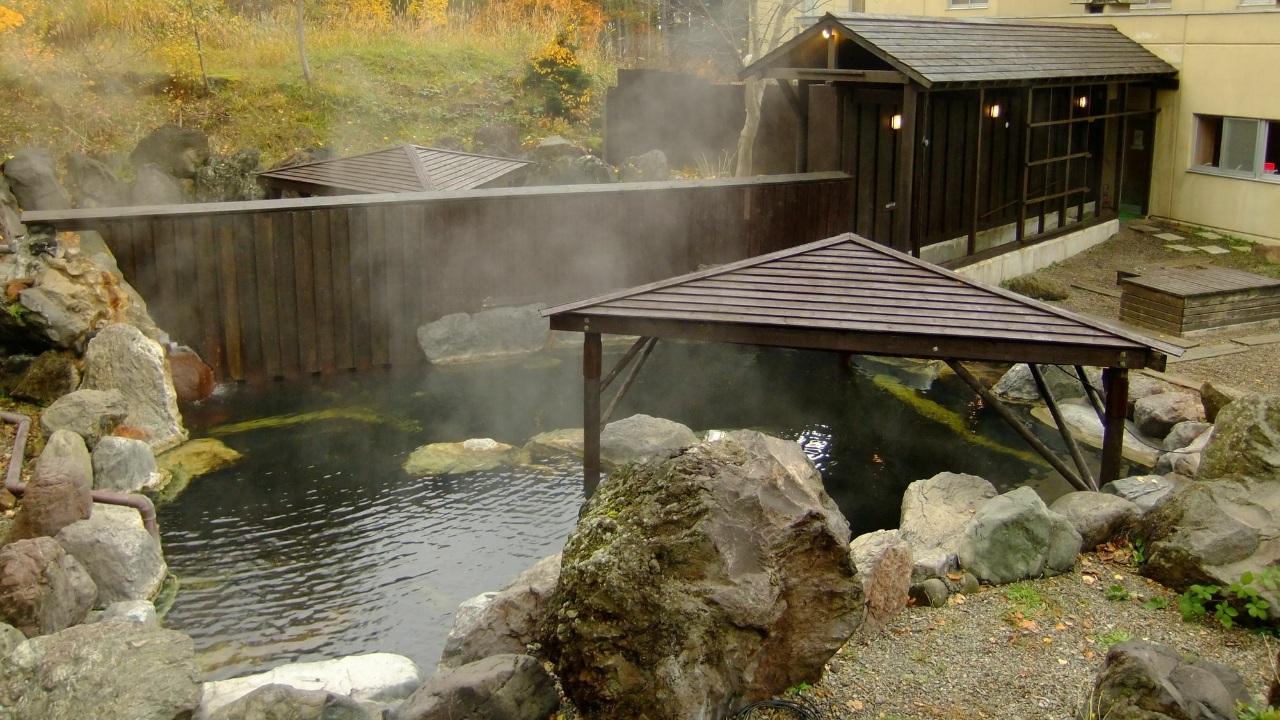 The Konbu onsen is tucked away in a secluded area surrounded by forest and the Niseko Anbetsu River. And yet, it is only a six-minute drive from the Niseko Annupuri ski area. It is located in Moku no Sho, an elegant hot spring inn inspired by Ainu culture, who are an indigenous people of Hokkaido that have deep roots in this region. The association with the Ainu also explains why it is called konbu (seaweed) when the onsen is set in a forest. It is said the Ainu wrapped seaweed around tree trunks to find their way home. You have a choice of bathing in the main Meisen no Yu hot spring bath or in a private hot springs room that you can book for 50 minutes for just ¥ 2,000. In winter you'll enjoy views of Mount Yotei under a duvet of pristine snow, and in springtime, you'll hear birdsong accompanied by a bubbling stream as your musical background.
---
Goshiki Onsen
If you're looking for a hot spring with an otherworldly setting, far away from the boutiques and apres-ski bars, go to the unpatrolled side of Mount Yotei where there are no ski slopes. Nestled at a 750m elevation on a saddle between the neighbouring Mount Iwaonupuri and Mount Annupuri lies a weather-worn wooden building constructed of larch. That's how you know you've arrived at Goshiki Onsen, where your bathing experience will be enhanced by an Old World bathhouse. Constructed of aged larch wood, the baths have a rich traditional feel to them. There is an indoor bath and a large outdoor bath both with mountain views for each gender. Because Goshiki is not on any shuttle bus stop, it is not impossible for you to have the onsen mostly to yourself. The bathhouse lies on land that belongs to Higashiyama Niseko Village, a Ritz-Carlton Reserve.
If you are a guest staying at Hilton Niseko Village, Kasara Niseko Village Townhouse or The Green Leaf Niseko Village, you'll enjoy unlimited complimentary onsen access at these properties. However, Goshiki remains an authentic outlier and we highly recommend the 30-minute drive to get there from Hirafu.
---
Niseko Grand Hotel Onsen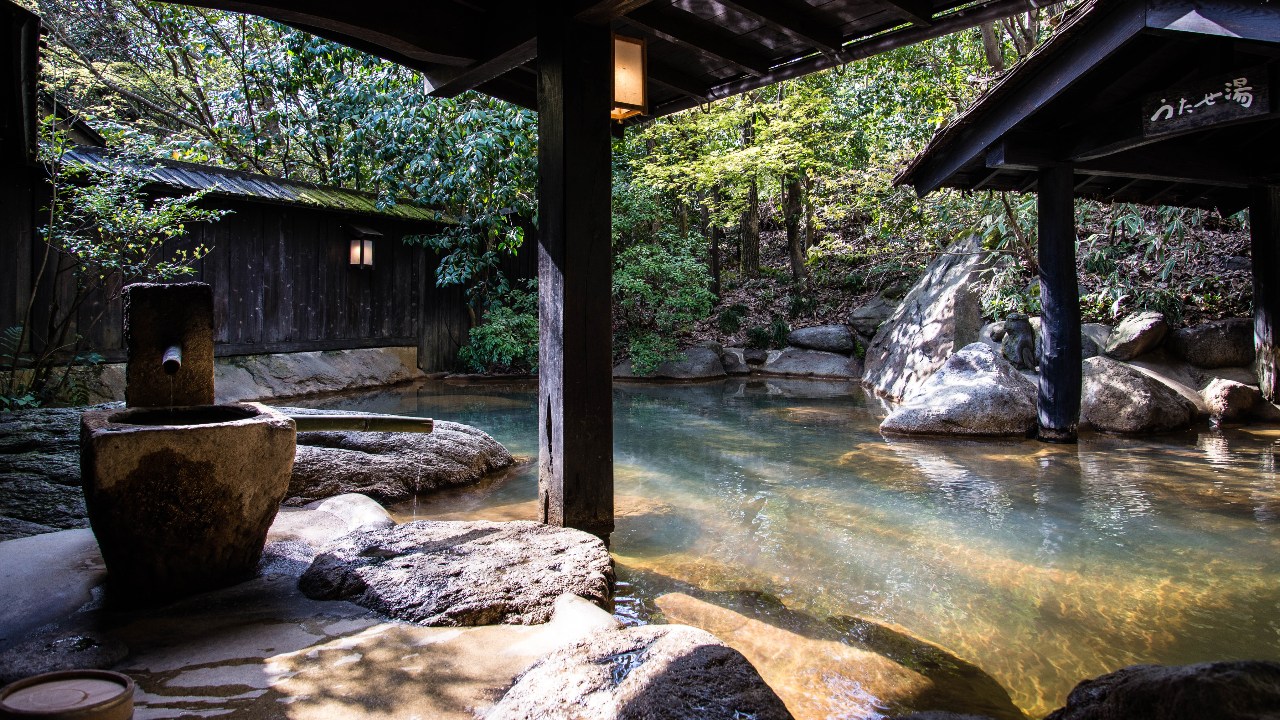 Don't let the Soviet-inspired exterior of the Niseko Grand Hotel daunt you. It offers something most onsen do not – mixed-gender baths. Almost all hot spring bathhouses in Japan are strictly gender-segregated, but Niseko Grand is one of the very few onsen that has relaxed this rule. They also offer female-only and male-only pools within the complex. The outdoor spacious rotenburo is one of the few mixed baths in the area, and shorts and bathing dresses are available for rent for those who wish to enter the mixed bath (The Japanese call these 'modesty' clothing). This onsen is perfect for a day of skiing, bathing, lunch and then more skiing, as it is on the foothills of Annupuri thus allowing you to combine all of these activities before sunset. The setting is surrounded by a peaceful forest and moss-covered boulders; there is even a Zen garden and a traditional Japanese bridge on the grounds to enhance the tranquillity.
---
Tsukimi no Yado Akahane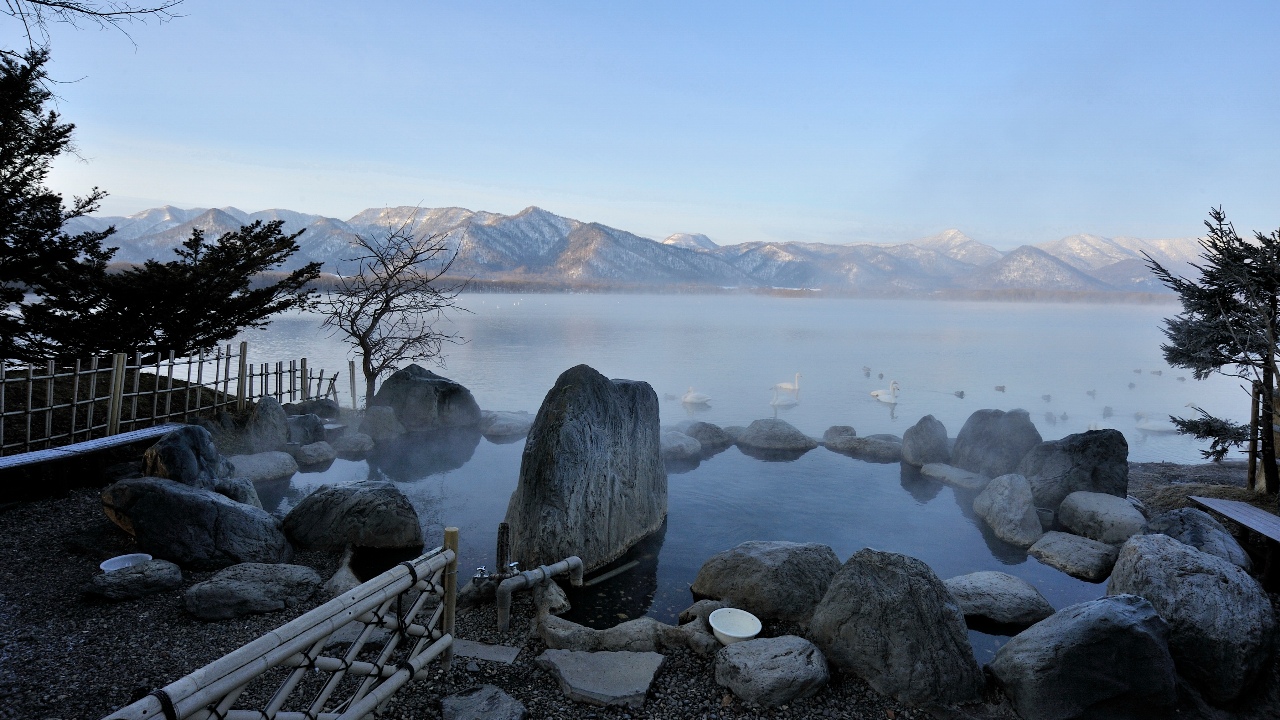 To completely immerse yourself in the Japan of another era, step inside the Akahane Ryokan, whose interior features retro decor and architecture. Although it is more secluded than other onsens on this list, the ryokan is still only about 14 minutes by car from the Niseko Annupuri Kokusai Ski Area. The public bathing area at Akahane Ryokan is wonderfully rustic, and the ryokan even provides you with mud packs (taken from the bottom of the hot springs) to put on your body and face. It is worth noting that the ryokan does not offer private onsens for rent. So if you are looking for privacy, you will have to reserve a room with a private bath. You won't have to worry about paying over the odds for a room reservation because Akahane Ryokan has suites of all sizes that include a private onsen. After a soak in the onsen, we recommend the seafood at Akahane's restaurant. The 'Shikisai Washoku Rakumaru' serves a variety of Japanese seafood that comes from the nearby river. Top tip: try the sea urchins and abalone.
---
Aki Niseko Onsen Villas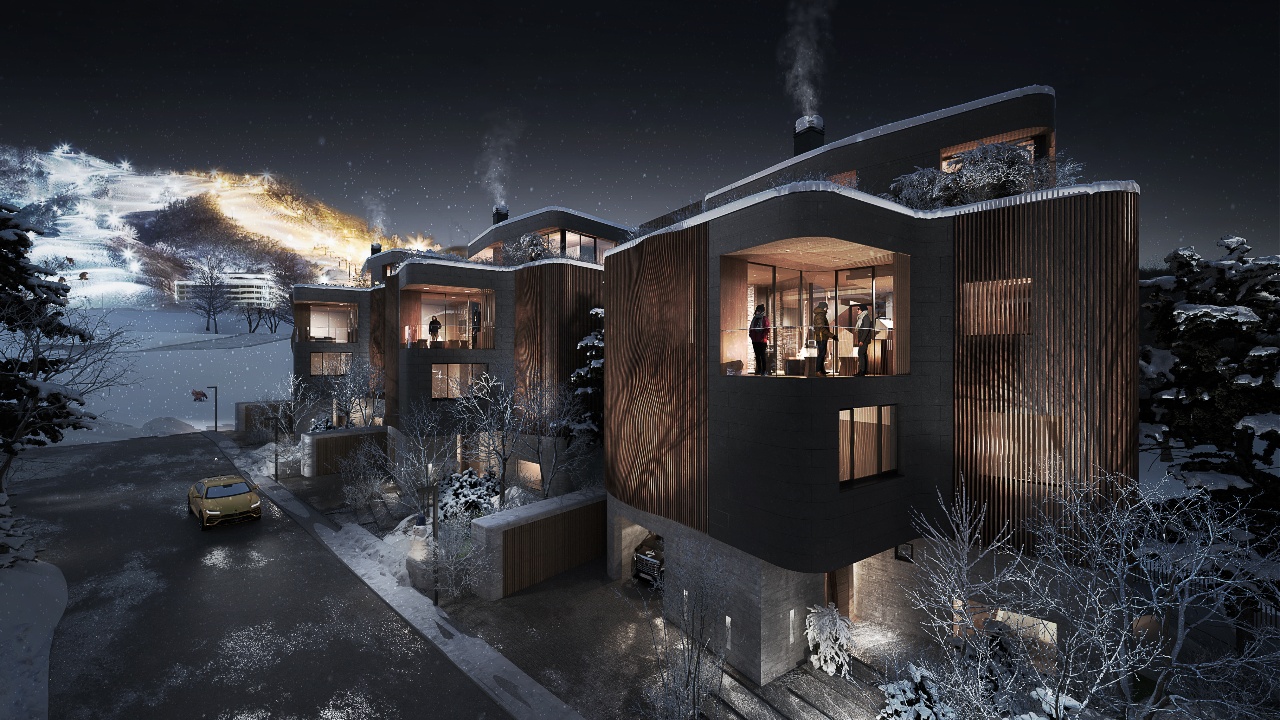 We've saved the best for last. To enjoy the onsens here, you'll have to be the owner of one of these Aki Niseko villas. All boast three world-class features: it's in a very sought-after ski resort location, you're assured of white-glove service, and your villa has a private roof-top onsen. The architecture firm Nomura designed Aki Niseko as much for spring, summer and autumn as it was for winter. Traditional indoor spaces such as the private onsen, sauna and showers seamlessly merge with the outside features of a firepit, garden, bar, and entertaining area. Heated in the winter, the rooftop looks out over the magnificent Mount Yotei to the east and Grand Hirafu Ski Resort to the west.
---
A guide to good manners in an onsen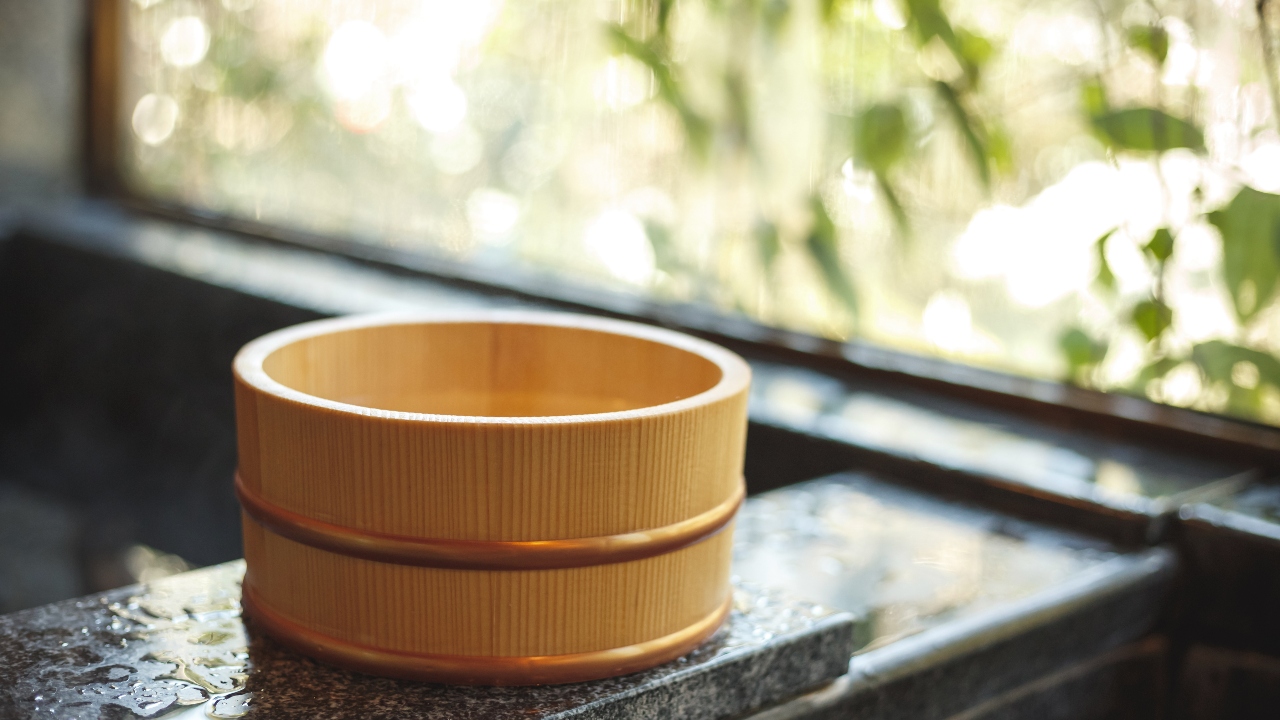 It is no exaggeration to say that the Japanese have raised bathing in an onsen to an art form. Just make sure you know where you're going before you step inside the bathing area. The entrance to an onsen is marked by half-length curtains—a red noren means ladies, while blue means gentlemen.
Japanese communal bathing also means soaking in the nude—neither bathing suits nor sandals are permitted. So, gird your loins, take a deep breath and walk in.
Shower or wash before you bathe. Use one of the stools provided while you wash; it's considered bad manners to stand up as you might splash the next person.
The large towel is for drying yourself, so leave it in the changing room with your clothes. The small towel is for washing and drying off in between dips. Most people fold their small towels and rest them on their heads.
Don't rinse before leaving the onsen so that your skin can absorb all the goodness of the mineral-rich waters.
Tattoos are taboo in Japan due to their association with the yakuza. Although this societal norm is slowly changing, a good tip for those with ink is to go to an onsen late at night or to book a ryokan with a private onsen
Bathhouses are social places, so respect personal space and everyone else will extend the same courtesy to you.
Lastly, for obvious reasons, don't drink alcohol and bathe as it's easy to dehydrate in an onsen. Drink plenty of water before and after your soak.