The new BMW 7 Series sets the modern standard for luxury
As the flagship to BMW's range, the new 7 Series showcases the marque's leadership in automobile technology. Its conception draws upon a storied history, one which originated in 1977 with the first generation of the 7 Series. In simplest terms, the idea of the 7 Series combines luxury and comfort, something which BMW prioritised in the grandest way possible with its latest iteration.
The new BMW 7 Series

Showcasing the marque's leadership in automobile technology

The 7 Series debuted in 1977

Combining luxury and comfort in the grandest way

The chauffeur-driven ride of choice for C-suite executives, tycoons and heads of state

Top hotels, bars and lounges were the design starting point for the new 7 Series

The most sumptuous interior by BMW yet

Cutting edge automotive technology

Pockets of comfort

Touch, and go!
Under sunny skies in
Porto,
located along the Duoro river estuary of Northern Portugal, the 7 Series looks very much at home with a commanding presence in this ancient European port city which hosted majestic galleons and frigates centuries ago. Horizontal chrome accents in the front air inlets and rear bumper give the vehicle an operatic flourish, as does black anodised brake callipers. A closer look yields delicate touches of chrome stalks which extend meaningfully from its streamlined exterior side mirrors onto the car.
That sense of wonder grows the moment you step inside. In order to realise the most sumptuous offering of a luxury interior, BMW scoured top-quality hotels, lounges, bars and exclusive boutiques to determine standout points for a vehicle which would ostensibly be the chauffeur-driven ride of many C-suite executives, tycoons and heads of state.

A Welcome Light Carpet is the first intimation of this luxury service, providing warmth and familiarity. One also enjoys the generous roomy sensation offered by a Sky Lounge Panoramic Glass Sunroof. In darker hours, this roof illuminates with 15,000 light elements, and switches between six ambient colours; white, blue, orange, bronze, lilac and green. This sensory seduction then extends to the ambient air package which ionises and dispenses up to eight fragrances (from fresh to woody notes), each of which has been especially composed. On the long-wheelbase model, one also finds high-pile rear floor mats and Alcantara headliners.
Owner-passengers will derive plenty of enjoyment in an interior which maxes out on comfort and enjoyment. An Executive Lounge option affords the space to stretch fully, sliding the forward passenger seat towards the dash and dropping a footrest from its backrest. Meanwhile, a convenient Touch Command Tablet enables the passenger to select a series of massage programmes – amongst a host of other lighting, temperature and entertainment options – for some rest and relaxation. This cocooning experience is ably abetted by the studio-quality music emanating from the Bowers & Wilkins Diamond surround sound system. A remarkably stable on-board WiFi connection and a pop-up working table guarantees productivity on the laptop, when caught in a traffic snarl of blasting through highways.
The new BMW 7 Series makes daily and long-distance commute a joy

The convienient Touch Command Tablet
All these niceties lead into the innovation, one which makes daily and long-distance commute a joy. Having invested over half a billion euros in its new 7 Series plant, BMW has singularly put itself in pole position to create the most technologically advanced vehicle. The first usage of the Carbon Core in this vehicle segment achieves a weight reduction of 130 kilos, reducing fuel consumption and offering increased body stiffness and effortless driving.
Its driving dynamics are augmented by the Executive Drive Pro, a system of active stabilisers whereby body forces are intelligently equalised during the ride and when powering through on corners; cornering lights naturally come on as a safety feature against oncoming traffic. An optional Laserlight doubles the illumination power – extending the light beam from 300 up to 600 metres – with anti-dazzle effect to make the light more pleasant to oncoming eyes. The Driving Assistant's suite of helpful features makes driving semi-autonomous with cruise control, steering and lane control, active side and front collision protection and pedestrian warnings all playing their part to keep the car virtually collision proof.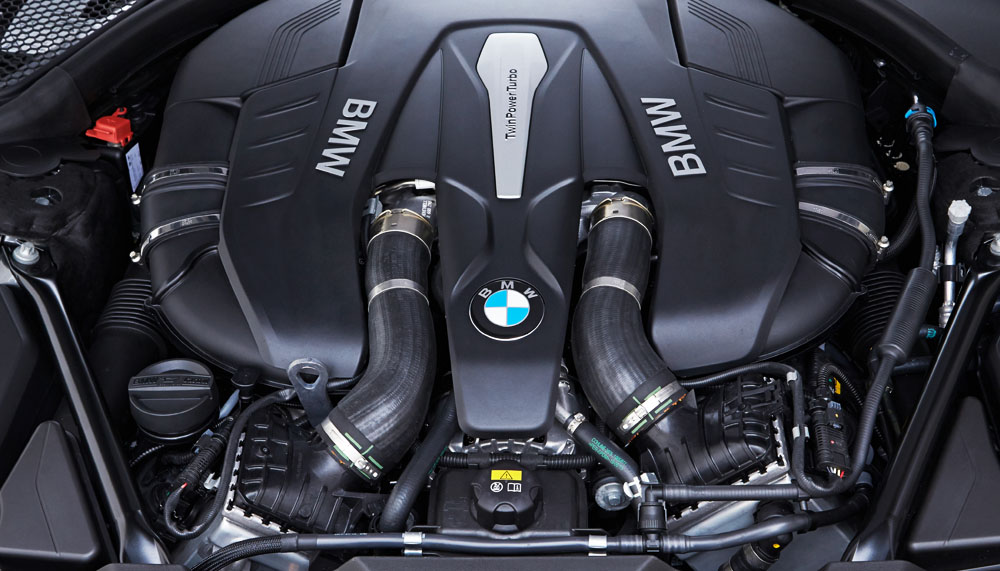 This signature BMW drive feel on the 7 Series will certainly endear the vehicle to both chauffeurs and owners. Under the hood of the top-of-the-line BMW 750i/Li xDrive, one discovers the magnificent BMW TwinPower Turbo V8 with 450hp and 650Nm of torque. It makes the century sprint at 4.5 seconds with a top speed of 250 km per hour. Even when stationary, thoughtful touches include a Remote Control Parking function whereby the car may be manoeuvred into a tight parking space with the driver outside. This new 7 Series, which debuts in Malaysia this month, will be priced the same for the initial CBU units as the eventual CKD units.
---