A suitably brilliant Venetian treasure box
"Nothing in the story of Venice is ordinary," the author and historian Jan Morris wrote of the city that she came to fall deeply in love with during her first visit in 1945. "She was born dangerously, lived grandly, and never abandoned her brazen individualism." It's fitting, then, that a place as extraordinary as the Belmond Hotel Cipriani has continued to flourish in the City of Bridges, building up an illustrious history matched only by La Serenissima herself.
From the time it first opened its doors in 1958, the hotel steadily and elegantly acquired its landmark status, distinguishing itself on the basis of its discreet, attentive service, superb cuisine, and surprisingly relaxed ambiance. Such qualities are still in abundance at the Belmond Hotel Cipriani today, making it the hotel of choice for sophisticated first-timers and regular visitors to the city of Venice – all with a voracious appetite for the finest things in life.
Much has been said about the hotel's stardust-coated roster of guests. It's true that you might spot George Clooney communing with head barman Water Bolzonella at the Gabbiano Bar in the wee hours of the morning, or Charlize Theron lounging beside the Olympic-sized, heated seawater pool – the only swimming pool in central Venice. But celebrity-watching aside, the Belmond Hotel Cipriani's real allure is the way it lets you enjoy the city – when you want, wherever you set your sights upon, and in whatever way you choose.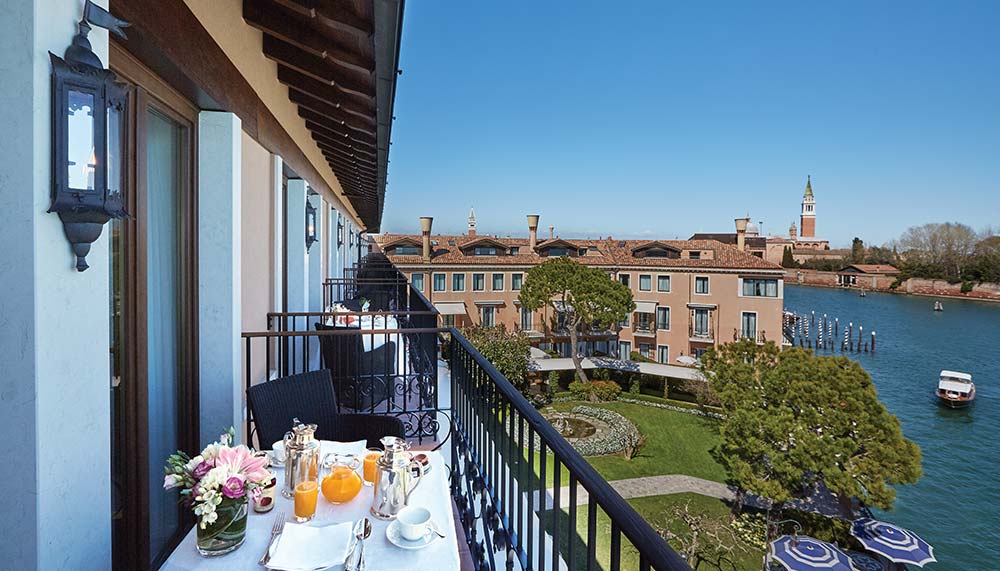 Perched on the tip of Giudecca island, the hotel is at once neatly removed from and right in the centre of Venice. Should you be filled with a sudden sense of wanderlust after midnight, a 24-hour boat service will deliver you to a private dock at Piazza San Marco within five minutes, leaving you to explore the "metropolis of waterways", as Morris termed them.
If you'd rather not go it alone in the daylight – though losing your way is almost a rite of passage – a quick word with the concierge can set you up on a tailor-made tour with the city's best guides. Elisabeth Rainer, a local writer with an intimate knowledge of Venice's hidden corners, will take you for a caffeine fix at Caffé Girani – a family-run coffee house established in 1928 – then introduce you to one of the few remaining bead-threaders or impiraresse.
Alternatively, certain guests spend their time solely within the peaceful confines of the Belmond Hotel Cipriani, away from the gaggles of tour groups and cruise ship crowds. Rightfully so, too – there are few havens in Venice more comfortable than the hotel's 95 opulent rooms and suites, plenty of which offer postcard-perfect views of their beautifully manicured Casanova gardens, the Doge's Palace, or the turquoise expanse of the open lagoon. It's an exquisite pleasure in itself to take in a dramatic purple-orange sunrise from your room, accompanied by lashings of thick, velvety hot chocolate from a silver jug.
The ultra-opulent Palladio Suite (a two-bedroom suite from €9,350/RM43,775 per night) boasts floor-to-ceiling windows that present a 180-degree panorama of the lagoon in all its glory, which you can also make the most of from either of the suite's two marble bathrooms or its splendid dining area. At the same time, it affords an unparalleled level of privacy, with a private dock and a large terrace (complete with an outdoor heated plunge pool) concealed by scented jasmine bushes.
In the adjoining Palazzo Vendramin – a 15th-century building connected to the main hotel by a flower-bedecked walkway – the Dogaressa Suite (from €6,600/RM30,900 per night) encapsulates Venetian luxury. Furnished with Fortuny and Rubelli fabrics, original 18th-century Coromandel screens, and an impressive selection of priceless antiques, the suite and its magnificent view of St. Mark's Square are nothing short of breathtaking.
Guests can rely on the Belmond Hotel Cipriani to help sate their appetites just as much as it provides a feast for their eyes. At Cip's Club, Chef Roberto Gatto's food from the heart – Italian and Venetian treats such as strozzapreti tossed lightly in pesto, plump tortellini stuffed with parmesan, or crisp zucchini blossoms – elevates al fresco dining to the next level. Then there is the Michelin-starred Oro Restaurant (which means 'gold' in Italian), headed by Executive Chef Davide Bisetto, and ornamented with a domed gold leaf ceiling and a Murano glass chandelier.
Preceded – ideally – by a signature flamingo-pink Bellini at the San Giorgio Bar, dinner at Oro will take you through Bisetto's imaginative interpretations of classical Venetian dishes, bolstered by the restaurant's fascinating wine list, which stretches to over a thousand labels. From risotto peppered with roasted pine nuts and infused with the pungent aromas of deep-fried sardines and onion broth, to firm-fleshed sea bass served with miso foam and dried caviar, Oro's intriguing flavours are a force to be reckoned with. Don't be surprised if you end up utterly hooked.
All around Venice
There's far more to Venice than the six sestieri (districts) that constitute the old city centre. Venturing out to the surrounding islands, as many locals will assure you, often makes for a memorable and far more authentic tour of today's 'real' Venice. Hire the Belmond Hotel Cipriani's private boat, Shirley, and head for the Armenian monastery on the island of San Lazzaro, which is famous for producing jars of damask rose petal jam.
Cross the lagoon to Sant'Erasmo and visit the vineyards of winemaker Michel Thoulouze, who produces Orto – the only wine cultivated within the territorial boundaries of Venice. An exceptional white wine loaded with the mineral notes of its terroir, it's worth snapping up several bottles of Orto's honey-flavoured 2009 vintage (if there are any left, that is).
Skip over to the pretty fishing village of Burano and be delighted by their streets of brightly coloured houses. Stake your claim to a much sought-after table at Trattoria al Gatto Nero (the best restaurant on the island), but don't forget to wander into Emilia boutique: the women of the island excel at crafting the most delicate, hand-stitched lace, and this is the best place to find it.
---