Lather be
With a focus on innovation through accessories, furniture, and lighting, Tom Dixon is a British brand that knows how to keep design fresh and interesting. For years the design house has been at the forefront of creating pieces that are both functional and stunning, and this year is no different.
The new Tom Dixon Washing is a collection of hand washes, hand balms, hand duo gift sets, and even a specially crafted kitchen-use washing up liquid each infused with the signature scents of London, Royalty, and Orientalist.
The London washes and balms come in an onyx bottle with copper accents, and to add a bit of fun to your daily routine, the soap is the colour of squid ink. The anti-bacterial soap is an exotic blend of black clay and charcoal – to help draw out toxins – and contains subtle hints of black pepper, oud wood, and patchouli, which effectively infuses the air with warm woodsy notes and a touch of spice. The hand balm is rich with rosehip oil, carrot oil, and honey to ensure moisture and hydration. The London is the only scent that offers the washing up liquid; an anti-bacterial gel that is ideal for washing dishes, while also being kind to your skin as it is infused with aloe vera.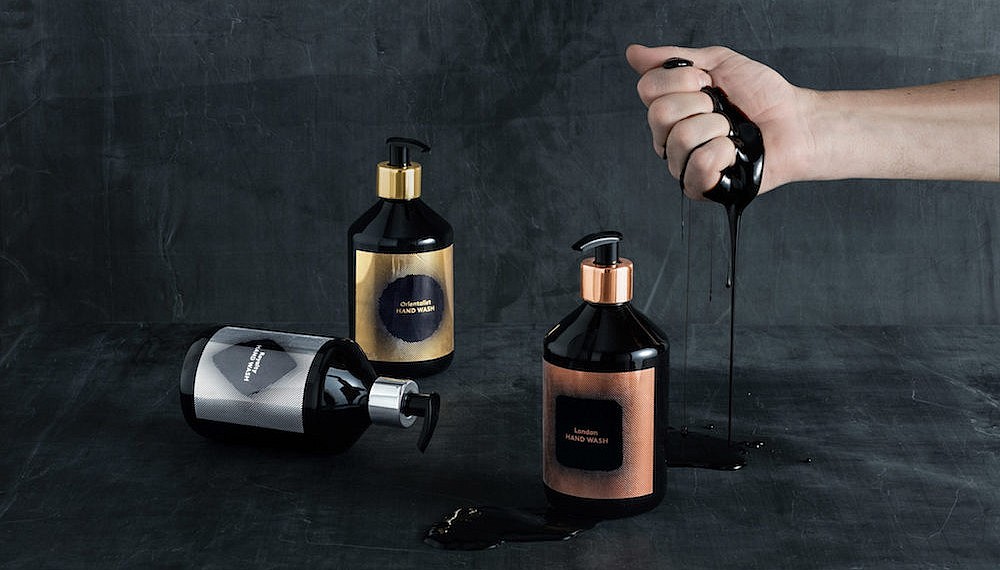 Bathed in black tea and bergamot, the Royalty – whose design aesthetic is accented with silver, instead of copper – is an antioxidant-enriched soap and balm that is ideal for those with sensitive skin that dries out rather easily. Hints of cedar, lemon, and earl grey come together to create a comforting scent reminiscent of an afternoon spent in the garden drinking tea and nibbling on buttery biscuits.
The final fragrance's bottle is highlighted in gold, with an aroma that is perhaps the most complex in the collection. Flush with floral notes, the Orientalist soap and balm is a playful blend of turmeric, ginger, fennel, and rosehip oil fused together with rose, cinnamon, musk, and violet leaves to transform the skin into feeling hydrated and refreshed. All of Tom Dixon's Washing products are free of parabens and SLS.
---