go with the mB&F flow
Independent watchmaker MB&F has made a name for itself thanks to wild, unconventional watch designs that, despite not being the most wearable watches, inspire a kind of childlike enthusiasm from watch enthusiasts. The brand's out-of-the-box approach to watchmaking is carefully orchestrated right down to the names of its timepieces, which the company dubs "machines."
And the latest machine to roll out of the brand's studio might just be its wildest creation yet. The HM9 Flow, which MB&F founder Max Büsser kept a carefully guarded secret during this year's Baselworld, has finally been unveiled after three years of development — and it looks like a spaceship for the wrist. The design has a distinctly retro-futuristic vibe. It actually takes aesthetic cues from the curvilinear forms of '40s and '50s airplanes and cars — specifically the Mercedes-Benz W196, the 1948 Buick Streamliner, and the round-nosed De Havilland Venom aircraft first created in 1951 by the Royal Air Force and last used by the Swiss Air Force until 1983.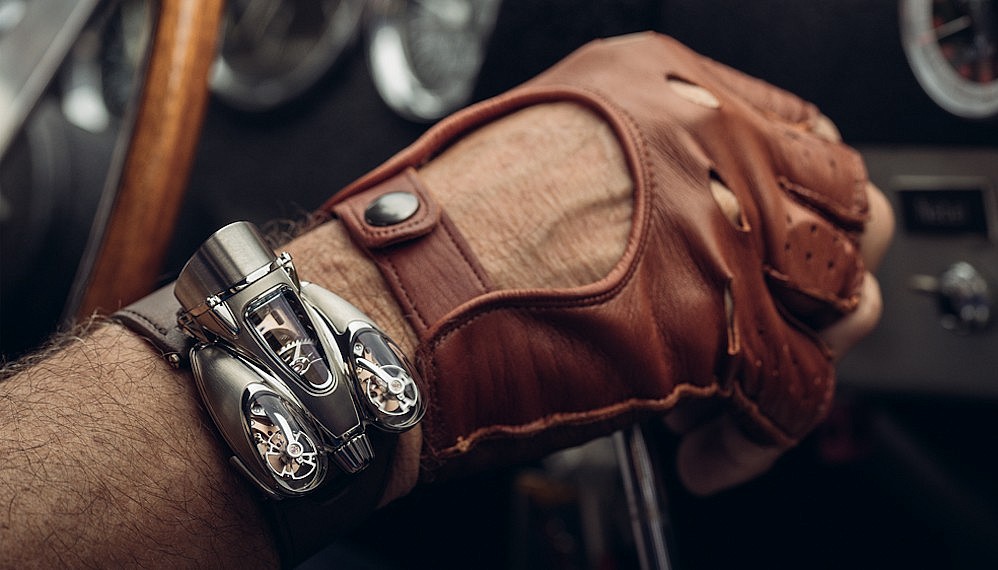 The watch tells time sideways, like other timepieces built to be worn at the wheel, so that the face of the timepiece can be read vertically at the side of the wrist instead of on top of the wrist. The "engines" of the titanium-cased machine house two balance wheels that beat at 2.5 Hz beneath two aerodynamic sapphire-crystal domes that flank the main body of the machine. In the central body, a third sapphire crystal dome reveals the gearbox that averages the output of both balance wheels to provide the reading of the time. The crown is located on the central body on the opposite side of the watch's dial.
MB&F first used a variation of this internal mechanism in its Legacy Machine 2, but that timepiece looked more like your standard wristwatch in terms of case design. Its forward-thinking construction can be clearly seen in the suspended oscillators hovering over the dial. The case of the HM9, which is 57 mm at its widest point, was so complex that in order to install the movement, the case had to be divided into two axes. Furthermore, a patented three-dimensional gasket had to be devised in order to ensure its water resistance.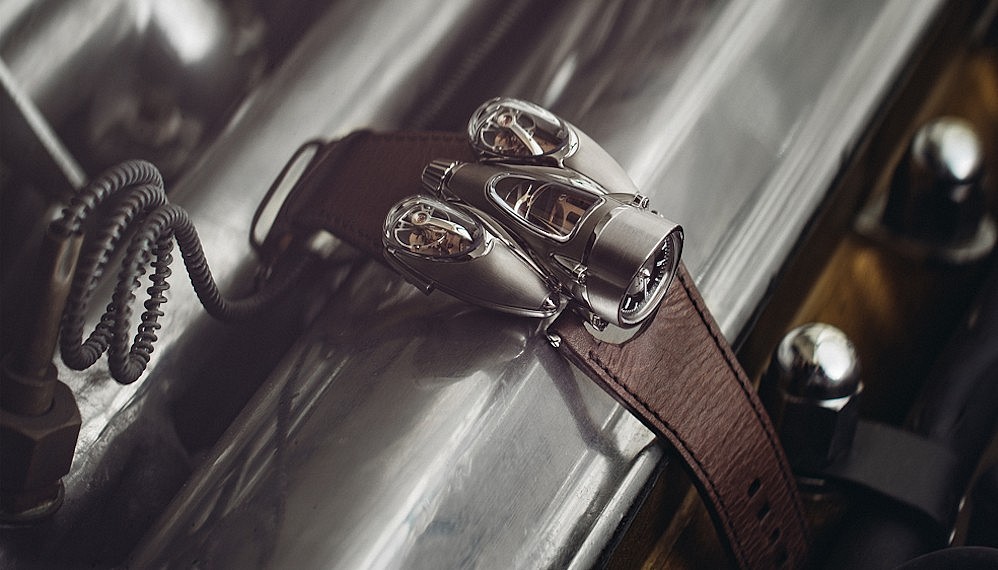 Two versions of the HM9, limited to just 33 pieces each, are available: the Road edition with a rose-gold-plated, in-house movement with a speedometer-type dial, and the Air edition with a darkened NAC movement and aviation-style dial. Both retail for US$182,000 (RM753,000) and come on a hand-stitched brown leather strap with a custom-designed titanium folding buckle.
For MB&F fans that have collected Büsser's otherworldly watch creations from its HM6 Alien Nation, its green machine HM7 Aquapod, or, most recently, its transformer robot clock Grant, the HM9 Flow will be the piece to take their collection to the next realm.