floating in the green

What started as a childhood encounter with a jellyfish ended as a horological challenge: how could Max Busser build a watch that pays homage to amorphous aquatic life? After drawing inspiration from robots and aliens all the way to Art Deco lines and engine blocks, it was time that Busser and his team drew from the sea. The answer to that challenge came in the form of  2017's HM7, and now it's back in another iteration. Limited to just 50 pieces, this time it arrives in a new colour and case. Measuring 53.8mm, the case now comes in machined titanium. But it's not the new material that makes this watch scream – it's the loud green sapphire bezel. And the fact that it glows in the dark like magnesium hitting water.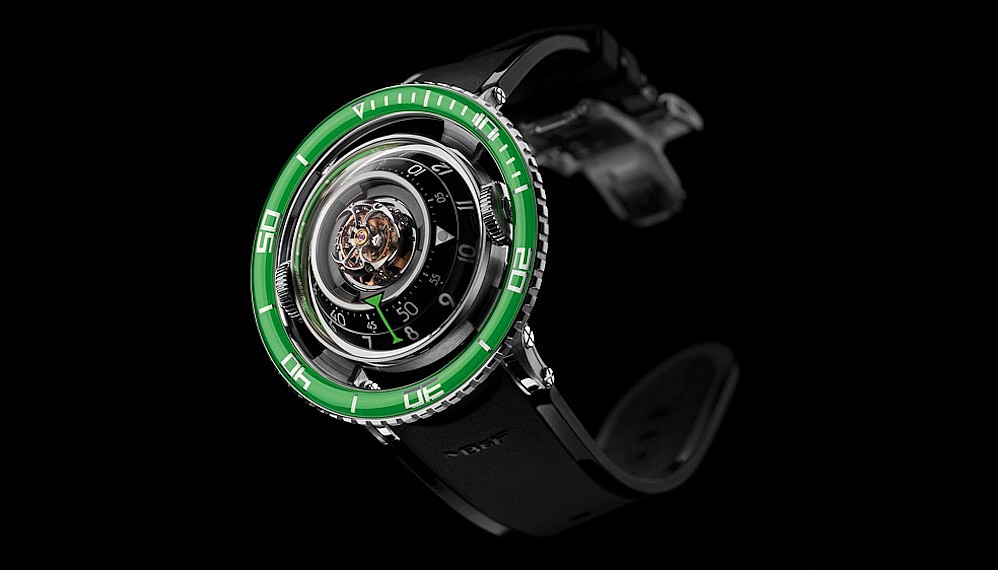 Busser's aquatic-inspired timepiece started with an obscure design philosophy: create a watch that was powered by the "tentacles of a jellyfish." Being an MB&F piece, the movement is anything but planar. MB&F's HM7 took so long to create that the development of the HM8 outpaced it and was released first. That is to say: the HM7 is incredibly complex. The movement was developed entirely in-house by stacking components in a vertical design. The tentacle-emulating hemispherical rotor on the bottom transmits power to an escapement nestled at the top of the column. The tourbillon movement is ensconced in a sapphire case flanked by a familiar dive bezel, giving it an incredible presence on the wrist, however with articulating lugs it wraps around the wrist in a wearable fashion.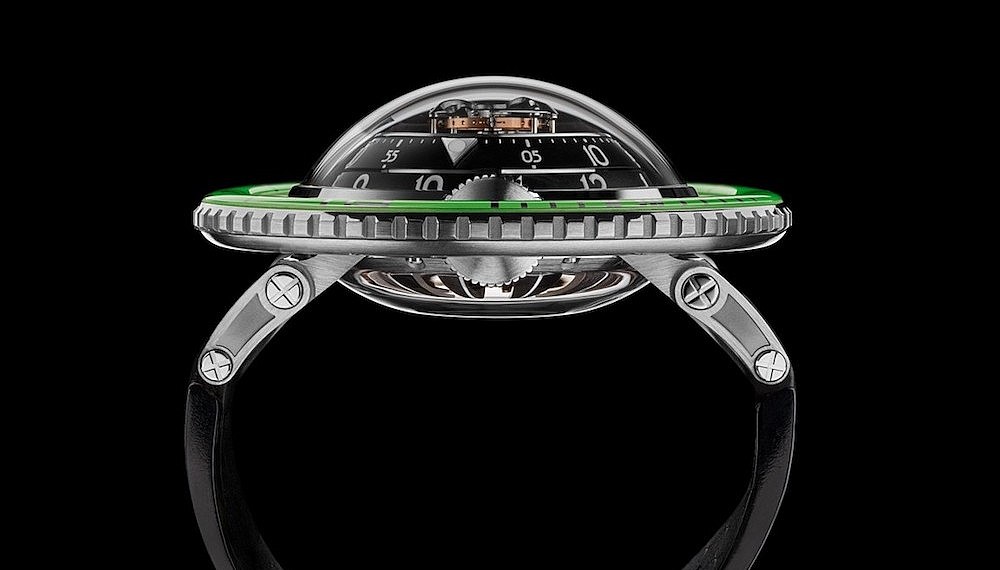 All that said, the way the wearer physically interacts with the watch isn't much different from a "normal" wristwatch. There's a crown on the right to set the time and a crown on the left to wind the watch. The bezel is unidirectional and features standard dive countdown markings, but it wouldn't be a MB&F watch without a twist — the HM7 bezel floats around the body of the watch the way the rings of Saturn wrap around the planet. In this way the HM7 comes off as slightly more subtle than most of the thematic horological machine's predecessors, but the bright green is anything but subdued — the sort of touch MB&F has built its reputation on.