MB&F's latest collaboration with L'Epée 1839 is a modern meteorological marvel

When Maximilian Büsser of MB&F releases a horological piece, the watch world stops and stares. The watchmaking mastermind is constantly moving the needle toward the maximum limits of horological engineering through fantastical complications using a design language far out of this world. The "F" in MB&F stands for friends, so with every project, Mr. Büsser collaborates with an established star in the horology world to carry out his vision. In the case of the recently launched Fifth Element, what Büsser calls an intergalactic horological weather station, clockmaker L'Epée 1839 was brought in to manufacture the complication. MB&F and L'Epée 1839 have collaborated on several clocks, including the Octopod, Destination Moon, and Starfleet Machine, to name just a few. This time, the duo took a dive into the past to deliver another futuristic creation. Büsser was inspired by desktop weather stations from the last century, injecting a large dose of imagination and a great deal of horological firepower to make the Fifth Element take off.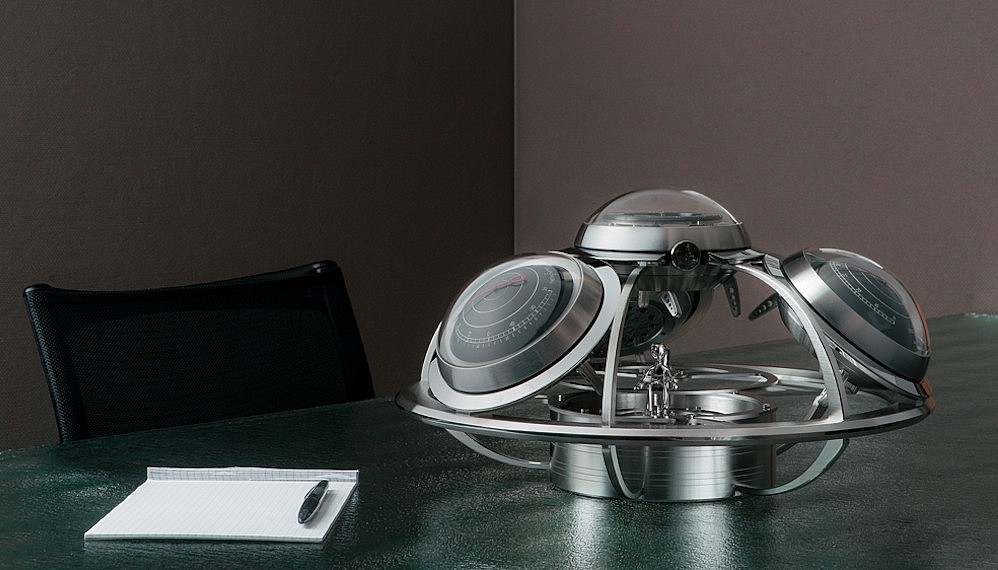 Together with guest designer Stefano Panterotto, the duo dreamed up a concept that drew upon '50s and '60s comics and a Cold War–era obsession with UFOs. Four modular instruments mechanically deliver important information to Ross, a small alien pilot that sits inside the display and rotates, overseeing the entire mechanical marvel. Four instrument pods are present: a barometer, a hygrometer, a thermometer and a clock. Ross sits perched on an ancillary hand-wound movement that allows him to rotate around the structure, passing by each of the pods held in place by brass scaffolding. At the top of the structure is a traditional clock, but in true MB&F fashion, there's a twist on tradition — it displays the movement in a vertical fashion, allowing admirers to gaze at the inner workings of the escapement through a skeletonised dial.
The instrument pods are equipped with feet that allow the individual meteorological instruments to be taken out of the brass structure and displayed independently of the mother ship, including the clock. The movement powering the clock module is an upgraded version of L'Epée's 8-day in-house movement that features Incabloc shock resistance should the clock be taken out of the mother ship and displayed while it's running.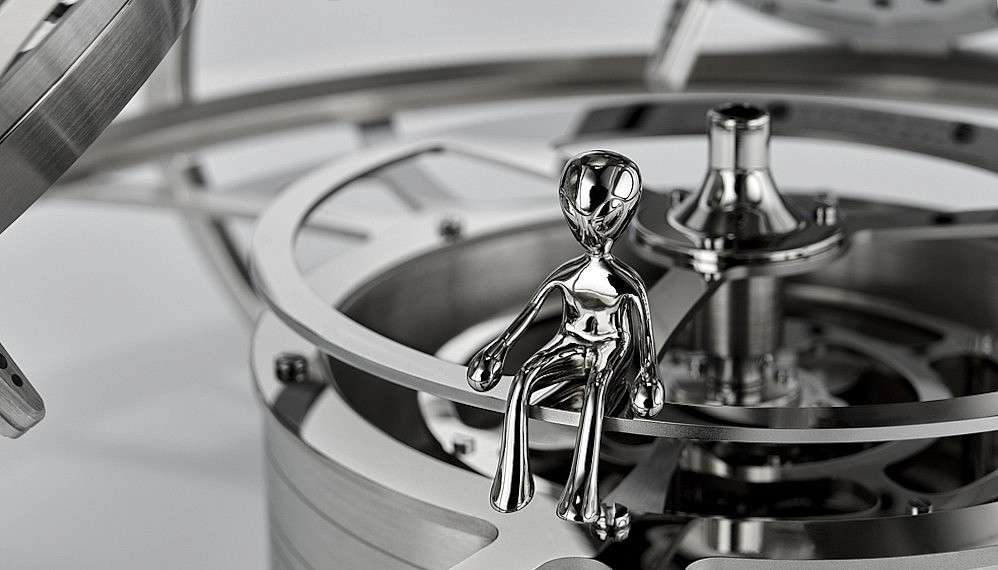 As with all MB&F creations, the Fifth Element defies convention. The UFO theme and the fact that a hygrometer (a device that measures the amount of water vapor in the air) is present is testament to Mr. Büsser's often outlandish and always spectacular imagination. Anachronistic yet utterly charming, an intergalactic weather station is perhaps the most novel contraption to adorn an earthly desk.