Turbo charged
The new Horological Machine No. 8 from Geneva-based MB&F is the latest in a series of fantastical timepieces by one of the watch world's most experimental makers. Like past models, which have drawn inspiration from founder Maximilian Büsser's childhood fascinations with rockets, cars, and space ships, the HM8 revels in nostalgia – in this case, for a past era of automotive racing (a collective nostalgia, if the slew of new timepieces honouring vintage motor sports is any indication).
Inspired by the Canadian-American Challenge Cup (Can-Am) – a turbo-charged car racing series that began in 1966 and ran for two decades – the HM8 evokes the silhouettes of the Porsche, McLaren, and BRM sports cars that dominated the competition. The model, which boasts a 42-hour power reserve, pays homage to the series with two distinctive features: a fully visible movement that has been flipped around so the rotor sits on top (calling to mind the cars' giant, exposed engines) and polished roll bars (milled from a solid block of grade 5 titanium) that taper at the back for a sleek and memorable aesthetic. To read the time, simply look to the vertical displays on the 'dashboard' of the watch, where optical prisms reveal the bi-directional jumping hours and trailing minutes.
The Sowind base movement that powers HM8 has been modified to accommodate an in-house module containing two discs that display the bi-directional jumping hours and trailing minutes through two wedge-shaped sapphire crystal prisms. Considerable expertise was required to manufacture the crystals, which are designed to reflect light rather than refract it. A convex lens at the front magnifies the indications.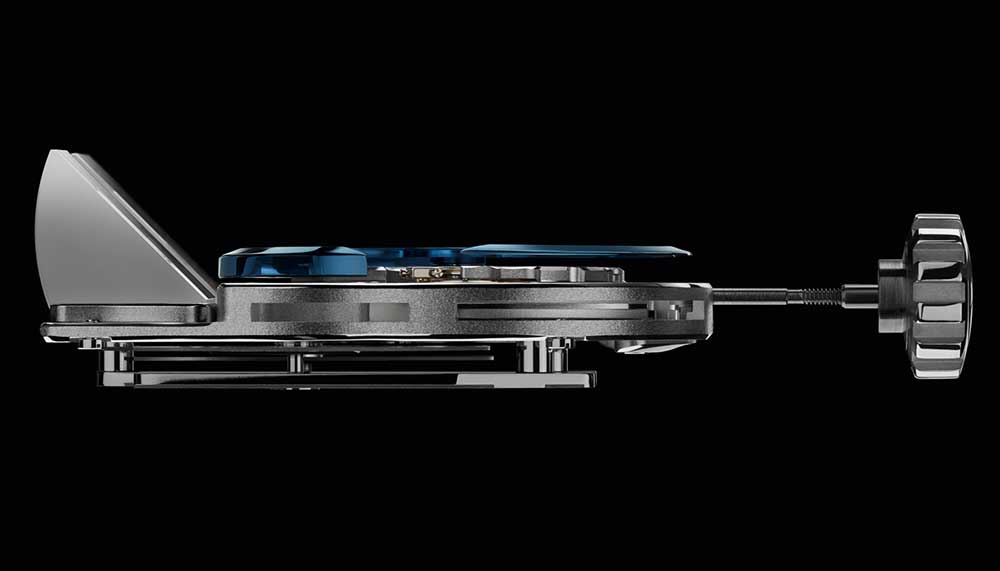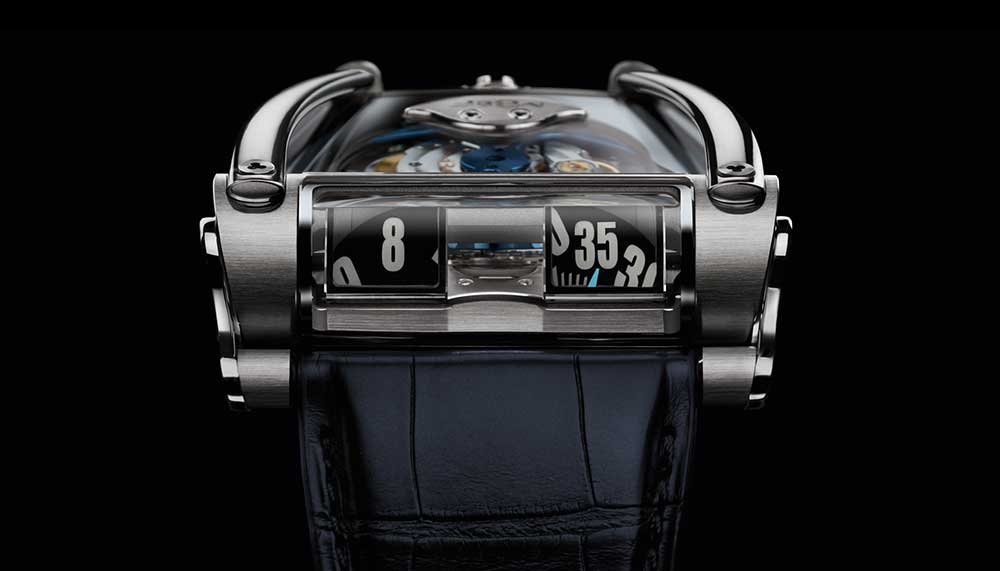 Available in two versions – 18-karat white gold and titanium and 18-karat red gold and titanium, both priced at US$82,000 (RM342,000) – the HM8 is not limited per se. But MB&F has announced that it only plans to make 40 to 45 pieces in total per year, meaning supplies may be tight.