at this billionaire's playground in the pacific, the world is truly your oyster
There are islands, there are private islands and then there is Laucala private island. That's no small claim but consider this – in most island resorts, buggies are most common way of getting around, paged by pressing a button on the in-villa telephone or hailing one down. Some resorts might even have a dedicated buggy button on a smartphone handed to guests on arrival. At Laucala, though, things are slightly different. Each of the island's 25 villas comes with its own buggy. The keys are in the ignition and no permission is needed to hop in, press start and zip off along the network of roads that connect the island's 12 square kilometres. This freedom to go anywhere, to do anything feels like a rare privilege, and one that reinforces the idea that Laucala is truly one's own personal playground, at least for the duration of a few days.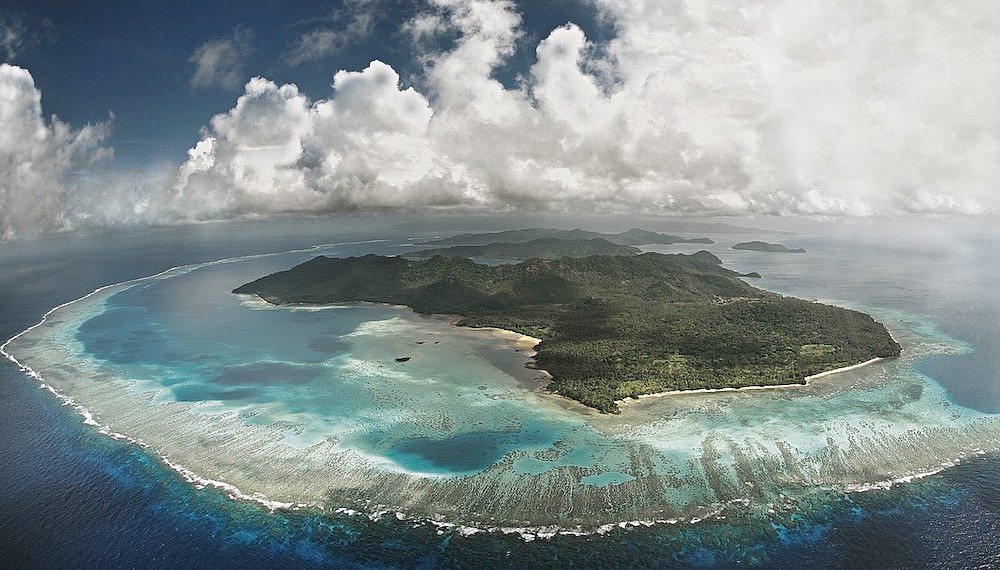 But let's start at the very beginning, which is a very good place to start. Laucala is one of a trio of islands, just east of Taveuni in Fiji – right in the middle of the Pacific Ocean.  Once owned by publishing magnate Malcolm Forbes (whose ashes are interred in a shrub-encircled grave on the island's highest point with the inscription 'While alive, he lived'), Laucala is now the property of Austrian billionaire Dietrich Mateschitz, head of the Red Bull empire. During Forbes' time, the island was off limits to all but friends and family, but in 2003 Mateschitz decided to make the island just a little bit more accessible by introducing a private retreat element. The price of that privilege befits its stature – nightly rates start from US$4,800/RM20,150 on a full-board basis – but what guests get in return to a true escape from the world beyond Laucala's shores.
There are several ways of reaching this paradise. From Nadi International Airport, a short wait in Laucala's personal lounge precedes a 45-50 minute journey by private plane northeast towards the well-maintained runway that bisects the eastern end of the island. Guests travelling on their own personal jets also land here, and if one is travelling by sea, a tender will connect them to the island from their superyachts moored beyond. One particular bure (a traditional Fijian hut, used in Fiji to also denote a resort villa) – the Overwater Residence – even has its own private jetty, accommodating guests who want to disembark directly from their yacht, bypassing public interaction to fall straight into the swaddling embrace of the villa's cavernous beds. Or perhaps straight into swimwear for a quick refreshing soak in the villa pool with a glass of crisp welcome champagne to cure sea legs.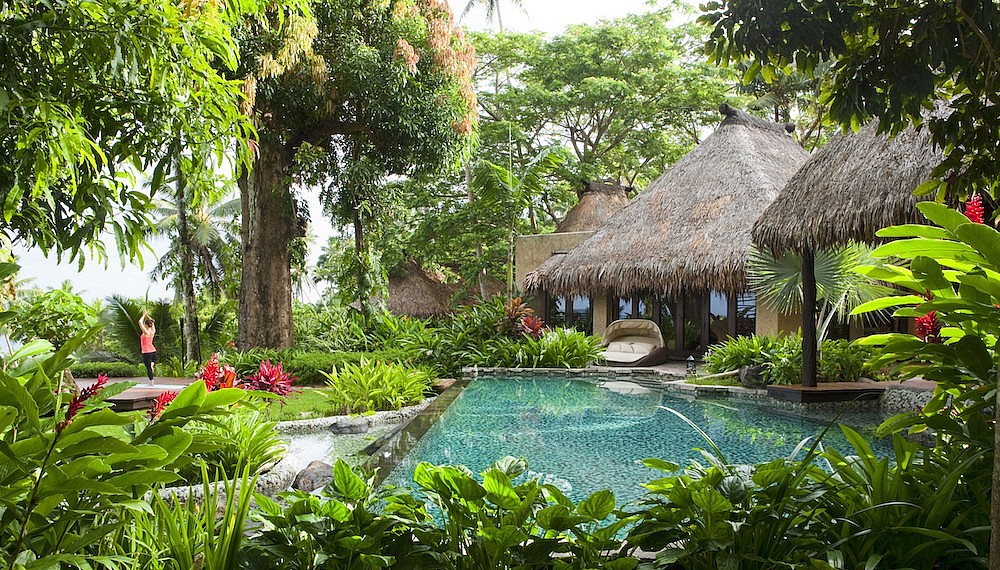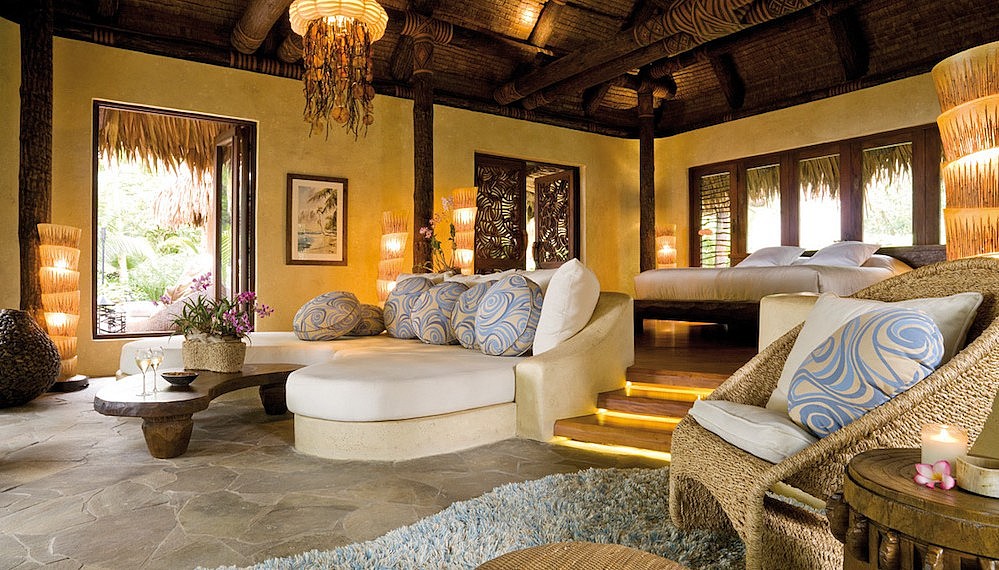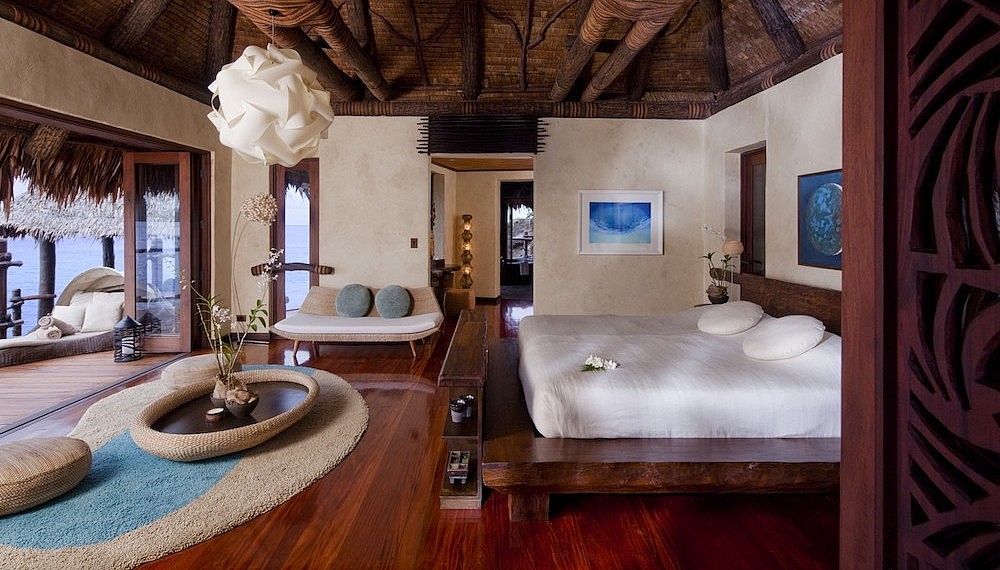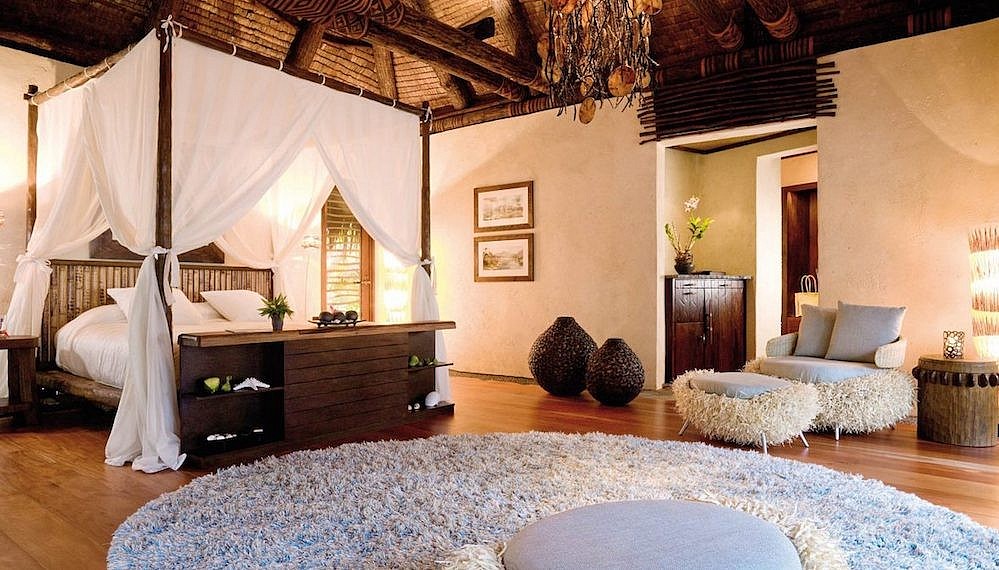 Guest areas are clustered on the northern side of the island, with the 25 bures strung out along the long shore – either with direct access to the beach (and the fabulous snorkelling beyond) or perched on cliffs where sheer drops offer magnificent views. Designed by Lynne Hunt London – together with resort architect WATG, landscape architect Scape Design Associates and project co-ordinator Architects Pacific – each bure is tied to Fiji is both ideologically and materially. Eschewing stark modernity, the design of the villas achieves an elevated form of local architecture. Palm-thatched roofs top spaces rendered in rich wood, where generous windows allow natural sunlight to flood inside as the sun traces its path from east to west. The tones here are actually proprietary – hardwood timber from local 'rain trees' was hewn into sinuous shapes, then treated with a custom colour called the Laucala stain (of course) for a unique patina found nowhere else in the world. Sharp geometric edges are very rare; the bures instead have their own organic personality, housing the spirit of Fiji and made ever richer by unique decorations such as custom jellyfish-shaped chandeliers formed by tortoise shell droplets and traditional Fijian magi magi coconut fibre threads strung around rafters.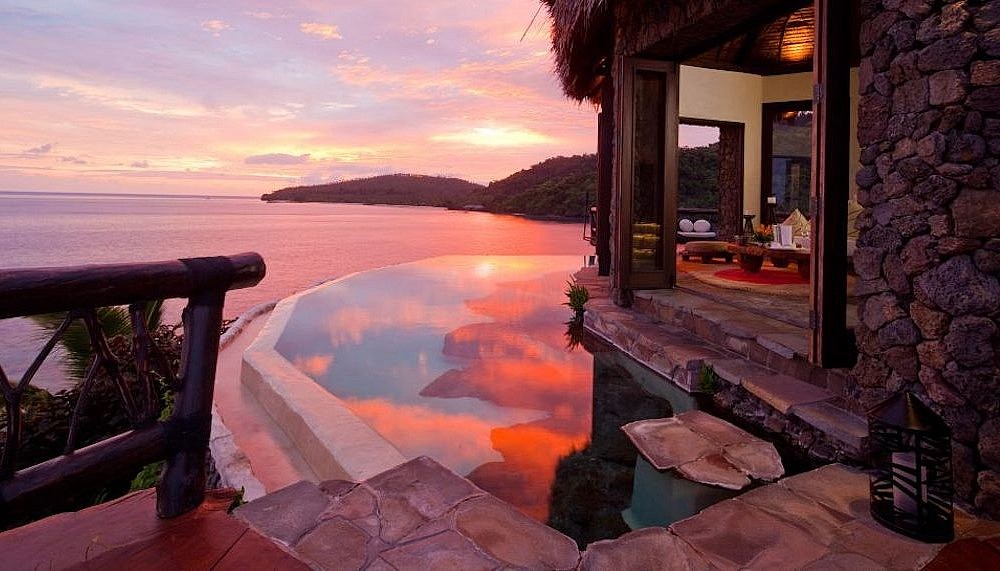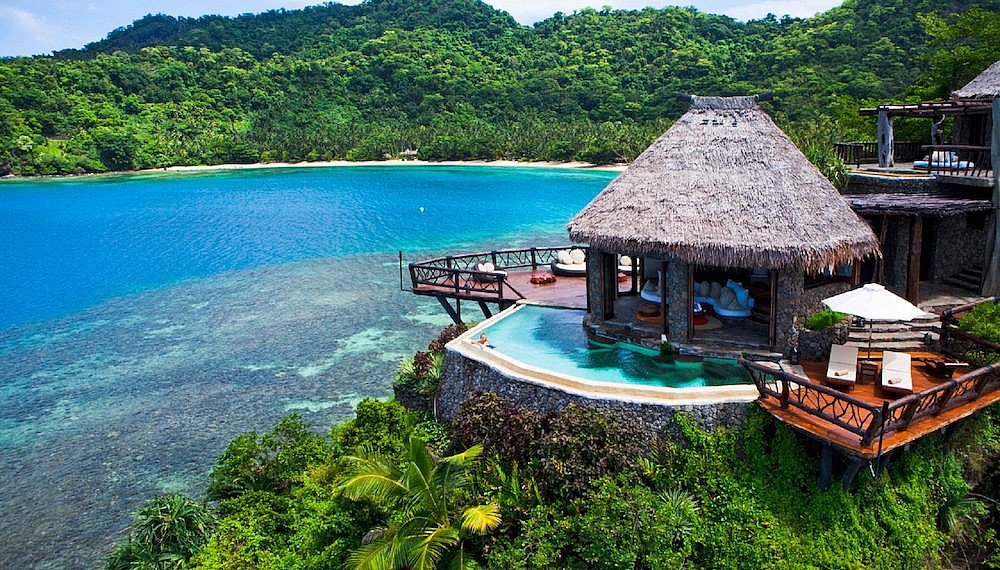 It would be tempting to just stay within this cocoon for the duration of one's stay. With private pools for long soaks, a well-stocked wine/champagne bar and dishes from Laucala's five restaurants arriving piping hot, guests may never have to step out of their bathrobe. And indeed, many do just that. Personalities that are known just by their first names – or stars of the Red Bull Racing Formula 1 team on their off-season – regularly step into their Laucala bure bubble, and have the island come to them. But if they did choose to venture out, well, the buggy is just outside, waiting to be driven.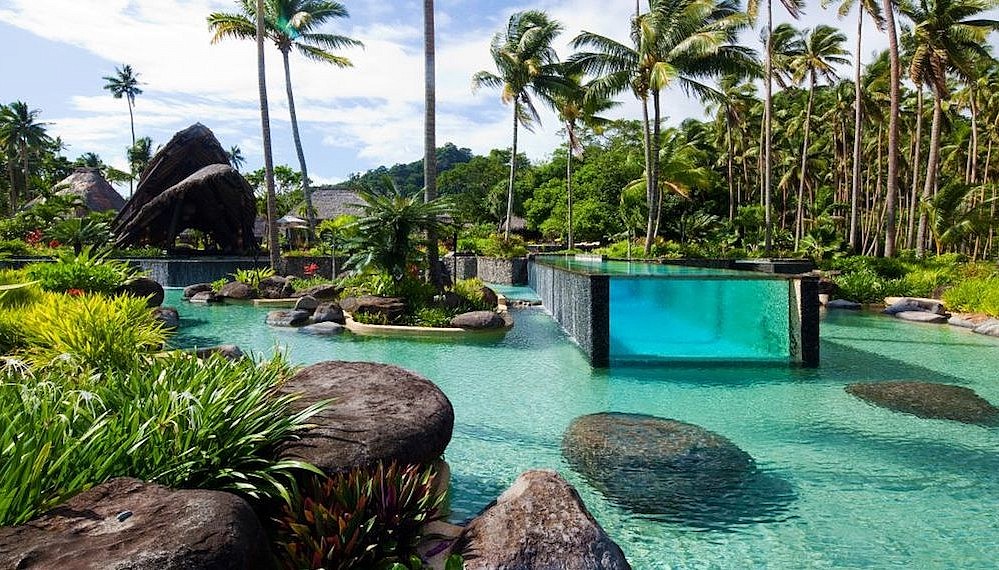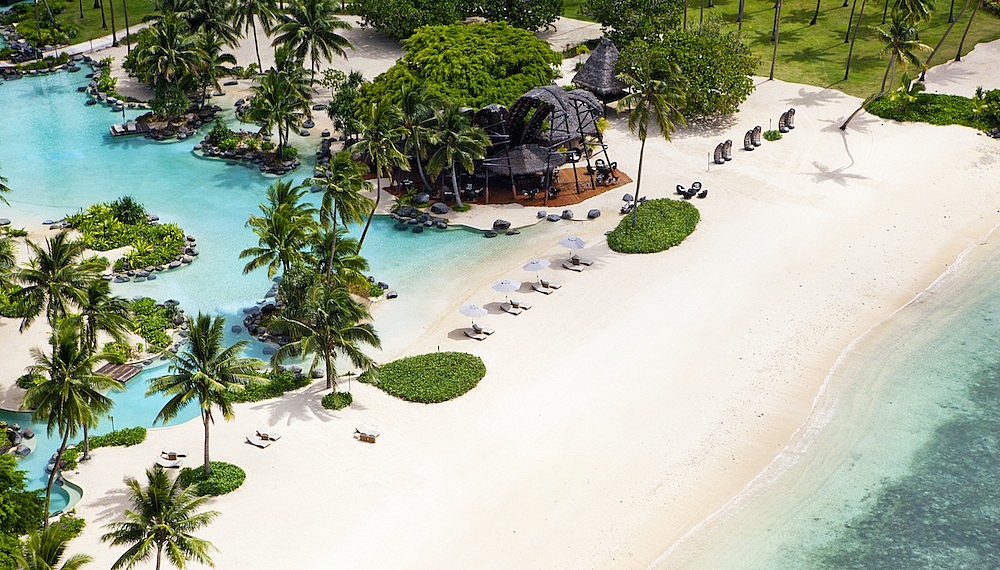 A grand flat plain of impossibly green grass and rows of tall coconut trees strictly spaced is the generally one's first view of Laucala, coming from the airstrip. To the left is the Plantation House, a wonderfully-restored colonial-style mansion that tempts to guest to linger after a hearty breakfast or with a cigar after a gourmet dinner. Hidden in the foliage nearby are the hillside Plateau Villas, clad in smart shades of navy blue and teak. Straight ahead is the Water Sports Centre, next to the casual vibe of the Beach Bar. To the left, past a bridge over the lagoon-style pool with its dramatic 25-metre glass cube, are the Plantation Villas, rendered in earthy shades of brown, beige and black. Past this, the terrain changes, becoming steep undulating slopes that can be a joy to challenge by buggy. The road takes guests past the jungle-ensconced Seagrass Villas – defined by their cliffside perch overlooking the seagrass-rich bay and their interior palette of aqua, turquoise and azure shades – to the dramatic setting, drinks and light bites at Rock Bar and hearty servings of Thai- and Asian-influenced dishes at the spectacular Seagrass Restaurant.
You might think that high standards of food could be a challenge, given Laucala's isolation. That would be incorrect. Towards the interior and south of the island, navigable by buggy, is a vast operation that includes an extensive herb-and-spice garden, a herd of Hereford-Limousin cattle and Japanese wagyu cows, flocks of chickens and quails, a hydroponic vegetable garden, a piggery and a flock of the local sheep breed called Fiji Fantastics. All of this goes to supplying not just the guests, but also the vast staff team, many of whom reside on the island. This drive towards self-sufficiency not only allows for the freshest produce executed by skilled chefs – menus at the Plantation House can proudly claim to be farm-to-table within hours – but also cut down the carbon emissions that would be necessary if the ingredients were air-flown into Laucala.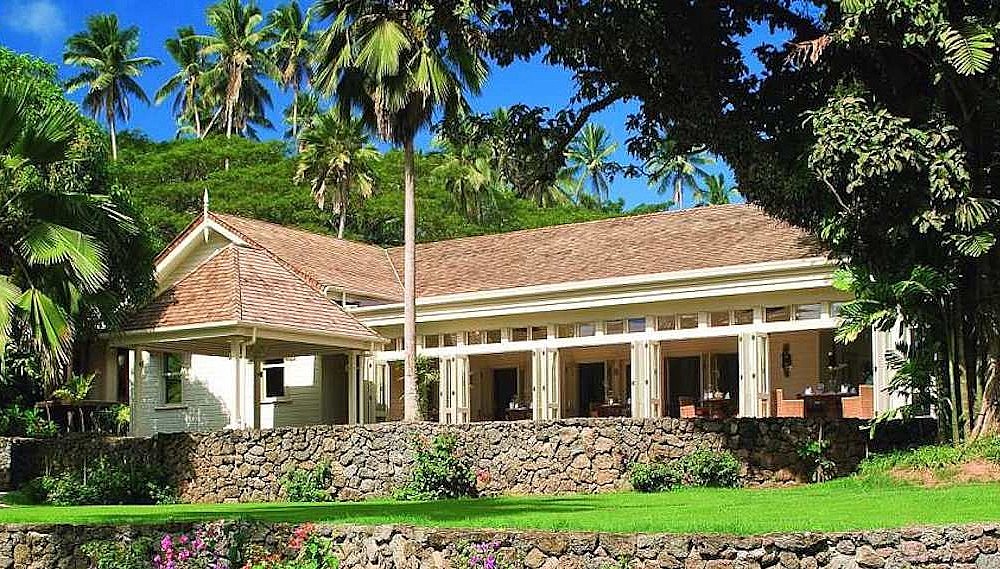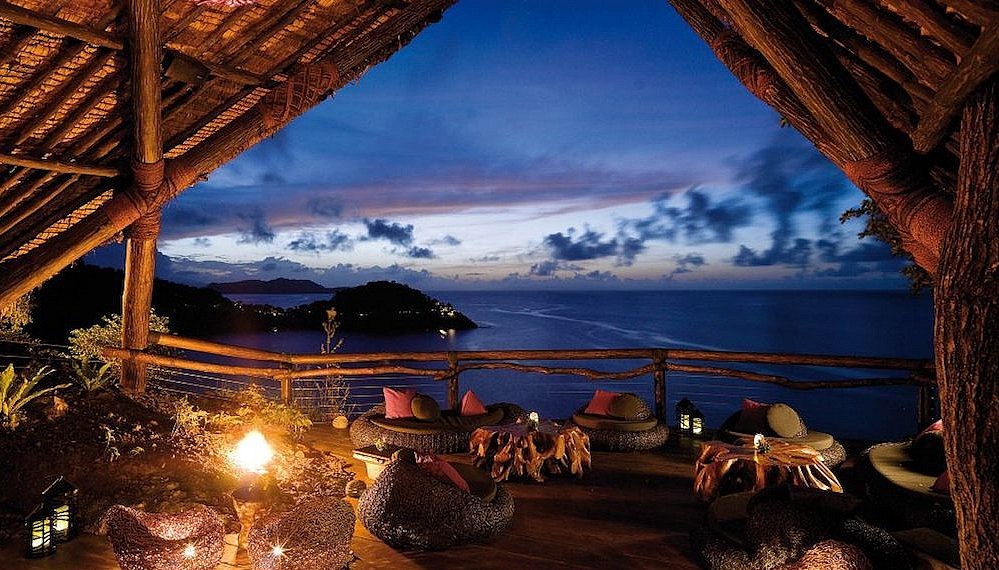 Explore this back-end view of Laucala a bit more, and you'll even find an engineering and carpentry department (things do need fixing, after all), a mini-petrol station, water treatment facilities and even an orchid hothouse – because there is nothing like fresh flowers to brighten up a bure. See all of this and it'll give one a deeper appreciation of what Dietrich Mateschitz has managed to create here. Even the Spa – with its blissful menu of traditional Fijian therapies – produces its own lotions, potions and oil from the Spa Garden. Ask nicely and guests will be able to peek in the laboratory just behind the reception, where therapists create Laucala's four signature scents – Molikaro (native citrus), Wainimate (medicinal herbs), Senikau (tropical blooms) and Qele (indigenous roots, woods and spices) from scratch. From here, the concoctions of the Spa's kitchen will then be distributed across the island, providing toiletries that are utterly unique to Laucala.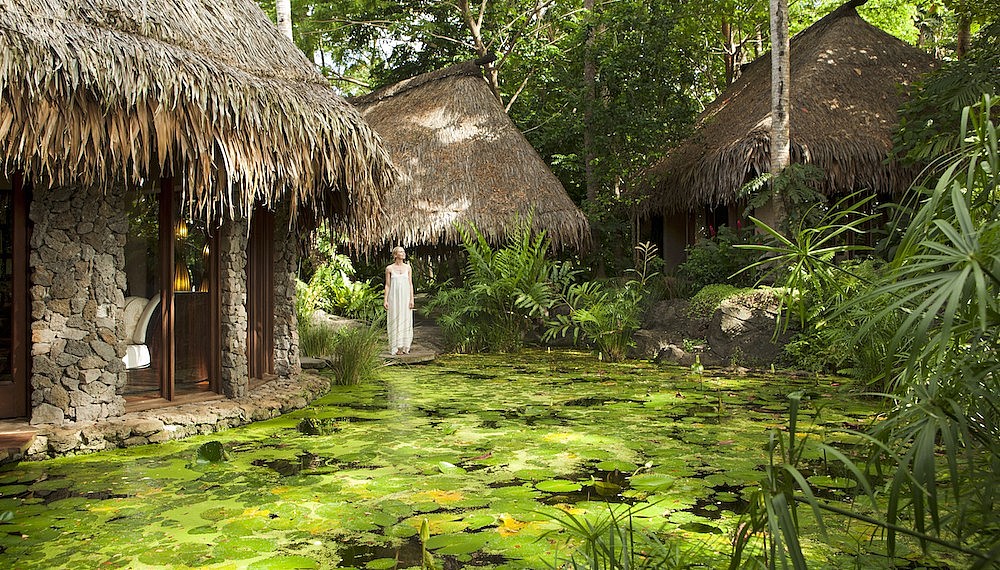 A retreat to the Spa is a must for any stay at Laucala. But perhaps as a reward after a long day of exploring the long tally of activities available. This is an island, so water is featured prominently. Over two dozen scuba dive sites – pristine and perfect – are within a 15 minute boat ride, while one of Fiji's most legendary dive sites, the Great White Wall, is only slightly further at 40 minutes. Game fishers can venture out in search of blue marlin and yellowfin tuna, while adrenaline junkies could opt for more challenging activities. These are only some of the options, but there is one that should be mandatory for any visitor – the DeepFlight Super Falcon two-man minisub that can take guests underneath the waves on an underwater tour of the house reef, past unsuspecting turtles and flashing schools of fish.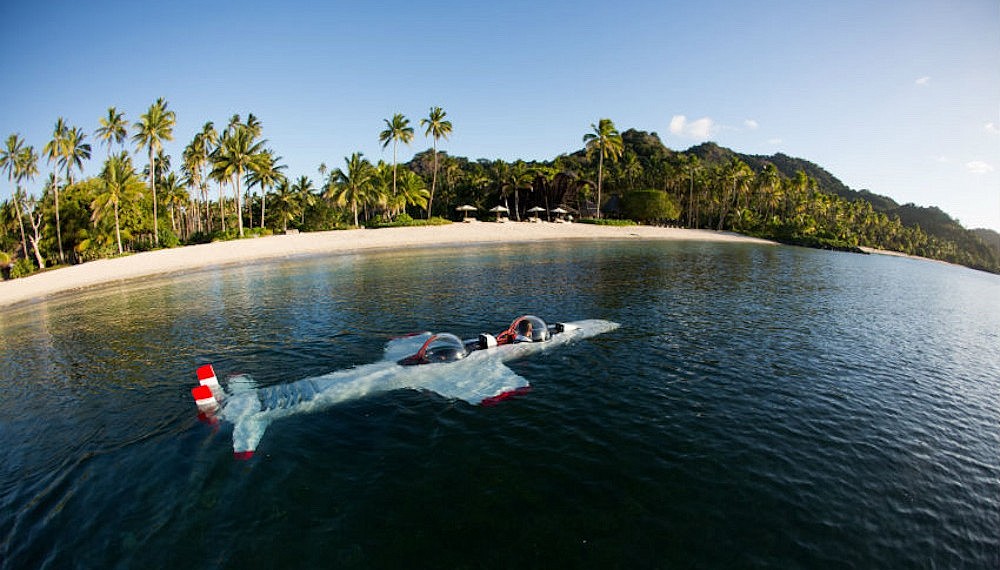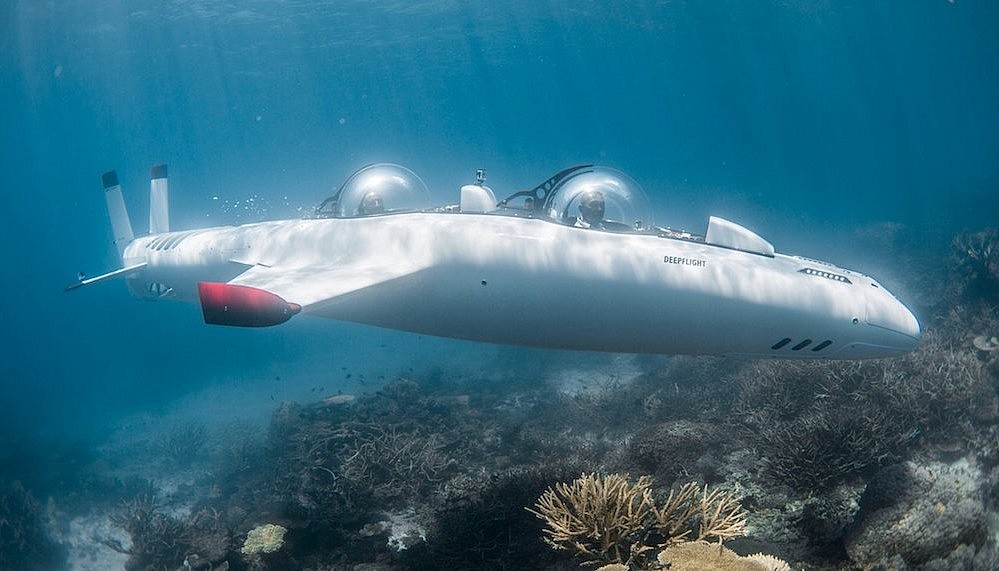 The list of things to do doesn't stop at the water's edge. The interior of the island is a web of paths that winds past thick jungle, ponds, mangroves and waterfalls, all begging to be explored in hiking boots or on a mountain bike. Less strenuous, but no less exciting, would be a horseback tour on one of Laucala's eight Fijian horses – a crossbreed of Australian Thoroughbred and British Clydesdale – while the Cultural Village, centrally located near the lagoon pool, is a lovely, languid glimpse into the rich culture and heritage of Fiji. And then – of course – there is the 18-hole championship golf course designed by David McLay Kidd that offers an irresistible chance to tee off in paradise with nothing but the sky, the sun and the sea as companions (and the occasional feral goat).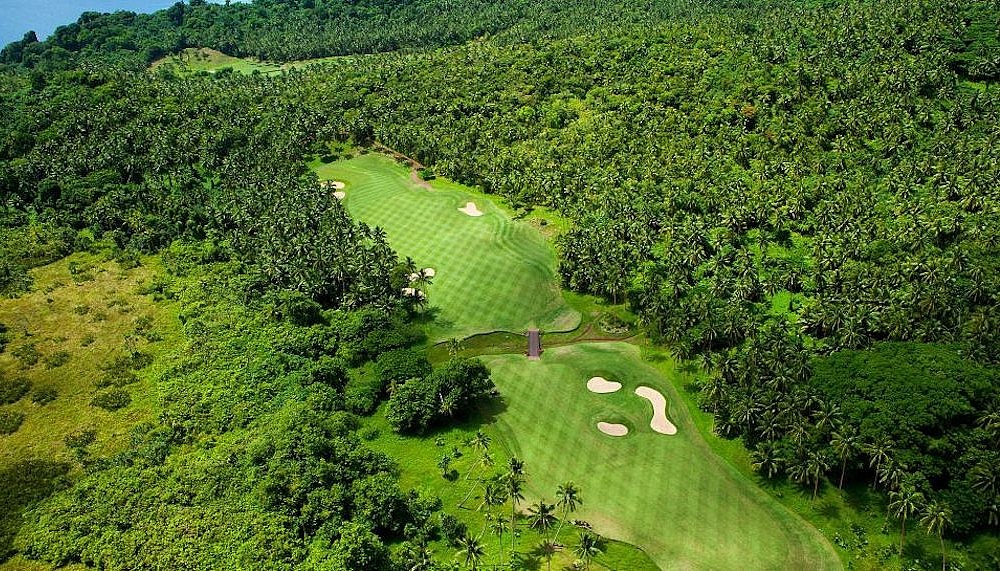 You might think that it couldn't get better than all that. But if there is anything that Laucala excels at, it is exceeding even the loftiest of great expectations. Perched right next the Seagrass restaurant is the four-storey Peninsula villa – a romantic aerie of hidden corners and panoramic views that is a favourite for honeymooners, the setting for the siring of a new generation. Topping even that is Hilltop – the personal abode of Mateschitz when he's on the island – a vast bure flanked by two smaller ones that offers a glimpse of the world through a billionaire's eyes. Guests at Hilltop must be personally approved by Mateschitz himself, but even being a guest in one of the 24 other villas is a transformative experience that spoils one for future tropical, nay, any escape – all made possible by an atmospheric staff-to-room ratio of 13:1.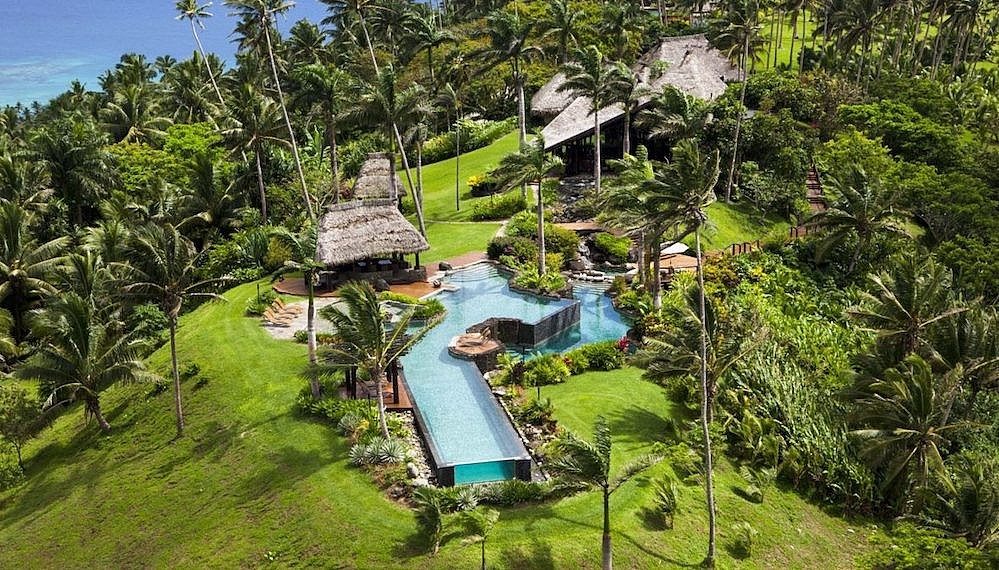 It has been said that luxury is a state of mind. That luxury can be willed into existence through achievement. Those who have had the pleasure of staying at here – whether in a villa or booking out the entire island (with a minimum stay of three nights) – will agreed, but would add one cavaet. Luxury is also physical; it is a place. And that place is 16.7527° S, 179.6863° W – an island that may look like a speck on a map, but is the most intoxicating travel experience that we have had the privilege of luxuriating in. And its name is Laucala.