The Prize
For industrious automotive artisans and engineers, no time or place was as ripe with opportunity as Italy in the 1950s. Many cars from the era survived thanks to those who squirreled them away in barns, or families who passed down a grandfather's GT to younger generations. Until recently, they were just old cars. Now, whether they have "matching numbers"—their original chassis and engines—or not, they are highly coveted.
Here is our series of Italian vintage cars you should invest in, from a 52 Siata to a 63 Iso. To start things off here is the 1955 Lancia.
Read the full series here.
Aurelia B24S Spider America by Pinin Farina
While the mid-1950s unleashed great automobiles such as Britain's Jaguar D-Type and Germany's Mercedes-Benz 300SL, nowhere was the variety greater than in Italy.
One of the country's most beloved brands was Lancia, founded in 1906 by Vincenzo Lancia, the inventor of independent front suspension and a host of other important engineering firsts. Lancias have always been special cars, possessing impressive technical advancements, exceptional build quality and, often, unsurpassed beauty. The Aurelia coupes played a major role in motorsports throughout the 1950s, but the Aurelia B24 was the ultimate combination of engineering and design and was the most desirable road-going Lancia sports car of the time. Just 240 Spiders were made from 1954 to 1955, followed by 521 convertibles from 1956 to 1957. The former is the most collectible, with a simple wrap-around windshield and more minimalist appointments.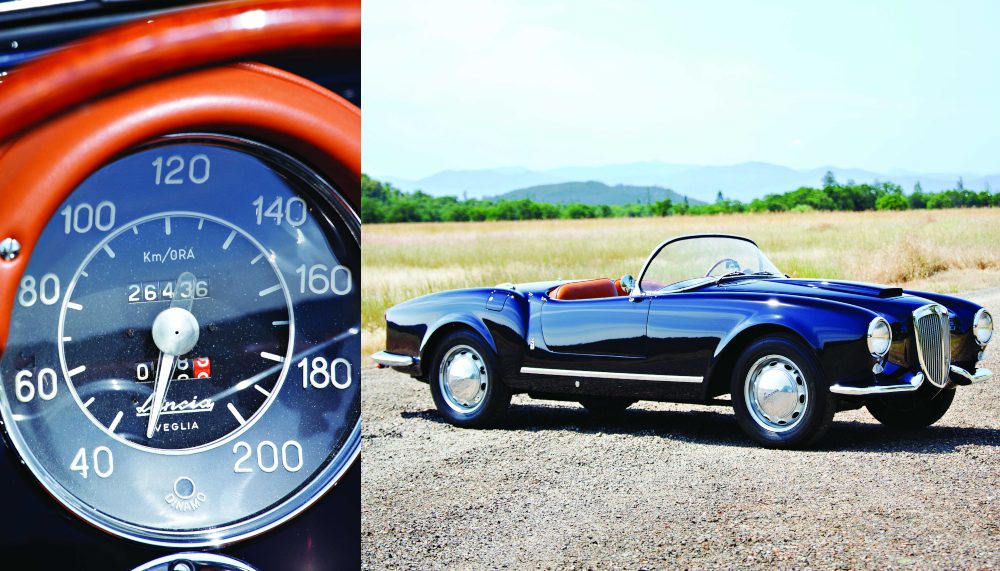 The B24 used the first-ever series- production V-6 made—Lancia's 2,451 cc overhead-valve engine, producing 125 hp. What made the B24 so exquisite was its Pinin Farina body, a perfectly proportioned beauty representing the pinnacle of the designer's aesthetic output. Lancia atrophied and was absorbed into the Fiat organisation by 1969, and its last notable cars were the Stratos rally car and 037 racers that carried the Lancia torch into the 80s. Lancia became a ghost of its former self by the late 2000s and remains a marque in name only.