Wonder Lust
Come April every year, Milan becomes a city-wide showcase for the newest in furniture design. But more than just a being an eye-popping playground for design's best and brightest, the wheeling and dealing that goes on shapes the designer furniture industry for the coming 12 months. With an eye towards becoming one of the key players in this field, Louis Vuitton has been dipping its toe in since 2012 with collection of furniture and lighting pieces inspired by the French maison's long history of luggage design. Known as Objets Nomades, the luxury brand has cultivated a reputation for celebrating innovative design with collaborations with the biggest names in design such as Nendo and Patricia Urquiola to upcoming talents like Atelier Oï and India Mahdavi.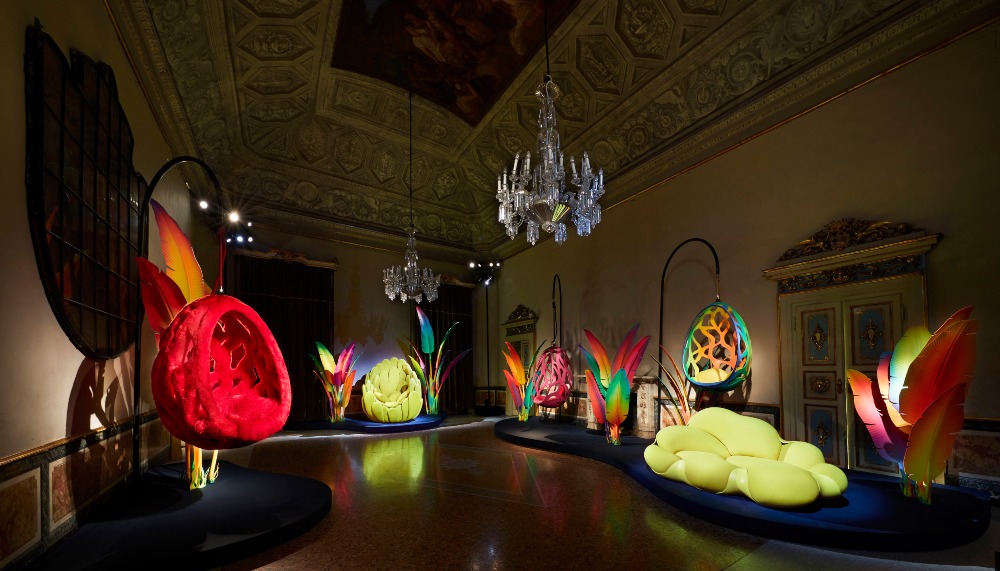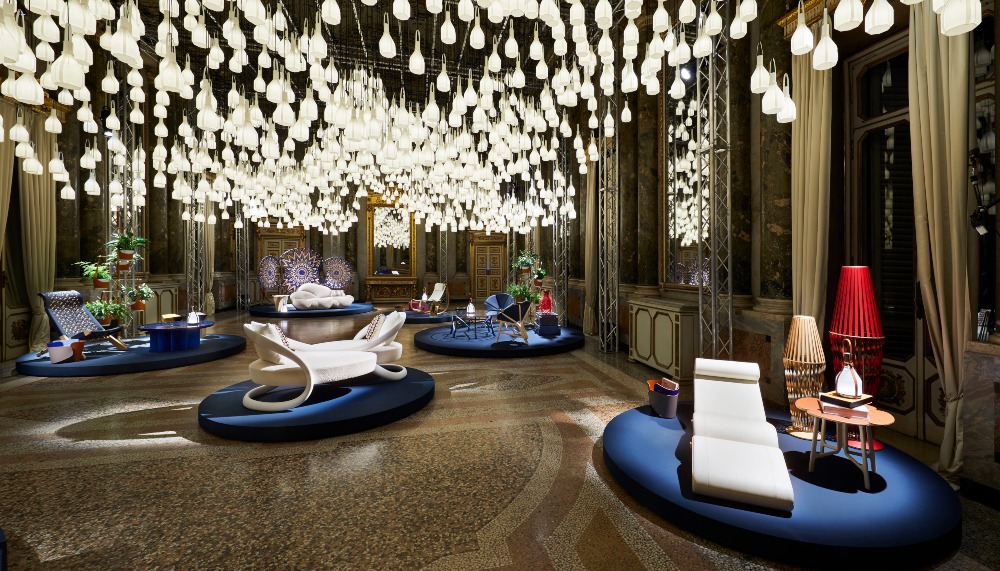 Set in Milan's most luxurious palazzos, LV's spectacle within the spectacle of Fuorisalone inevitably attracts curious design aficionados and fans of the brand. This year's was no exception as the presentation took up residence at Palazzo Serbelloni. Visitors were taken on a metaphorical journey upon entering the grand courtyard where Pritzker Prize winner Shigeru Ban's Temporary Paper Structure was erected. The iconic architect had previously collaborated with Louis Vuitton in 2006 for the Icônes exhibition when he created a domed structure inspired by the Papillon bag at the Maison Champs-Elysées in Paris. The tunnel shaped Temporary Paper Structure in question used to sit atop the Centre Pompidou in Paris and had been Ban's Paris office while he was working on museum's outpost in Metz. A unique modular construction comprising of structural tubes made of recycled paper, its ingenious use of such a humble material was particularly evident juxtaposed against the neo-classical splendour of Palazzo Serbelloni. It nomadic nature perfectly complemented the maison's raison d'etre of portable design and is the latest addition to Louis Vuitton's exhibitions of nomadic architecture following work by George Candilis (2018), Matti Suuronen (2017) and Charlotte Perriand (2015).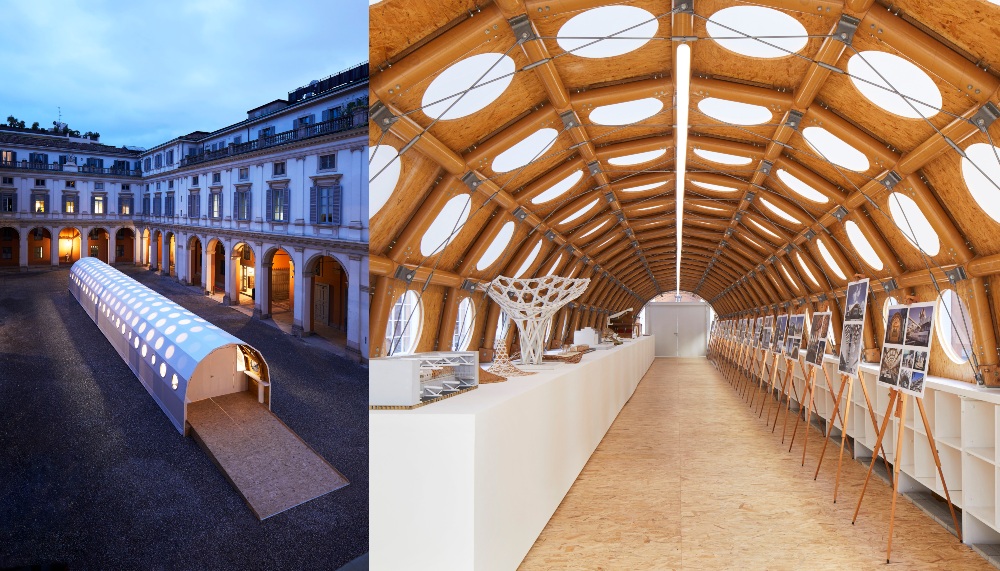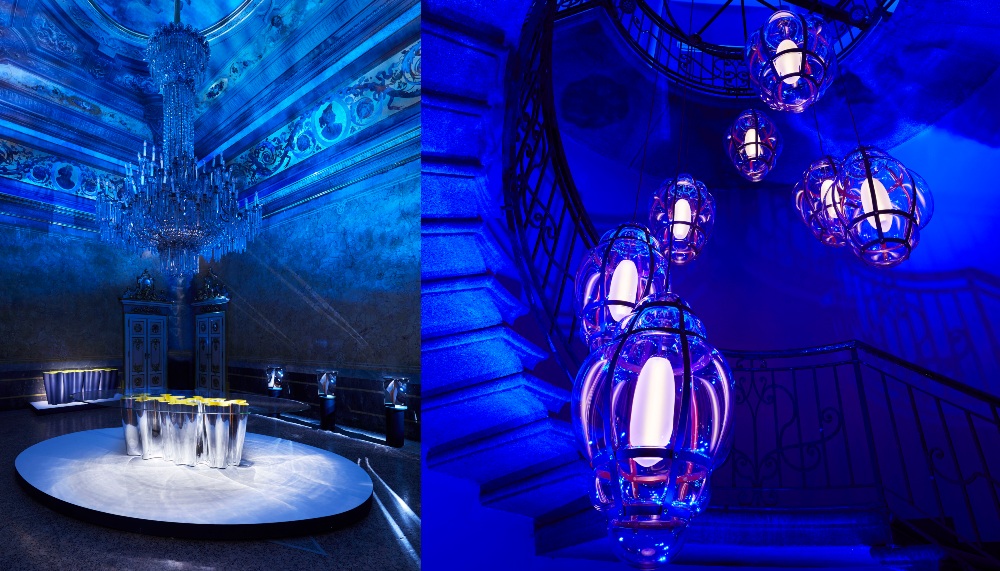 From the blinding sunlight, visitors ascend an ornate circular staircase moodily lit by the first of the new Objets of this year, a cluster of Diamond Vases, made of red, handblown Murano glass suspended in leather straps designed by frequent collaborator Dutch super designer Marcel Wanders. Sexy and captivating, the lighting set the tone for drama awaiting at the top of the stairs. Another alumni collaborator, the Campana brothers, were given the honour of creating the first tableau, a tropical fever dream of vividly coloured chairs called Bulbo. These cozy seats transport the sitter in a cocoon-like pod of leather and soft fabric, impeccably crafted.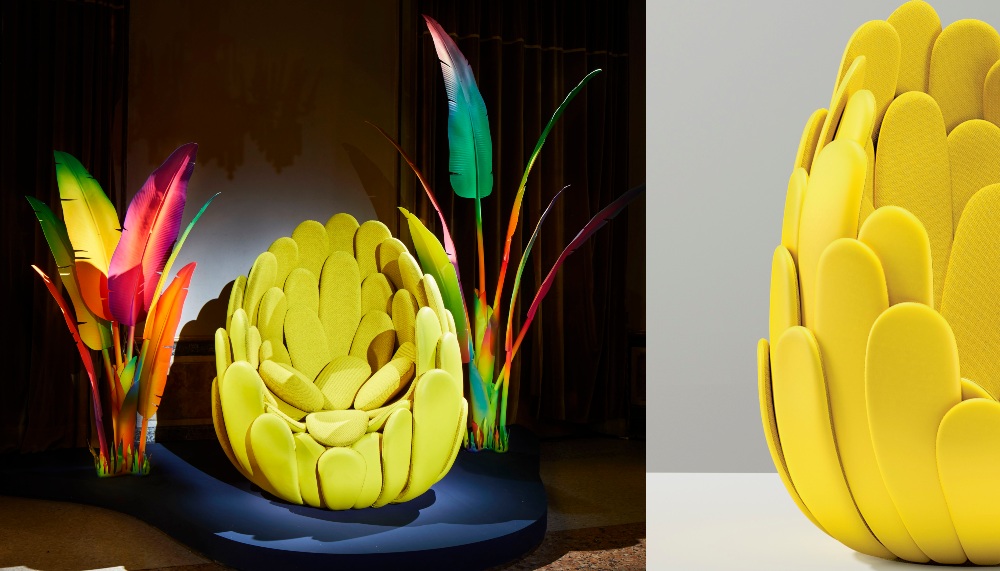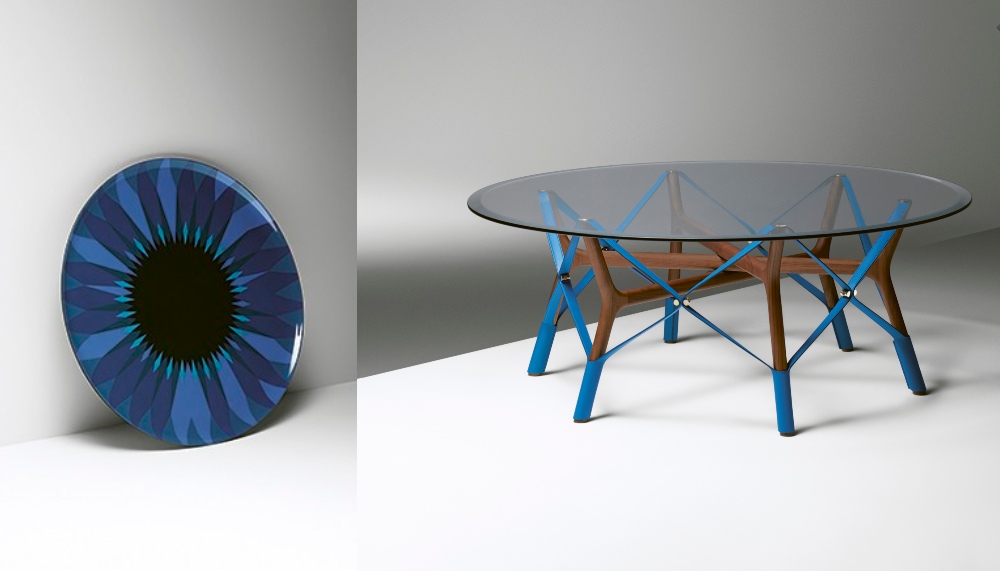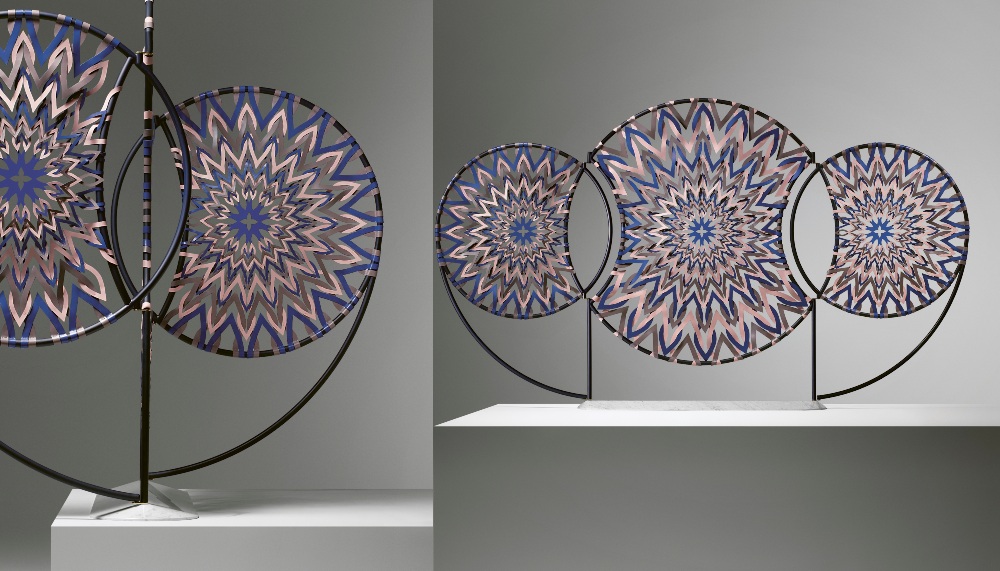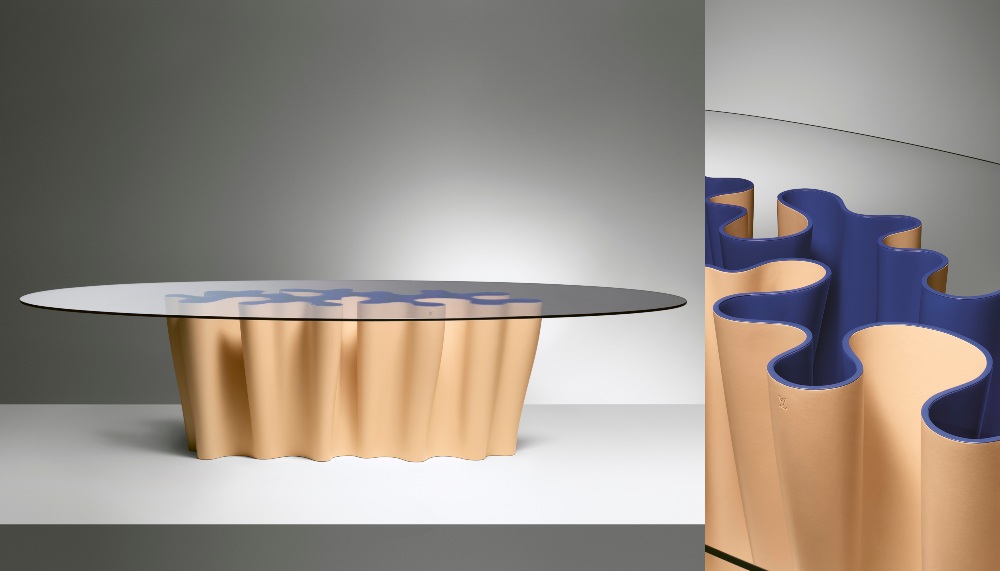 Moving on to the larger hall, the remainder of the eight Objets awaited from Atelier Oï's Serpentine dining table featuring foldable criss-crossed legs woven interwoven with finely worked straps of blue Louis Vuitton leather to Raw Edges' Dolls chairs which are as whimsical as they are customisable. The rest of Wanders' new Objets could be found with the beguiling pair of Diamond Sofa and Armchair with their bases of intertwined ash and rich leather upholstery and Venezia, a lamp inspired by traditional Venetian lanterns. India Mahdavi brought her lacquered Talisman tray, with its "benevolent eye" design, while Tokujin Yoshioka presented the Monogram pattern-inspired Blossom Vase, made of heavy, handcrafted Murano glass.
Two new design studios were added to the roster this year, Atelier Biagetti and Zanellato/Bortotto, both hailing from Italy. Anemona, a glass-topped dining table whose undulating base is covered with a natural beige leather on the outside and contrasting deep-blue Louis Vuitton lacquer on the inside was Atelier Biagetti's contribution. Zanellato/Bortotto made its debut with Mandala, a tripartite screen of intricately woven leather inspired by nomadic craftmanship. As hypnotic as its namesake, the piece features gently rippling colours reminiscent of the Venetian lagoon at sunset.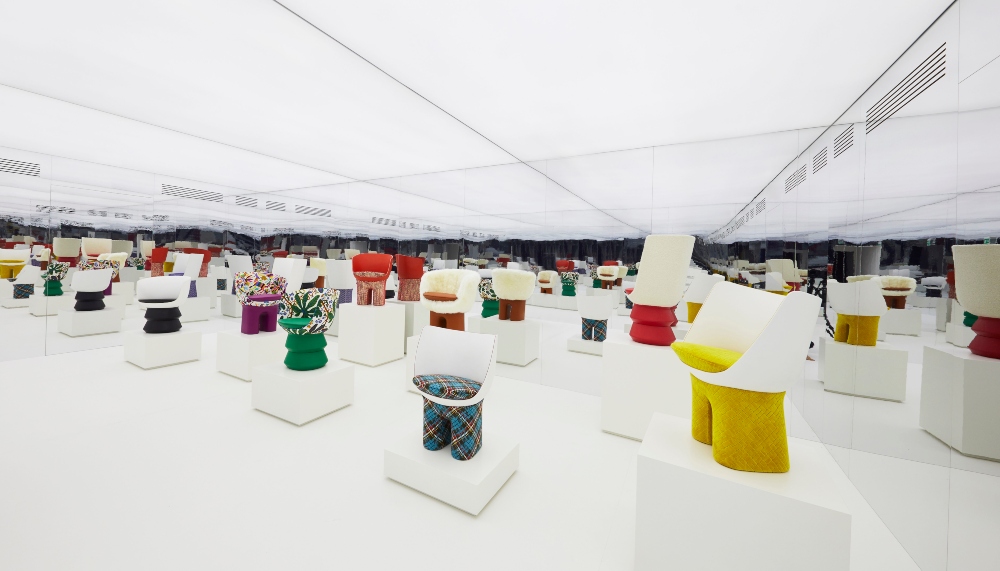 Sprinkled amongst the ten were selected pieces from the complete collection of forty-five. These pieces from Andre Fu and Patricia Urquiola served as a counterpoint to the new additions and were a reminder to visitors at how each piece was an embodiment of the spirit of Objets Nomades – creative, functional and innovative furniture and objects, elegantly crafted using Louis Vuitton's savoir-faire. Each piece pays homage to the House's special orders of the past – such as the iconic Bed Trunk produced in 1874 for French explorer Pierre Savorgnan de Brazza – but updated with the defiantly contemporary visions of creative designers from around the world. Indeed over 160 years after Louis Vuitton began exploring new territories and ideas of travel, the Objets Nomades collection is continuing proof of the House's unwavering sense of adventure.