The Chopard Mille Miglia Lab One is not a shy watch. Not at 49mm by 46mm with a black DLC-coated titanium case that is both a decagon and a square, flanked by a rubber-backed carbon bracelet. Not with skeleton hands and an oversized date display, nor the prominent tourbillon bridge that is clearly modern industrial rather than old-school. There is a prominent motoring theme, too, with the partially openworked dial including a radiator grille-like lattice, and most obvious in the two indicators on the lower half of the dial that are fashioned after automotive instrumentation. The one between 7 and 8 o'clock is the power reserve indicator, which is styled after a fuel gauge, of course; between 4 and 5 o'clock sits a retrograde day indicator. Both, quite naturally, have red hands.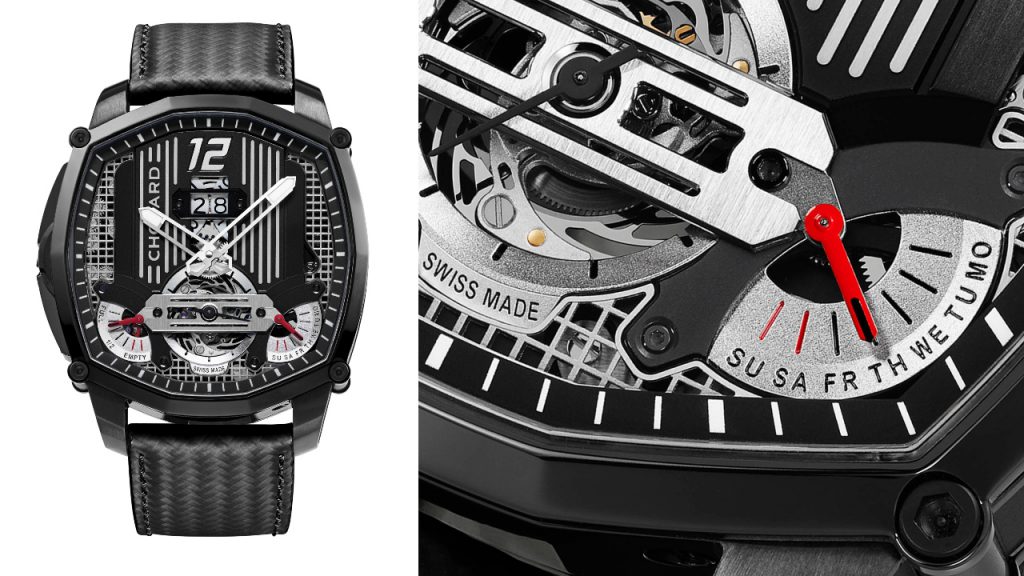 Automotive-inspired, unusual shape, unusual indicators, dark and contemporary in demeanour – not untrodden ground for watchmaking. What may come as a surprise is the watchmaker: 'Chopard' is inscribed on the dial – vertically, no less – on a plate that evokes an engine cover.
This is not, however, the first time Chopard has dabbled in such. In 2010, the brand created the LUC Engine One Tourbillon, which also had hypermodern ambitions and a motoring theme. Still, 160-year-old maison is more strongly associated with high jewellery, and its signature LUC collection which typically leans much more classical. Even its sports collection is old-school – it is called 'Mille Miglia,' after a motor race almost a hundred years old, and today a showcase of vintage motoring where the youngest cars allowed are those made before 1957.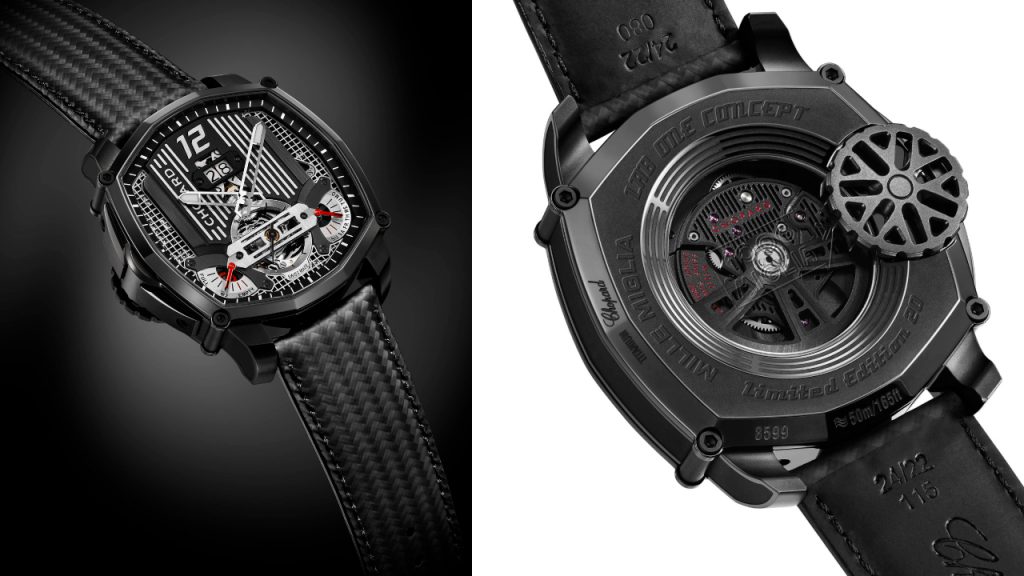 Yet here is the Chopard Mille Miglia Lab One (RM512,030 and a boutique exclusive limited to 20 pieces), that can only be the product of watchmaking today. There is a clear line of succession between the old Engine One and this new Lab One, through the latter is what Chopard considers its first concept watch. The brand claims it has thrown its best designers, engineers, and watchmakers at it, and indeed it shows some considerable technicality. 
The all-new, in-house, 485-component Calibre 04.03-M is the manufacture's most complex movement to date, and its first non-round self-winding tourbillon movement. The crown is patent-pending; it is located on the left of the watch and operates in the same plane as the movement, which allows it to sit unobtrusively flush with the caseback. Patent-pending also is mechanism that disengages the tourbillon when the crown is pulled out for time-setting – a stop seconds function, essentially, that allows the watch to be set to the exact second. This is not a trivial feature for a tourbillon, and it puts this calibre is rarefied company. It is also chronometer-certified and has a power reserve of some 60 hours.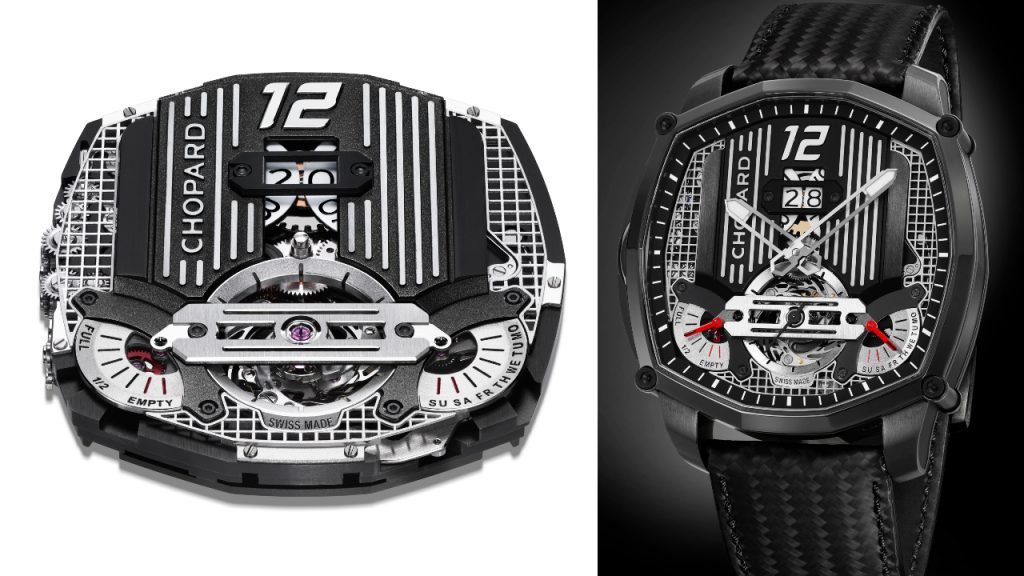 The Lab One is a clever timepiece, and unabashedly modern, but it retains an overall sense of the elegance that has allowed Chopard to thrive. It is distinctive, yes, but also understated enough to avoid becoming an attention-seeking hyperwatch. 
The brand has been the official partner and timekeeper for the Mille MIglia since 1988, and over thirty years later it lends that name to a totally new direction. And with Chopard Co-President Karl-Friedrich Scheufele being a regular participant of the Mille Miglia, it is not difficult to imagine the Lab One on his wrist, even as he sits in a sports car more than half a century old. Then again, that sports car was once a cutting-edge high-tech machine, so perhaps the Lab One would not be out of place at all.