Even for Jacob & Co, the Astronomia Solar Baguette Dragon and Tiger is a unique piece that is exceptionally eye-catching. In the usual Astronomia fashion, it prides itself on some complicated watchmaking: it has a three-armed mechanism that holds a time indicator, a flying tourbillon and a blue lacquered globe that, like the tourbillon, rotates once every 60 seconds. A two-carat, 288-facet yellow sapphire sits in the centre, evocative of the sun.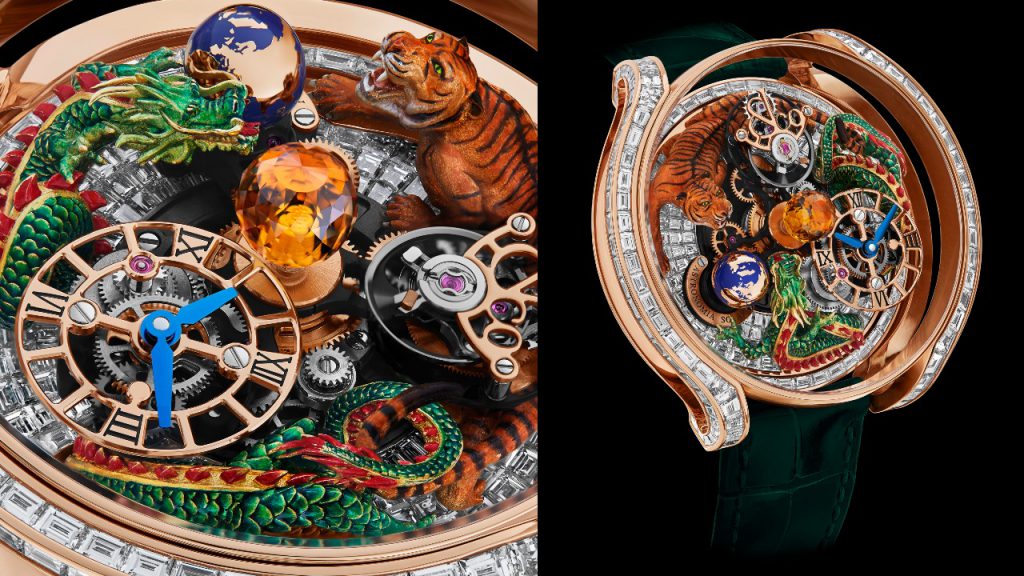 However, the true spectacle is the artwork that winds around this mechanism. Hand-sculpted and hand-painted are a tiger and a Chinese dragon locked in combat – presumably over the fate of the world. The scene is showcased to great effect thanks to the expansive sapphire dome that is the Astronomia's signature.
Diamond accents include the base of the dial set with 48 baguette-cut white diamonds, while the lugs and case bands are in rose gold and play host to a further 144 baguette-cut white diamonds. There are nearly 14 carats of diamonds in total, a feast of senses for those looking for what's next.