It's been about a year since Sushi Shin lit up the southern gastronomic scene with the kind of exquisite omakase that had it name-checked by well-heeled foodies in Johor and beyond – but to paraphrase Dinah Washington, "what a difference a year makes". The last year has been a turbulent one to put it mildly, particularly for F&B businesses who've had to pivot, tough it out or in some sad cases, shutter. Yet for Ben Yeoh, the gastronome and culinary aficionado behind Sushi Shin, business has been encouraging enough to unveil another restaurant. Named Binchotan and located in the same Taman Pelangi area as Sushi Shin, the restaurant celebrates the fine white charcoal traditionally used in Japanese cooking. Binchotan is alike in ethos to Sushi Shin, offering omakase style menus of seasonal and luxury ingredients. Where it differs is its focus on cooked dishes, with a particular emphasis on items grilled on binchotan in the centrepiece kitchen. Its interior is also more mysterious, with sienna-clad walls, a gleaming marble counter which seats only 12 people and mood lighting setting the stage. Yeoh's meticulous attention to detail can also be seen here and extends to the tableware (Laguiole knives and hand-beaten brass plates) and fastidious service.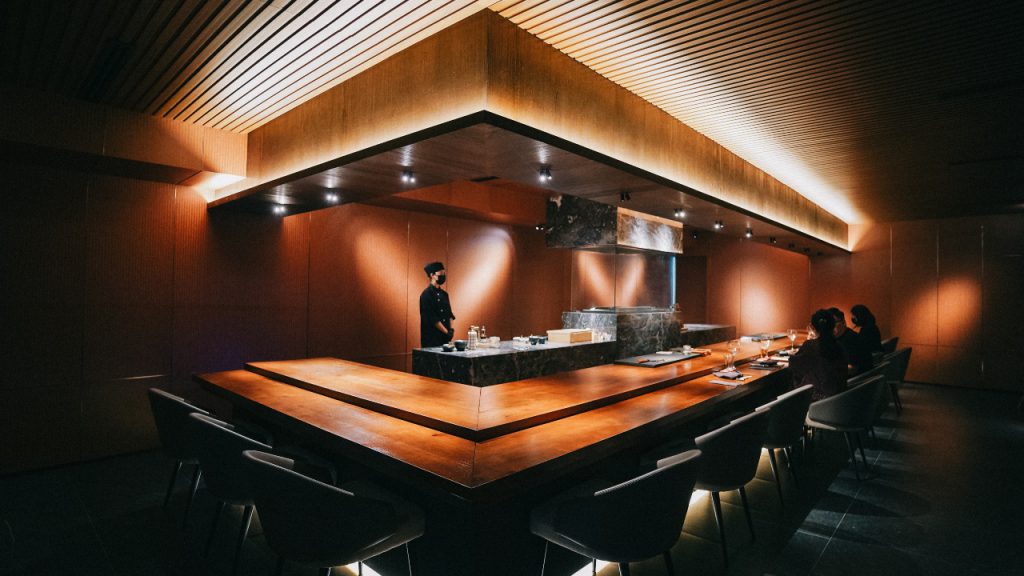 Three menus are offered starting from RM288++ for Aka to Kin Gold at RM888++, all which may be paired with precious Chateau Margaux vintages (Binchotan is one of the few fine dining restaurants that carry it in Malaysia). The Kin Gold menu is decadence on a plate – well 11 plates -seeing as there is one less than a dozen courses in all. 
Chef John Chang masterminds the menu here to and his Nobu roots shine through from the very first course, an amuse bouche featuring a trio of Shiro Bagai (Ivory Shell), Silver Stripe Round Herring  and Egg Yolk Toast Topped With Caviar – a masterclass in fusion done right. The humble skewer is elevated with Panko-covered Matsusaka beef topped with foie gras and caviar, and finished with Tonkatsu sauce for the perfect mouthful. A quick Midori (green) aside is worth lingering over especially when it's seared Chu Toro with exuberantly flavoured carrot (Ninjin) dressing.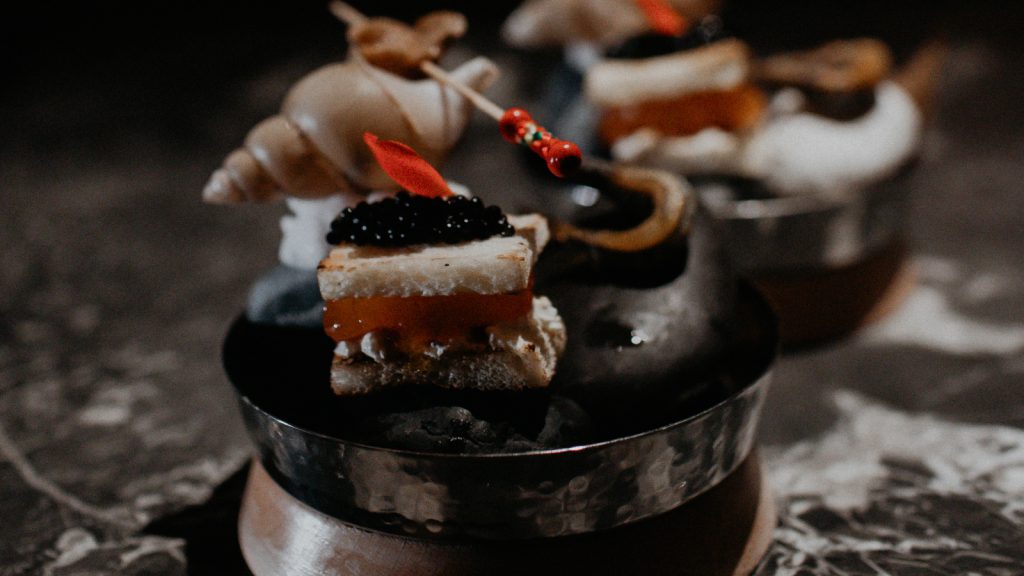 Then begins the succession of grilled proteins, each dish deftly navigating the unique flavour of the star ingredient with complementary accents to tease out its true essences. Iwate Oyster topped with caviar and gold leaf is followed by sliced Matsusaka Beef topped with uni, caviar and truffle. The Tairagai topped with uni is finished with foie gras sauce may sound like an embarrassment of richness but Chang's skill in paring these luxurious ingredients are deployed with such elegance that the combinations simply work. A quieter course of Sawara (Spanish mackerel) with coriander dressing sets up the palette for grilled Matsusaka Beef which is presented in a custom-made wooden chest which smokes it from within. The aromatic beef is then paired with your choice of a staggering 18 types of salt, all artisanal and some made in-house like the intriguing soya sauce salt.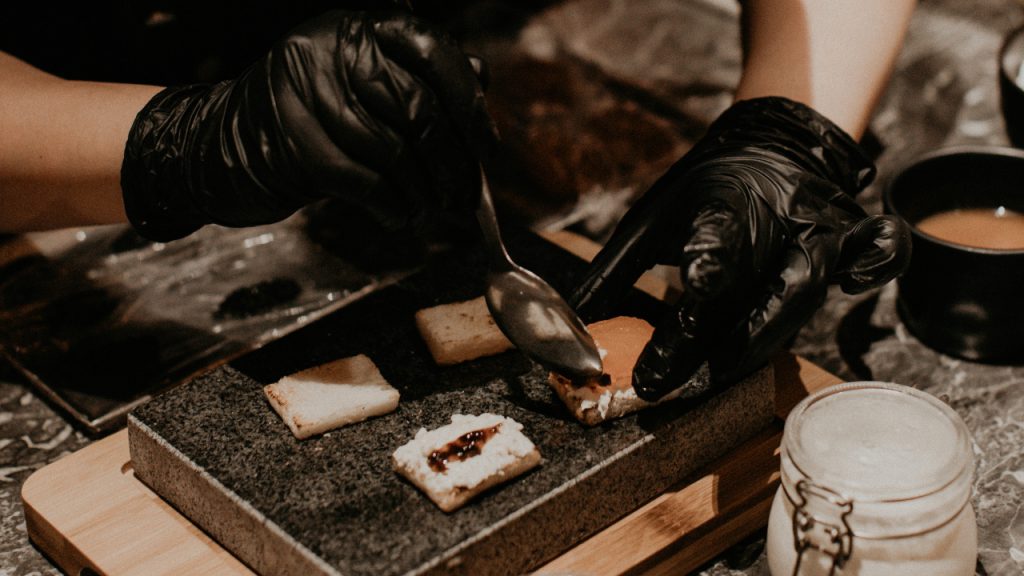 After the indulgent grilled courses, a relatively austere Mushimono (steamed) dish of Fugu Shirako (Puffer Fish Sperm) with seasonal vegetables is an inspired gesture. The customary carbohydrate, here provided by a Matsusaka Beef Ramen, is a dish that could easily launch its own chain of premium ramen restaurants. Chang reveals the deeply flavourful stock is the result of endless hours of simmering beef bones then refining the stock. Rounding off the meal is a trio of desserts, starting with a refreshing orange Panna Cotta with Sake Granita then a lush milk truffle Monaka and a pleasing finish of Chocolate Truffles with Caramel Miso.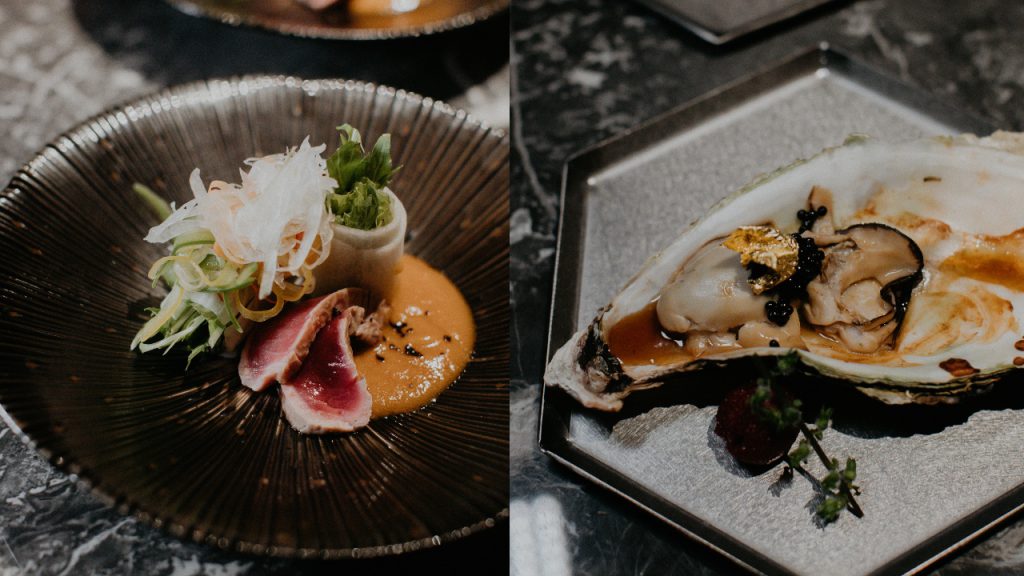 In these uncertain times, such an unapologetically extravagant meal is a joyous break from reality. It's the honouring of fine ingredients, mastery of the art of cookery and the ease of dining at a refined venue that combine for an unforgettable experience – and that certainly should always be a cause for celebration.
Binchotan is located here. To make a reservation: call +607 336 4918.
---
Photos: Rayson Lo