In the past couple of years, the proliferation of Malaysian dining rooms offering omakase-styled menus has signified a growing appreciation among diners to 'leave it to the chef'. Going with this grain, the chefs have also become bolder in their cuisine, offering elevated ingredients, inventiveness and adventure.
BINCHOTAN AND SUSHI SHIN
Down south in Johor Bahru, many would have heard of the twin culinary destinations of Sushi Shin and its sister restaurant Binchotan. The former opened to great fanfare in February of 2020 and despite the multiple lockdowns, saw its reputation burnished by some fairly amazing omakase takeaway boxes. Binchotan would follow in its wake a year later, with a pronounced gastronomic riff using the restaurant's namesake – the fine, white charcoal favoured by Japanese to confer flavour, smoke and caramelisation to cooking.
The 12-seater Binchotan is adeptly manned by the culinary talents of Chef John Chang, who displays a learned proficiency for maximising taste. Chang's creative ambition is unleashed with an opening salvo of vinegar jelly on a 'monster oyster' topped with uni and edible flowers. His roots at Nobu Kuala Lumpur become the foundation of an unceasing ability to tease out new layers of tastes from ingredients. Six-day aged conger eel is served on a delicate rice cracker accented by ebiko for a moreish crunch, while deeply marbled slices of A5 Matsusaka beef are topped by marinated runny yolk.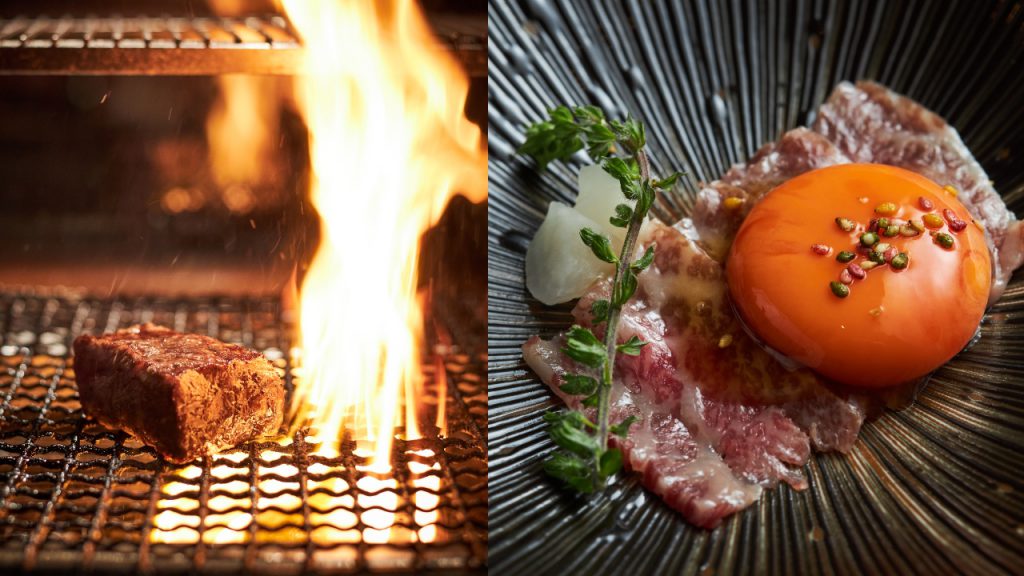 Here, one takes their time to also to partake in the curated selection of wines – given that the owners also operate one of the largest wines and spirits distribution in the region. The restaurant's treasures include the 2014 Margaux du Château Margaux, released exclusively to top restaurants worldwide. The list also stocks Bordeaux premier crus such as the '94 and '95 Latour, '11 Lafite and '11 Mouton as well as sakes ranging from a Seikyo Junmai Daiginjo Maboroshi Black to the Juyondai Tatsuno Otoshigo.
The cadence of Binchotan's omakase menu is calculated to hit new umami notes with the spectrum of dishes which the chef proposes. From a chutoro with pickled daikon, to a chia seed cracker on a bed of caviar and snow crab, Chang adroitly blends textures and tastes to make you savour each bite, firmly etching the gastronomic pleasure to your memory bank.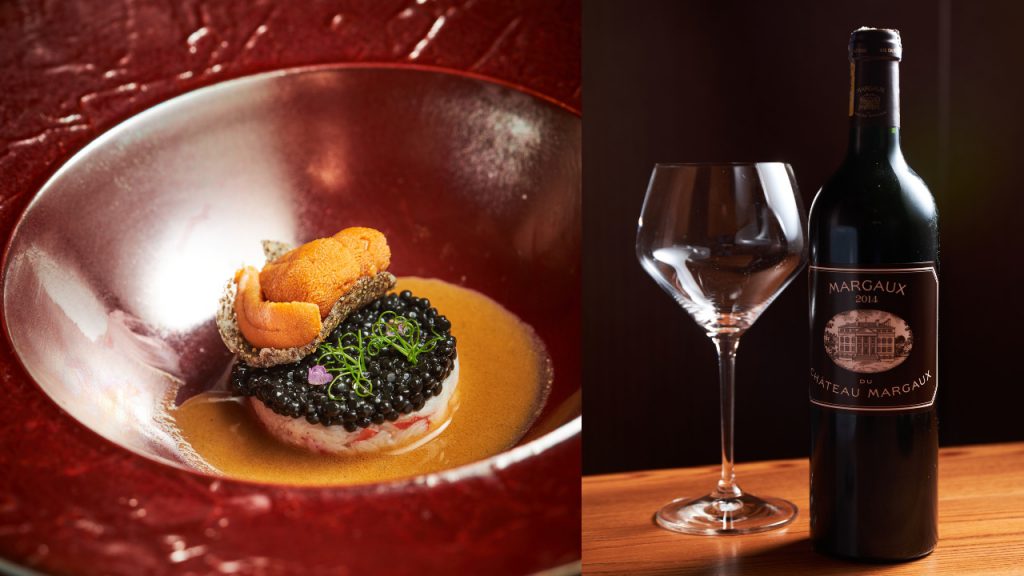 This thoughtfulness is the result of Chang's unique circumstances at Binchotan – being able to experiment to his heart's content and having first pick of stellar ingredients from the country's top purveyors. A grilled and aged shima-aji (striped jack) is served with a spicy ponzu, adding a piquant note to the hearty chunks of fish. The same binchotan that caramelises the fish skin also does its magic to the asparagus course, adding a smoky flair tempered by a drizzle of anchovy sauce and toothsome Hokkaido scallop.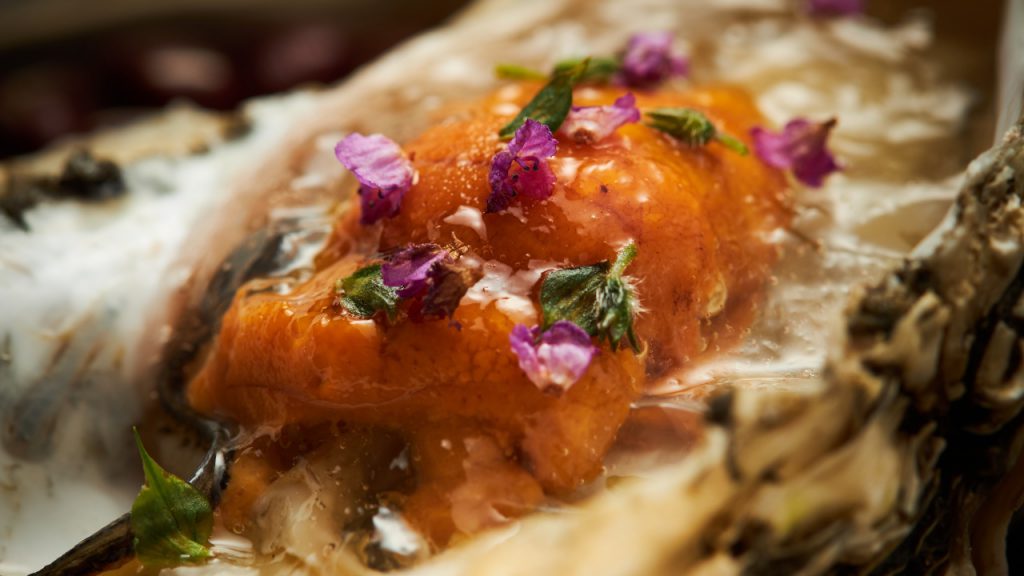 A soup of wolf herring and crab winds down the omakase at Binchotan, before the dessert course by Chang's wife – the Cordon Bleu-trained Karen. A delicate Dassai sake cake with milk ice cream is accompanied by bijoux cake redolent with yuzu and passion fruit drizzle, a harmony of sweet and citrus to round off the meal.
TENRYU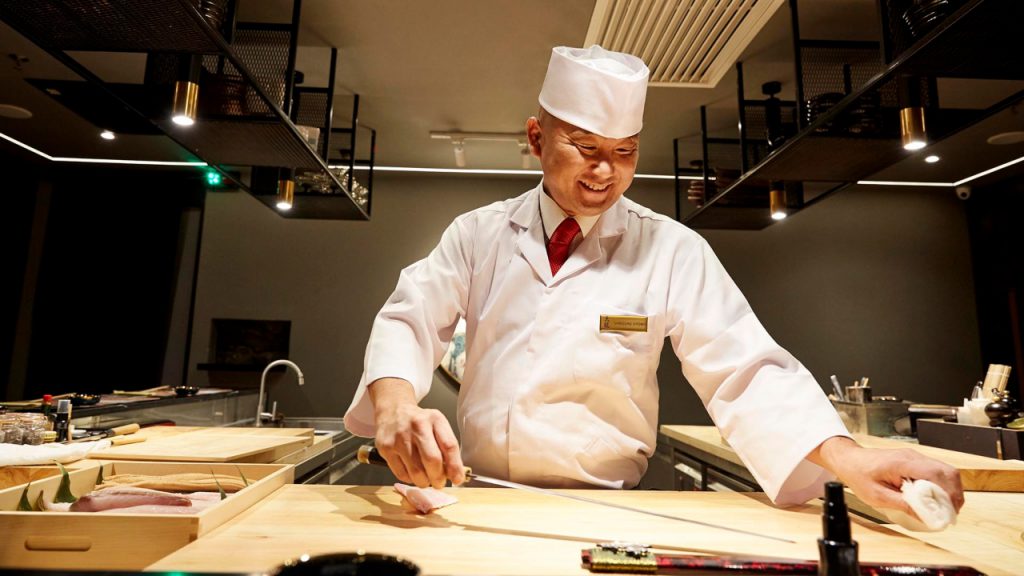 In the heart of downtown Kuala Lumpur, inside the familiar landmark of Wisma Lim Foo Yong, you find the latest omakase to hit town. Opening its doors at the tail-end of 2021, Tenryu – named after Tenryuji, the most important and famous temple in Kyoto's Arashiyama district – is a shrine to kappo cuisine. Literally translated as 'cut and cook', kappo is terra firma for Tenryu's founders who were frequent visitors to Japan prior to the pandemic.
In Chef Shinsuke Otomo, Tenryu's owners found a 27-year veteran in Japanese cuisine who arrived in Kuala Lumpur via the Grand Emperor Macau. Through the restaurant's speakeasy-like doors, one arrives at Tenryu, a swish contemporary space with a centrepiece sushi counter for a comfortable 12. Just beside is an opulent karaoke room, serving as the ideal pre- and post-dinner location for diners who book out the entire restaurant.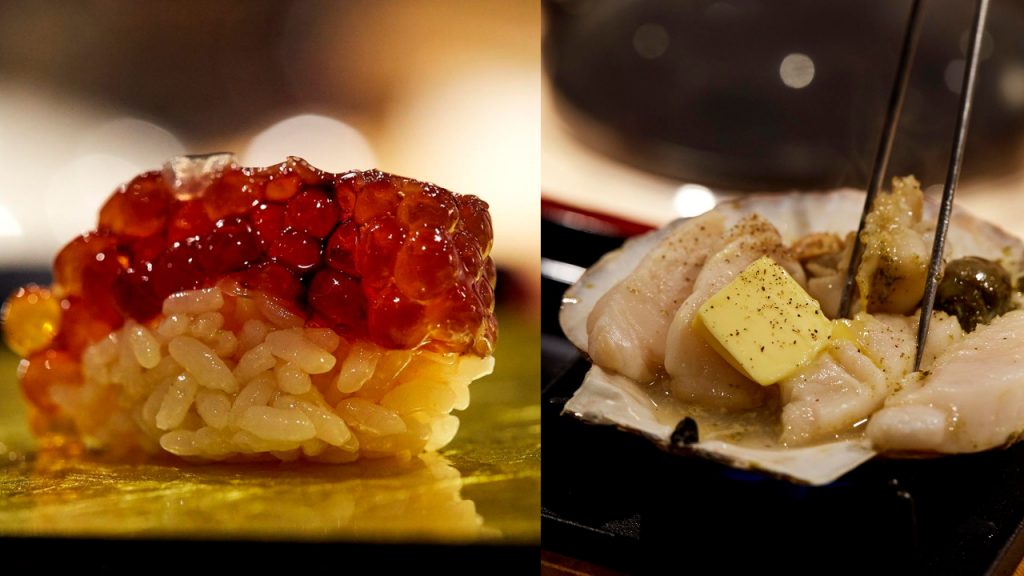 Upending the idea of omakase, the Tenryu menu is one that liberally samples various Japanese cooking techniques; stewing, boiling, grilling and also dry-ageing fish, a speciality of Otomo's. Naturally, the menu respects the turn of the seasons – as does the singular art piece behind the counter. On it currently is that a vista of autumnal stags and swallows in flight, with koi slated for the next change to reflect the winter months. This minor but perceptible visual cue guides the practised hand of Otomo, who runs his domain with rhythmic consistency and an adherence for seasonal freshness in his food.
An appetiser of boiled shiro baigai (boiled Japanese sea snails), miso marinated egg yolk and tiger prawn signals the start of the journey which wends through octopus carpaccio and a hine kanburi – winter yellowtail which fattens in the winter to offer deeper, richer flavours. The additional repertoire of techniques comes into play as Otomo and his team start working on the Nagaimo yams, grinding it down – in a rather large bowl – to a fine porridge mixed in with tofu skin, and liberally topped with uni, caviar and a dollop of wasabi.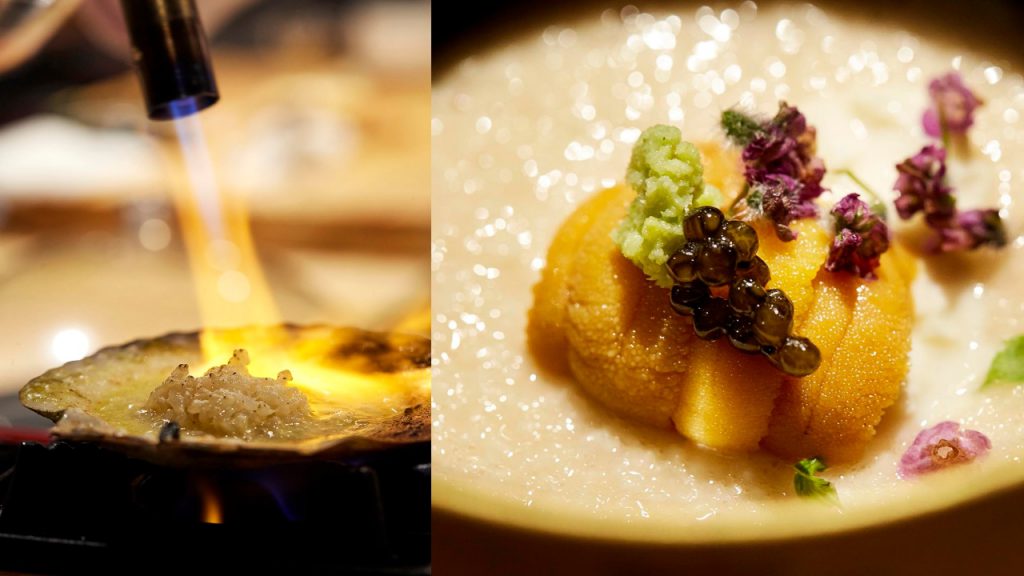 Otomo and his team work with precision and speed throughout the Tsuki omakase menu which comprises three appetisers, three kinds of sashimi, a yakimono grill, a tempura, chawanmushi, a special menu item, marinated dish, eight pieces of sushi, soup and dessert. A giant Hokkaido scallop – estimated to be at least three years old to achieve its leviathan size – is simmered in situ with butter to produce a medley of sensations and aromas. A ball of vinegared rice is then added to soak up the umami richness of the broth, before being torched for a crisp finish.
Once you're settled in, you quickly recognise how rewarding the menu can be for your senses. Squid ink salt, parsley scented monkfish liver, and rising essences of yuzu are some of the exquisite olfactory signposts on your journey to the sushi courses. In between, flashes of Otomo's foot-long knife, which he sheaths with samurai-like instinct, provide another form of theatre.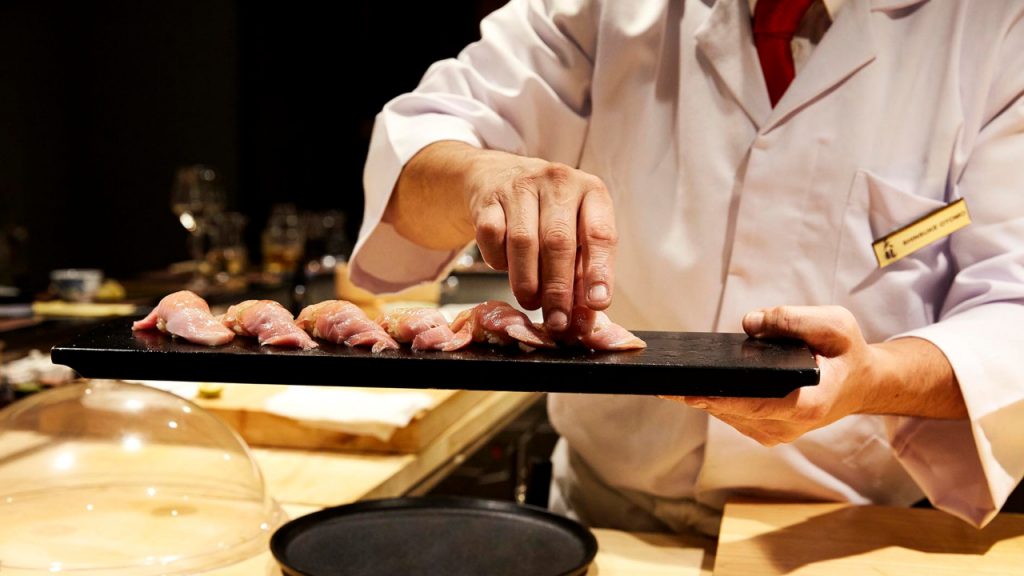 Before you know it, you are presented with sushi which could variably be botan ebi, fresh ikura, and cherry wood-smoked anago (sea eel) marinated, grilled and brushed with teriyaki sauce. All these highlights feel very much like second nature to the kitchen, who have spent the past three months perfecting their dishes prior to the opening. As for Otomo, the past three months also enabled him to play tourist – given that this is his first Malaysian sojourn as a chef – and he delighted in the many local meals which helped him gain an added perspective of the Malaysian palate in conceiving his menu to come.
BLANC, MACALISTER MANSION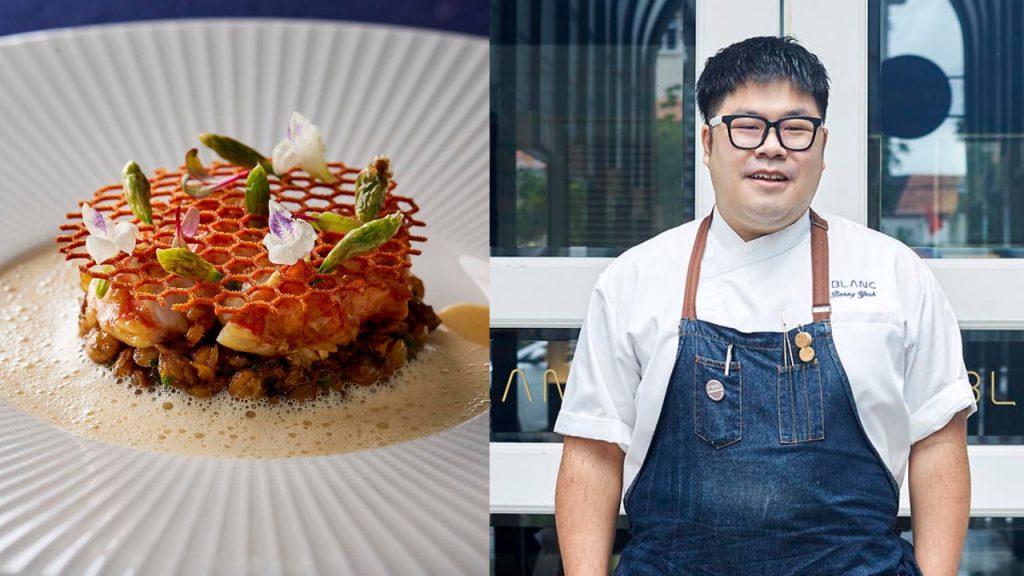 Up north, the latest iteration of Blanc Restaurant at the design-inflected Macalister Mansion is now helmed by returning Penangite Chef Benny Yeoh whose last port of call was the one Michelin-starred Corner House in Singapore.
The Swiss-trained Yeoh, with a decade serving in Singapore's kitchens from Justin Quek's Sky on 57 to Corner House, has always loved cooking and had nurtured dreams of running a traditional Chinese restaurant. Where he now finds himself is somewhat distant from what he imagined his chef career would pan out. But it's not like he's complaining, considering the sort of positive accolades which Blanc has been receiving since he took charge.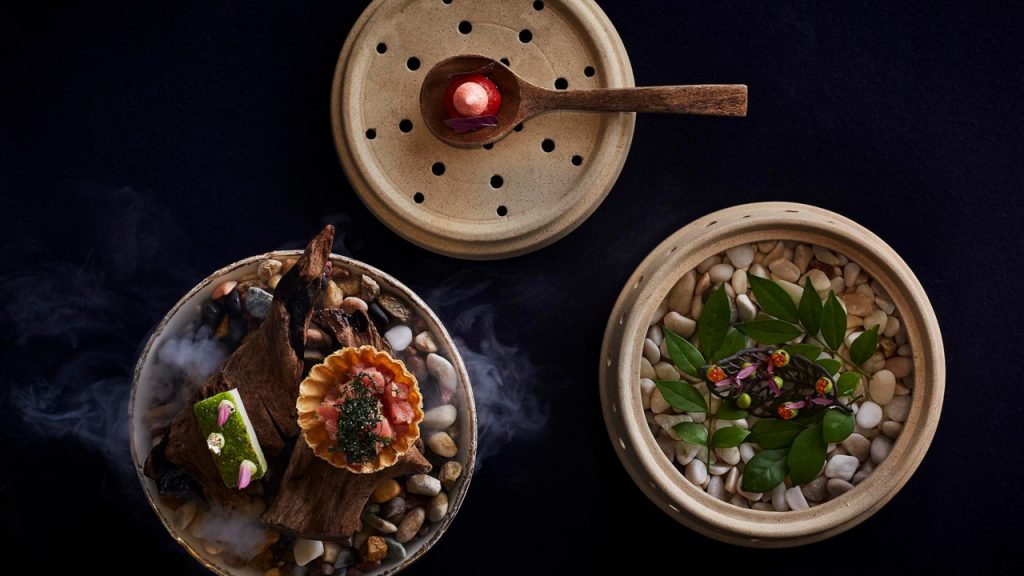 His revamp of the Blanc degustation-omakase menu is dependent on seasonal ingredients as well as the constant innovation which Yeoh and his kitchen team introduces. Here at Blanc, with its jazzy backdrop and swish interiors, Yeoh concocts his seasonal omakase menus (RM388+) with a philosophy to always stray from the beaten culinary path. His rendition of foie gras is a mousse braised in a broth of his own making, with controlled temperatures to ensure the sugars in the liquid don't burn. "Pan seared is done, it's important for me to showcase how ingredients can be presented in a much more unique way." The foie gras mousse is served atop a parmesan brioche toast and dusted with Szechuan pepper powder.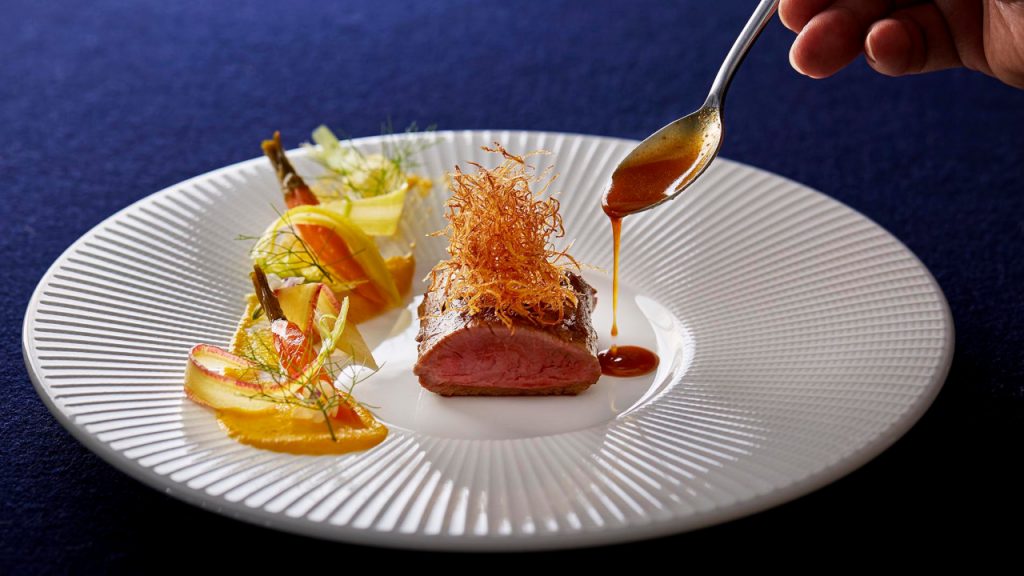 Yeoh's reverence for balance has also led him to make unique discoveries, replacing the zucchini flower with shisho leaf for tempura, due to the current weather making the zucchini flowers wilt quicker. This is paired with crab marinated with shallot cream, anointed with kaluga caviar, gold leaf and a side of zucchini tartare. A wok-fried abalone at high heat gives it an incredibly smoky, savoury character – with each morsel bursting with flavour, while the milder leek velouté functions as its counterpoint. Seafood, for Yeoh, will always be his first choice due to the multifaceted textures and tastes it offers. "You can do a lot with the sweetness of seafood," he says, adding that the shellfish and crustacean shells which pass through his kitchen are turned into very good stock and sauces. His Maine lobster comes poached and is served with classic French butter sauce, with a yuzu saffron emulsion adding a heady oriental tinge.
"I love what I do," Yeoh reflects, saying that the restaurant industry in Malaysia is changing for the better. He remembers how half of the kitchen team in Corner House comprised fellow Penangites, and is pleased to see that other fine-dine establishments in his home state have flourished in the decade since he left.
At Blanc, Yeoh is aided by Tay Phaik Joo, his wife who serves as the restaurant's pastry chef who showcases her love for details in the delicate pastries which provide the perfect segue to the end of the menu. Her fondness for classical desserts is augmented by her innate understanding of the local palate, leading to highlights such as; the Pearl of The Orient – an approximation of Penang Cendol with Adzuki bean, Gula Melaka and screwpine, texture of Japanese sweet corn with granola and smoked milk ice cream, as well as an apple terrine with mascarpone sorbet and rosemary.
---
Photos: Marcus Wong/MV Perspective & Law Soo Phye