The Samsung Galaxy Z Fold 4 is the ultimate trailblazing mobile/tablet action figure, taking both your work weeks and play weekends to the next level. Current foldable users will instantly note a sense of refinement in this new iteration and the fine-tuning has resulted in a more intuitive, tactile and flexible multitasker. For those considering joining the fold (pun intended), this may just be the model to convert them. More on the Galaxy Z Fold 4's features here. Close to two weeks of taking it on a test run, here's what we enjoyed most about the device.
First Things First
Those making their first foray into Android from a different OS universe will immediately note the ease of conversion through Samsung Switch. Any initial fear is abated and transferring data is fuss-free and a synch, the only minor hindrance being the security red tape laid out by WhatsApp.
While the Galaxy Z Fold 4 is lighter than its predecessor, it still manages to feel suitably solid and luxurious, its new elegant lines adding to its ergonomic tactility and handling. There is a certain gravitas and slight resistance to its opening and closing which only serves to augment its premium status. The Gorilla Glass Victus+ also adds to its durability and its resistance to water is reassuring.
And, Action!
Right off the bat, the Galaxy Z Fold 4 is a powerful and polyvalent tool, its shape-shifting capabilities very much appreciated given that we are able to check our notifications then open up to tablet mode for better readability or deeper exploration. It all makes seamless sense as we transition from closed to open naturally and there is no more need to fish out a separate tablet or even a laptop on-the-go.
The device really shines when in tablet mode, its ability to open up to three apps and several pop-ups at once going beyond mere talking point. A new Microsoft-esque taskbar now appears at the bottom so users are able to quick-drag apps in use into the windows of their choice. The Galaxy Z Fold 4 also possesses the flexibility to configure the size of these screens or fold at any angle if we change our minds as to how we want to use it midway. We find ourselves checking our emails on one window, scrutinising photos on a larger panel and replying our counterparts on WhatsApp on yet another. Plus, watching the six-minute standing ovation that Brandon Fraser recently received on YouTube in a pop-up window. All at the same time.
When opened at a 90 degree or wider angle, the phone is able to turn its bottom half into a keyboard or a handy track pad for your fingers, S Pen or S Pen Pro. Samsung's note-taking capabilities and its ability to transform handwriting into text is bar none. When paired with the greater real estate in tablet mode, it proves an indispensable tool. The device also allows certain apps to continue uninterrupted when folded so that video you have open can continue playing while you're on-the-go.
Bixby, Samsung's voice-activated assistant, is a nice surprise, turning out to be very helpful and an acute listener, picking up on our local inflections fast. Meanwhile, advanced features include motions and gestures that allow for a variety of operations via touch or tap. Thanks to these conveniences, it is possible to go hands-free, opening apps, turning the screen on and off, muting incoming calls and more, without even so much as touching any of the side and home buttons.
The new Snapdragon 8+ Gen1 chipset adds lightning speed, better efficiency and super smooth processing. This is evident when we play The Ants: Underground Kingdom with zero lag and a rich saturation of colours, enhanced by the device's larger configurations and Dolby Atmos sound. We are so busy with its proficiencies that we do not even notice the crease in the middle nor the under-display camera which has been cleverly camouflaged.
Despite so much going on, the battery life is exceptional, hardly making a dent in our estimates. Charging the phone, too, is fast – it takes a mere half-an-hour to reach 100 per cent from 50 per cent. The new and infinitely powerful 1TB option opens up the opportunities for work and play even further.
Snap-ready
The upgraded cameras on the Fold 4 make for some stunning shots as seen in some food snaps we took. Thanks to the 50MP rear camera, every nuance and detail is captured and automatically enhanced, instantly upgrading our usually inept food photography skills. Add to that the 10MP telephoto camera and its 3x optical zoom as well as the 12MP wide-angle 123-degree camera, and the only thing lacking would be one's imagination. The phone's foldable capabilities further supplement the level of photography, sometimes becoming its own mini tripod, other times providing unique angles to the photos itself.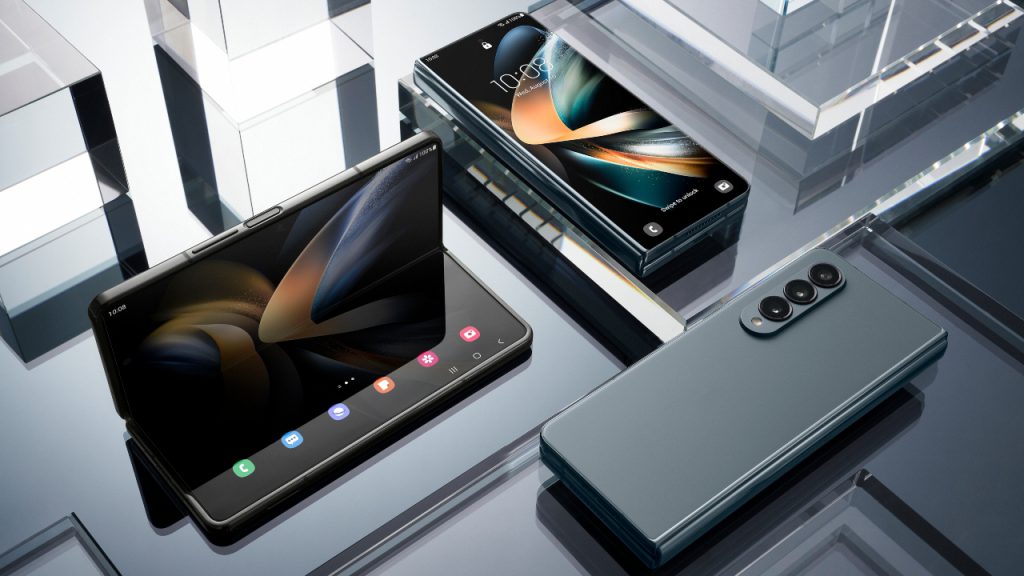 In the Spotlight
Of course, there's infinitely more to discover with the Galaxy Z Fold 4 and this article merely scratches the surface of what this latest version can do. We are suitably impressed and cannot get enough of its new, elegant lines and slimmer fit, its efficiency, intuitiveness and practicality. The latest foldable demonstrates incredible versatility, making it a multifaceted and indispensable companion that keeps up with our own varied interests and lifestyles, be it work, entertainment or play. Or all of it, all together.
The Galaxy Z Fold 4 is priced at RM8,299 for 1TB (online exclusive), RM7299 for 512GB and RM6799 for 256GB. Colour selections include Burgundy (online exclusive), Graygreen, Beige and Phantom Black. Current rewards include a complimentary Galaxy Watch4 Bluetooth 40mm worth RM799, Samsung Care+ 1-year extended warranty worth RM599 and three protective film replacements.
---