The lore of Johnnie Walker, the world's number one Scotch whisky brand, is often told and celebrated around the world, but it bears repeating, even if only via an abbreviated version. In 1819, the father of John Walker died, leaving him with a decision on what to do with the family farm. John decided to sell the farm and to open a grocer's in Kilmarnock, which he did the following year. Most, if not all, Scottish grocery stores had single malt whiskies on their shelves, but John was displeased at how inconsistent their quality was. So, he decided to start blending them together.
Then, in 1857, John passed away and left the healthy business to his son, Alexander, who launched Old Highland Whisky, Johnnie Walker's first commercial blended whisky product, 10 years later. Alexander would oversee three astute business decisions that catapulted Johnnie Walker to worldwide popularity: engaging ship captains to propagate his whisky as far as sails could go, utilising square bottles to reduce the chances of breakages, and tilting the bottles' labels at precisely 20 degrees to make them even more outstanding. Today, after more than 200 years, the Johnnie Walker blended whisky is sold in more than 180 countries and territories, featuring a diverse portfolio of Johnnie Walker Red Label, Black Label, Double Black, Green Label, Gold Label Reserve, Aged 18 Years and top-of-the-line Blue Label.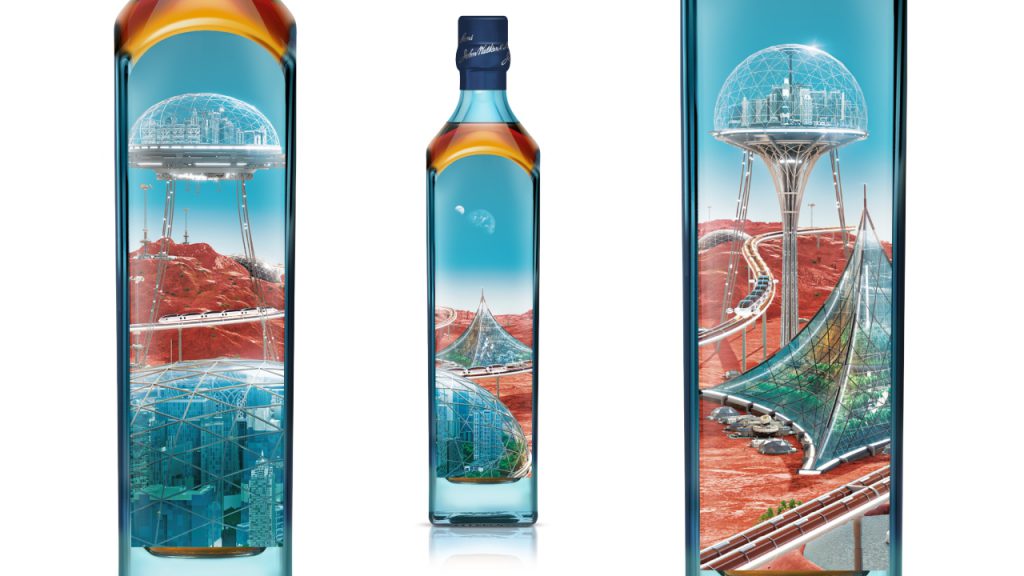 This year, Johnnie Walker Blue Label decided to embark on something a little unusual. Where other brands or products would be wont to create a retrospective to commemorate two centuries of success, Johnnie Walker Blue Label is instead looking to the future – to imagine what our world and where we'd live could look like. Although it's important to reflect and take stock of our journeys up until now, it is equally crucial not to rest on our laurels, to strive forward, and to visualise where we'd want to be in the future, both near and far. Hence, Johnnie Walker Blue Label is releasing the Cities Of The Future collection of limited-edition bottles, featuring illustrations of what these cities will look like in the year 2220 (that is, 400 years since John began blending whiskies in his humble grocery store). The cities chosen for this series are Bangkok, Berlin, Hainan, London, Mexico City, Seoul, Singapore, Sydney, Taipei and Mars – because both the brand and the artist who created the illustrated labels are confident humankind will surely be making a living and enjoying life on the red planet by then.
The artist Johnnie Walker has partnered with to conceptualise Mars and the other Cities of the Future is Luke Halls. The renowned British artist, who specialises in music, theatre and dance, has been producing video design and animation for more than a decade. He founded Luke Halls Studios, whose theatre works include prestigious pieces such as Don Giovanni and Otello, while his opera works include world-famous performances such as West Side Story and The Lehman Trilogy. His eclectic skill sets don't stop there, as he has also created video designs and tour animations for luminary musicians such as U2, Beyonce, Adele and more.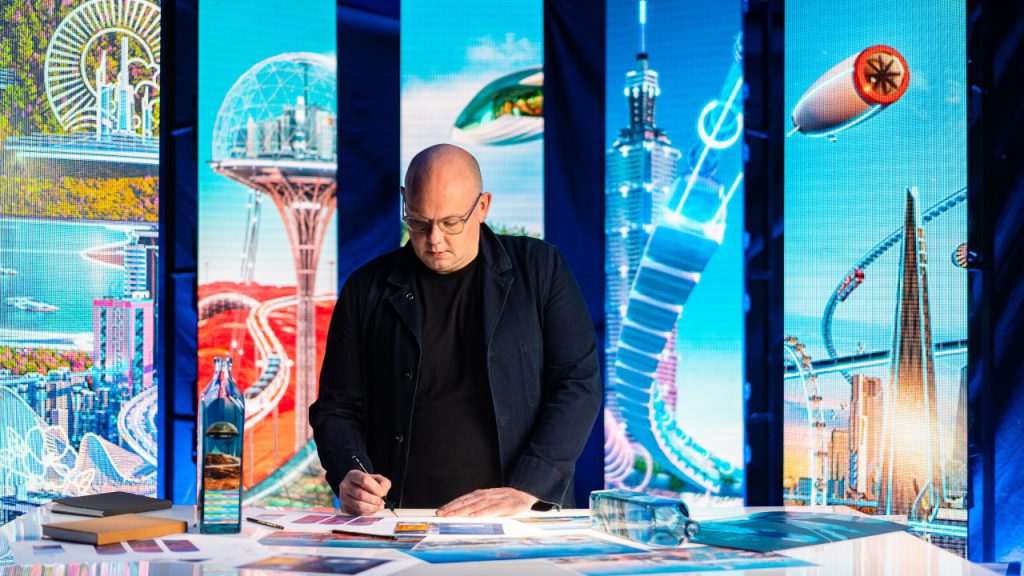 "The idea of continued collective progress in the world really fires my imagination. I love that Johnnie Walker is so forward-looking in its approach. That's why thinking about how planet Mars might look in the future is so interesting to me," Halls said in a statement. "What excites me is the chance to bring this to life with the same dedication to craft that the team brings to Johnnie Walker Blue Label. Part of the beauty of it is that the whiskies used to craft this exceptional Scotch have been laid down many years ago, so whisky makers have to look into the future and create a picture of the flavour that people will be enjoying in several decades' time – this is an extraordinary skill. I hope my glimpse of the future pays tribute to this expertise."
Halls' interpretation of Mars in the year 2220 envisions mankind as a multi-planetary civilisation that has ventured out into the galaxy, setting up bustling colonies on planets near and far, friendly and fearsome. As depicted on both the bottle and the packaging of the Johnnie Walker Blue Label Cities of the Future collection, the once-inhospitable Mars now overflows with life, energy and humanity, thanks to the labours of the second generation of so-called 'Martian' colonists. According to Halls, humans first created geodesic domes on Mars as part of the transition to life on a new planet, and then continued terraforming Mars for more than a century. This is why it is only the children of the early settlers who have begun reaping the fruits of those efforts – green life now blossoms outside the glass walls that the 'Martians' call home.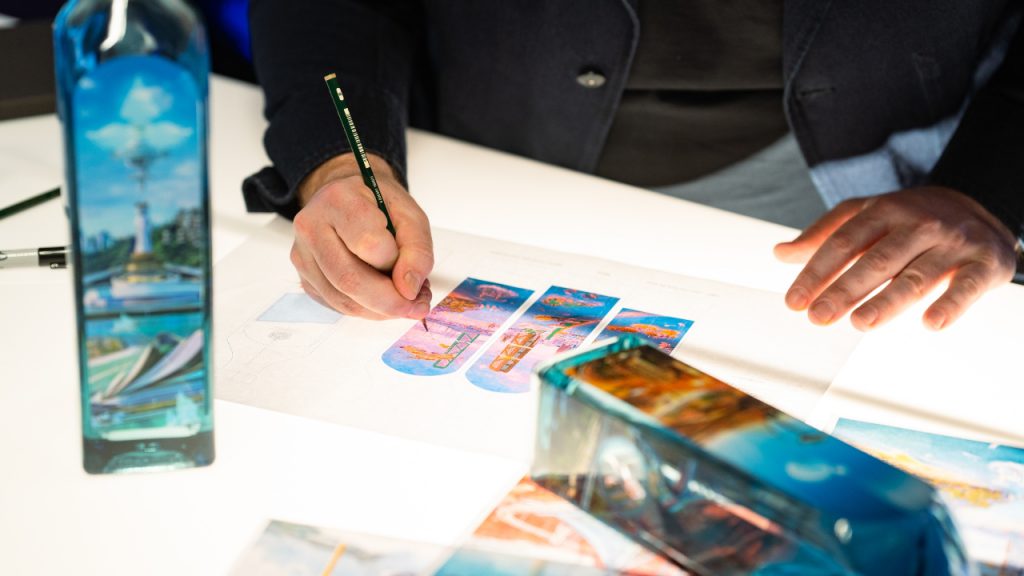 Other themes evident throughout the Mars edition of Johnnie Walker Blue Label Cities of the Future bottles cover a wide range of futurology interests, such as artificial intelligence empowerment, geoengineering, inventing technologies to defy the laws of physics, and glimpses of Earth and the moon. The place we once called home are powerful reminders that, when we can set aside our differences and walk forward together, we have the collective capabilities to go from blending whiskies in a quaint little grocery store to serving velvety smooth Scotch whisky beverages to millions of fans around the world; to push the limits of what's possible; and to go from here to infinity – and beyond.
"Like those who came before us, we stride forward with eyes firmly on the horizon, moving toward a future teeming with endless possibilities and a belief that we can, together, create a better tomorrow," says Emma Walker, Johnnie Walker's master blender. "Working with Luke, we believe it will embody the vision of the brand."
To further immerse yourself in that vision, each bottle of Johnnie Walker Blue Label Cities of the Future Mars edition has a unique NFC feature that will transport you into the heart of Halls' world. It's yet another example of how the brand leads the way in bringing the best experiences, flavours and Scotch whiskies to its fans since its inception in 1820. "For over 200 years, the Johnnie Walker brand has been the pioneer of delivering exceptional Scotch whiskies to whisky lovers worldwide," says Madhan Ramasubramanian, marketing director of Diageo Malaysia and Singapore. "Looking into the future, Johnnie Walker Blue Label strives to deliver its luxurious whisky with depth of flavour and its futuristic progressiveness to be enjoyed and loved by Johnnie Walker fans."
Cities of the Future
There are a total of 10 cities in this limited-edition Johnnie Walker Blue Label Cities of the Future collection. Together with digital artist Luke Halls, Johnnie Walker has created visions of the future of Bangkok, Berlin, Hainan, London, Mexico City, Seoul, Singapore, Sydney, Taipei and Mars. Here are some highlights from the collection.
London
In the 23rd century, the English capital is a wind-powered metropolis featuring aerial trains, flying 'peakbuses' and sky parks. Green spaces can be found all along the lightweight geometric skyscrapers and classical architecture.
Mexico City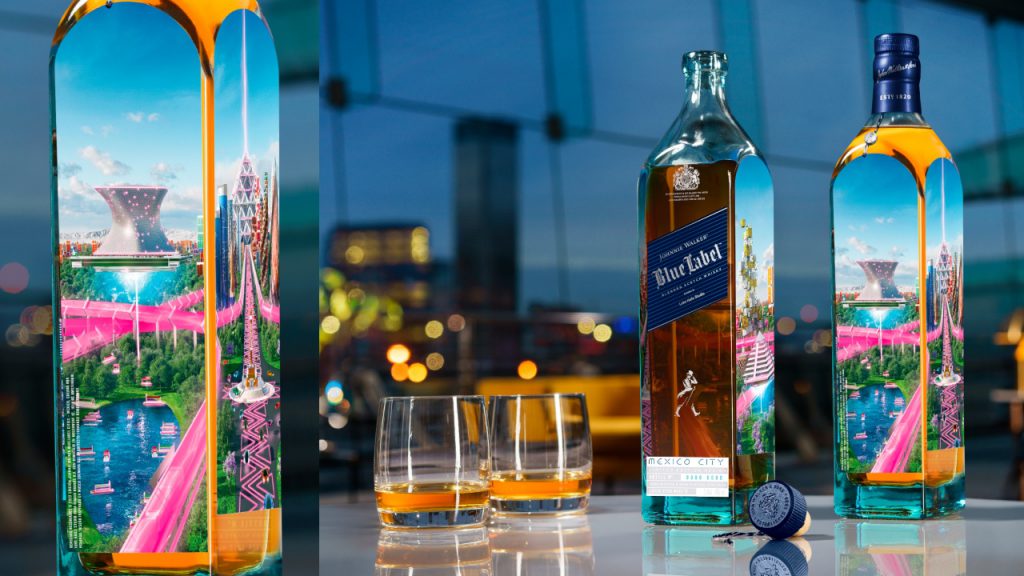 Thanks to a successful artificial intelligence implementation, Mexico City has expanded upwards, with hovering restaurants and technicolour papel picado (traditional Mexican decorative papercraft) floating in between the skyscrapers. The self-driving Xochimilco flying boats enable citizens to commute to work or to relax while sightseeing.
Sydney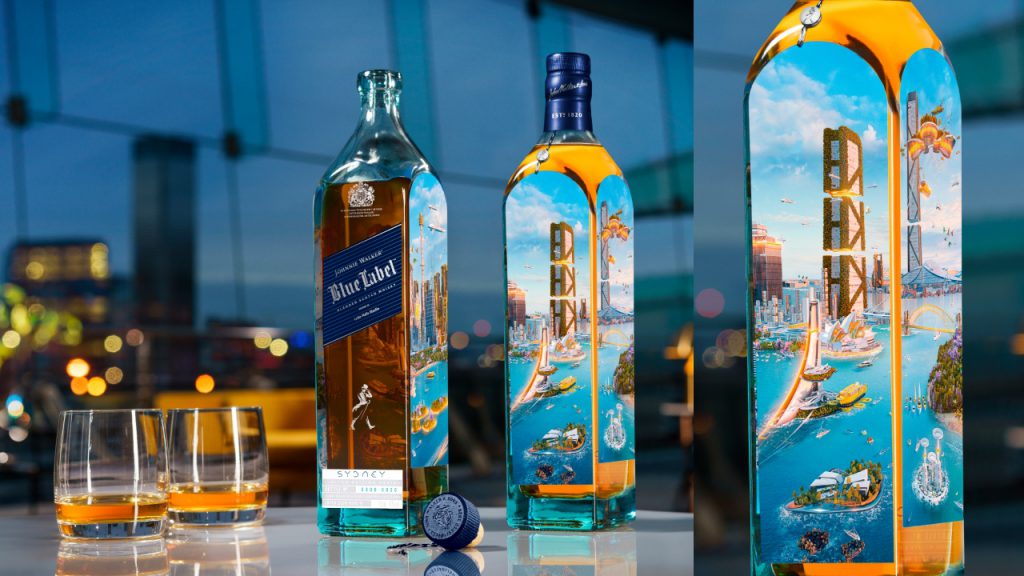 Two centuries worth of geoengineering innovations have resulted in giant plants and trees providing clear air, cool shade and a magnet for tourists in Sydney. Water taxis and hyper-light sailboats dart across the harbour, while hydroelectric and solar energy power the megalopolis.
Taipei
In 2220, Taipei has gone completely car-free. Lush parks and vibrant gardens have replaced all roads and highways, while pedestrian pathways and cycling paths are the dominant mode of intra-city travel – even up Elephant Mountain. All its buildings, both shophouses and skyscrapers, have been fitted with mass damper systems to protect everyone from earthquakes, typhoons and other natural calamities.
The Mars edition of the Johnnie Walker Blue Label Cities of the Future collection will be available in Malaysia at RM1,055 per 75cl bottle from December.
---