The chefs of Malaysia's finest hotels have created mooncake flavours both perennial and unconventional, from the baked to the snowskin, so that you can usher in the Mid-Autumn Festival with your favourite delicacies. If our initial list of eight top restaurants in Kuala Lumpur with tantalising mooncakes didn't satiate your appetite, we've curated a list of an additional seven F&B establishments where you can get your hands on delectable and stylishly packaged mooncakes. 
The Ritz Carlton Kuala Lumpur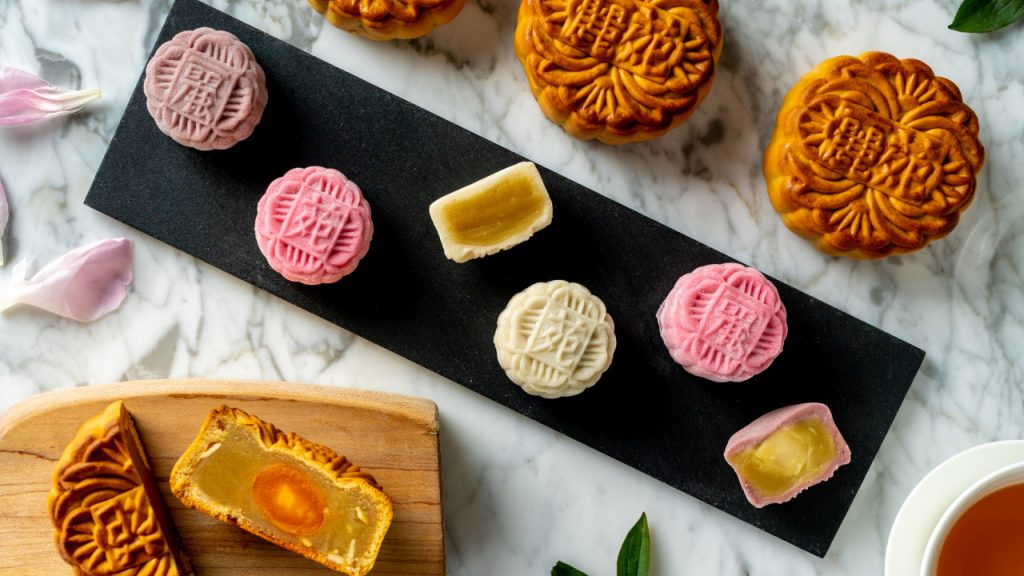 Dim Sum Chef Tan at the award-winning Chinese restaurant Li Yen presents a curated selection of artistically handcrafted mooncakes. Besides the traditional variety such as White Lotus Paste with Double Egg Yolk (RM38 each), the chef has elevated the delicacy with the Moët & Chandon Champagne Snow Skin Series with the exclusive Rosé Imperial Champagne Mini Ping Pei (RM25 each) selection being the favourite. The champagne brings an elegant and distinctive aroma to the fine snow skin to make each bite memorable. Another sumptuous flavour is the Cream Cheese with Port Wine Mini Ping Pei (RM23 each). To place an order, Whatsapp or call +60186468033.
---
JW Marriot Kuala Lumpur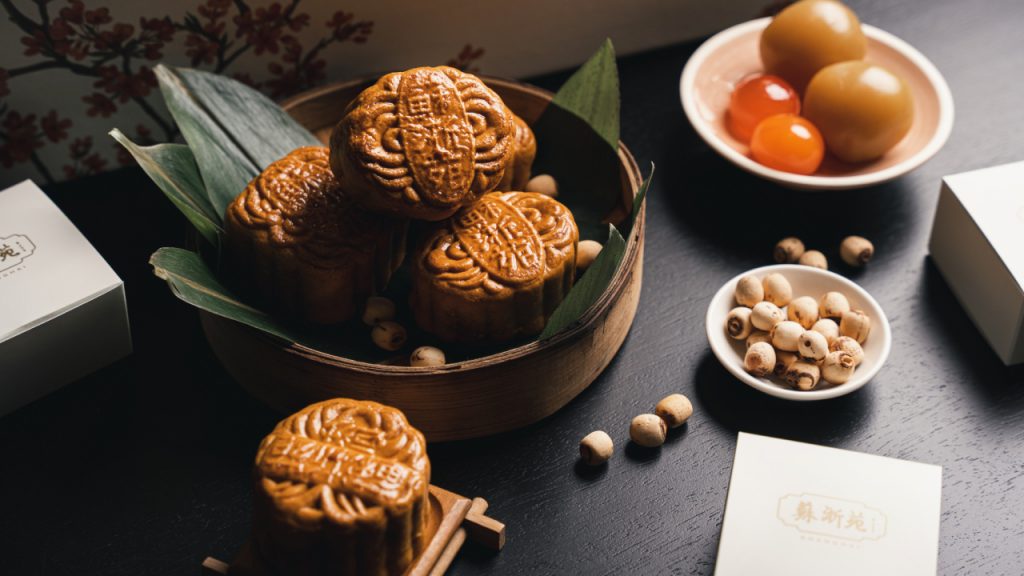 Like its name, the Shanghai restaurant channels the charm of its namesake region through its glamourous modern Chinese décor. Celebrated for its fine dining experience, its menu now expands for the season to include a curated selection of traditional baked mooncakes, each handcrafted by its chefs with pride. Savour intricately made baked Shanghainese mooncakes with luscious fillings such as their signature large-sized Crispy Yellow Lotus Paste with Salted Egg Yolk (RM38 each). Meanwhile, dessert enthusiasts can indulge in mini mooncakes like the Baked Tiramisu Paste with Salted Egg Yolk. (RM23 each) To place an order, Whatsapp or call +60185918537.
Meanwhile, the hotel's Luk Yu Tea House also offers a collection of snow skin mooncakes such as the Charcoal Crystal Mooncake and Chilled Snow Skin Mooncake with Aromatic Durian Purèe (Box of six for RM98+). To place an order, Whatsapp or call +60186328060 at least 48 hours in advance. 
---
The RuMa Hotel and Residences
Housed in a luxurious wooden case with an intricate pattern reflecting the latticework of the award-winning hotel's porte-cochère are two mooncakes in two classic flavours: red bean paste, and lotus paste with double egg yolk. The beautifully packaged gift is priced at RM128 nett, with a 20 percent discount for purchases of two boxes or more. 
Visit their website or arrange for pick-up at the hotel.
---
Sheraton Petaling Jaya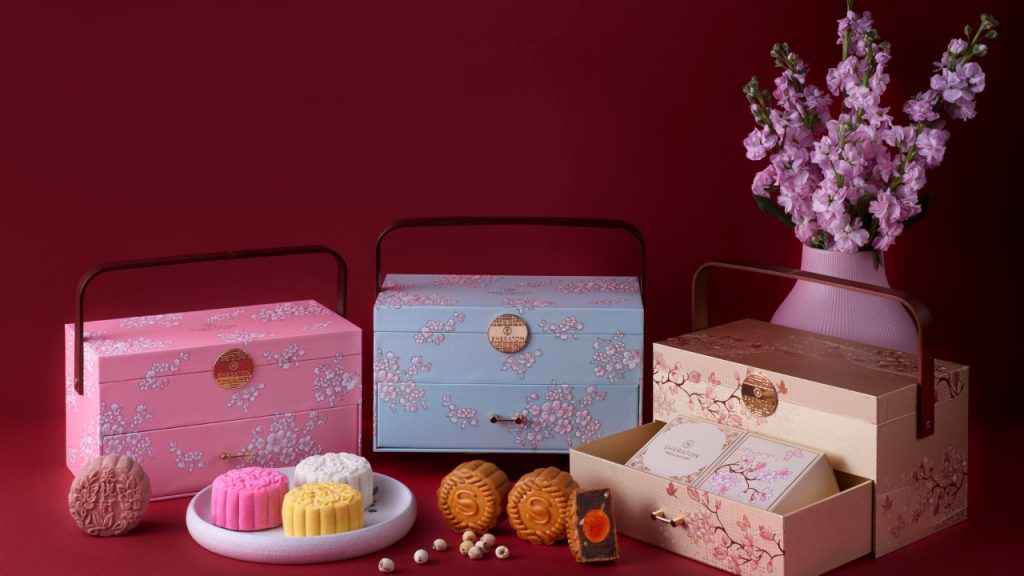 To usher in the festival, the hotel offers a diverse array of mooncakes in four opulent box designs: Gold, Turquoise, Pink, and a limited-edition Floral Symphony print from RM128nett onwards per box. Chef Ben Lim of their premier YUE restaurant has crafted an ensemble of snowskin mooncakes enhanced with a flavoured crémeux at the centre such as Belgian Chocolate and Lemon & Truffle. Otherwise, opt for the traditional variety such as Pandan-Lotus Paste with Single Yolk or elevate your experience with the Premium Baked Mooncake filled with Black Truffle Lotus Paste and Single Yolk. All box sets include a complimentary RM100 voucher for selected F&B venues at the hotel.
Visit their online store, call 0172286098, or email [email protected].
---
Grand Hyatt Kuala Lumpur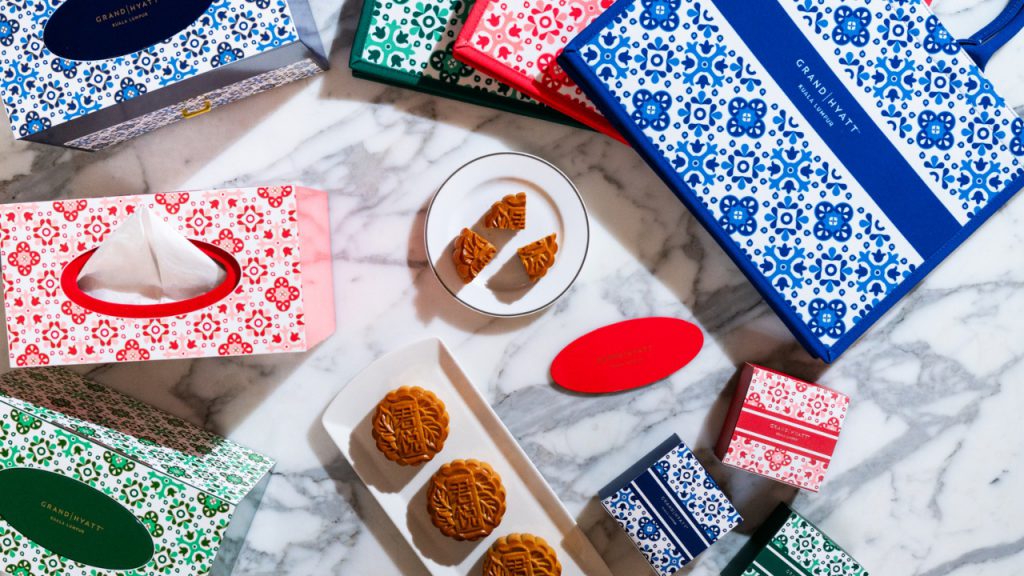 The Peranakan Trails collection draws inspiration from the community's rich heritage and harmonises traditional designs with modern settings. Meanwhile, the Peranakan Trails Premium Collection (RM308 nett)—in choices of Royal Blue, Crimson Red, or Emerald Green—consists of four mooncakes, a multipurpose jewellery box and a tote bag. Or, how about augmenting your Mid-Autumn Festival celebrations with the Peranakan Trails Limited Edition Tea Set (RM388 nett)? It includes a two-tiered hand-carved box, handcrafted wooden tongs, a Chinese teapot set, Premium Chinese tea, and two mooncakes. 
Visit their online store or call +60321821234 to order. 
---
Shangri-La's Rasa Sayang Resort & Spa, Penang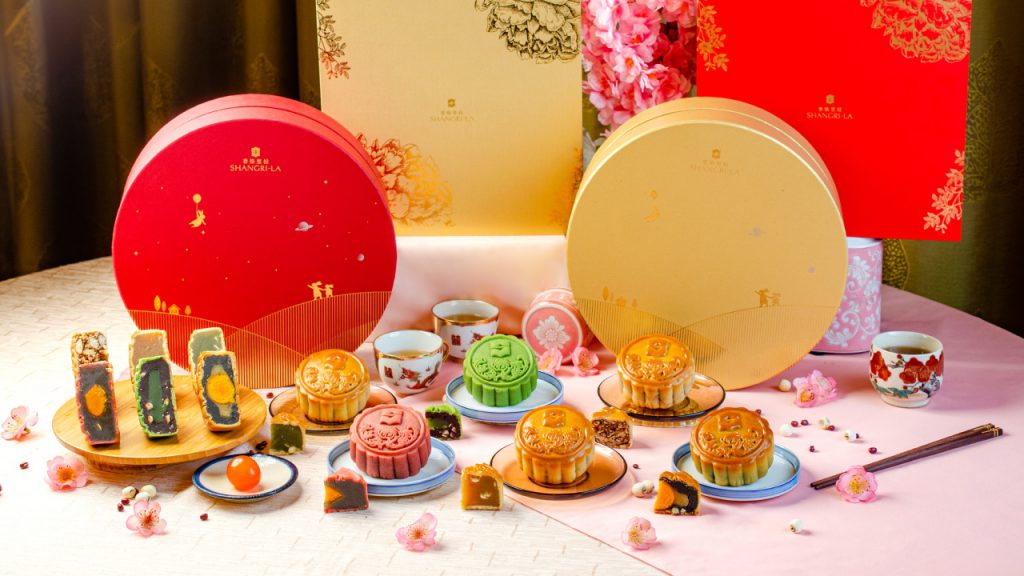 Bring home the hotel's specially curated classic baked mooncakes, presented in beautifully designed gold or red boxes. Choose from a selection of 11 delectable flavours ranging from Pure Lotus Single Yolk, Taro Single Yolk, Mixed Nuts, Precious Black, Tiramisu, Green Ruby, Red Bean, Low Sugar White Lotus, Pearl of Harmony, Pandan Lotus, and Pearl of Prosperity. These are available as part of a Fabulous Four set (MYR 168) or Extravagant Eight set (RM278 per set), with a 10 per cent discount for Shangri-La Circle members.
Visit their online store or Whatsapp to +60194090460.
---
InterContinental Kuala Lumpur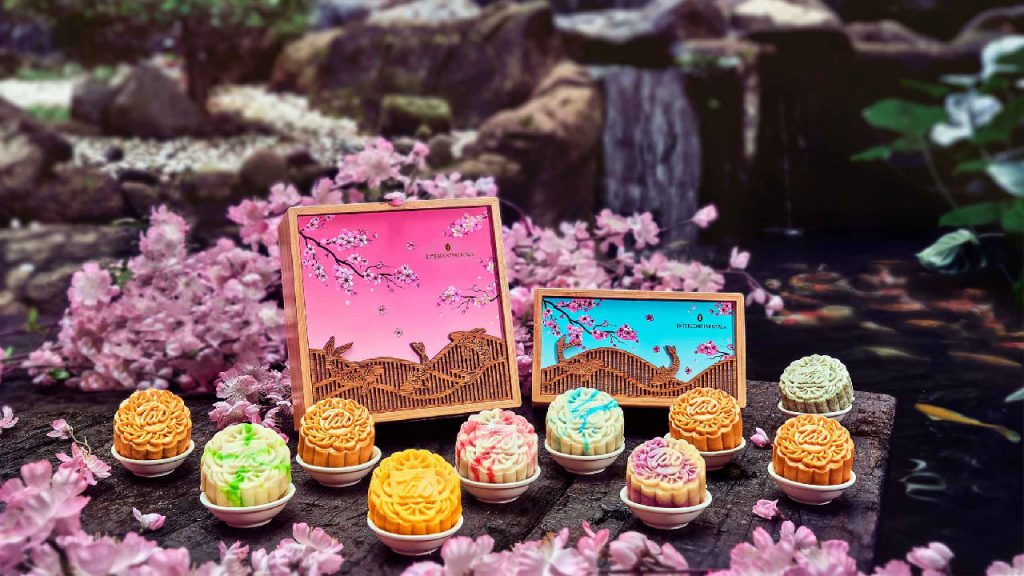 Featuring the works of award-winning Tao Chinese Cuisine restaurant, InterContinental Kuala Lumpur presents the 'Moonlit Garden' collection available in two different box designs, 'Moonlit Waters' and 'Moonlit Blossoms'. Indulge in classic traditional favourites as well as inventive new flavours such as the Musang King Durian Snow Skin with Oats, Baked Almond Purple Sweet Potato Skin with Pandan Paste and Butterfly Pea Flower Snow Skin with Bird's Nest and White Lotus Paste. Its mooncake boxes are customisable to your own preferred flavours. The two-piece 'Moonlit Waters' set comes in two options, a Classic (RM138 nett) and a Premium (RM168). While the four-piece 'Moonlit Blossoms' comes in three options of Classic (RM178), Premium (RM228) and Luxe (RM288 nett). Alternatively, you can also enjoy single, a-la-carte pieces priced at RM40 onwards.
Visit their online store or the hotel lobby.