The Mid-Autumn Festival may be almost two months away on 29 September, but this means that it's already time to start preparing for family reunions or to share the gift of good fortune with seasonal delicacies. Every year, it's interesting to see the innovative flavours and the artisanal gift boxes that are unveiled by the most elite establishments in Kuala Lumpur, and we've rounded up a list of some of the finest selections in town.
---
Mandarin Oriental Kuala Lumpur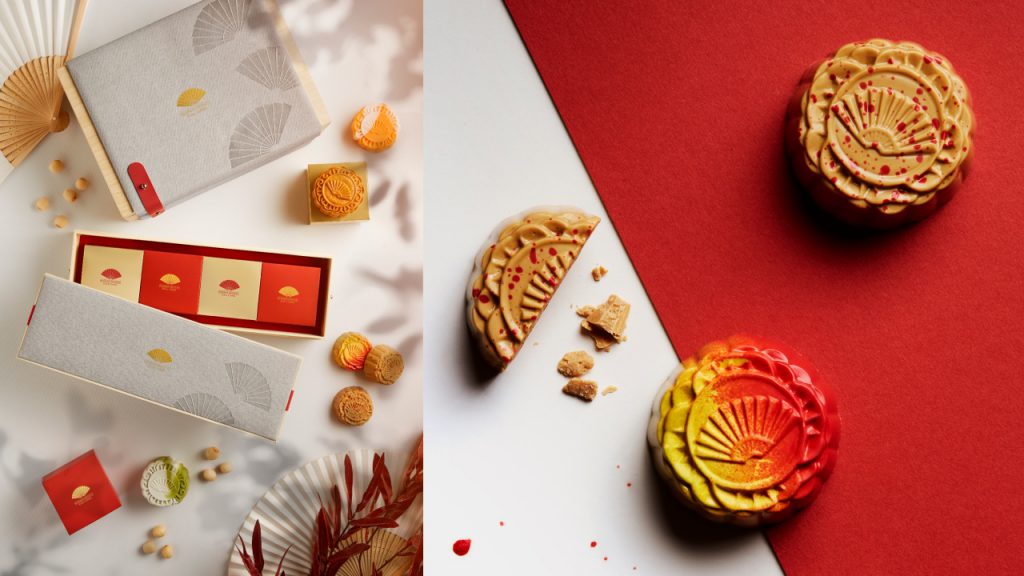 The hotel's award-winning Cantonese restaurant Lai Po Heen presents its mooncakes in an eco-friendly bamboo box lined with red velvet—elegant by sight and touch. French Executive Pastry Chef Kevin Pannier presents a range of decadent chocolate mooncake creations (RM40 onwards per piece) such as the Dulcey Chocolate with Raspberry and Peanuts Malaysian Dark Chocolate Ganache. Halal-certified traditional baked mooncakes are also available in a variety of flavours, such as Assorted Mixed Nuts as well as snow skin mooncakes such as Musang King Durian. For a true taste of luxury, The Golden Moon made in edible gold is available in two flavours. 
Visit their online store or the Mandarin Cake Shop in the hotel lobby.
---
Shangri-La Kuala Lumpur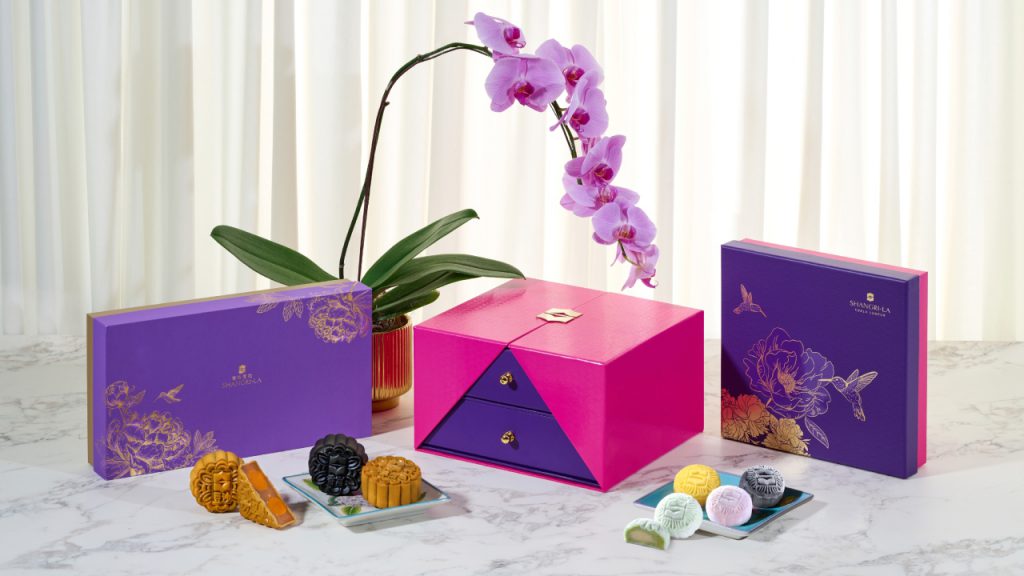 13 exquisite renditions of the mooncake (RM38 per piece onward) have been created using prized ingredients, including the Summer Black Truffle Lotus Seed Paste with Single Yolk mooncake and Bamboo Charcoal Skin with Pandan Lotus Paste & Single Yolk. Every purchase of four pieces comes with a Deluxe Gift Box inspired by the enchanting world of Asian florals. There are a total of three thoughtfully curated mooncake gift sets with an assortment of eight pieces including the Musang King Ping Pei Gift Box (RM539 nett) 
Visit their online store or the Mooncake Booth in the Main Lobby, with a 15% Early Bird discount until 10 August.  
---
W Kuala Lumpur
Every year, their collections celebrate the vibrant and fun culture of the hotel—and 2023 is no different. The Limited Edition Moonlit Mirage Collection bag (RM268 nett) is an actual carrier that comes in Iconic Blue and Enigmatic Purple. It includes four luscious mooncakes flavours of your choice, such as  Lotus Seed Paste Double Yolk, Red Bean with Tangerine Peel, Jasmine with Red Dates, and Pu Er with Lychee. 
Visit their online store, the Ground Floor of the hotel, Pavilion KL at Level 6 (4-29 September) or One Utama, Ground Floor Centre Court, Old Wing (20 September – 1 October).
---
Hilton Kuala Lumpur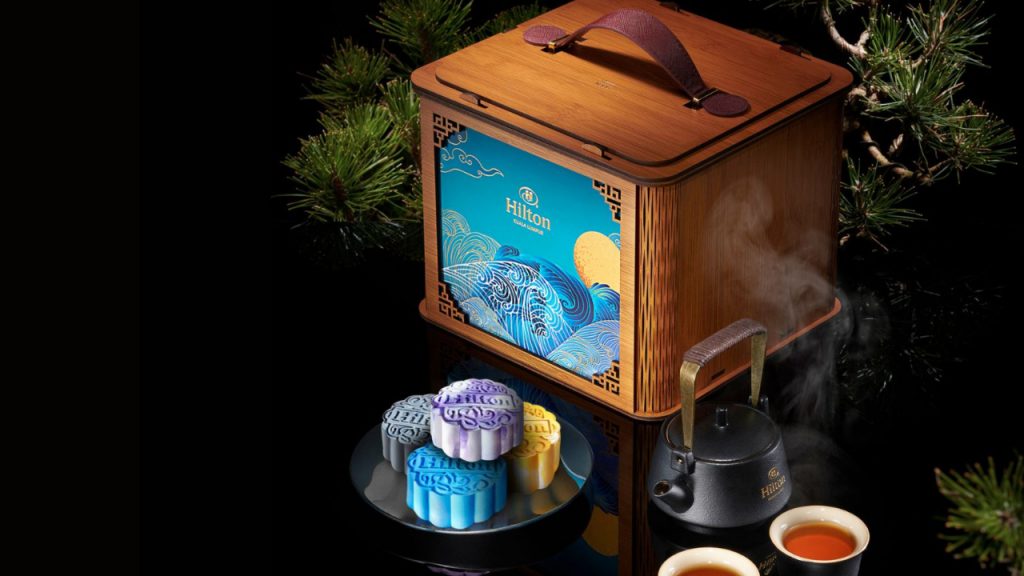 Their premium mooncake collection 'Luminous Treasures' is available in three different thoughtfully crafted sets. Our selections include the collection's namesake Premium Box (RM198 onwards), which is crafted with sustainable bamboo materials and includes a teapot and two tea cups to enhance the celestial flavours of the festival. It is available in three variations: Traditional Bakes, Artisanal Snow Skin, and Heavenly Gold. Another set is the Supermoon Series (RM329.80 onwards), the perfect gift that features two opulent porcelain dishes and a jumbo-size mooncake that serves up to 10 people. Traditionally baked moon cakes are also available à la carte (RM40.50 onwards). 
Visit their online store or their hotel lobby. 
---
Four Seasons Hotel Kuala Lumpur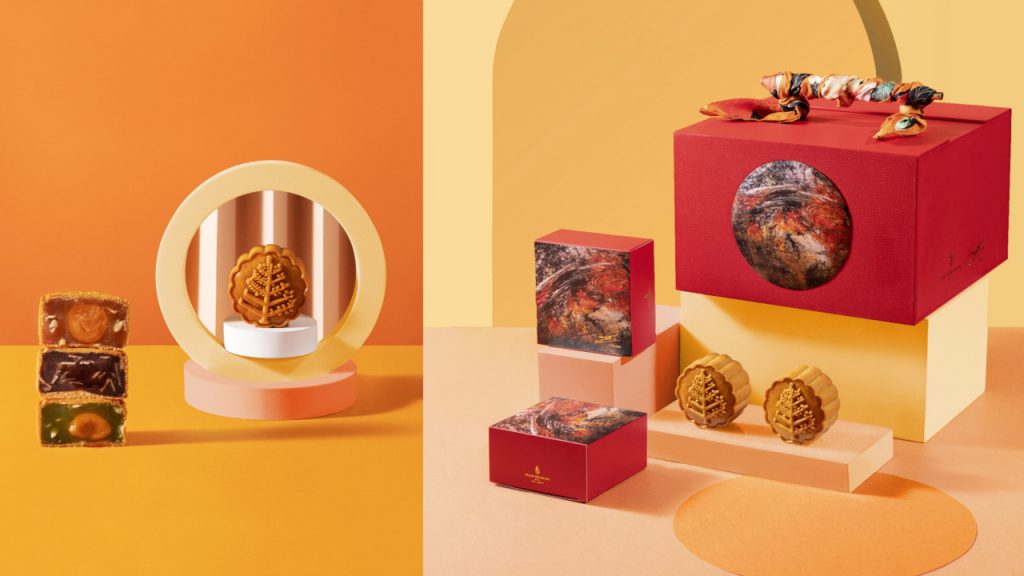 Elevated Cantonese restaurant Yun House, helmed by Hong Kong native Executive Chef Jimmy Wong, presents its yearly line-up of mooncakes featuring the iconic Four Season logo. Classic Baked Mooncakes flavours range from the traditional to the innovative such as Puer Tangerine with Lotus. Snow Skin Mooncakes also come in an array of delightful flavours, such as Bird's Nest with Black Sesame and Almond as well as Chocolate Lotus Paste with Himalayan Salt. Eight of these beautifully crafted mooncakes are packaged in limited-edition gift boxes with bespoke designs by C. N. Liew, the acclaimed contemporary ink artist. The mooncakes are priced from RM42 to RM78 (per piece), and from RM336 to RM624 (per gift box containing 8 pieces).
Visit their online store here.
---
St. Regis Kuala Lumpur
The taste of the mooncakes will not only dance in your mouth, but their two meticulously crafted trunks are also a sight to behold thanks to the enchanting combinations of pastel blue exteriors and inner suede in soft pink hues. The Limited-Edition Swarovski Super Mooncake Trunk with dazzling Crystals from Swarovski (RM668) on its exterior is a remarkable piece, the first of its kind in Southeast Asia. To elevate the celebration, there are bundle options such as the addition of The Macallan Double Cask 12 Years Old (RM1,368). Meanwhile, the Classic Trunk (RM360 for 4 pieces or RM455 for 8 pieces) showcases an elegant pastel blue faux-leather design adorned with gold studs and a clasp. Nestled within are either the classic white lotus seed paste with a single yolk in an individual size, or the signature 6.5-inch super mooncake with eight yolks.
Visit their online store here or their hotel lobby.
---
Pavilion Hotel Kuala Lumpur & Banyan Tree Kuala Lumpur 
The hotels introduce two box sets that each pay tribute to their respective rich cultures. The first is Peranakan Treasures (RM288), which features a cultural fusion of four flavours such as Pandan Lotus Paste with Malacca Dodol and Nyonya Red Bean Paste with Salted Mung Bean Filling. These come in an elegant blue drawstring pouch that is placed within a stunning Peranakan chest of drawers adorned with Nyonya motifs. Garden Treasures (RM188) includes four intricately designed mini boxes of indulgent and well-loved flavours like Yam Lotus Paste With A Single Egg Yolk. These are placed within a traditional mooncake box embellished with illustrations that resemble a timeless floral Chinese painting.
Visit their online store or the respective hotel lobbies, with a 15 per cent Early Bird discount until 30 September.
---
EQ Kuala Lumpur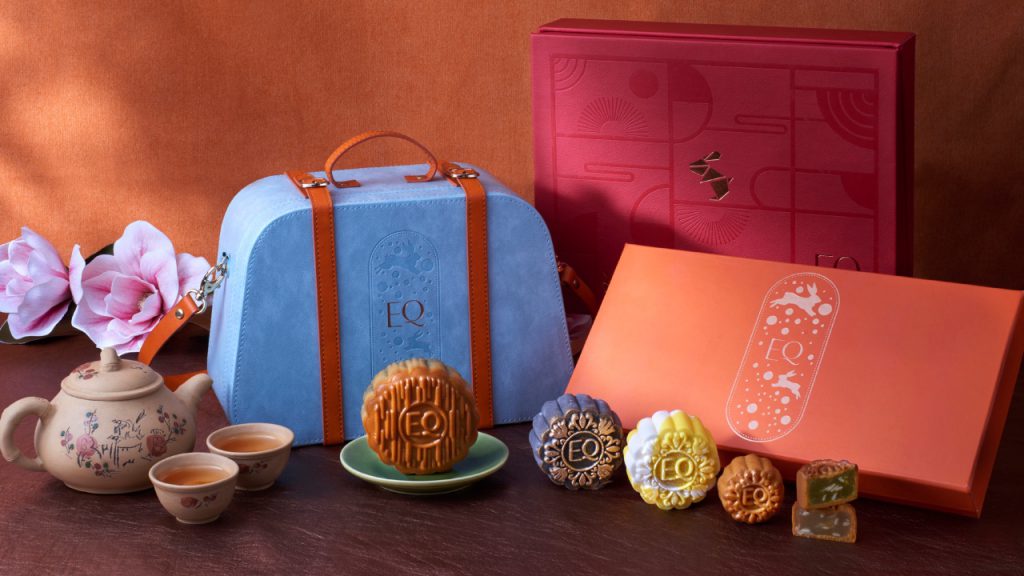 EQ continues the tradition of gratitude gifting with traditional baked mooncake (RM28 – RM38) variants, mini-baked mooncakes, and those of the snow skin (RM28 – RM48) variety such as Butterfly Pea Flower Vitagen White Lotus and Emerald Yuzu Pandan. These are all available in several gorgeous gift boxes with the finest being a Premium Collection Box, a luxury classic red PU leather case. These include either four baked mooncakes and a premium Liquor VSOP (RM888), or four snow skin mooncakes and Bottega Prosecco Gold (RM688). 
Visit their online store or the pop-up booth at the hotel lobby, with an 15% Early Bird discount until 31 August.