In Geneva this year, one of Montblanc's timepiece highlights was a new version of its 1858 'The Unveiled Secret' Minerva Monopusher Chronograph. First launched the year before, it took a Minerva 16.29 calibre—a nearly 100-year-old design—and flipped it around, putting its back on the dial side to make it easier to showcase. The caveat is that the hands had to be redirected to revolve opposite to their usual direction, which necessitated an extra 21-component geartrain.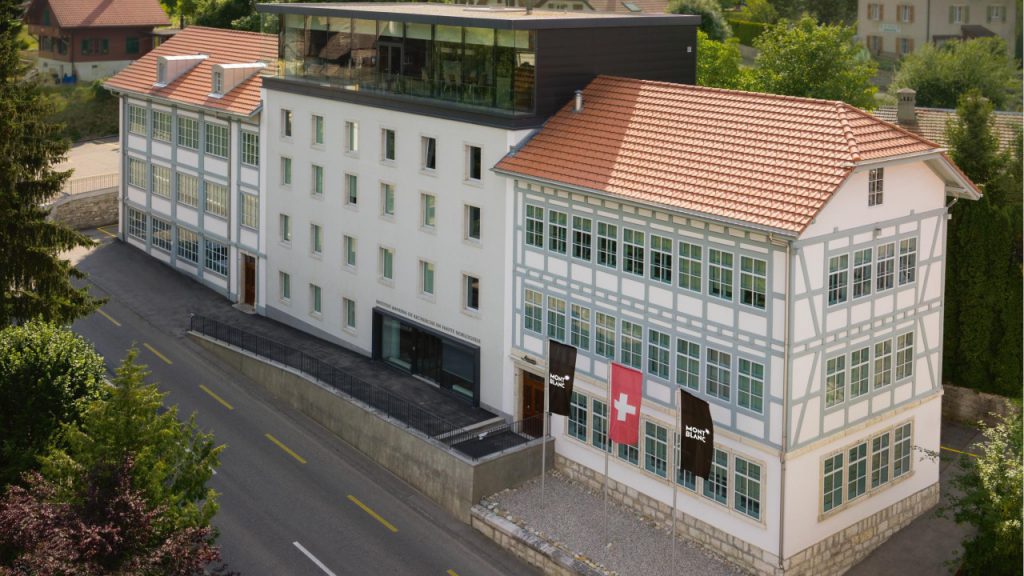 It was particularly well-received by fans of Minerva, the manufacture founded in 1858 that passed into the Montblanc fold in 2007. Minerva was a high point of the golden age of Swiss watchmaking. Its chronographs were highly reputed, and during the 1910s developed 1/5th, 1/10th, and even 1/100th of a second timekeepers. It later became especially known for its monopusher wristwatch chronographs, and was also the official timekeeper for the 1936 Winter Olympics. The manually wound chronographs of this era are generally vaunted for their complex mechanical beauty, and Minerva is no exception. 
The new version of 'The Unveiled Secret' (RM165,500 and limited to 88) has a steel case with a uniquely distressed finish, with its black PVD coating worn into a dark grey and completely through at some edges to expose bare metal. There are more than a few ways to patinate a watch in similar fashion, but this one is unique. Each case is put in a rotating barrel packed with stones—not just any stones, but quartzite from Mont Blanc (the mountain the brand is named for) and limestone from the locality of the Minverva manufacture in Villeret, Switzerland. After two-and-a-half hours of being jostled around, the stones are worn into sand and the cases have their distinctive look.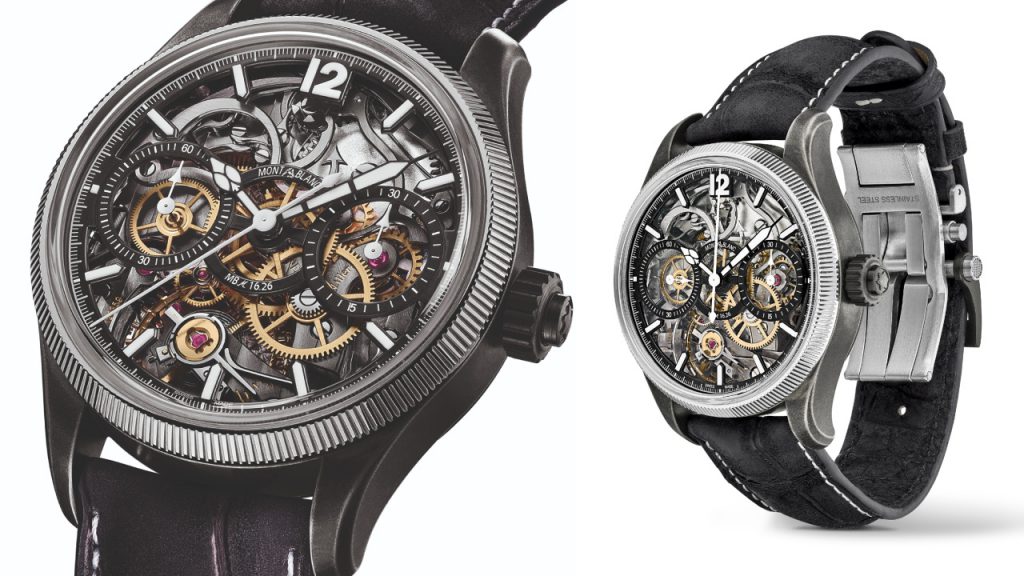 There must have been an easier method to achieve such a finish, but for Laurent Lecamp, the Managing Director of the brand's watch division, it was about sending a message. "Minerva is the high-end part of Montblanc timepieces, respecting the traditional savoir-faire of Switzerland," he describes. Montblanc's other principal watchmaking location is only about half an hour away in Le Locle, where a more industrialised facility can produce tens of thousands of watches per year. By contrast, Minerva makes only about 300. "But it's extremely connected," Lecamp says. "For me, I don't see any distinction. I have two offices—in Le Locle and Villeret. Two days here, two days there, every week. And I come to Villeret with ideas from Le Locle, and I come to Le Locle with ideas from Villeret." The two manufactures have separate watchmaking streams, but they share talent, research, and a design team. Montblanc's Geosphere complication, for example, is not assembled at Minerva but it was developed there. At the same time, Minerva is on the receiving end of technologies such as interchangeable straps and laser-oxidised titanium as a case material. The stone-abraded finish, then, is a simple message. "Montblanc is Minerva, and Minerva is Montblanc," Lecamp says.
The Minerva manufacture, however, largely operates as it once did. In the vein of many of these old manufactures, it is an unassuming building perched right next to a small-town road, with its two wings outfitted with numerous large windows that hint as to the demanding light requirements of the professions within. Only about 30 people work here, about seven of them watchmakers. As is so often the case, the view is quite charming—houses and stonework churches give way to rolling meadows before coming up against mountains. La Combe-Grede is a distinct mountain gorge formation in clear view of the manufacture's front door, forming a pronounced V-shape. It is said to have inspired the V-shaped bridge that is a signature of Minerva movements, a point of pride for the manufacture as the deeply cut corner is particularly challenging to finish. It would also be impossible to do by machine—not that it has ever likely been considered here.
Inside is a surprisingly integrated facility. CNC milling machines carve out components on the ground floor. All movement components except for screws can be made on-site—and yes, this includes hairsprings. One small room is dedicated to the creation of these finicky components, a capability the manufacture has had since the early 2000s using its own proprietary alloy. The production is small, and reserved only for Minerva movements.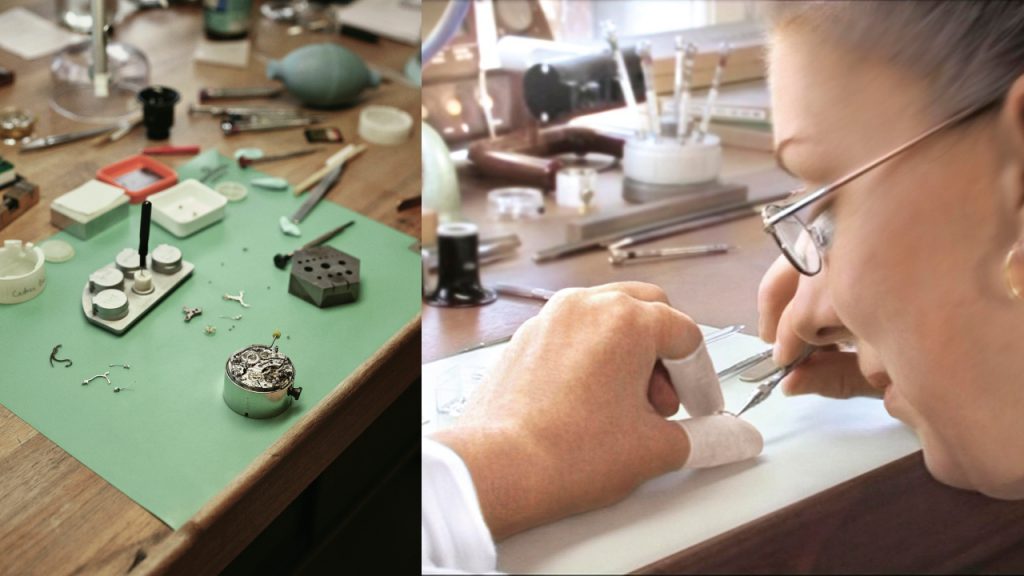 The finishing and assembly stages are done in the manner of generations before. Components, including German silver bridges and plates, are polished, sometimes using 100-year-old tools and sometimes by hand, and sometimes using the woody stems of the gentian plant, picked from nearby fields, yet another age-old technique. Movements are then painstakingly assembled and—because precision and fine adjustments are especially important to chronograph movements—typically disassembled, cleaned, and reassembled a final time.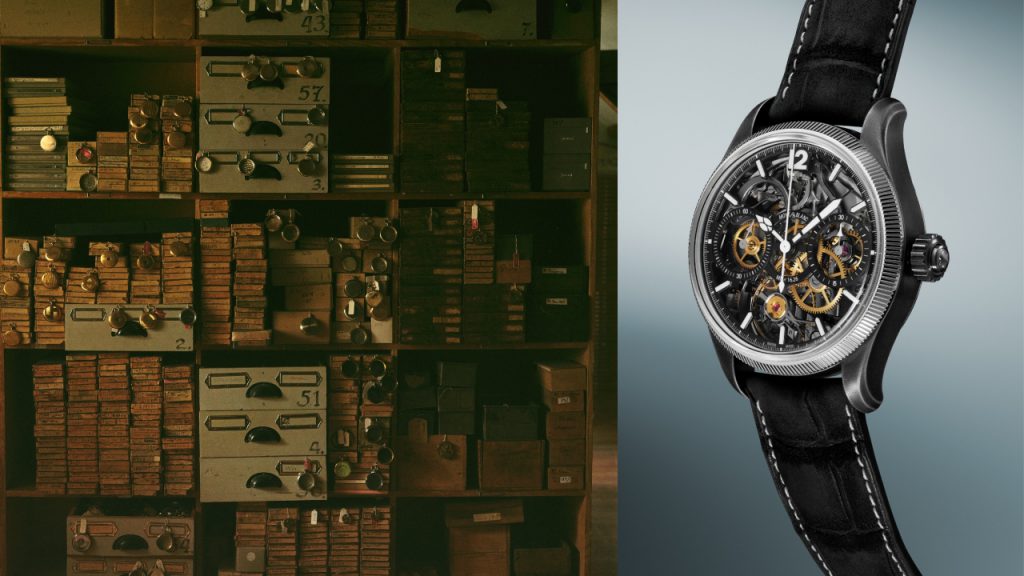 "The business has never been discontinued," Laurent Lecamp points out, noting that careful management kept the manufacture alive even if it lost much of its relevance during the quartz crisis. "For me, it has a very strong energy behind it." Minerva can repair any movement it has ever created, all the way back to its first in-house calibre from the turn of the 20th century. The unbroken lineage also means that even newly developed Minerva movements will consist of components from older ones. "It means that even when we develop something new, it will come from components we developed in the past," Lecamp says. "As Managing Director, I will do my best to protect this past, this tradition. I am in love with Minerva, since the first day."
---