In Japan, there's always a reason and an occasion to sip some alcohol. And, more often than not, it never stops at a sip. Very few cultures in the world revere drinking like the Japanese do, and as such, refusing a drink can sound a bit jarring to them.
But, Japan is on the verge of a drinking revolution, says Master Sommelier Yutaka Takano. Although the country still boasts a strong drinking culture, Takano says native spirits like sake and local beers are no longer popular as they used to be. Instead, Japanese drinkers are increasingly developing a penchant for imported wines and luxury spirits. In addition, younger Japanese people prefer to stay sober, so much so that the government launched a contest for ideas on how to encourage them to drink.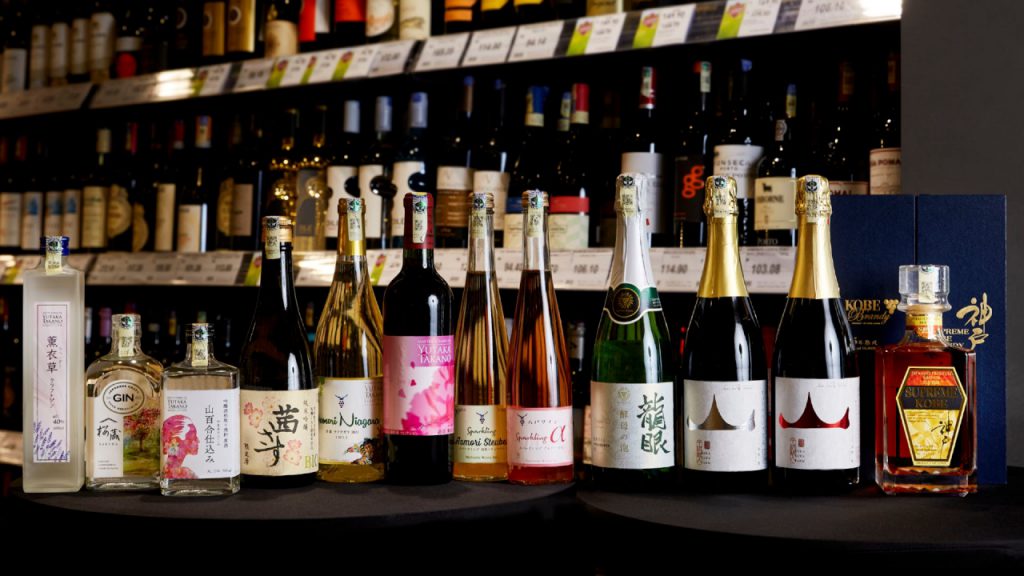 A collection of Yutaka Takano's signature spirits at AEON Malaysia.
However, Takano believes he can cater to both groups. Armed with 35 years of experience in the wine industry, he knows exactly how to persuade people to grow a taste for the finer things in life. "Wine lovers are said to have a higher intellectual level than non-wine drinkers," Takano quips. "But, that said, we have to cater to the teetotallers too. And this is not just a Japanese phenomenon. Globally, drinkers are searching for new alcohol varieties and the wine market is growing, especially in Asia."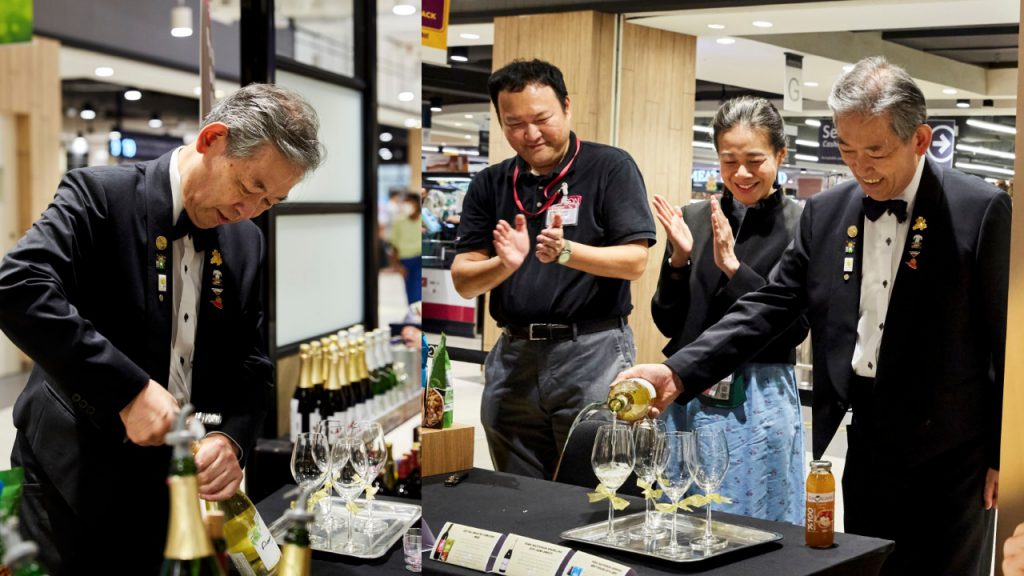 Master Sommelier Yutaka Takano launching his signature expressions at AEON Style Taman Maluri
Coming from a family that has brewed native spirits for more than a century, Takano is not going to abandon the indigenous flavours of his land. So, his latest collection of spirits features native elements such as cherry blossoms and extracts of Sakura leaves. In August, Takano launched his signature spirits at AEON Malaysia, where they will be sold exclusively. The launch also included two drinking seminars, held at AEON Style Taman Maluri in Cheras (5 August) and AEON Putrajaya (6 August). This initiative, he says, is in line with AEON's policy to disseminate Japanese culture in Malaysia. "I want people to be able to experience everything here," Takano says. "If you come to AEON stores, you will see that we have prepared the highest level of Japanese wine and non-alcoholic fruit juices. Hopefully, AEON can continue bringing our valuable local wines and spirits to Malaysia and other Asian countries."
Pairing the right dish with the right drink is also crucial, and is often the trickiest part too. Serving the wrong combo can leave you embarrassed, especially if you are hosting foodies with sophisticated palates. So, here are some useful tips from Takano if you're going with his selection. When serving sushi or spicy cuisines like nasi lemak, go with the Aomori Niagara. The sweet wine, which bears a fruity aroma and gentle taste, is also refreshing to enjoy on a scorching day. For meat-lovers, feasting on steaks and roasts goes way better with a glass of Yama Sauvignon. This sparkling wine made from red grapes has a strong acidic flavour and its sweetness will leave you craving for more.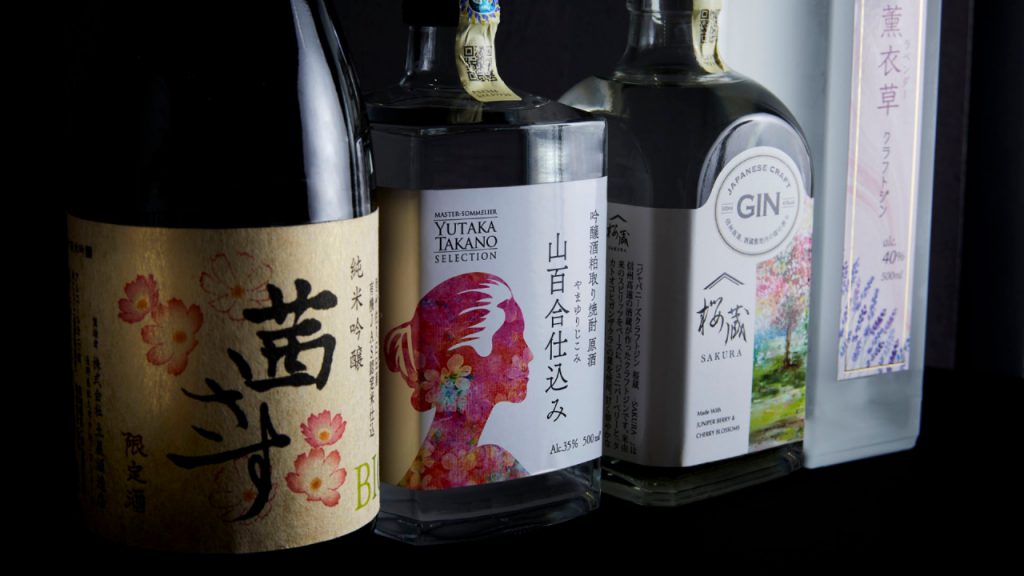 Yutaka Takano's latest release include the Yama Yuri Jikome Shochu (second from left) and Sakura Japanese Craft Gin (third from left). 
When savouring Chinese cuisines, the best beverage to have by your side is a glass of the Sakura Japanese Craft Gin. Takano says the gin, made with leaves of small equinox cherry blossoms, particularly appeals to Southeast Asian tastes and was sold out almost immediately in Cambodia. But, for a hassle-free dining experience, Takano recommends his sparkling white wine, the Manns Wine Yeast Awa Ryugan—the one go-to drink that pairs well with any cuisine. The expression is made from 100 per cent Ryugan grapes produced in Nagano Prefecture, which is said to have been brought to Japan from Europe via the Silk Road. "Its carbon dioxide content gives the wine an illusory power to be suitable with any dish," Takano says. "The wine is great to unwind with and chill in hot countries too."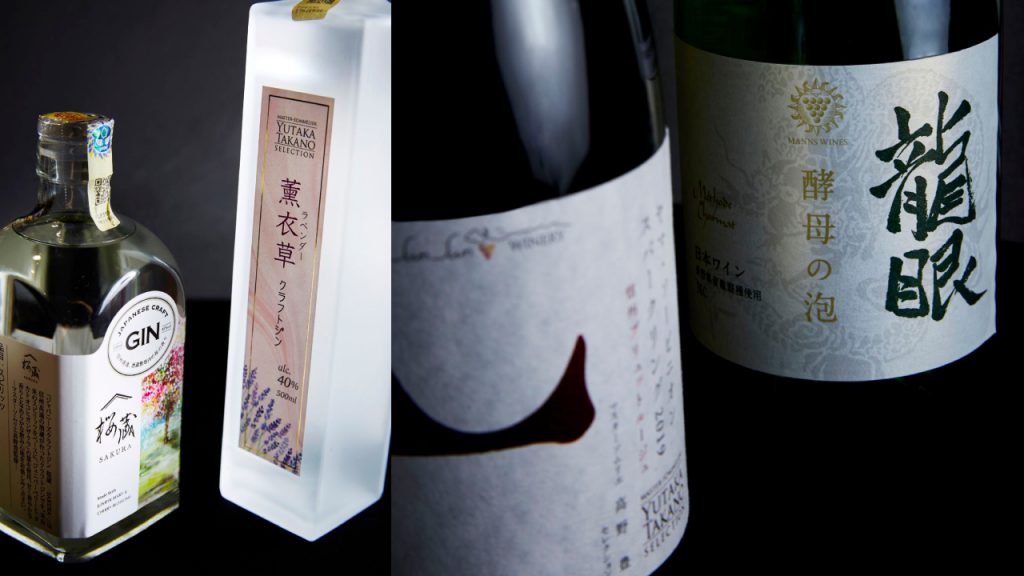 The Sakura Japanese Craft Gin is best savoured with Chinese cuisines.
Still, not everyone is keen on getting light-headed—and Takano respects that. "At least two out of 10 people in Japan today don't drink alcohol for many different reasons," he says. "Although they don't drink wine, they are still interested about it." So, rather than estranging the teetotallers altogether, Takano wants to include them at the drinking table. He is currently working on producing an alcohol-free wine-like grape juice using wine-grade grapes. "Grapes meant for eating and making beverages are specially bred to have no acidity. That's why they taste sweet. But, wine-grade grapes have sufficient sugar content and acidity," he explains. "Although the alcohol doesn't taste sweet when drinking, you will fully feel the sugar content and acidity eventually. So, the grape juice I'm working on using wine-grade grapes will have a very complex taste profile."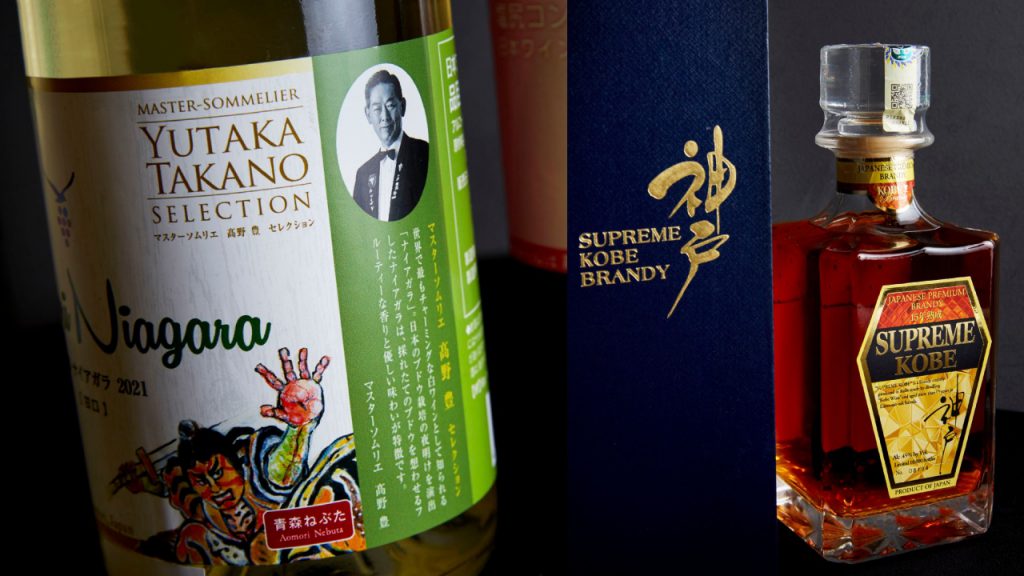 The Aomori Niagara and Supreme Kobe Brandy.
Nevertheless, Takano's passion to educate people about wines tops everything else on his to-do list. The one thing he feels that the drinking scene currently lacks is drinking seminars. "Wine doesn't convey an impression unless you enjoy it in a drinking seminar," Takano says. "Although I don't visit Malaysia frequently, I would be very happy to hold more seminars here."
For more information on the collection of luxury spirits sold exclusively in AEON, visit their website.
---
Photos: Law Soo Phye