Few experiences rival the sheer delight of slipping into a pair of Berluti shoes. These shoes are not mere footwear; they are individual works of art, each with an enthralling narrative to share––a narrative that mirrors the distinctive journey of its owner. Such is the soul of the Berluti brand, where the art of patina takes precedence.
The story of Berluti's patina craftsmanship began in the 1980s when Olga Berluti, a visionary in the world of men's footwear, brought about a minor revolution. In an era dominated by black and brown shoes, Olga introduced a world of limitless possibilities in colour variation and interpretation. She perfected the art of patina on leather and set a new standard for the industry. Berluti's patinas are the result of conscientious techniques involving the application of creams and natural pigments, giving the shoes a depth and sheerness that mimics the natural patina that time and wear bestow. It is said that Olga's inspiration for her ingenious patina technique stemmed from an unexpected source: the influence of the moon on leather. By closely observing how the moonlight affected the depigmentation of leather, Olga unlocked a symphony of colour, contrast, transparency, and intensity. This technique gave each Berluti shoes its signature, transforming it into an artistic creation.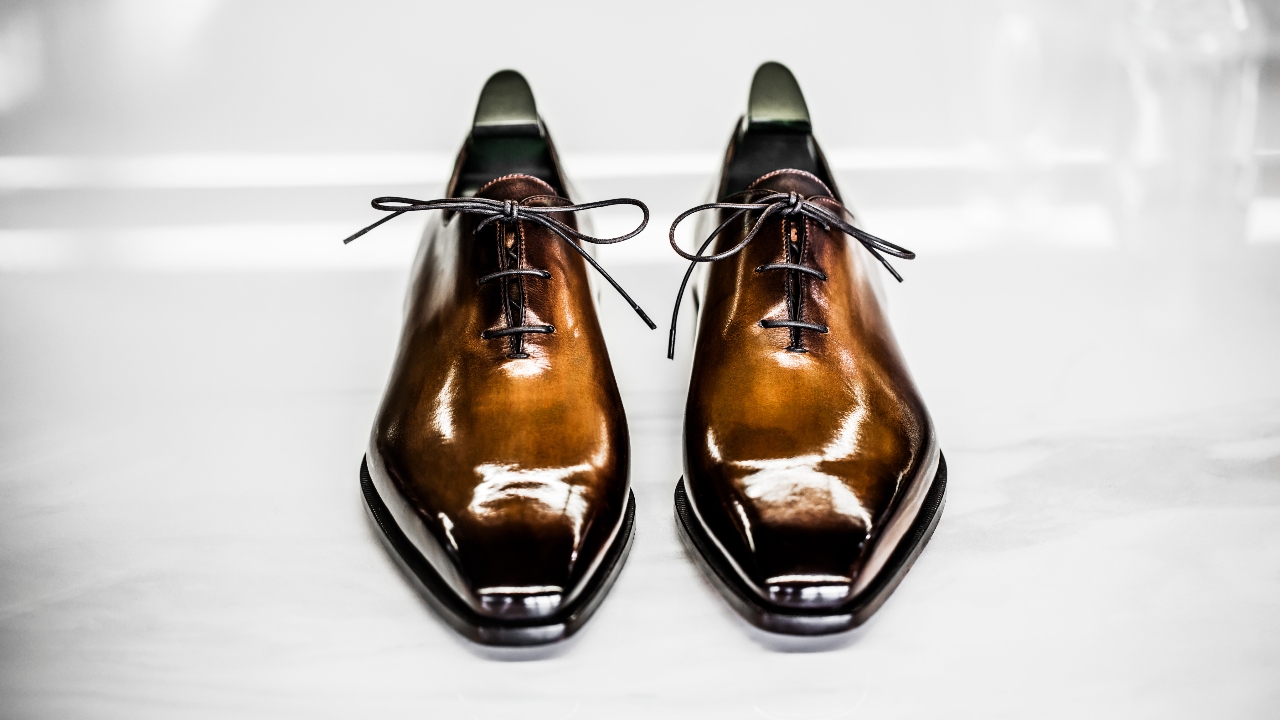 Behind every great work of art lies a perfect canvas, and for Berluti's patina, that canvas is the venezia leather. This calfskin material, crafted under the watchful eye of Olga herself, undergoes an exclusive tanning process within the hallowed walls of maison Berluti. This process confers the leather with a substantial degree of flexibility and traction, elevating the shoes to a league of their own. Venezia leather stands as a paragon of quality, being a full-grain, uncoated leather meticulously fashioned from handpicked hides of the highest calibre, with each shoe component diligently cut from the most precise sections.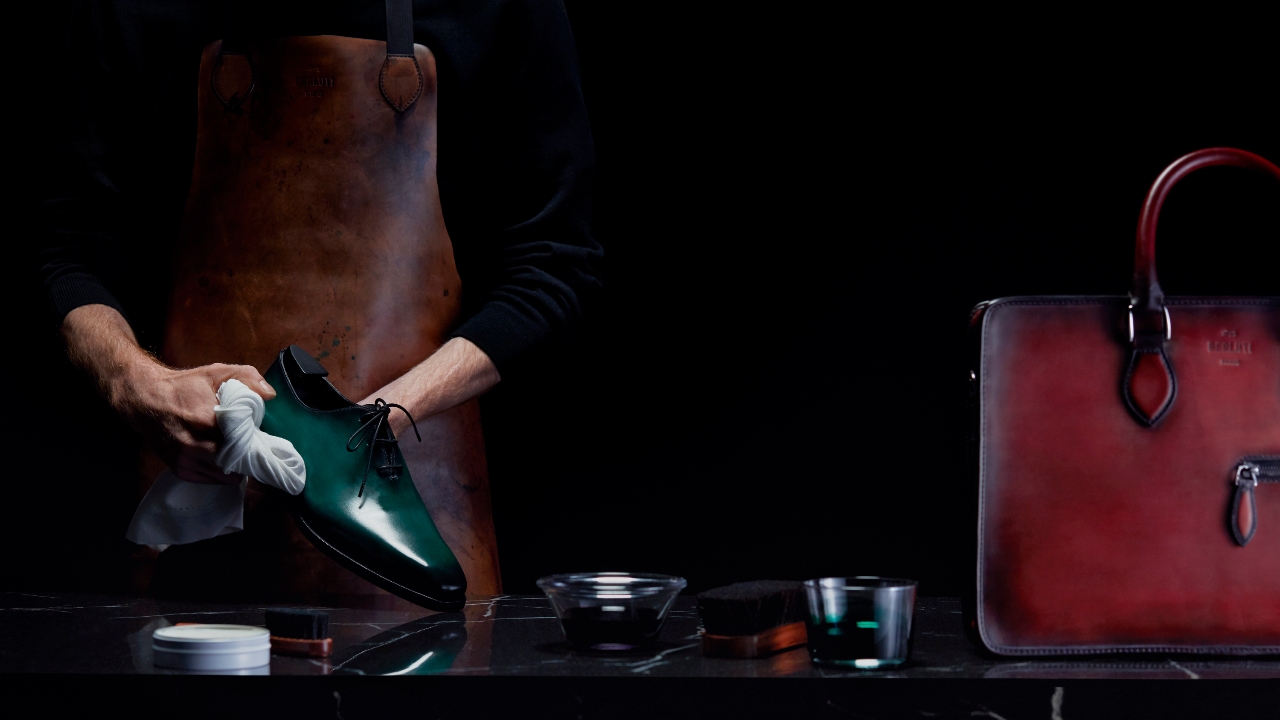 At the heart of the Berluti brand lies a team of master colourists who play a crucial role in bringing the art of patina to life. Much like painters before a canvas, these colourists employ a myriad of tools, from brushes of every size to sponges and cloths. This process is a spectacle that can be witnessed at the patina bar in Berluti stores. First, the shoes are cleaned and superficial layers of polish are removed. Then, they undergo a procedure of stripping and are massaged for a day using essential oils rich in natural pigments and various kinds of waxes. Afterwards comes the lengthy labour of colouring using pigments and nourishing creams. The final touch is the glazing step, which accentuates the depth and luster of the colourist's patina artistry.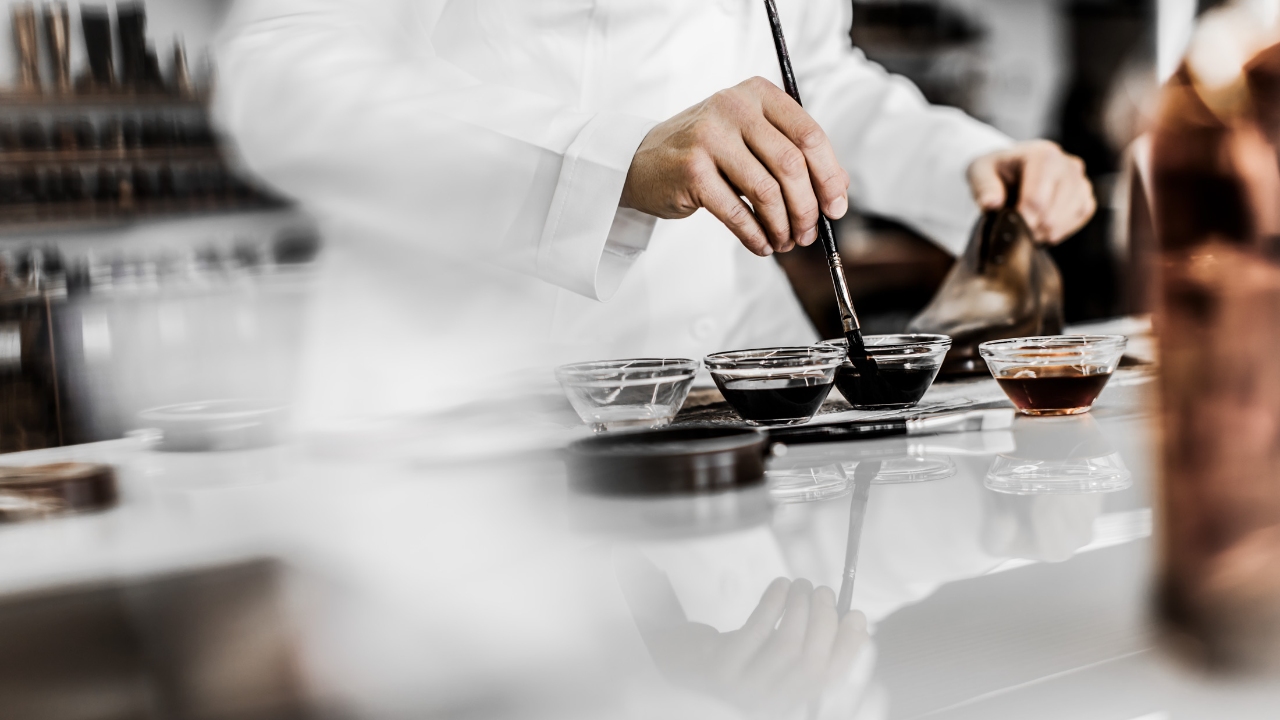 Berluti also offers a rich and varied colour chart, allowing customers to choose their preferred shade. The range includes emblematic colours, each bearing redolent names such as Feuille d'Automne, Caviar, Rouge Saint-Emilion, Nero Grigio, and the venerable Tobacco. But what truly distinguishes Berluti is the belief that your patina speaks volumes about your personality. It's a refined mode of self-expression, providing a glimpse into the very essence of the wearer. Many devoted clients treat their shoe collections as art collections, ordering shades that capture the 'colours of a wood fire' or a 'Shanghai night'. Some even commission custom patinas to be created under the moonlight in their gardens, ensuring their leather isn't exposed to humidity.
Excelling in the intricate art of patina is a pursuit that requires the utmost subtlety and precision. To safeguard the longevity of their footwear, the maison has crafted a distinctive care ritual. The initiation of the first patina treatment is thoughtfully recommended after the shoes have gracefully weathered about 15 times. This service, beyond a mere touch-up, serves a dual purpose: it stabilises the colour while harmoniously adapting the patina to the organic creases that naturally form as we take each step. General maintenance follows this initial patina ritual, and Berluti recommends it to be performed twice a year. This routine check-up is essential to guarantee that our footwear continues to look and feel its best, even after years of use.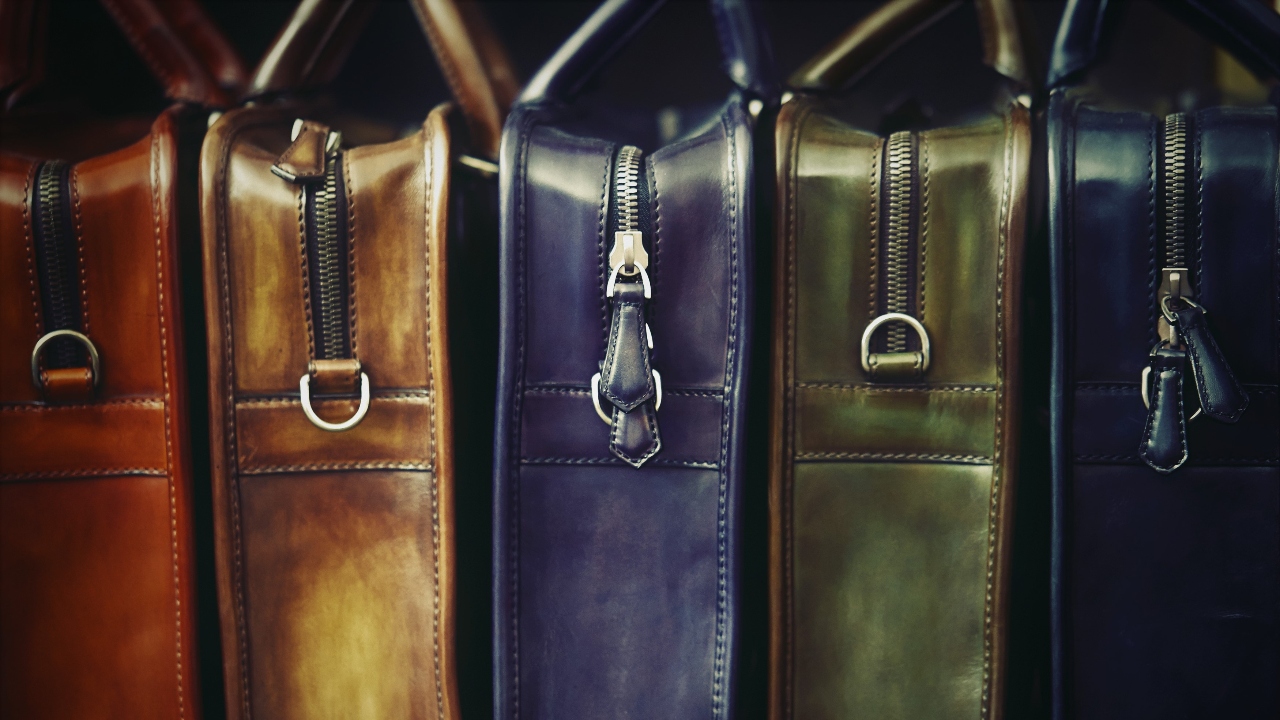 Since its inception in 1895, Berluti has grown to become a global brand, offering fine bespoke shoes, leather goods, and a complete clothing collection. From the founder, Alessandro Berluti, who inscribed his signature pair of shoes more than a century ago, to the present era of artistic flair and colour mastery, Berluti's journey is a story of evolution, artisanal excellence and timeless craftsmanship. With more than 60 stores worldwide, the brand continues to push the limits of technique and style, building on its deep roots of savoir-faire in bespoke creation.
---