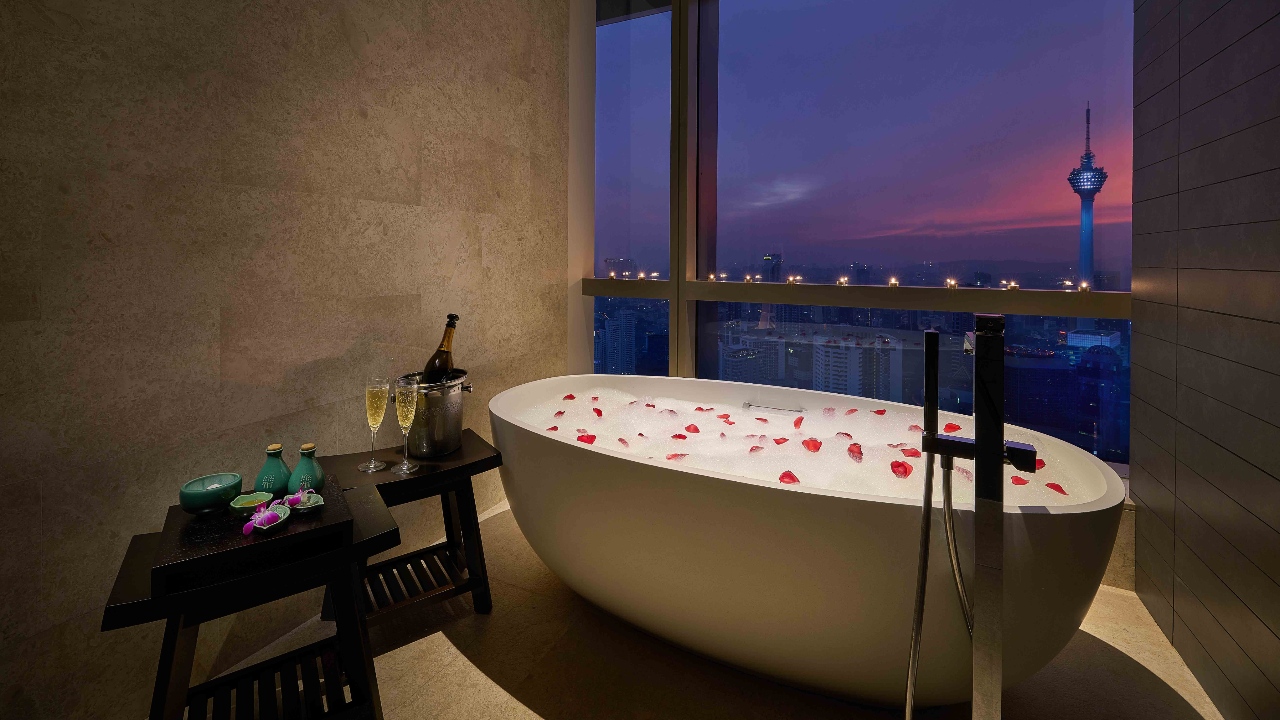 Perched high above the vibrant pulse of Kuala Lumpur, Banyan Tree Kuala Lumpur is a sanctuary of hospitality, where every aspect is meticulously catered to. What sets this establishment apart is its execution of the fundamentals––from the grandeur of welcoming and spacious lobbies to the meticulous room design, as well as the genuine warmth of their attentive staff, the swiftness of high-speed elevators, and the meritorious housekeeping services. These essential but indispensable elements combine to deliver the quintessence of a five-star experience.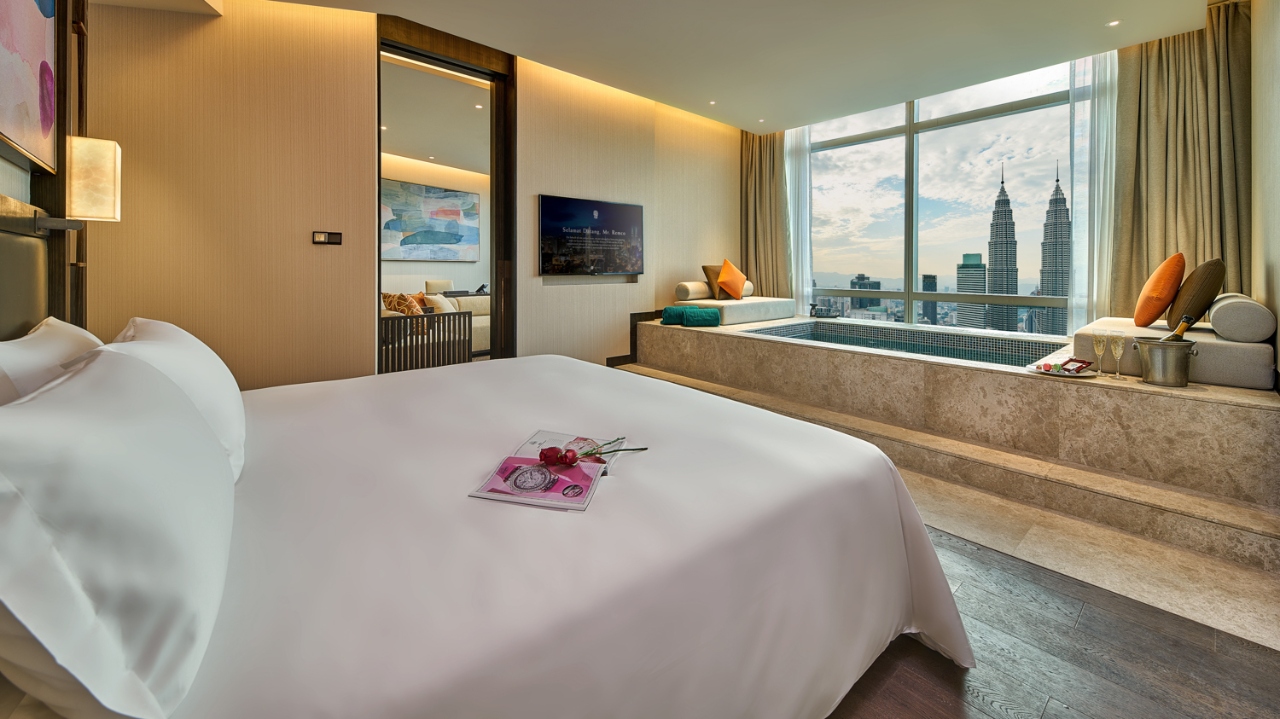 My arrival at Banyan Tree Kuala Lumpur on a crisp, clear afternoon was a smooth and hassle-free experience. The lobby exuded a serene air, and the staff promptly attended to my luggage. While my room was being prepared, I was presented with a welcome tray that held a refreshing hibiscus drink, hand wipes, and a delightful snack of fish muruku. To enhance the ambiance of my room, I was offered a selection of essential oils and incense, a thoughtful gesture that foreshadowed the meticulous care that awaited me. Once I was escorted to my Sky Suite, a mesmerising panorama of the Petronas Twin Towers unfolded before me, casting a warm golden hue throughout the room. Gentle, euphonious melodies wafted in the background, creating an atmosphere of serenity and opulence. Yet what caught my attention was the heartfelt welcome message displayed both on the living room and bedroom televisions, a gracious gesture from general manager Rudy Oretti. Venturing into the bathroom, I was immediately struck by its generous dimensions, which featured a pair of sinks, an oversized soaking tub, a dedicated shower space, and a dressing table. Sunlight streamed in through the windows, suffusing the vicinity with an inviting and luminous tenor, truly elevating it to a placid sanctuary. Adjacent to the bathroom, the bedroom was cleverly partitioned by a sliding wooden door, boasting elegantly draped windows that bathed the room in soft, natural light. Snugged, pristine white sheets graced the bedding, guaranteeing two nights of restful slumber.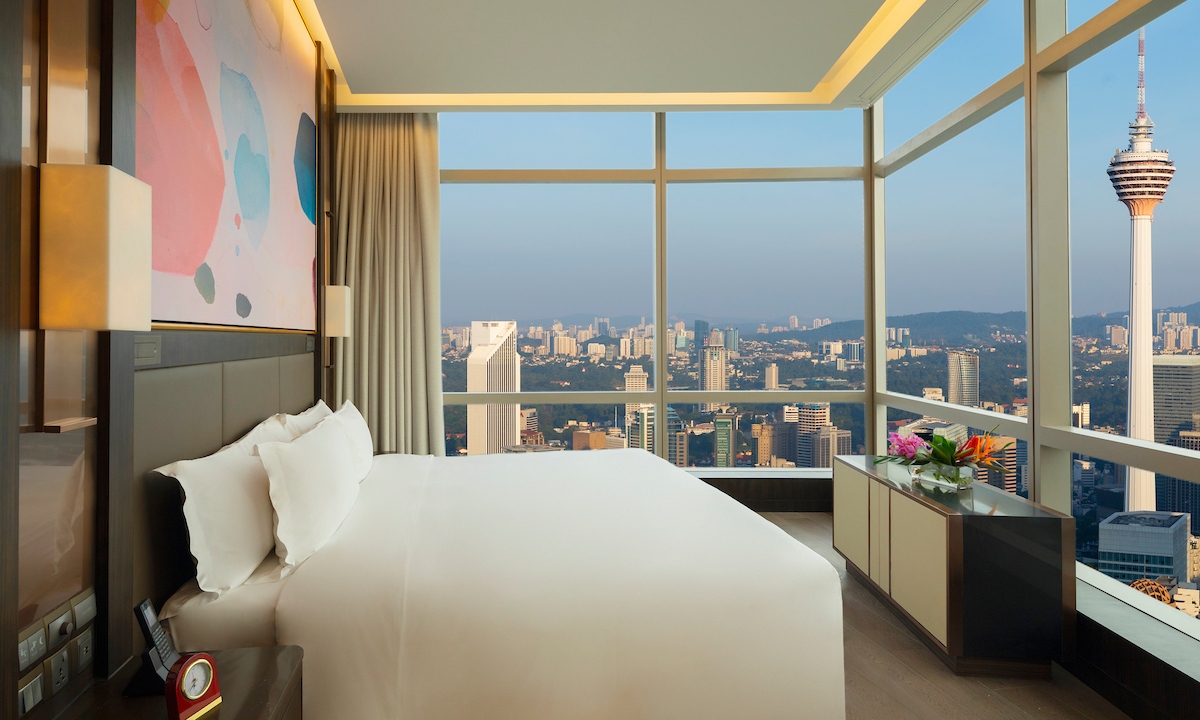 To kick off my Banyan Tree experience, I headed to Vertigo TOO on the 60th floor, a rooftop bar that bestows unobstructed panoramic vistas of Kuala Lumpur. From this vantage point, I gazed upon a 360-degree spectacle of the city's illustrious landmarks and skyscrapers, which left me in sheer awe. The setting was further enriched by the dulcet strains of laid-back house music that serenaded the atmosphere, creating a mellifluous backdrop to the visual splendour. The locally inspired signature cocktails at Vertigo TOO were a revelation of both flavour and artistry. The Mount Genting, a multifaceted yet fruity blend of gin, dry vermouth, lime juice, lychee, and raspberry purée with a subtle touch of egg white, was a sensory delight. Alternatively, the Spiked Shirley Temple, a harmonious composition of vodka, grenadine syrup, orange liquor, lime juice, and egg white, offered a nuanced and appealingly balanced experience. With every sip, it was an expedition through intricate layers of flavours, all accentuated by decorative garnishes.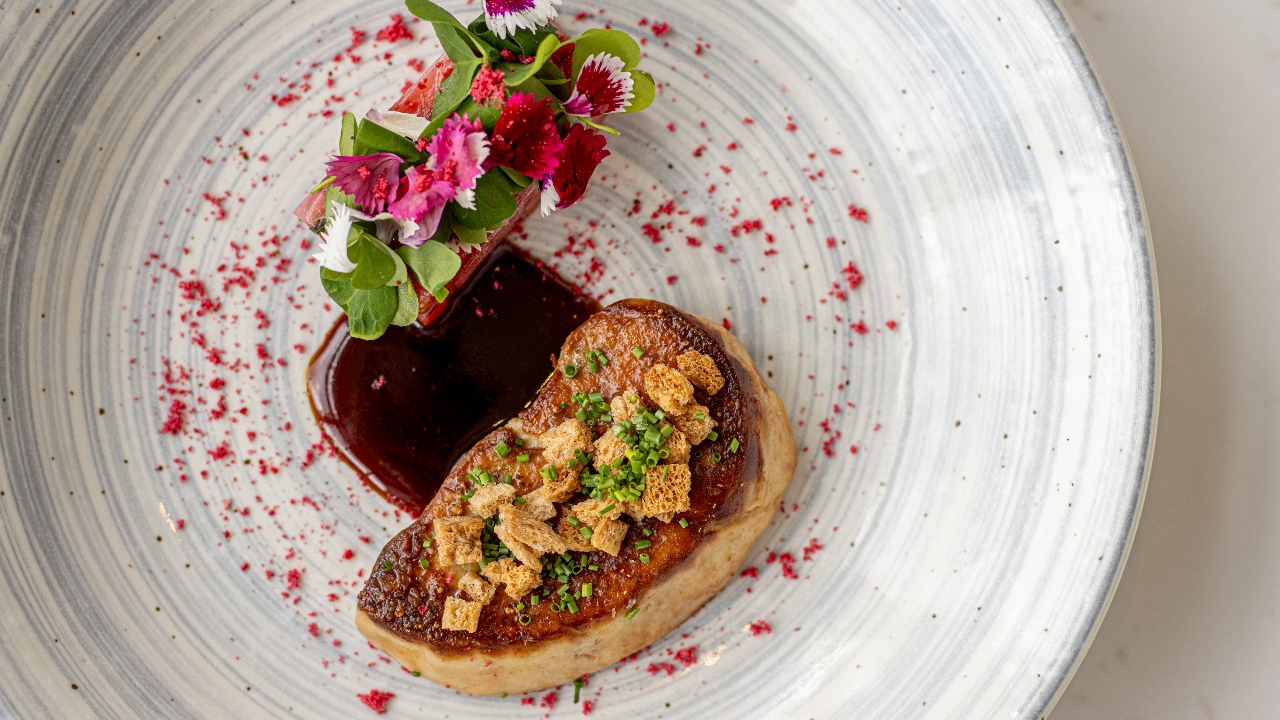 Following this prelude, I descended to Horizon Grill on the 58th floor for an eight-course dinner curated by chef Francesco Fedrighi. The culinary journey kicked off with torched Japanese hamachi, complemented by ripe papaya, mango, and yuzu kosho. Next, Hokkaido scallops were pan-seared with sea urchin espuma, pumpkin, ginger, and a decadent shaving of black truffle. A bold interlude followed with a steak tartare served atop grilled bone marrow, embellished with salsa verde and a touch of harissa. Tuscany cacciucco graced the palate as the next course, presenting an oceanic medley of tiger prawns, octopus, squid, mussels, and asari clams. The pasta course made an entrance with homemade double ravioli, generously filled with spinach and pumpkin, bathed in velvety butter sage sauce, and topped with aged parmesan, toasted hazelnuts, and black truffle. The main courses were equally remarkable, with the Halibut offering an ensemble of flavours, highlighting asari Japanese clams, aromatic garlic, zesty yuzu, leek, and sweet potato. Meanwhile, the Miyazaki tenderloin delivered succulence and depth, accompanied by creamy potato, hohohotake mushrooms, leek, morel jus, and a final flourish of black truffle. In a grand finale, the hazelnut tartlet stole the spotlight, emblazoned with chocolate marbling, a luscious layer of praline, and a delicate drizzle of caramel sauce. This dessert provided a sweet and satisfying finish, leaving a lingering note of pure indulgence and contentment.
The following morning began with a sumptuous breakfast back at Horizon Grill once again. During the daytime, the restaurant's expansive windows flooded the space with an abundance of bright natural light, conjuring a tranquil atmosphere that complemented its enticing morning offerings. Their sunrise breakfast menu was a treasure trove of diverse options, ranging from fluffy pancakes, savoury Cantonese dim sum, nasi lemak, and their hearty big breakfast. Additionally, a buffet table graced the dining area, presenting a cornucopia of fresh fruits, an assortment of bread, pastries, congee, and salads.
One of the most memorable highlights of this stay was my visit to the Banyan Tree Spa on the 53rd floor. The spa not only provided a breathtaking scenic of Kuala Lumpur's cityscape but also emitted an echo of peaceful serenity. The experience commenced with a gentle foot scrub, paving the way for an utterly blissful 60-minute full-body massage that adeptly addressed areas of tension, leaving me feeling rejuvenated and refreshed.
---