Montblanc's latest 4810 timepiece collection recalls its founders' transatlantic crossing
New York in fall is crisp, often windy and electric with possibilities. On a recent evening in late autumn, a group of well-heeled guests congregated at the bedecked dining room of Pier A, 22 Battery Place to celebrate the pre-launch of Montblanc's ode to transatlantic voyages.
Here, in the evening gloam, one could spot the Statue of Liberty across the Upper Bay. By a short stretch of imagination, you could be transported to when this very monument was being dedicated to the United States – by the French government – on a similarly autumnal day on 28 October in 1886. Soon after, Lady Liberty became the welcoming symbol to the multitudes of immigrants and visitors who arrived at turn-of-the-century New York.
Among those who made the ocean voyage was Alfred Nehemias, a Hamburg banker, Claus Voss, a stationery trader and August Eberstein, an engineer from Berlin. The spirit of their time – an age of discovery and invention – inspired travel and a great belief in progress. This awakened desire for mobility and adventure made the trio aware of the need for a writing instrument which would hold a reserve of ink for travellers. The resulting outcome of their combined engineering expertise and enterprise was the creation of the 'simplicissimus pen' in 1906 and subsequent founding of the Simplo Filler Pen Co.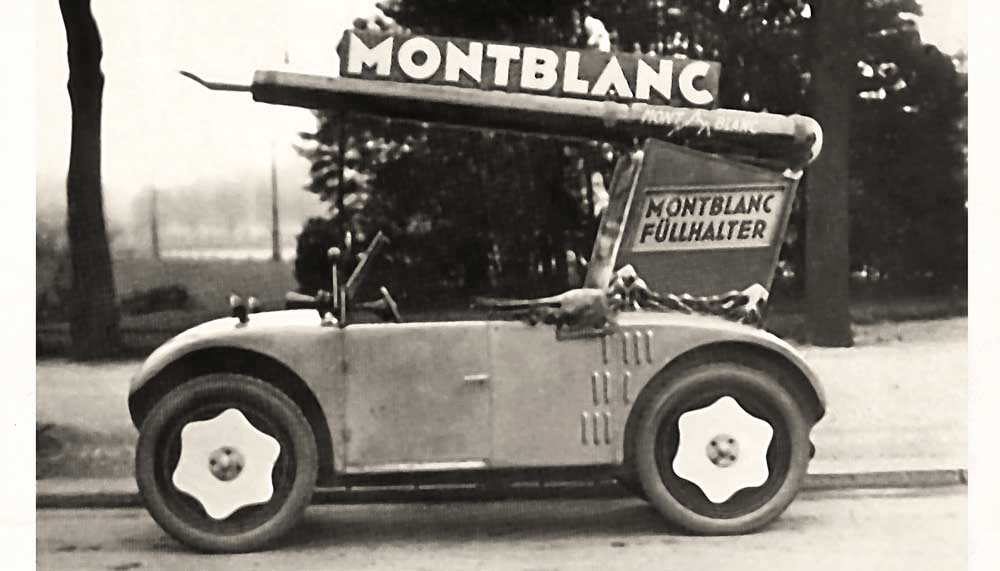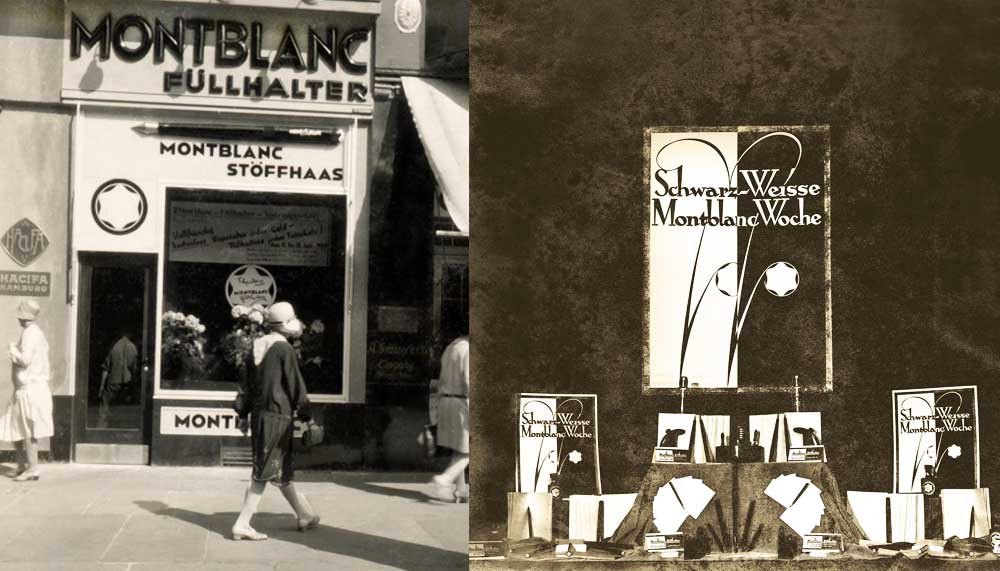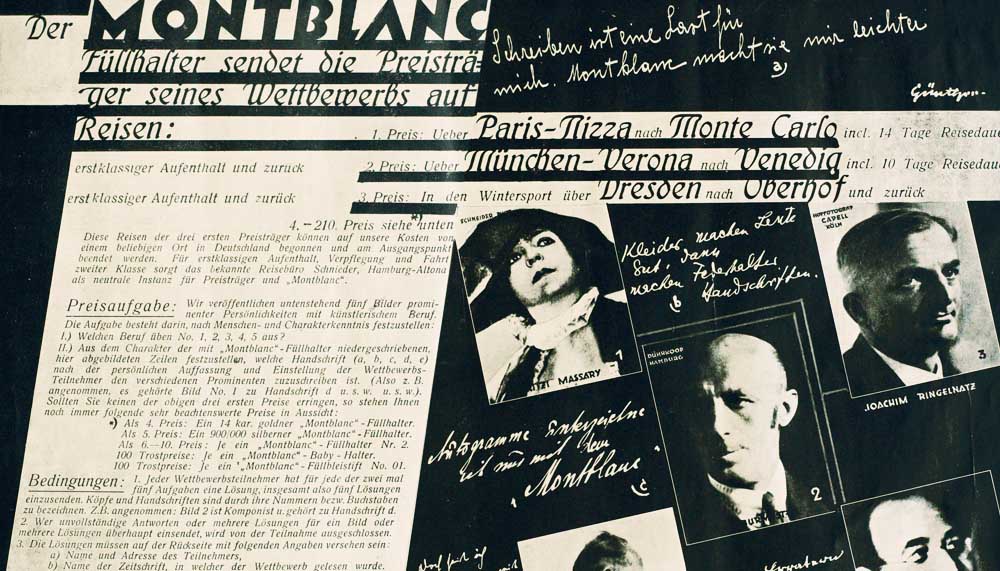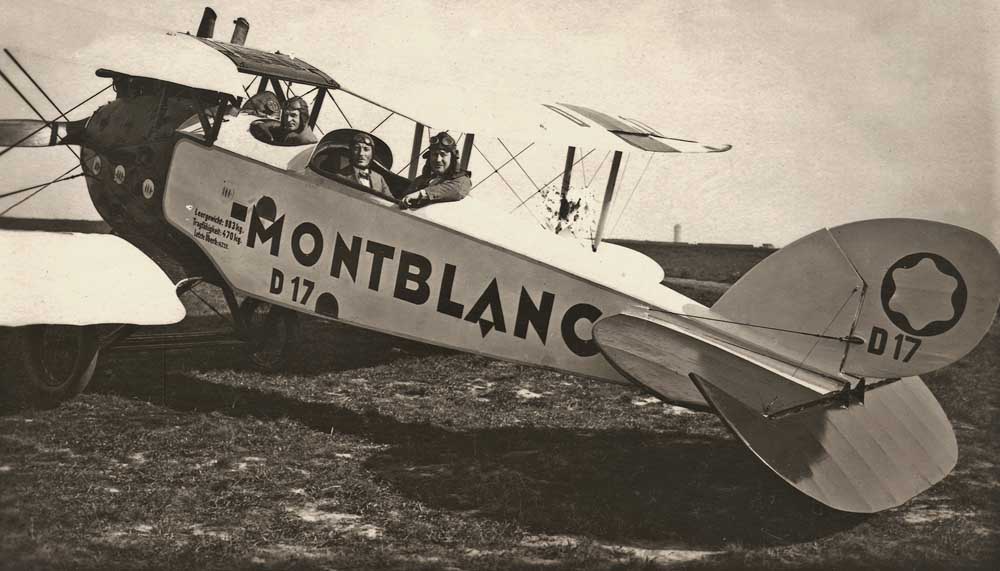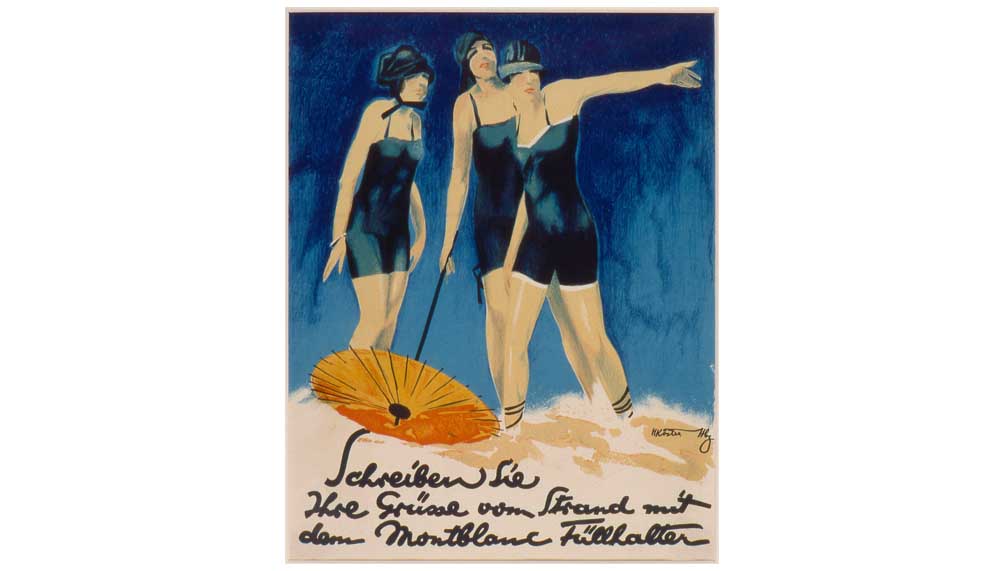 In just three years, the emblematic Rouge et Noir safety fountain pen was introduced to the market. Its advertising material showed a gentleman assuredly placing his writing instrument into a white waistcoat pocket – signifying a non-leaking nib. The poster proudly proclaimed the words Montblanc, which was soon assumed as the name and trademark of all writing instruments produced by Simplo. This name was picked when a relative of one of the company partners made an impassioned analogy of the pen – which had become the pinnacle of writing instruments – to the Mont Blanc, Europe's highest peak.
Variously credited with an elevation of between 4,807 and 4,810, Mont Blanc – the mountain – was interpreted as a rounded six-pointed white star. Thus, it emerged as an emblem on the writing instruments, symbolising the mountain's snow-covered peak and the zenith of writing instruments.
The 4810 measurement was chosen and engraved onto the Montblanc Meisterstuck nibs, with lifetime guarantees issued on every Meisterstuck product as a declaration of Montblanc's assurance of its quality products. Fine travel companions became the motivation behind Montblanc's continued success in writing instruments, leather accessories and timepieces, with each piece crafted in recognition of its founding ethos.
This year, that very same number of 4810 is recalled on Montblanc's 110th anniversary as a timepiece collection. This collection (pronounced as four-eight-ten), is an horological ode to Montblanc's roots, with innovation and travel inherent in its creation.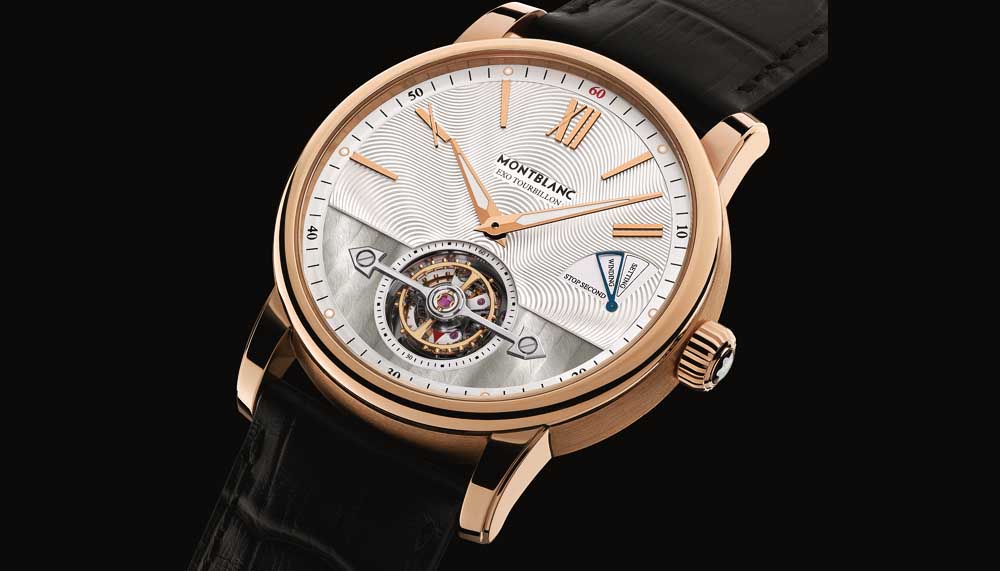 A decade before, the first iteration of this 4810 collection was unveiled in Geneva at the 2006 Salon International de la Haute Horlogerie. This year's collection expands on its predecessor's technological and aesthetic point of view; augmented with three in-house movements and design codes which recall the maison's watchmaking heritage. The latter is exemplified by fine guilloche dials juxtaposed with the exploding Montblanc star motif. Also distinct in the 2016 iteration are red gold Roman numerals and indexes, as well as the utilisation of sword-shaped and skeletonised hands.
"In the same way the earliest writing instruments were created by our founders for travellers in their day, we are doing the same with the 4810 collection for modern travellers today," announced Montblanc's CEO Jerome Lambert to guests at the 4810 collection's New York pre-launch.
The throwback masculine elegance of ocean liners may be clearly discerned on the collection's bigger, bolder cases. A study of mathematical proportions was required to perfect the balance of ratios between the case diameter, height and also rotor weight. Refinements on the aesthetics also include a wider date opening and clear minuterie courtesy of a brilliant white Superluminova. Meanwhile, the addition of horns which appear straight above but are curved below make for a more ergonomic fit.
"To conceive this collection, we needed a brand new approach which couldn't rely on adapting or remixing existing ideas," Lambert contends. He hints at millions of investment in tooling, production and the combined energies of over 200 people in both of Montblanc's Le Locle and Villeret manufactures required to bring this collection to life.
"It's been a very busy journey; and we observe an eight-week testing for every single product which is an important part of the process," he says, adding, "but the excitement is seeing the team delivering on exceptional timepieces which is very clearly a Montblanc timepiece which our clients will love wearing."
In the 4810 collection which debuted globally on January 18 this year, the undoubted highlights are the ExoTourbillon Slim, TwinFly and Orbis Terrarum pocket watch. The automatic ExoTourbillon Slim boasts a svelteness of a mere 10.14mm in height despite the inclusion of the ExoTourbillon. On it, a stop-seconds mechanism is the practical solution to accurate time setting. A patented 'whip' halts the balance – versus   customarily blocking the tourbillon cage which leaves the balance swinging, and likely upsetting timekeeping precision.
Encasing this in-house Calibre MB 29.21 ExoTourbillon with its 'quick stop second' complication is an 18k red gold case of 42mm. For ease of use, a gauge on the dial indicates the position of the red gold crown, with position one for winding and two for setting of time. Each timepiece comes with certification of the Montblanc Performance Test 500, a laboratory standard which simulates the effects of real-life wear of over 500 hours.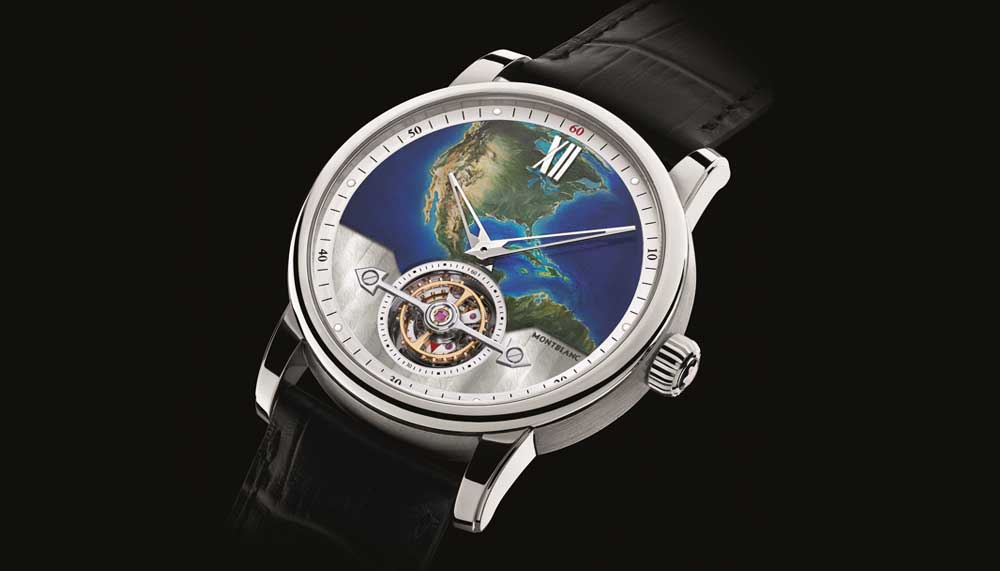 In the limited edition version of the 4810 ExoTourbillon Slim, the silver-white upper dial of the non-limited ExoTourbillon Slim is replaced with miniature hand-painted maps of North American, Asian and European continents. That each dial is hand-painted by just one artist means no two are exactly alike. Water resistance is also improved – over its predecessor – to 50 metres versus the previous 30, even with the enhanced thinness of the 10.14mm-thick white gold case.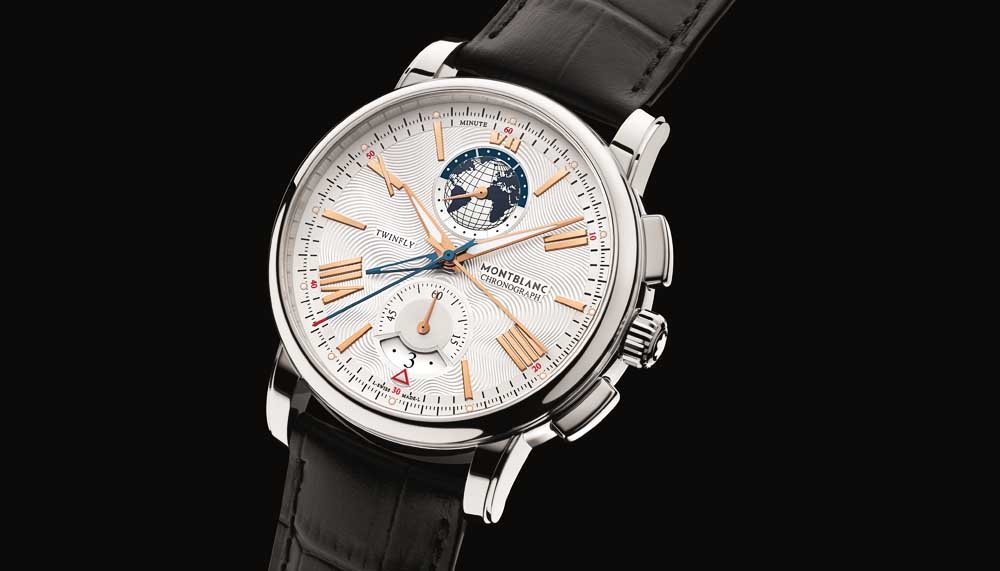 On the 4810 TwinFly Chronograph, one finds an integrated dual time function which is all important to the jet set. A self-winding Calibre MB LL100.1, in-house developed and assembled, offers 72 hours of power reserve within a 43mm stainless steel case. The same Montblanc Performance Test 500 certification accompanies each chronograph, while the subdial at 12 o'clock indicates the passage of day into night at the wearer's point of origin.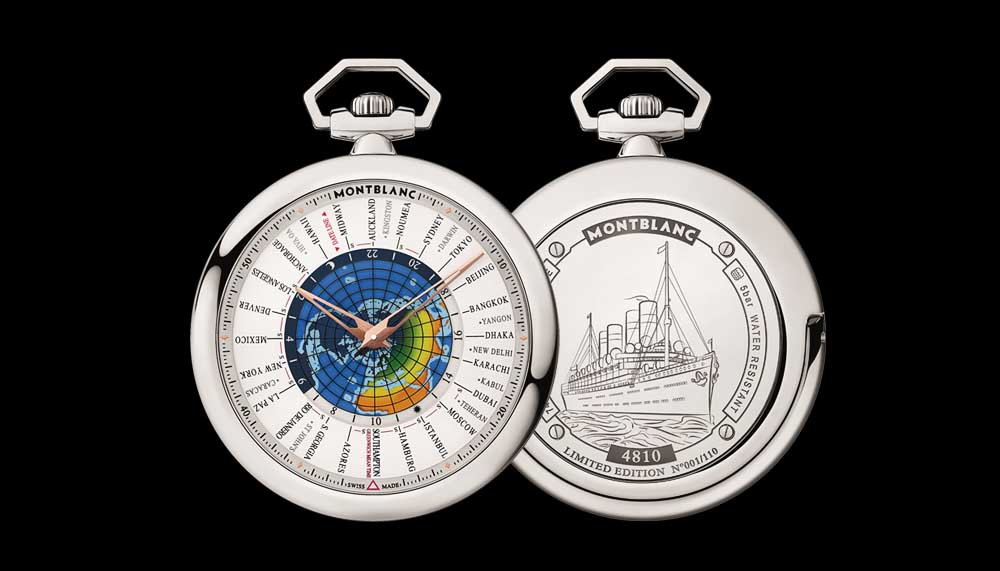 For those who fancy a throwback to a century ago, Montblanc's 4810 collection also offers a highly limited 110 pieces of the Montblanc 4810 Orbis Terrarum pocket watch. This smart and dandy looking piece perfectly recalls those transatlantic ocean voyages through a dual time function which displays the entirety of the world's 24 hour time zones at a glance.
On a dial composed of layered sapphire crystal, red gold-plated dauphine hands offer legibility within a 53mm stainless steel case. On this pocket watch, the world timer Calibre MB 29.20 was prototyped, developed and assembled in-house by the maison's watchmakers.  A diamond-enhanced milling technique was necessary to create that globe-shaped sapphire crystal dome. Under this, one is offered a view of the earth's northern hemisphere, though the anti-reflective and scratch-resistant glass.
Back at Pier A, awash with candle light at Battery Park, Lambert regales the crowd with stories of the whirlwind 24 months he has had at the helm of Montblanc. This period has yielded six distinct collections, each of which point back at Montblanc's own ethos of craftsmanship and the watchmaking legacy of the storied Minerva Manufacture – established in 1858 – which was acquired in 2004.
"We have now ushered a brand new dimension in fine watchmaking, sharing our passion by bringing back functions which excite the market; from chronograph and perpetual calendar to travel timepieces," he says. "The first trip by our founders from Hamburg (where Montblanc is now headquartered) to New York is why we are paying tribute, in our 110th year to the fantastic time where invention, progress and the spirit of travel conspired to bridge the continents and bring the world closer."