PORSCHE — THE WORLD'S FIRST CARMAKER TO HAVE THREE PLUG-IN HYBRID MODELS
As a maker of exclusive premium sports cars, Porsche has long understood that careful use of resources is the only way to stay within the long-term picture. In light of this, the present day has seen a flowering of electro-mobility, an efficiency solution that has become Porsche's way forward; with three plug-in hybrid models now in series production.
Working on the edge of technical possibility, Porsche has quantified its goals to reduce fuel consumption and emissions by 10 to 15 per cent in each new model – without negative impact to performance. Hence, the plugin hybrid was born; blending performance, comfort and efficiency in a singular expression.
The advantages of the plug-in hybrid systems are manifold; a high-voltage battery to power the electric motor holds significantly greater energy and more petrol-free mileage than conventional hybrids. That battery can also be easily charged from external sources, as well as regenerated through the power of the internal combustion engine. This plays out to near zero-emissions on silent all-electric city drives as well as lower emissions on hybrid mode. This concept of efficiency has even extended to the use of smartphones to monitor the charging process of its plug-in hybrids.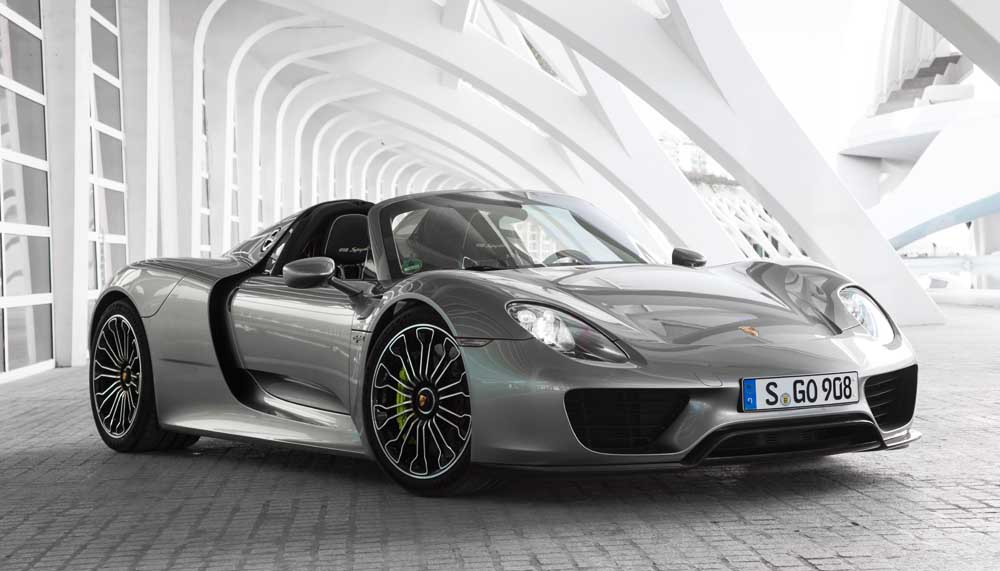 918 SPYDER
This supercar is capable of close to 31km on pure electric. But outside of its green credentials, plaudits are given to its impressive acceleration, handling and efficiency. The 918 Spyder outperforms conventional drivetrains as witnessed in its record-breaking sixminute, 57-second run on the Nurburgring. With that achievement, Porsche has ushered Formula One credentials into the street-legal Spyder.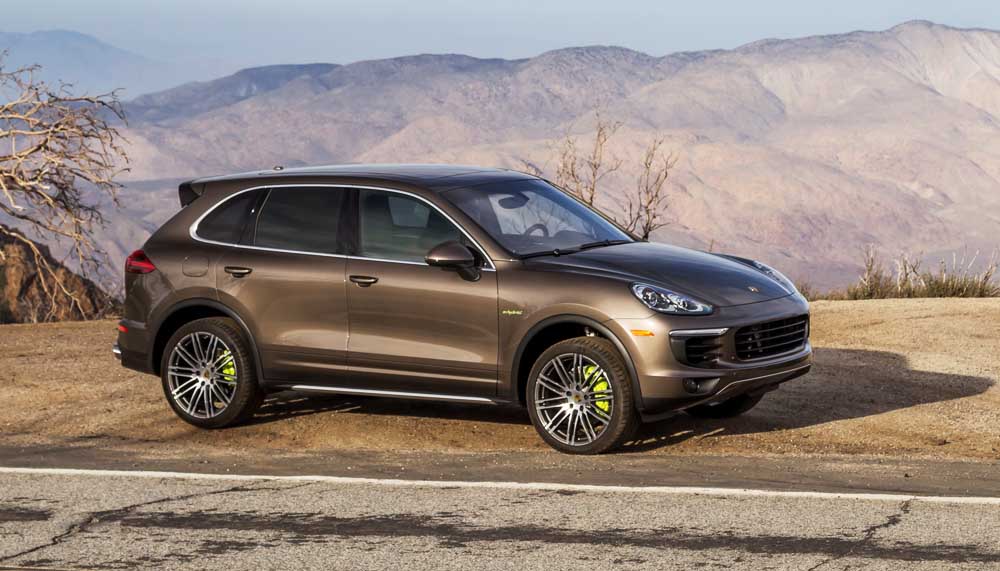 CAYENNE S E-HYBRID
The first plug-in hybrid in the premium SUV segment, this all-wheel drive offers up to 35km of pure-electric driving. Against its predecessor – the Cayenne S Hybrid – this vehicle has an electric motor that has twice the power (70kW over 34kW), and a lithium-ion battery that has much greater capacity (10.8kWh) over the previous nickel-metal-hydride battery (1.7kWh). This enables it to achieve an electric top speed of 125km/hr.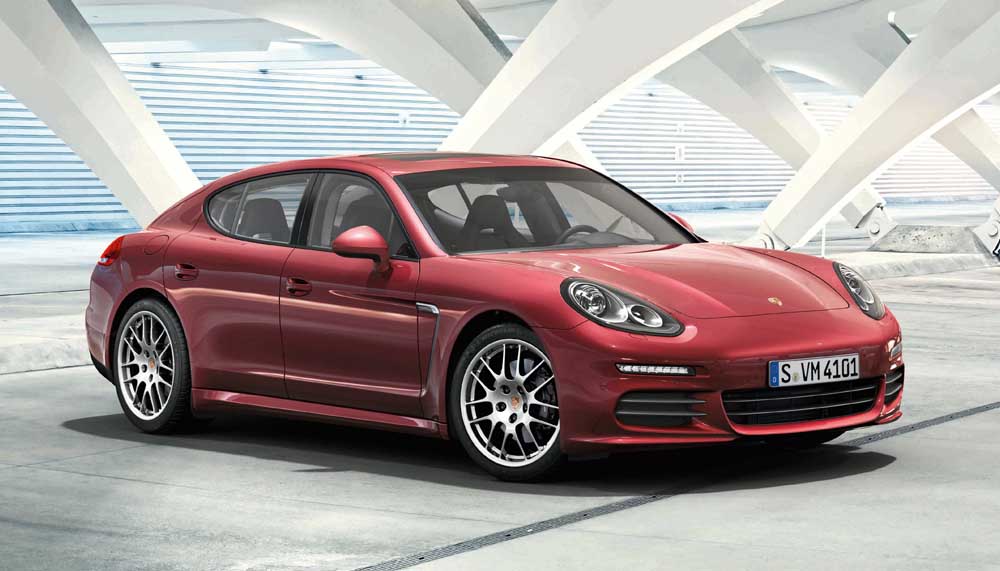 PANAMERA S E-HYBRID
When plugged into the wall socket, this Gran Turismo preconditions the interior – cooler on warm days and vice versa – leaving more energy available for driving on electric power. A smart system like this enables drivers to enjoy an all-electric glide of up to 36km, with the electric motor delivering maximum torque from standstill. The same motor also allows a top speed of 135km/ hr before engaging the combustion engine.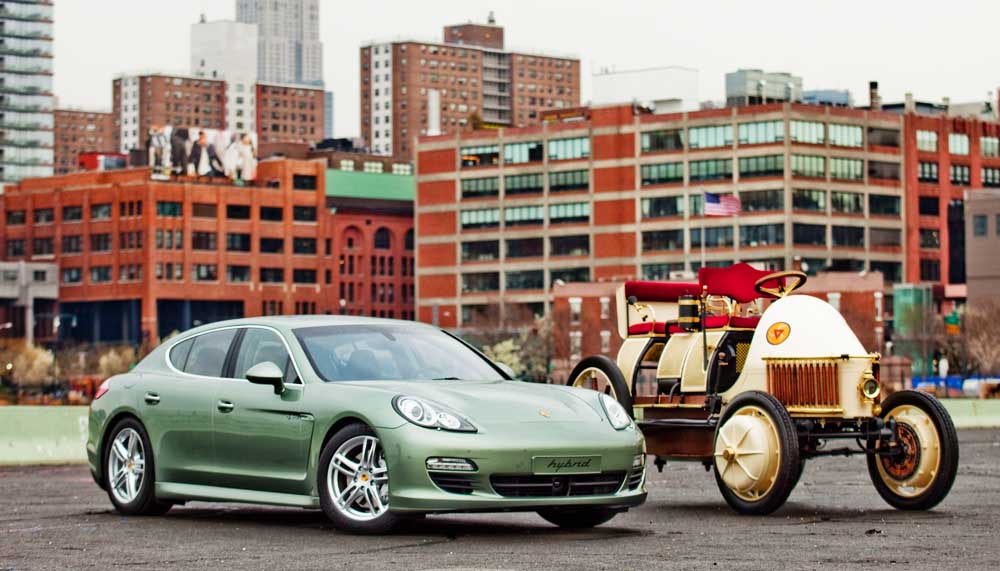 SEMPER VIVUS
In 1900, Professor Ferdinand Porsche unveiled the world's first hybrid car, Lohner-Porsche, which used battery-powered wheel-hub motors to drive the front wheels. In 1901, he combined two electric generators with a pair of combustion engines to create Semper Vivus. Constant innovation on Semper Vivus enabled Porsche to realise all-wheel drives and four-wheel brakes. Steering geometry improved when the inventor redesigned the hub casing, enabling the kingpins to be moved closer to the centre of the wheel.
All this led to the famous April 1902 victory of Exelberg, when the Lohner-Porsche Mixte cars triumphed in the large car class, convincing in its mastery across steep gradients of a 4.2km gravel road leading into Exelberg. In 2011, Porsche decided to recreate Semper Vivus for the New York Auto Show. This three-year initiative employed the workmanship of coachbuilder and restoration expert Hubert Drescher. Pieced together through black-and-white photos and an original technical drawing, the outcome was an accurate and working likeness of Prof Porsche's seminal electric wheel-hub motor vehicle, the pioneer to history's hybrid vehicles.