In residence
"The idea of branded residences in Kuala Lumpur, in Malaysia is still in its infancy, " says KSK Group CEO Joanne Kua, who is also leading the KSK Group's real estate venture KSK Land. "Elsewhere in the region – in Singapore, in Bangkok, in Jakarta – the concept is more developed. So one of the ideas behind our project is to develop and push the market forward."
That project is 8 Conlay, an ambitious mixed-used development that will sit on the perimeter of Kuala Lumpur's Golden Triangle. Three towers will pierce the sky when the project is complete – two of which are branded residences – anchored by a base of 'lifestyle retail quarters'. The project is KSK Land's first one, and it has set the Malaysian real estate market abuzz.
Branded residences are a level above typical premium residences, a splice between a high-end condominium and a luxury hotel that caters to every whim, fancy and need of the resident. The market is very discerning, populated by only the most exclusive of brands – see One Hyde Park in London, serviced by Mandarin Oriental, or the Baccarat residences in New York City. And in keeping with the idea of pushing the boundaries of Kuala Lumpur's property market, 8 Conlay will mark the Malaysian debut of several prestigious names.
The first is Hong Kong-based designer Steve Leung and branded residences pioneer YOO, founded by French enfant terrible Phillip Starck and property maven John Hitchcox in 1999. The latter contributes to 8 Conlay its branded residences name – YOO8 – merged with the address of the site and its auspicious numerical connotations. From YOO, comes the gravitas of its YOO residences brand – in 54 countries and counting, including Hong Kong, Singapore, Moscow, Dubai and Berlin. From Steve Leung, comes his understanding of design within an Asian context, resulting in rich, textured environments.
In Tower A of YOO8, designer Steve Leung has created two themes: Wood…

… and water

Each unit at YOO8 will come with its own bathtub

The idea behind YOO8 is to push the branded residences market in Malaysia forward
The third name is the one that will anchor the experience of living in Yoo8: Kempinski. Beloved for its unrelenting dedication to luxury, the German luxury hotel brand will bring its impeccable level of service to all units – completing the name of the brand: YOO8, serviced by Kempinski. The final tower of 8 Conlay will also be a Kempinski – the first Kempinski hotel in Malaysia, itself with its own residences component. All the hallmarks of Kempinski will be present – including its ambassador extraordinaire 'Lady in Red', the sybaritic Kempinski spa and the local ethos that colours its service and experience.
The result, for the YOO8 Tower A, is a lush living experience with the highest level of service. Leung's design for the residences is split into two, the very Eastern concepts of Wood and Water. Wood is rich, refined and warm, with accents of gold, brass and bronze across the space, which will be fully furnished upon purchase, another nod to the luxury hotel experience. Water is light, airy and jaunty, using a colour palette of white, blue and beige to brighten and visually expand the space. Some common elements anchor both themes – a powder room at the entrance, expansive use of marble in the bathrooms, sumptuous wooden floors and beige-to-blue ombre curtains, Leung's interpretation of Malaysian batik.
Unusually for a branded residences, which tend to focus a small, intimate number of units, YOO8 by Kempinski has significant real estate – 564 units in Tower A, and a further 498 units in Tower B (whose design has yet to be unveiled). But KSK Land is confident that they can replicate their goal of the highest strata of luxury across the wider scale, while also appealing to the property investment crowd, attracted by the significant potential of the project.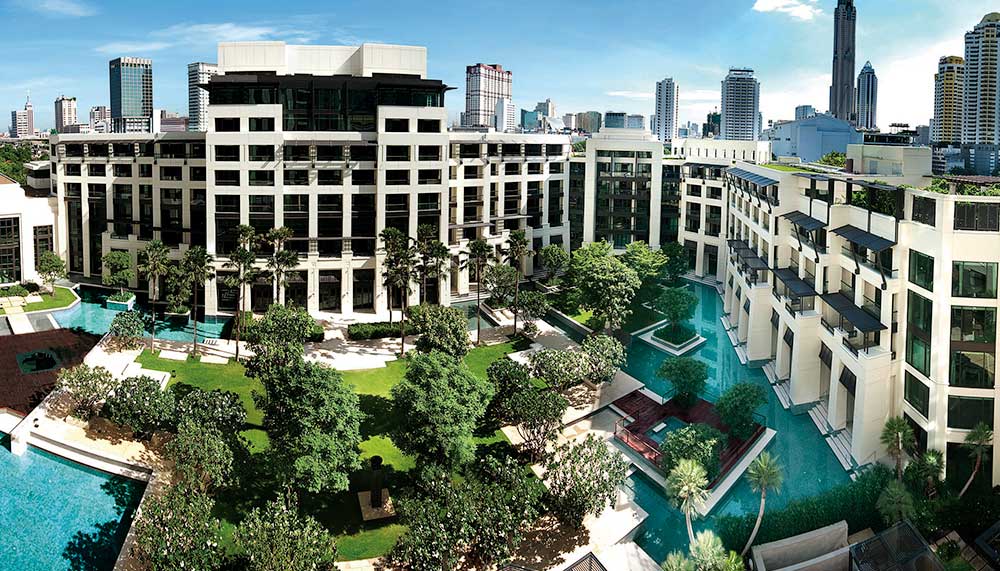 "The idea is that you walk into 8 Conlay and into YOO8 and everything is there, ready for you," says Joanne Kua. "It is like entering a Kempinski suite, but the suite belongs to you. Services are at your beck and call. Because I believe that the most important luxury these days is time. So everything in our project has been thought out to be the most convenient for the buyer, so they can focus on the luxury of time."
What will define 8 Conlay, and any branded residences for that matter, is the actual act of living within. To that end, KSK Land has been working closely together with Samir Wildemann, the representative from Siam Kempinski and Senior Vice President of Operations for Kempinski in Southeast Asia in bringing the Kempinski experience to Kuala Lumpur, using Siam Kempinsk in Bangkok as a model. "Everything that you see, everything that you touch, everything that you perceive needs to be just right," says Kua. "The property is and will be beautiful, but what will make people want to stay, and return home with a smile, is the experience and the service. That's why our collaboration with Kempinski is so important."
"We want it to be effortless," says Wildemann. "It is important that the experience appears effortless, but there is a lot of thought and work that goes into making that happen."
---