making the cut
Countless hours spent leaning over a workbench with an assortment of cutting tools and a small hammer, each small tap picking away at a piece of metal that will ultimately become a modestly sized masterpiece: This is the life of an artisan in the ancient trade of engraving. The craft has seen its greatest resurgence in the watch world since the long-gone days of the engraved pocket watch. Several gun engravers, including Joanne Ryall, Tom Inslay, and Johnny "King Nerd" Dowell, have migrated to the watch industry as a means of evolving their art form, and the response has been strong enough that we are now seeing more brands than ever getting on board with the customisation process. Given the personal nature of the craft, the possibilities of what can be created teeters on endless, and these seven watch brands cover the full gamut.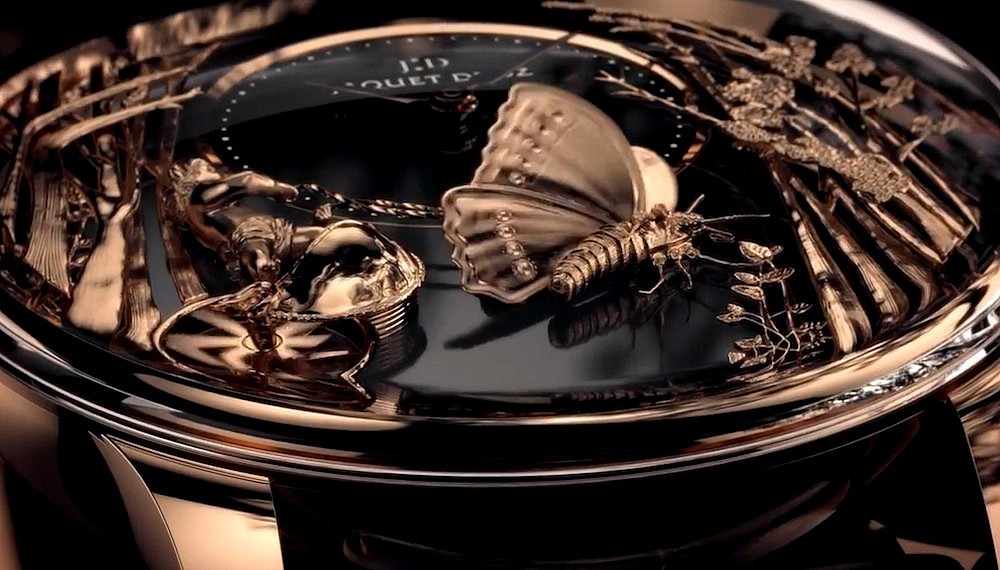 Combining the brand's distinct prowess for automaton creations with artful relief engraving, the Jaquet Droz Loving Butterfly Automaton is nothing shy of exceptional. Resting on a black mother-of-pearl dial are 40 pieces of white gold engraved and carved by hand that create a whimsical scene of a cherub in a chariot being pulled by a butterfly. Though quite impressive in static form, the crown jewel is of course the piece's motility — the spinning of the chariot's wheel and the flapping of the butterfly's wings, which occurs approximately 300 times during a two-minute activation.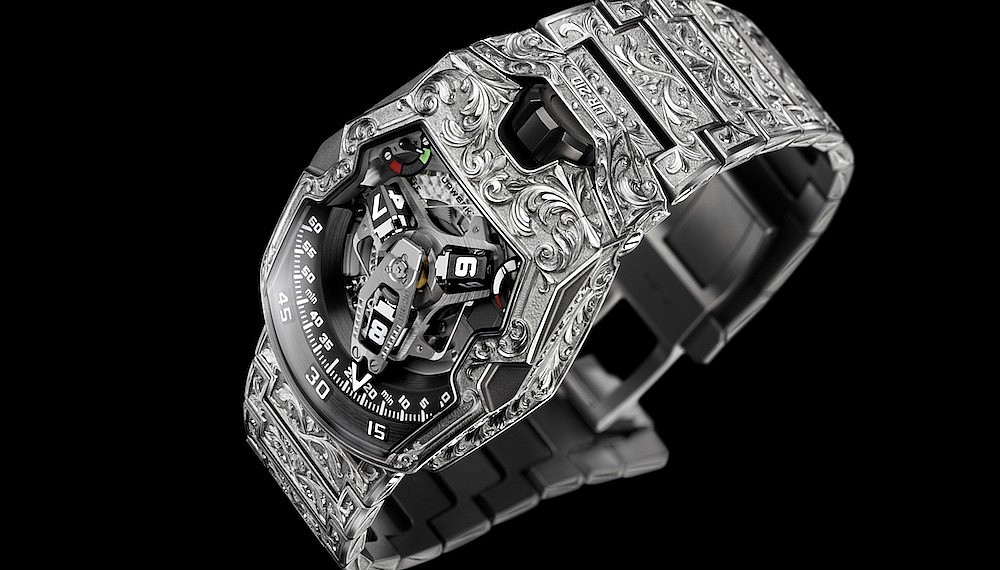 When we first saw imagery of the ornate engraved Urwerk UR-210 Amadeus, we were impressed, but after seeing it firsthand in Basel, the only thing we could think is that the bar has officially been raised. The engraving process — completed by renowned Austrian gun engraver Florian Güllert — took more than 260 hours to complete and boasts a depth and precision that simply has not been seen in the category. Though the Amadeus was a one-off creation that had already been sold for about €186,000 (RM892,560) by the time it arrived at Baselworld, Urwerk does have plans for further engraving projects down the road.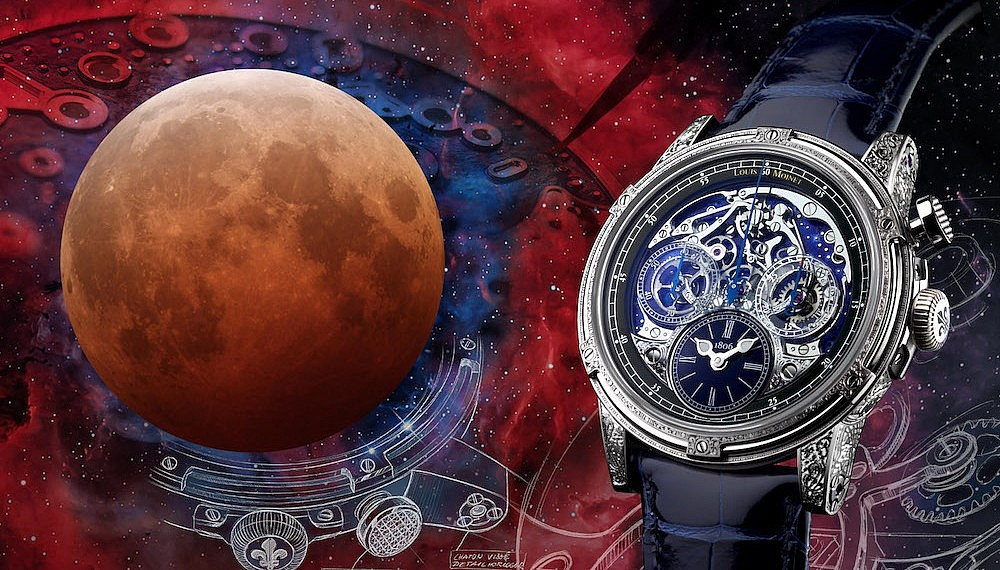 The Louis Moinet Memoris is an elegantly executed skeletonisation of its chronograph complication, and this past September, the brand released the Memoris Red Eclipse — a limited run of 12 pieces in white gold with extensive lunar eclipse–themed engraving — at an unveiling that coincided with the penumbral lunar eclipse. The engraving work on this piece does not occupy the same volume of real estate as some of our other selections, but it adds an elegant and unique flair to an already incredibly rare timepiece.
Hermès remains distinctly focused on its revival of traditional craftsmanship techniques, and the Slim d'Hermès Pocket Vieux Gréement proved that artistic engraving is well within the brand's wheelhouse. Beyond its beautiful casework, which took Hermès master engraver Sylvain Bettex a little more than 50 hours to complete, the one-of-a-kind timepiece houses the same H1950 movement that powers the three-hand dress watches in the Slim d'Hermès collection. Visible via its sapphire display caseback, the 2.6 mm-thick microrotor-equipped automatic calibre boasts hand-chamfered bridges, as well as a healthy dose of h-patterned etching that adds to its unique appeal.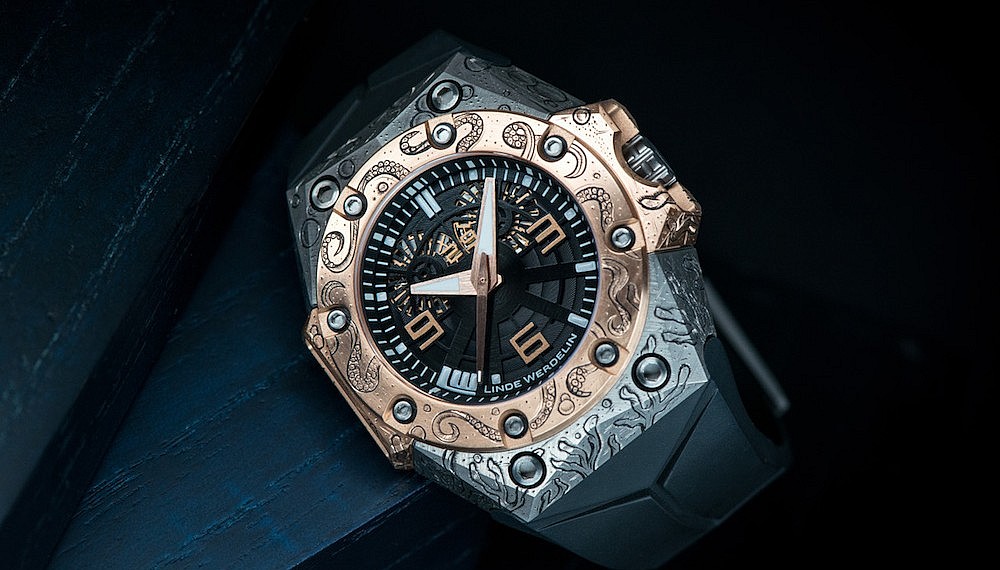 Never ones to take a particularly traditional approach, Linde Werdelin opted for an out-of-this-world aesthetic for its latest engraved piece — a logical choice too, given that the piece features its cleverly executed moon-phase complications. Finished by London-based engraver Johnny Dowell, the Oktopus Crazy Universe has a particularly whimsical aesthetic that proved somewhat challenging to complete due to the fact that its case is made of grade 5 titanium rather than steel or gold.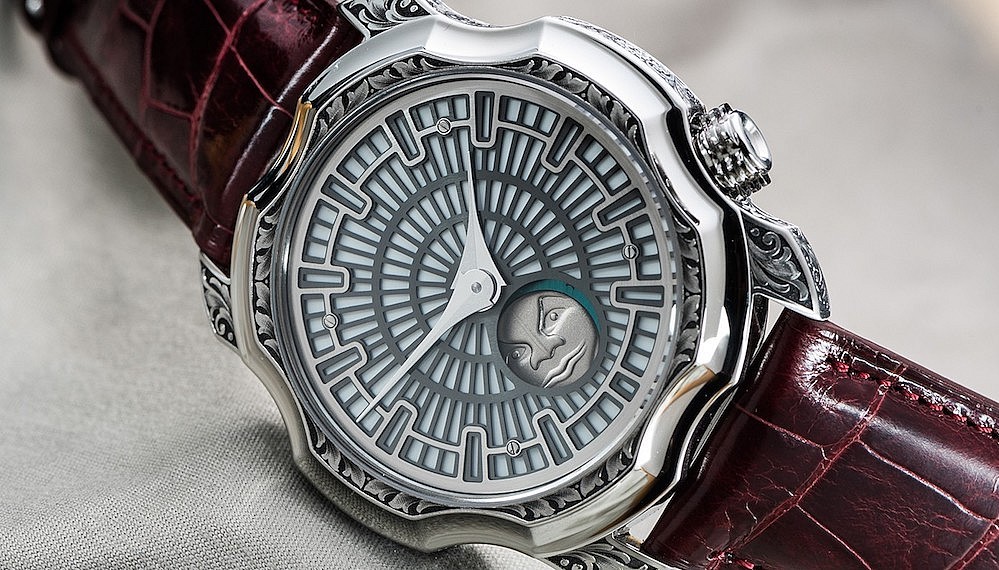 Stepan Sarpaneva's creations play an interesting balance between traditional metalwork techniques and innovative futurist design, and the incorporation of engraving proved to be a great complement to his work. Unveiled at Baselworld, the one-off Sarpaneva K0.3 Engraved Unique Piece project features hand engraving by Joanne Ryall, which adds yet another layer of intricate detail to the already well-received K0 Northern Lights that originally launched in 2015.
Unlike our other entrants, the hand engraving of the Breguet Marine Équation Marchante 5887 is only visible when the piece isn't strapped on your wrist. The brand opted to decorate the movement of the new piece with an elaborate engraving of the French Royal Navy's Royal Louis, visible via a sapphire display back. And though the piece's tourbillon, perpetual calendar, and equation of time complications (along with power reserve indication) were already attention-grabbing before the engravers went to work, the addition of this hand-adorned detail makes the watch feel that much more complete upon thorough examination.
---