an unrivalled debut
In Sarnico, Lake Iseo sparkles in the sunlight. The water's brilliant surface is peppered with Riva boats originating from the iconic shipyard resting along the banks. At the launch of the all-new Riva Yachts 56 Rivale, the bucolic tempo of this corner of Lombardy was transformed into a high-octane afternoon with the vessel gliding out from a mirrored enclosure built over water to a soaring James Bond soundtrack and Riva's members of staff, sharply suited in their customary Dolce & Gabbana uniforms. "Let me tell you a secret," says Alberto Galassi, CEO of Ferretti Group. "Riva is passion. No passion, no Riva."
This gorgeous open yacht is the latest in a line of fibre-glass boats from the Italian vessel maison and the first launch following the passing of company patriarch Carlo Riva. Although Riva – the man – had not been involved in actual management for some time, his blessing was a necessary step from drawing board to prototype — this includes, of course, the conception of the 56 Rivale (from €1.5 million/RM7.65 million).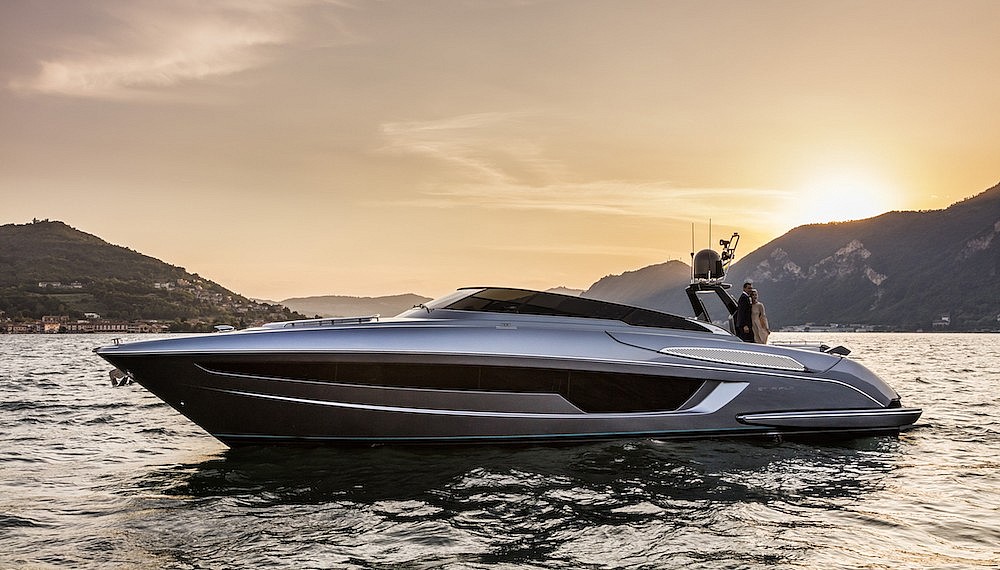 The windswept sleekness of the 56 Rivale's profile may be attributed to Riva Yachts' long-time collaborator Officina Italiana Design. A curvaceous beltline draws the eye, with this clean textured, aesthetic accentuated by oversized glazed windows running along the hull. Mirroring these windows is the sharply raked windshield protecting the cockpit, serving both stylistic and aerodynamic functions. Hull One was finished in a striking Shark Grey, with the familiar Riva Yachts aquamarine tone adorning minor details.
Rivale's main deck lounge offers an L-shaped sofa and teak dining table. These two pieces are located afore of a large sunpad with upholstery in Mambo Arctic technical fabric – an exclusive creation for Riva Yachts. Mauro Micheli, the chief designer for Officina Italiana Design, made the generous space within the main deck possible by "reducing the foredeck somewhat and bringing forward the windshield". Shade is provided by an electro-hydraulically deployed bimini cover, fabricated by an atelier which also supplies cabriolet tops to Bentley Motors.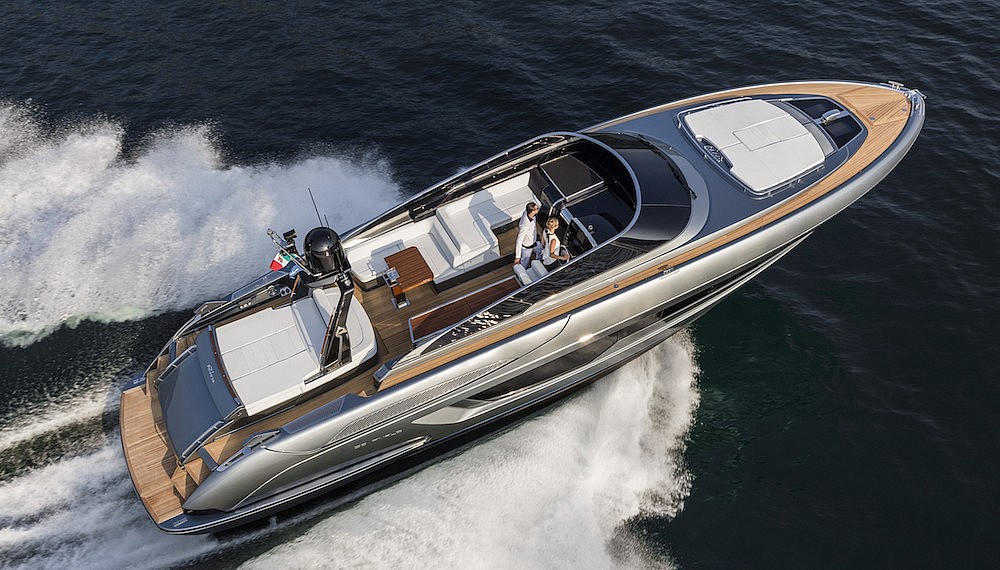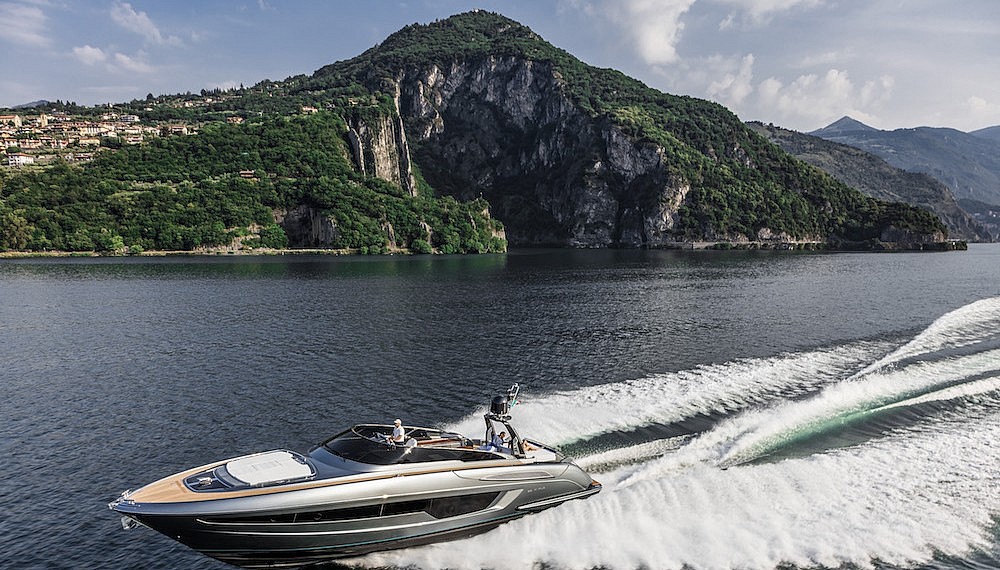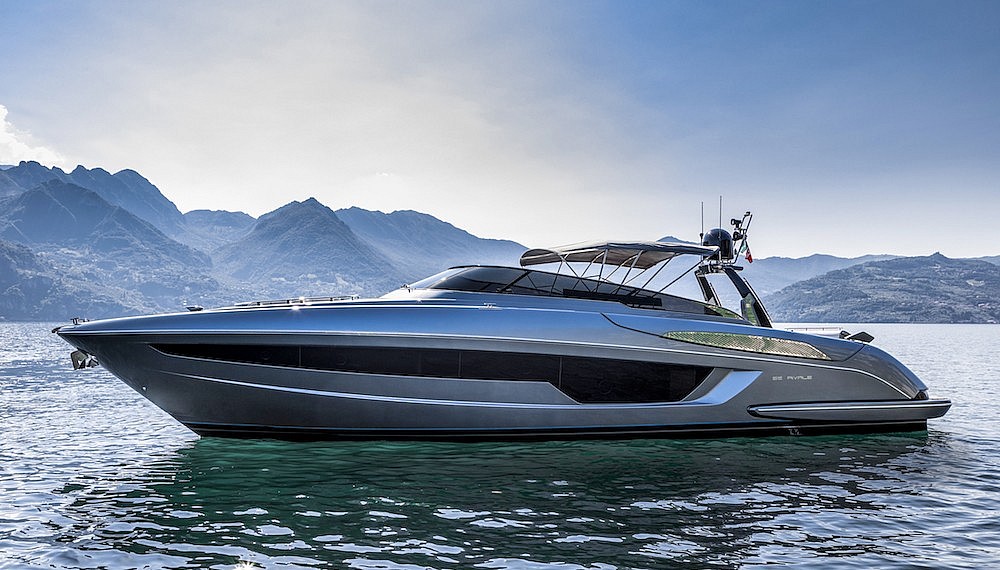 At the stern, a hidden garage opens upwards to reveal a Williams 325 tender — or any other sea toy. The tail end also holds a true Riva innovation; during motorised submerging of the swimming platform, a set of steps follows into the water revealing additional steps for conveniently getting back on board, a complement to the steel ladder.
Below deck, an elegant and surprisingly spacious lounge-dinette features varnished mahogany, dark lacquered woods and sumptuous leather, a rhapsody which represents Riva's DNA and tradition as envisioned by Micheli. Seating options found here, for example the sofas and ottoman seats, are upholstered by Italian firm Ivano Redaelli — who also supply the cushions and tartan blanket. On the port side is the galley, partially obscured by mirrored walls serving as a television mount, which includes a storage compartment designed specifically for a champagne magnum.
Two en-suite guest cabins are found in the rest area, while a crew cabin with separate cockpit hatch access may be replaced by a third guest cabin. In these suites, the interplay between contrasting materials and leathers are dreamily illuminated by an abundance of natural light streaming through the glass hatch cover and generous hull windows. Wall-to-wall carpeting throughout come courtesy of Dutch outfit Van Besouw.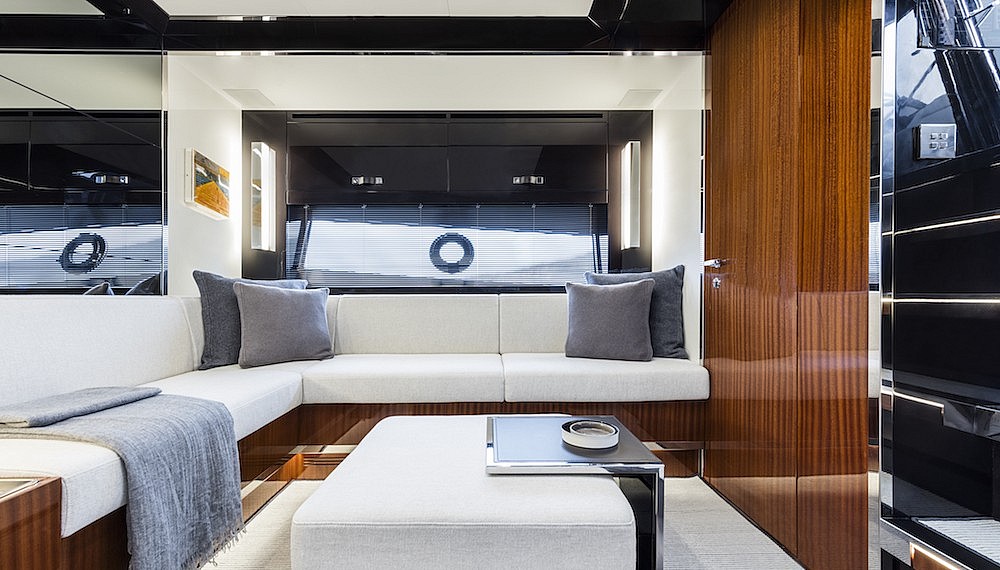 Riva Yacht's spiritual home provides a convenient location for water trials, and before long the Rivale had powered off in the direction of the Monte Isola. Propelling the 56 Rivale are a choice of twin 1,000hp or twin 1,200hp MAN engines, whisking passengers along at maximum speeds of up to 35 knots and 38 knots respectively. As a single hull, added comfort can be specified via Seakeeper anti-roll stabiliser equipment in open sea and at anchor. In Singapore, Hong Seh Marine as the official distributor of Riva offers a suite of personalisation services including colours, upholstery and detailing.
Although the romantic wooden Rivas of old would not be appropriate for today's market, the soul of the product is unchanged. Rivale's profile is unmistakably Riva, evoking the Aquarama in a contemporary proposition with the latest technology and features. To appreciate the creative mandate behind the 56 Rivale, Galassi's parting words summed up the brief perfectly, "make a dream that doesn't go away when you wake up in the morning."