pretty In…

The world's largest carbon-fiber sloop, the 175-foot Pink Gin VI is the sixth yacht Baltic Yachts has built for owner Hans Georg Näder. Designed for cruising and racing, the Finnish-built Pink Gin VI can reach sailing speeds of 30 knots — hyperspeed for a sailing yacht this size. Pink Gin's 222-foot-high rig can carry 14,230 square feet of upwind sail, and the yacht has a special tail sail plan for strong performance in moderate and light-wind conditions. Beyond the yacht's sailing prowess, Pink Gin VI is the ultimate cruising vessel, with a three-cockpit layout, a sizable swim platform, two foldout balconies and five staterooms.
The Pink Gin VI is a long, lithe beauty. A strong, stable-looking yacht with twin cockpits that stand out for their purple-cushioned seats, a closer look reveals pewter furniture that weathers gracefully, a capstan made of ancient bog oak and pewter, and crystal chandeliers that hang from the boom during social events.
These details are just hints of the pleasure palace inside the carbon-fiber hull. Elegant, organised chaos might be the best way to describe Pink Gin VI's interior. The tactile attractions are apparent in every room, which all have different themes. The saloon desk is covered with laser-cut stingray skin and its drawers lined with suede. The owner's cabin has a wall made from Cuban fishing boats and his bed is surrounded by hand-carved bamboo and a leather head board. The pillars beside the staircase are covered in salmon skin, while dried flowers and foliage in a semi-translucent resin table by Dutch artist Marci Rusak sit near the dining area. The keel box and some bulkheads are covered by leather-bound book spines.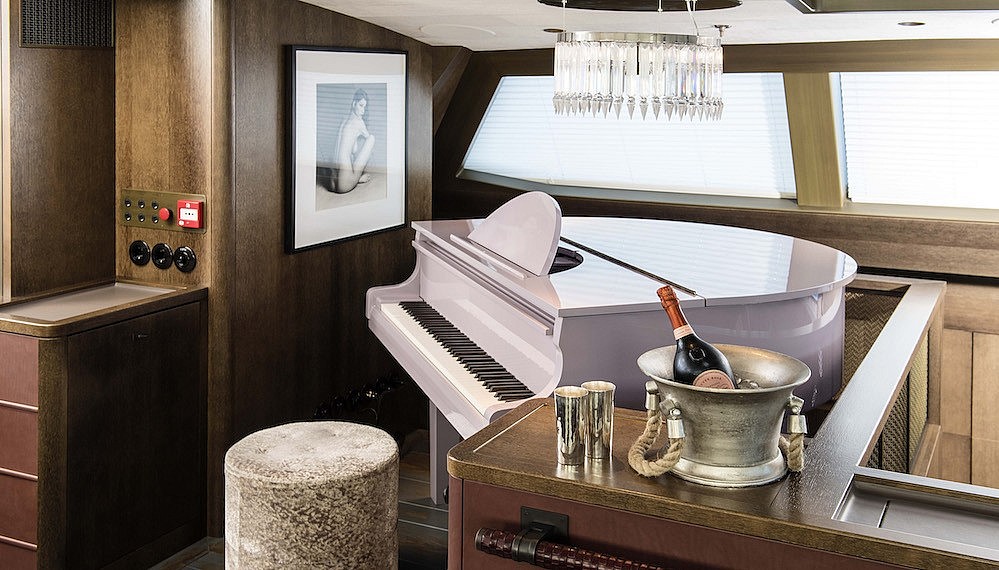 An Edelweiss Sygnet piano, built with a custom lilac color, has keys made of the same 8,600-year-old bog oak as the dining table. Baccarat chandeliers hang over both table and piano. The bog oak was carefully sourced after the designers rejected teak and other woods as not having the personality they wanted for the interior. Eventually, they found an ancient piece in Croatia with a dark, solid grain without blonde streaks found on most bog oak. The table goes well with the smoked-oak floors, which were painted gold, then silver, and then sanded for a distressed look, revealing layers of colors.
Though materials come from many sources, Max Tucker of Design Unlimited did an excellent job matching them throughout the interior. Nothing looks out of place or disjointed, but keeps the elegant flow. "I think we got it just right," says Tucker. "Nothing's offensive or garish, and there's emotion running through each room. It feels homey. Most important, it's what the owner wanted. He loves spending time aboard Pink Gin VI. He loves it so much that it's sometimes hard to get him off the boat."